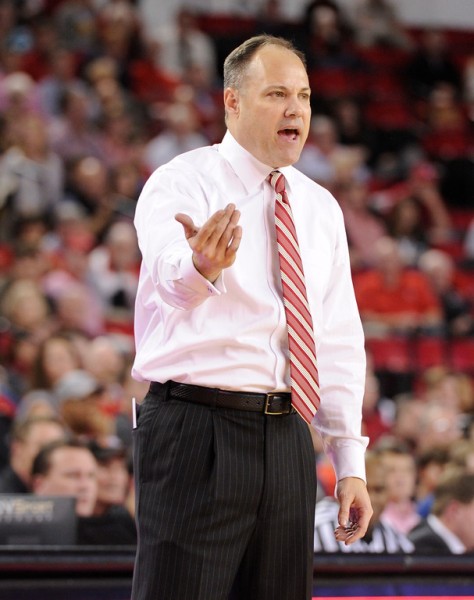 [break]
Welcome to Bulldawg Illustrated Hoops Report. It's like a swift kick in the pants. And that's exactly what we got on Saturday.
[break] [break] The weird thing is we did a decent job of taking care of the basketball and hitting our FTs. Unfortunately, we shot very poorly and gave the game away in the end. Now we've gone from a mulligan in our pocket to no wiggle room again. The Lamecocks come to town on Tuesday and this is a must win. No question about it. Our average odds to make the tournament fell from the mid 80s before Saturday 64% today. We officially have an non-debatable bad loss on our resume now. A second loss to the Lamecocks would be a major blow to our chances. This is the fourth game in a stretch where I said we had to go 3-1. We're now sitting at 2-1. So this game is critical. But before we talk about that, let's review Saturday's disaster.
[break] [break]
Saturday's game against Auburn looked like the classic Mark Fox victory. Auburn jumped out early. We caught up and took the lead. Then we took over in the second half and extended it to a nine point lead. The game was ours. The only way we could lose was to give it away. Then at the 5:05 mark left to go in the game, it happened. Now maybe I'm just a lifelong pessimist that's always looking for the worst to happen, but I knew it when I saw it Saturday. We were leading 57-48 with one of their worst FT shooters at the line. He missed both FTs and we now had a chance to go up 11. Wait, no we didn't. Auburn's best player KT Harrell stepped in and stole the rebound. We fouled him. He then went to the line and hit a pair. We then took a bad shot and they came back down and got fouled. They hit two more FTs. Then, they started draining threes left and right. The next thing I knew we were down three with :30 to go. We fought tooth and nail and almost pulled it out at the end, but Nemi Djurisic missed two three point attempts in the last :08 and we lost to a bad team at home. We now account for 29% of Auburn and USC's wins. Kenny Gaines and Charles Mann had 18 and 14 respectively to lead the Dawgs in scoring, but they were 11/29 from the floor. Ironically, their 38% from the floor was equal to what the team was as well. We won't win too many games shooting 38%. We just aren't good enough.
[break] [break]
Up next is the same Lamecocks team that throttled us two weeks ago. It was just one of those games where everything went right for them. Hopefully, we get our focus back and realize nothing in this league is a given. I know that's a cliche, but we've forgotten it. The Lamers have two good scorers and a coach that could scare the Devil himself. So I'd think these guys would be tough to beat out of general fear. But while they've pounded us and also beat then ranked number four Iowa State, they've also lost to some really bad teams. I think the fact that since we lost to them on the road, we'll get a gimme come tournament decision time. However, a second loss to this team, would not only register as a second bad loss in as many games, but it would also require us to most likely win two more road games to make the tourney. Or just beat UK in Athens on March 3. Whatever's your cup of tea, fellas! If we win Tuesday, we're 8-5 and sitting at the exact record I thought we'd have at this point and still on pace tqualify for an at-large bid. A loss? Our odds would be much better making the NIT than the NCAA and that would cause the season to be labeled a failure. So we need this game.
[break] [break]
The last two years Mark Fox has made sure that not only do we beat bad teams when we play them in SEC play, but we rarely lose at home. Saturday was a departure from both. And while I know I said Auburn scared me to death in the pre-game report because of their ability to score in spurts, I'm not on the selection committee. I can't relate to them how bad position on a defensive rebound sit in motion a perfect storm to cause us to lose and completely reversed what was looking like a well-played game. All it is on paper is a bad loss. So let's forget that and live in the here and now. Ten SEC wins has us in the tournament without a doubt. We have seven. So you have to beat 3-9 USC Tuesday and 1-11 Mizzou at home on 2/28. That's nine wins. While I think 9 wins could get us in, it would really depends on who the losses are to. Or if we were to beat UK. If that happened, we'd definitely get in with nine as that win would erase the AU loss. To get to 10, we have to win a road game if we lose to UK. At Ole Miss will be tough. While Bama is struggling, we've not played real well there under Fox for whatever reason. So the funny thing is that the team that beat us Saturday, may stand between us and the tournament as we face them at 4 p.m. on the Plains on the last Saturday of the regular season. But let's not get too far ahead of ourselves. We did that on Saturday and we got burned. We need another rocking Stegosaurus on Tuesday night.