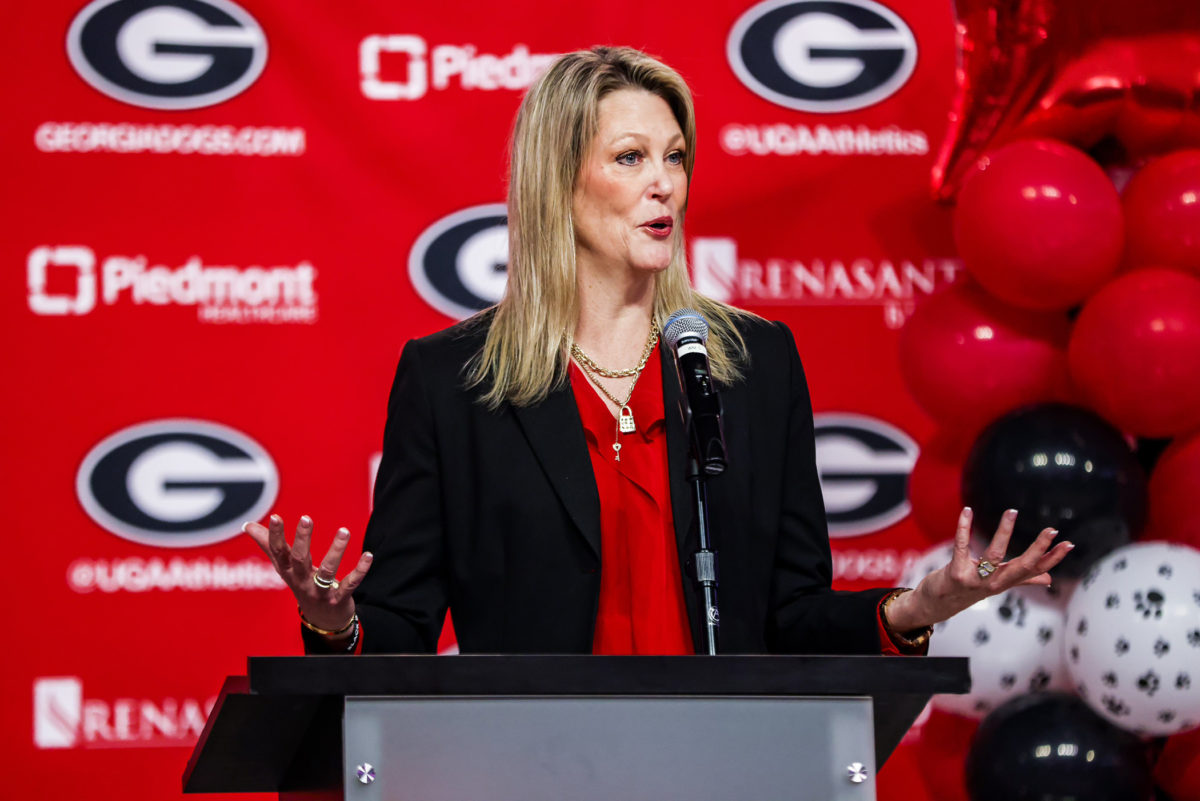 In a time when women's basketball was nowhere near as popular as it is now, Iowa native Katie Abrahamson-Henderson came to the University of Georgia in 1986 with a winning whim. College women's basketball was never televised, Googling a Lady Dogs roster, game or schedule was not invented, so for Abrahamson-Henderson, the only news she heard about the Lady Dogs was from Coach Andy Landers and his staff. However, some itch for Athens drew this young lady from Iowa to the south and to UGA.
"I wanted to play for the best," said Abrahamson-Henderson. "I wanted to be the best and go to the Final Four. I wanted all of that good stuff… Plus, I really like the warm weather."
Similar to 1986, Coach 'ABE,' as she is commonly referred to, found herself with yet another offer to come to Athens, but this time, to be the head coach of the Lady Dogs. This time, however, she was coming from an already hot climate, not the midwest, and a University of Central Florida program where she made history.
"To get me away from UCF, it had to be something special," said Abrahamson-Henderson. "I never knew this job would open up. I turned down a lot of jobs, so I knew I wouldn't leave UCF unless it was something like this. I know what Andy [Landers] built here, and it's a special place because of that."
On March 26, 2022, at this special place, the new era for the Georgia women's basketball program officially began with Abrahamson-Henderson. For just the third time in the Lady Dog's historic 49 years, they hired a new head coach. For the first time in program history, a former Lady Dog is at the helm.
Abrahamson-Henderson has one glamorous resumé as both a player and a coach. While a Lady Dog, she helped Georgia snatch the 1986 Southeastern Conference title. After transferring to Iowa following her sophomore season, she won two more Big Ten championships. In her 17 years of head coaching, Coach ABE secured 16 total conference championships (nine tournament championships and seven regular season).
That championship mentality is fortunately some of the baggage Abrahamson-Henderson carries with her and a mindset she hopes to return to the Georgia people and the Lady Dogs.
"It starts with recruiting," Abrahamson-Henderson said. "We need players who want to play our brand of basketball, and we need players who love this school as much as we do, as much as I do."
Abrahamson-Henderson said the brand of Power 5 and particularly SEC schools attracts those best recruits in the country, a novelty she's never experienced.
Prior to her six seasons at UCF, Abrahamson-Henderson spent time as a head coach at Albany and Missouri State. Though she led those teams to conference titles and postseason berths, it was hard to compete in recruiting with the Power 5 schools.
The history made at those schools and success she had without the top recruits still stands as one of the most impressive feats a college coach can do and does not go unnoticed. From 2002-2006, Abrahamson-Henderson won four straight conference titles at Missouri State and took them to three NCAA Tournaments. She also led the Lady Bears to a WNIT championship. At Albany, she led the Great Danes to five straight conference titles and five straight NCAA Tournaments. Last season, Abrahamson-Henderson won 26 games at UCF, a school record, a No. 7 seeding in the NCAA Tournament, highest seed in school history, and a conference title.
Abrahamson-Henderson built cultures at those schools. She built brands that convinced her players to buy in, which led to all the success and history she had. Now, at an SEC school, a historic Lady Dogs program, the sky's the limit for the success she can have here. With that hopeful success comes a burden at a program that expects tournament bids and conference championships, but Abrahamson-Henderson is not looking to create her own history, just continue the tradition already in place.
"I have a sense of pride for Georgia, a lot," Abrahamson-Henderson said. "What this school means to Andy and all my past teammates, that means a lot to me. There is a lot of pride and tradition all around here, and I don't have to build that, which is awesome. Now, I get to come in here and leave my little stamp on the already great history."
As her words have said, Coach Landers, her former coach and the father of the Lady Dogs program holds a significant place in her heart and the heart of all the Bulldog Nation. She said Coach Landers is like her Pat Summit. The program that he built from the ground up, Abrhamson-Henderson is quite simply honored and proud to be a part of once again.
This new era with Abrahamson-Henderson and her incredible staff have brought in transfers from UCF and other schools along with players who have been at Georgia. But, this new staff has pulled in some very talented recruits in the short six months they have been here. However, even with new faces, Abrahamson-Henderson's goal is not to change tradition or make a name for herself but to continue the success we have all seen the Lady Dogs have. With young women who buy into the Georgia brand, the history within those Stegeman Coliseum walls will be continued and success will be had.