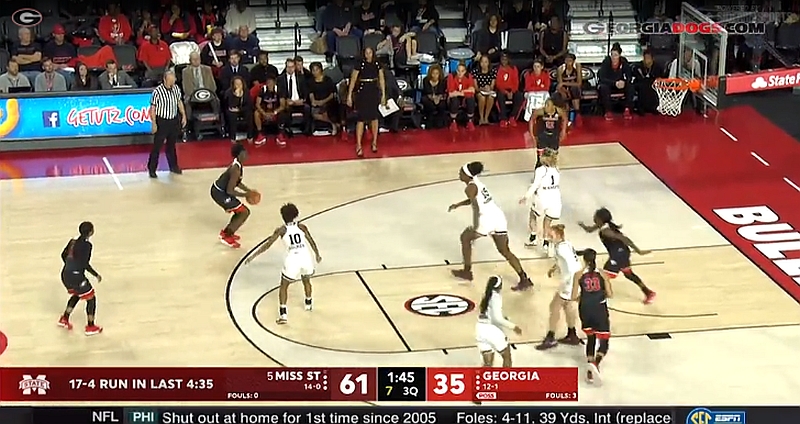 ATHENS, Ga. – Down by 10 at the half, the Georgia Lady Bulldogs basketball team could not withstand a Mississippi State surge in the second half, as the third-ranked Bulldogs left Athens with an 86-62 victory at Stegeman Coliseum on Sunday.


Veterans Caliya Robinson, Haley Clark and Mackenzie Engram paced the Lady Bulldogs. Robinson led Georgia with 13 points, recording her 10th double-digit scoring output this season. Defensively, the Marietta, Ga. native had seven rebounds and blocked six shots for the second time this season, and the sixth of her career.
Junior guard Haley Clark posted her first double-digit scoring output of her career, needing only two quarters to record 10 points. Senior forward Mackenzie Engram followed with 10 of her own. Clark and Engram both contributed six and seven rebounds, respectively.
"They have a really good team," Georgia head coach Joni Taylor said. "They are better offensively than they have been, than even last year. They stretch you so much. If you play man, they will go inside. If you double they will kick it out to a shooter. If you play zone they will stretch you. We tried to mix it up and do different things. When they are all hitting, it makes it extremely tough."
Georgia forced a Mississippi State timeout within the first minute of the game after two quick buckets from senior Haley Clark and Robinson. With another two baskets apiece, Clark and Robinson continued to pace the Lady Bulldogs through the first frame as the two teams traded the lead five different times.
Sophomore Stephanie Paul added a jumper just inside the arc with less than a minute remaining in the first quarter, but a last-second Mississippi State layup gave the Starkville Bulldogs a 16-14 edge at the end of the opening quarter.
The second frame featured the league leader in three-point shooting percentage (.560), freshman Maya Caldwell, with a bucket from behind the arc, pulling the Lady Bulldogs within eight. Georgia matched Mississippi State's six-point surge with one of their own, started by a Paul jumper. Then, after draining two free throws, Clark snagged an offensive rebound to put up a layup for her career high.
Mississippi State extended its lead by the end of the third quarter, but freshman Gabby Connally notched her third steal of the game and raced the length of the floor to hit a layup off the glass. The freshman had three steals on the game for the second consecutive game, and third overall this season.
In the fourth quarter, Georgia collected 22 points compared to Mississippi State's 23, with seven different Bulldogs fueling the offensive attack. Redshirt sophomore Taja Cole dished out an assist, her seventh of the night, to Engram to cap the scoring, but Mississippi State contained its 86-62 final lead.
CLICK HERE for the full box score from the Georgia vs. Mississippi State women's basketball game
Up next, Georgia continues SEC play in Nashville, Tennessee on Thursday, Jan. 4 against Vanderbilt. The game will be available on SEC Network + at 8 p.m.