Head Coach Tom Crean
Opening statement…
"First and foremost, I'd like to keep this as centered on the recruiting class and then other questions and things of that nature. We'll make a time next week to address that stuff more, but I think this recruiting class deserves full attention as much as we can with it, and then we'll go through that. But, but first, right now because I know the reports are out there about the fact that Amir [Abdur-Rahim] is leaving to become a head coach. And I don't want to say a ton right now because he's got a press conference coming up I believe tomorrow, but I will say this, that it is rare that in a year's time that you get affected and impacted on such a personal level at a professional level as I know I did, as I know our family did, as I know these guys did and this entire program did by having Amir Abdul-Rahim inside of the program. He has done a fantastic job. His reputation that he had before I ever got to know him and bring him in here was one thing, but the actually working with him on a day-to-day basis and seeing his qualities as a person, as a professional, as a leader, somebody that impacted not only the staff and not only impacted our recruiting but our present players was huge. There's never ever a good time to lose a key part of your staff, but the only thing that's going to be constant in college basketball that has been and will be is change. So you have to be able to deal with that and adjust as much as possible, and we'll deal with that. But I am and we are so proud of him and happy for him. It's a loss for us, but it's a gain for his professional career and becoming a head coach, and we're excited for him. 
Before we jump into the recruiting and start to talk about each guy individually, as well as a whole. I want to turn it over to Chad [Dollar] then I want to turn it over to Joe [Scott] okay because let me say this… there's there's very few times that you get to see the full impact that a staff has on parts of the program. Usually, the (assistant) coaches aren't coming in after games win or lose. You're not usually looking to see them in availabilities all the time, but there is no possible way that we have this level of recruiting, that we have the capabilities that we have to recruit and to have the potential to bring in these kind of people not only in this class but in the future. If you don't have the highest quality of people doing it. Amir is not sitting up here. If he was here, he would be, but these two along with Amir have done a fantastic job. Our entire staff has. Our entire staff has been active in it, but when you have the three people that are the most active participants in it and how they recruit and what the responsibilities are and the travel and the countless phone calls and texts and messages and meetings and all the different things that go into it, they deserve it. And we would not have this recruiting class without what they've done. So I'll start with Chad."
Assistant Coach Chad Dollar
"About our recruiting class and just about in our program as a whole, from day one when I took the job here at Georgia, Coach Crean emphasized to everyone that everyone in our program, as they came in every coach, every staff member, that you have to have a recruiting mindset. That was something that was the foundation when we first walked in. Another thing that was important we talked about is that, 'we' are going to do it, not 'I,' not one individual person. Time and time again as a coach, you always get the question, 'who's recruiting that guy, who was the lead guy, who got that guy?' On this staff and in this program, it's us. It's we. From everybody, as a full-time staff member, I have different responsibilities and allowed to do different things, because I'm in that role. Joe's in that role, also, but our other staff member also do things behind the scenes that they are allowed to do from an NCAA standpoint, that helps with the recruiting. That's how we were able to land the guys we landed. I'm very excited about each individual player, and I'm looking forward to coaching them and developing their skills."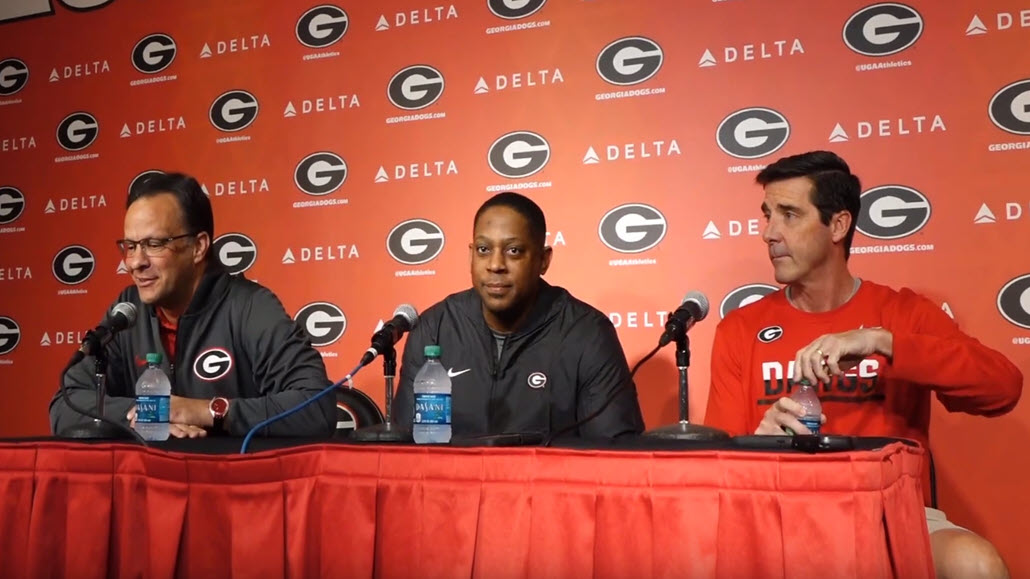 Assistant Coach Joe Scott 
"I echo obviously what Chad and coach [Crean] have said. We, together, have worked hard to put this class together, and I think we together are working really hard to keep moving this forward, to keep getting this better and better. I think all of us probably have already moved on a little bit in terms of we're excited to coach these guys. That's what this is about. It's about recruiting them. And now we're going to have the opportunity with our returners to start to coach these guys when they get here in June and start to really build this team. There's a real sense of excitement about that. Coaching them and getting them better, being with them every day and getting this program really moving the way we want to get it moving – it's been a process, and now we really get to the point where I think we really start to dig in and focus on getting better, coaching them. How can we get these four guys better and and keep getting our current guys better? I'm looking forward to that and obviously with Amir, personally, I'm just really happy for him. Like Coach [Crean] said, it's a great opportunity for him. Thirty-eight years old, to be a head coach, it's a great opportunity in his home state, and I think we're all happy and proud and look forward to following him going forward. 
Dollar: "I  want to say something else I didn't a chance to say something about Amir, but I've known Amir for a long time. This is our third job working together. I worked with him at Georgia Tech, Murray State and then here. And, and just to see, like Coach [Crean] said, just to see his growth as a coach, as an individual as a family man. He's going to really good things there. I'm definitely excited for him and happy for him. And then at the same time sad, too, because we are losing a good person and a good coach."
On Anthony Edwards…
Crean: "Anthony Edwards is a transformative talent, has transformative potential, in the sense of what he can help bring this program. There are so many things that you see with him. When it comes to his talent, when it comes to his explosiveness, when it comes to his desire, his grit, but there's a lot of things that you don't always get to see, and those are the things that we're excited about. There is a tremendous amount of upside in him. He's a very cerebral guy in that he wants to make plays for others, I think he gets a lot of excitement on how to make plays and passes for others, and we want to help utilize that in every possible way. We want him to be as complete a guard as he can possibly be. I think Chad hit on something that sometimes people don't always understand, like he said, 'When it comes to who's recruiting them, or who's the lead guy?' Well, it's us. Well it's the same thing here, when it comes to positions. We're varied positions, and a lot of times, that's not always understood, and somebody might be a size, they might be a height, they might do different things. But we're trying to have as many basketball players that we possibly can have, and I think there's a lot of basketball player in Anthony [Edwards]. Even though the ball is in his hands a lot, he makes plays for others. He's got to get better playing without the ball, but his shooting will continue to get better. Every aspect of his game – I can go right on down the list – is going to improve. And I think that's one of the reasons that he chose to come here. He knows he's going to get better, and he gets to do it in his home state. He gets to do it in a place that he's got a lot of respect already, and he gets a chance to have the people that are closest to him in his life, still be a part of his life, without the distance of a plane flight or, you know, a day long trip, or those type of things be in the mix. So, to get him – to have him be a part of this – everybody should feel good about that. You know, one of the games he was at, right when he was finally making this decision for us, was Texas. We had a phenomenal crowd. The energy of that building wasn't only the win; it was the passion of the crowd. So, at the beginning of the year when we said, 'Hey, if we're going to recruit this the way we want to recruit it –  the way the fans want – we're going to build this that way. People have got to be here. They've got come. You know, it can't be after we get it going. It's got to be now, but there's a great example of that being living proof, because I know he commented on that different times. We'll have any more questions you have on him in a minute."
On Christian Brown…
Tom Crean
"We'll get to Christian Brown, who is somebody that I have some familiarity with before I took the job here and Chad did, as well, before he got here. Probably the second day, I believe, that we were out recruiting, we went to see him play at his old high school in Columbia, South Carolina, because I knew him and had that relationship. And it was worth the wait, because I think he is going to be a guy who could do a lot of different things. He's made a lot of improvements. He's getting bigger, certainly getting taller, and his game is improving. I thought going to Oak Hill was really, really good for him – to be in that environment, to play under Steve Smith, who belongs in the Hall of Fame. To play that level of schedule and to get that level of coaching was outstanding for him. He's got a lot of untapped talent and fight and aggressiveness that we've just got to help become more fundamentally sound. We've got to help it become more efficient. We've got to help it become clear. As far as his desire to get better, his willingness to work, his excitement for the game – he's a guy that really wanted to be at Georgia, like Anthony. We feel really, really good about that and very excited to have him come in. [We're] very excited, not only with Anthony's family, but with Christian's mom Melody Davis and to have her be a part of the program. So, the upside of Christian is – it's one of the things that you're banking on – the personality and the desire to compete. That's there right now."
On two other earlier recruits – Jaykwon Walton and Toumani Camara
Tom Crean
"Going back to the two who signed earlier; I know we covered it at one of the press conferences. Jaykwon Walton was the first one to say 'yes' from the state of Georgia. He goes to school in Montgomery, Alabama, but he's from Columbus, Georgia. Early on, once we had a chance to see him on film and see him in the one of the early live periods, there was no question he would be a tremendous fit. He can shoot the ball with range. He's got good length, very good athleticism, very good around the baseline, making plays around the baseline. He wants to win and wants to compete. [He's] a little quiet, but we'll get that out of him, and he's a winner. He went all the way to the state championship this year back in Alabama, but his offside – he's got to get stronger. Certainly he – like they all do – has to get better defensively. They have to get better at movement without the ball. Today's not about all the things they've got to get better at; it's about some of the things that they bring to us, and Jaykwon brings a tremendous upside for us, and that shooting is something that we're going to need right away."
On Toumani Camara…
Tom Crean
"Toumani Camara is the one that that, once we dove in there and had a chance to really get to know him, we got to not only see the upside, but there was a great example of watching somebody play on his AAU team, and then watching him play on film on his high school team, and having a strong, strong belief. It reminded me a lot of how we recruited, or has for me, the way we recruited recruited Victor Oladipo. There were a lot of things that you could see, but once you really dove into what they did in their system and their structured system, then you can really see even more. Toumani highly skilled, [has] tremendous quickness, short space quickness and very good awareness. [He's a] rebounder offensively and defensively, moves well without the ball. I've seen him, as has Joe, have some tremendous games. [He's a] very, very hard worker, getting bigger and has a real desire to compete. I think that's the thing that maybe is hardest to judge in recruiting. It's not just who likes to play and likes to win, but who loves to compete enough that they hate to lose? And you really, really have to dive into that, because if you're going to truly win, you've got to have incredible competitors, and it's our job to pull that out, and it's our job to take what's there and pull that out. But those four – and obviously you know our scholarship numbers now, and we're not done – but to be at this point right now, with these four, is a tremendous feeling. It's a tremendous sense of pride to have, like I said, that fan base and the passion behind this program, for people to fill the seats, for people to have an excitement for what we're excited about, because I think the recruits felt that and, like Joe said, we can't wait to get them on the court when they get here in June."
On the recruiting window/timeframe… 
Tom Crean
"There's not a window right now. I think it's, again, it's changing so much. I mean, there's so many different ways to look at recruiting. It's not only the available seniors, or it's not only the portal. [The portal] changes probably every 10 to 15 minutes. You know, there's additions there, so you just have to stay very fluid with it. So, there's not truly a window. There's planned recruiting right now. There's a few things that've changed already in the sport. I mean, so you just have to stay very, very active with it. If you can't operate in a fluid business like this, and with all this change, you're going to get left behind. And so, there's a lot of film study.There's a lot of phone calls. There's a lot of messages. There's a lot of talking to different people, and then there's diving in and trying to get to know the person. So, we don't have a set number right now. We know that we'd like to add some size. We know we'd like to add somebody else at least in the backcourt, because of our changes in the backcourt since the season ended. We've got to make sure that we're not guard short there. I mean, again, it's such a position-less team, but the more that we can play three quicker, decision-making, ball-handling, driving guys, the better we're going to be. And at the same time, developing our bigger wings to be able to play the same time with them. But we've got to be able to address what's going on in the paint, too. I've said it before his is the best rebounding league I've ever been and I don't see that going anywhere. We got to make sure we're addressing that constantly, too. So, it's a lot of 'Where are we? What do we need, and what do we want to get?' But you have to be ready for change. You know, we didn't see necessarily the JoJo Toppin change coming this week, but there it is, and you've got to be able to deal with it." 
On Crean's first contact with Anthony/the nature of his recruitment…
Tom Crean
"It was a team effort, and that's where Chad and Amir, especially, get a ton of the credit for knowing so many people in this orbit longer than this, right? And then just going to get to know those people and and getting to know his coaches. The first time, I think it was on the phone and then the first time I saw him live would have been in the first live period last year, but I watched a ton of tape. I really watched a ton of tape that every bit of tape I can get my hands on. My first weekend between the 16th of getting the job and the 19th of coming back I had film that I watch it at home. And now we just take up so we knew that that name came about very, very early, that that was going to be a key name and even at his age at that point time we have a sophomore. So we wanted to make sure that we didn't leave any stone unturned on that. There's just a matter of building the relationship. We're fortunate to get him here on unofficials a couple of times and have a chance to sit and talk to them and talk to him in a way of where we thought he could go, you know, not just what he was doing even before he had made this decision to go into this 19 class. But again, it was really staying on the same message and it's for others too. There's no need to leave. It's all here: the campus, the beauty of the campus, obviously, the level of the education, you know it's a world class education. There's world class leaders that teach at this school I mean with the professors and things of that nature. The passion for sports. The location, the league, the pedigree of what we've done with helping other people get where he wants to go. All those things, so there's no reason to have to leave. There's some that that has fallen on deaf ears with, but a guy like Anthony Edwards didn't fall on deaf ears, and it was really really important and it didn't fall on deaf ears with the people that he's with. Do we hope that there's a ground swell from that, for the future? Yes, but at the same time, the most important thing to do was to get him, and were able to do it. So we're very, very proud of that."
On how you plan on using Anthony initially?
Tom Crean: 
"Put him on the court and let him play. I think the biggest thing when we will do when he gets here in the summer is really start attacking his skills, his body and where he's got to get stronger. To figure out where he's got to get in better shape. We will do those assessments right off the bat. We will figure out where he's efficient, maybe where it's got to grow. We will ease him into the weight program. We're having a very challenging spring, I'm not sure that any of those new guys are going be ready for that right now. I'm not sure we want them to do that. But get him eased into that but, then get them right away on the court. To start challenging him in the sense of what he's got to get better at offensively and defensively. It'll be a great time. We'll get a good eight or nine weeks with them this summer, which will be really important. I think the first day they start classes is June 2, I believe, so we'll attack that and then just see what happens. It's really our training. If you watch us workout, Nic Claxton doesn't do anything different than Turtle Jackson does. It's really a matter of just building their skills daily and skill development, player development, mind development, competitive development than it is about scheme development in the summer."
How special is Anthony's skill set?
Tom Crean:
"I think it's going to expand. I think it is. I think the athleticism. I think the body. I think the biggest thing we've got to do is get it more consistent. When you can play that well and to be that efficient and effective, there's no reason you shouldn't be able to do it more often. With where his career is heading, like the others, and what we're going to need out of him next year it's really a matter of achieving that level of consistency. I think your skill level is really only as good as your ability to improve it and your ability to bring it out under pressure and your ability to bring it out consistently. And we've got to make sure that we're helping him learn that every day. People that really paid attention not only see him getting better, but they've seen him just absolutely be able to dominate in games. I think one of the reasons that he's going to be here is he knows we're going to try to expand and bring a lot of things to his game. Were going to clean up, build, build on, you know, whatever, whatever way you want to look at."
Do you have any doubt that you're going to add a point guard to your roster before the season? 
Tom Crean:
"Well, I would be shocked if we didn't add more players. Do we need decision making to pick up? Absolutely. There's no way we can compete at 15.9 turnovers again. We can't. And we've got to create more turnovers. The turnovers were bad, but the turnover margin was worse. We didn't create enough off of our defense. So we are really trying to address the length, trying to address a lot of switchable people. Finding people that can do multiple things defensively was a huge part of this recruiting class. There's no question that we want to add more decision making, want to add more scoring, we want to add more of a competitive mindset defense. And having somebody else take that as a guard that could play the point guard would be great. That's part of our focus, that doesn't mean it's going to happen, but it's definitely part of our focus.
What to do with the two walk-on positions??
Tom Crean:
"We have two preferred walk ons right now, but because they haven't signed I'm not sure I'm allowed to speak on them so I better not do that. Well, I don't know the real rule on that."
How many scholarships or left right now technically how many more can you sign?
Tom Crean:
"Right now, we have three. That doesn't mean we'll use them. I tell these guys those are like gold bricks. And you have to pay attention because you obviously are recruiting for the immediate, but you've also got to have a view of the future. So we've got to make sure we stay true to that."
You took your time to assemble the staff, do you have plans to fill the open position?
Tom Crean:
"I'm not sure yet, you know, I'm really not sure it's happened so quick and and its really come to fruition.  He didn't accept it until yesterday. And it really didn't intensify until shortly before that. So, I've had some time to think about it. I have some people targeted, and I will have some people more targeted and we'll go from there. But as far as the timeline, I'm not sure yet."
Update on Nicolas Claxton
Tom Crean:
"We are getting that feedback. We should have something clear on there pretty soon.  He has been fantastic. He's doing a great job of getting better in the fourth week of our offseason program.   He's handled this thing for a guy with options like that and his family have all handled this thing beautifully. But we're getting more and more feedback."
On the feedback from recruiting around Atlanta 
Chad Dollar:
"We've gotten great feedback. They are they are really excited about what we trying to do here. They're really excited about us making player development a focal point of our program.  They have come to see our summer workouts. They asked for notes and things of that that nature when it comes to how we want to develop our guys and how we wanted to build their skill set. Everything has been so positive and I'd like to say to that everybody is really excited."
On when you're tenured as a head coach and now an assistant coach and how you've used your recruiting contacts to be successful
Joe Scott:
"I think you know a lot goes into recruiting, you know. It can be the local. It can just be the years of experience of like you said, being a head coach. Having coached for 30 years all those contacts. Through the years what ends up happening is that you learn the world is really connected, you know, and the basketball world is a really small world and you end up recruiting a guy like we are in this process right now. You find out that hey, this kid's available and next thing you know, through my contacts, I know his coach, known his coach for a long time. I think a lot of those things come into play and obviously Georgia's a big focus for us but you know for us to, you know, be able to get Toumani, for us to be able to, you know, continue to raise the profile of this program. I mean, a player is a player is a player and here we want to get the best players we can get so we can make this program be the best it can possibly be. So, all those things go you know go into recruiting and we're going to use everything you know that we have to our advantage and I think that's it's showing up already, and we're going to keep making sure we do that going forward."
On if the team aspecting of recruiting helps when you may have an assistant coach gets a new job so the recruit still feels comfortable
∫Chad Dollar:
"Oh yeah, it definitely helps. See what happens, and what we do in the recruiting aspect of it, we hone in on one individual guy. Most individual guys will have at least three or four guys or three or four people around them that they are close to. [It] might be a family member. It might be a father. It might be a grandparent. So, while I might touch on one individual guy, I might get close to him. And then Coach Scott might have a better relationship with another guy. And then, Coach Amir with another guy and Coach Crean also. So, then you all come together and to find one common denominator which is to sell your program and sell what you are trying to bring with the player coming to the University of Georgia." 
On if there was one question Anthony Edwards wanted an answer on from you to get a better understanding on before he made up his mind… 
Tom Crean:
"No, he just wanted to ensure I backed up what I said and that's really what it comes down to and you can never be afraid. You have got to be a driver, right. You have got to be driven. Most people who are going to end up at a level like this, even if they're younger, they are driven to it to a point. You have to have somebody who will drive them even harder and help him become the driver that he needs to be for his future but never be afraid to make it better…hold him to that standard. I think he's a very competitive person that wants to get better and and that was our whole tact with how we recruited him. Again, we didn't recruit him on where he was at. We didn't recruit him on what he was doing. We recruited him on what he could do and what it was going to take to do it and we built on it that way. He's been very good at that. He's a lot of fun to be around and he loves basketball. I mean he just loves it. And, and when you get somebody like that, that has that kind of passion, he is speaking our language." 
On if you remember a specific time when Edwards told you he wanted to come to Georgia…
Tom Crean"
"No, no but it was it was it was shortly before the announcement, but not much, not much. We felt good we were working at it, but but I don't remember the exact time, no. But I remember when he announced it, I remember where I was when he said that. But no, it was just constant, you know, dialogue. You know, it's not like you had to check in with him 10 times a day. You know he's not wired that way. But our conversations were always pretty substantial."
On the Texas game and how important was that victory and is the message coming out of this season that this program isn't as far off as the record indicated… 
Tom Crean:
"Well, again, I don't look at it like that. I think, win or lose that game, the atmosphere was incredible, right. And I think that helped. There was a lot of passion and juice. The fact that we did win and the fact that we did score those kind of points against a team like that, that was obviously helpful, right. But the atmosphere was probably, in this situation, this year, probably the one of the biggest determining things. The win certainly helped, right. I mean because the crowd was great and into the game the whole way. I think absolutely. I think it's most important to see anything you are telling a recruit and their family, you're telling your own team. And I think the bottom line for our own team was to keep understanding that we are that close. I mean it's not easy to be that close, keep losing, turning it around and keep doing it again. It's just not easy. But building that level of resiliency, building that level of toughness and that level of belief and care, well, that's the same thing you're trying to get across to recruits. And I think the fact that people can see that, I think the fact that the way that we were competing, the way we were coming back time and time again, when it didn't go as well, they see that too. They see that this is a team that is improving. They work at it. We had some moments, obviously the Missouri game, things like that when we weren't very good at all. But bottom line is, they could see the improvement and that's what we're selling. The league doesn't just sell itself because it's close. I mean there's so many great teams and programs, and there's so much stature to the league. What you have to be able to sell is this is what it's going to take to win in this league, right, and we try to get across to them that we're not recruiting to try to get in the hunt. We're not trying to recruit to just get a little bit better but we're trying to recruit to be all the way in. And you've got to get people excited about that and not everybody is, you know, not everybody's excited about sharing limelight or you know who's all on the team and am I going to get to do this am I going to do that? And you have to navigate that, because there was no way we led the Big Ten in scoring, I think over the last six years, if we didn't have really good players that defended and moved that ball extremely well. You've got to have guys that understand being a teammate. So it's not only about the recruiting, it's about what's going to fit. You know whether they're from Georgia or whether they're from somewhere else. So, I think all those things help and I think people getting around and seeing the energy of our team and seeing the energy of the crowd when they would come to games so I think that's what excites people, and then if they get a chance like I've said so many times you know the games are awesome and bigger recruits want to see them. But I'm happiest if they're seeing us practicing and work out, because that's where they're going to be at the majority of the time. At any given year, you're going to play 19, 20, 21 home games at best. The bottom is you're going to be in that practice gym and on the Stegeman Coliseum court a lot, and do you feel like you're going to get better with that. That's what we've really tried to get across to people. And then, however you all are they were there."
On if Rayshaun (Hammonds) will be back for the first practice… 
Coach Crean: 
"He is with us now. We have one workout today because Tyree [Crump] was sick yesterday. Rayshaun is standing now, he'll be running soon, not playing. I know he is not behind schedule. We have done this before. We incorporate him into the things that we're doing, you know. Early on, it was chair shooting and very close in range shooting, things like that on the side. Now, we incorporate him in, I would say yesterday we incorporated him in probably 80 to 85 percent of what we did, inside of the workout. There's no movement, you know it's not like he's mobile, we just have to be creative. The whole message to him was, even though you're not going to be able to do what everybody else is doing, your improvement is as important as anybody else's on this team. He hasn't done everything we've done with the actual fitness and conditioning training, he has spent a lot of time on the bikes, but he has lifted the way everybody else has. His body's changing."