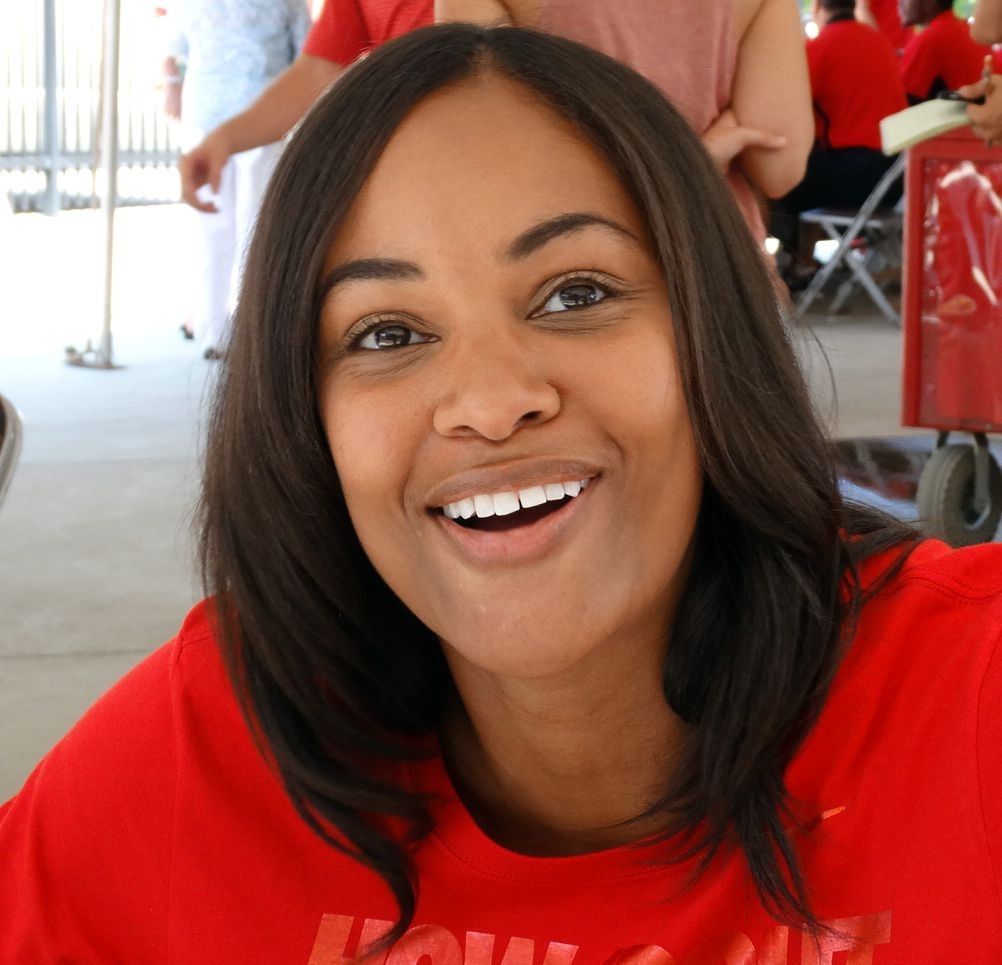 [su_spacer size="20″] Head coach Joni Taylor led the Georgia Lady Bulldog basketball team through its first practice of the 2015-16 season on Tuesday at their Stegeman Coliseum practice facility. 
Before the first workout got underway, Taylor and a few players previewed the 2015-16 season with media members.
This is the first season as head coach for Taylor. She takes over for Hall of Famer Andy Landers, who spent 36 seasons on the UGA bench. Since being named the new Lady Bulldog coach on April 12, she has embraced the opportunity to lead Georgia Basketball.
"This is year 14 for me," Taylor said on Tuesday. "Heading into years six or seven is when I knew that I wanted to be a head coach. By year 10 I knew that I was ready, but I also knew that I wanted the right opportunity. I wasn't going to take just anything that became available. As long as I was under Coach Landers why would I go anywhere else? Because of the responsibility that he gave me, because of the things that I was able to learn and the way I was able to grow under him, it definitely prepared me for this opportunity. This is a definite dream come true for me."
Georgia returns 10 letterwinners, including four starters and its top two scorers off of last year's team. Seniors Shacobia Barbee and Tiaria Griffin are back to lead the Lady Bulldogs. Also returning is 2014-15 SEC All-Freshman Team selection Mackenzie Engram, who had an impressive rookie campaign a year ago and will look to contribute even more this season.
"I think coming in my freshman year and showing everyone I can play here really helped me with leadership," Engram said. "It's definitely a blessing and an honor that people look to me as a leader. I'm just hoping that I can fill those shoes. Hopefully fill those shoes with great leadership and positivity that can help my team succeed."
Below are quotes from Head Coach Joni Taylor during Tuesday's media session:
Head Coach Joni Taylor
On how her practices will differ from years past…
"They are not very different. I think we are probably a little more up-tempo. We get up and down the floor a little bit more than we probably have in the past. I think even in the past injuries have dictated that in numbers. We wanted to play fast, but we couldn't. I think that the biggest change for our girls is the pace that we're going. So conditioning was a little harder this summer. Even the rule changes with playing four quarters instead of two halves is going to speed the game up quite a bit. My biggest concern is to make sure that our girls are prepared for that."
On getting players back from injury…
"We have four seniors in Merritt Hempe, Shacobia Barbee, Tiaria Griffin and Marjorie Butler who have tremendous experience and are going to be great leaders. They are excited about the program and excited about what we're going to do this year and how they're going to play. Mackenzie Engram got tremendous experience last year, you're talking about a kid that made the Freshman All-SEC team. Haley Clark and Halle Washington got a lot of minutes. We have a very experienced team. Looking for some things from Pachis Roberts this year as well. They have been really good about pulling our young kids along and making sure that they know what to expect to be able to play in this league."
On Shacobia Barbee's rehab after her injury…
"The first time that Shacobia touched a basketball since her injury in January I was unbelievably impressived at how sharp she was. Most players who take that much off are going to be a little bit rusty in terms of shooting the basketball or even handling it. She didn't miss a beat.  She had a little bit of pain, but that is subsiding every day. From a skills standpoint she didn't miss a beat at all."
On how the identity of the program will change…
"It definitely changes things. I think our look is going to change in terms of some of the in-game things that you see — promotions or things that we are going to do to try and make sure the fans have a really good experience. We are going to try and push the basketball more. It's going to be more up-tempo. Where things are going to be the same is that we are going to play extremely hard. We are going to be a really good defensive team. The identity of putting a top notch brand on the floor and a product that our fans want to come and support, that will remain the same."
Preseason Notes
Joni Taylor Era Begins
» A member of the Georgia basketball staff the past four seasons, Joni Taylor takes over the head coaching job with plenty of high hopes for the 2015-16 season. The Meridian, Miss., native takes the reigns after spending the past 13 seasons as an assistant coach. Prior to arriving in Athens, Taylor coached at LSU from 2010-11, at Alabama from 2008-10, at Louisiana Tech from 2005-08 and at Troy from 2002-05.
Seasoned Seniors Ready To Lead
» Looking to lead Georgia this season will be a strong group of seniors, which has a combined 13 seasons of experience on the Lady Bulldogs' roster. UGA returns four of five starters off of last year's team — all four entering their senior seasons on the Georgia campus. Tiaria Griffin, Merritt Hempe, Shacobia Barbee and Marjorie Butler have combined for 223 starts and have played in over 350 contests during their careers at Georgia.
Three New Faces On UGA's Roster
» Georgia welcomes three newcomers to this season's roster — guard Shanea Armbrister, forward Caliya Robinson and guard Amber Skidgel. The freshman class of Robinson and Skidgel features two players who each were highly-touted prospects coming out of high school, while Armbrister comes to UGA from Darton State (Ga.) College where she earned All-America honors.
Oh So Close — One Win From 900
» The Georgia Lady Bulldogs enter the 2015-16 season needing just one win to notch 900 all-time victories. Georgia owns an 899-384 record in 42 years as a program — an average of 22 wins per season. Of those 899 victories, 862 came under legendary head coach Andy Landers.
Barbee Back From Injury
» The injury-plagued 2014-15 edition of Georgia Basketball featured a costly injury to preseason All-SEC second-team selection Shacobia Barbee on Jan. 25 against Tennessee. Barbee underwent surgery on her fractured right distal fibula on Jan. 28 and missed the rest of the 2014-15 season. At the time of her injury, Barbee ranked among SEC statistical leaders in scoring (No. 14 at 12.0 ppg), rebounding (No. 11 at 7.0 rpg), steals (No. 4 at 2.4 spg) and assists (No. 15 at 3.0 apg).
Griffin An Ace From The Arc
» Georgia senior guard Tiaria Griffin capped off an outstanding junior season by moving up several of UGA's 3-point season and career records charts. The Monticello, Miss., native hit 59 field goals from behind the arc to rank No. 9 all-time in a single season at Georgia, while her 146 career 3-point baskets ranks No. 9 on the Georgia career records chart.