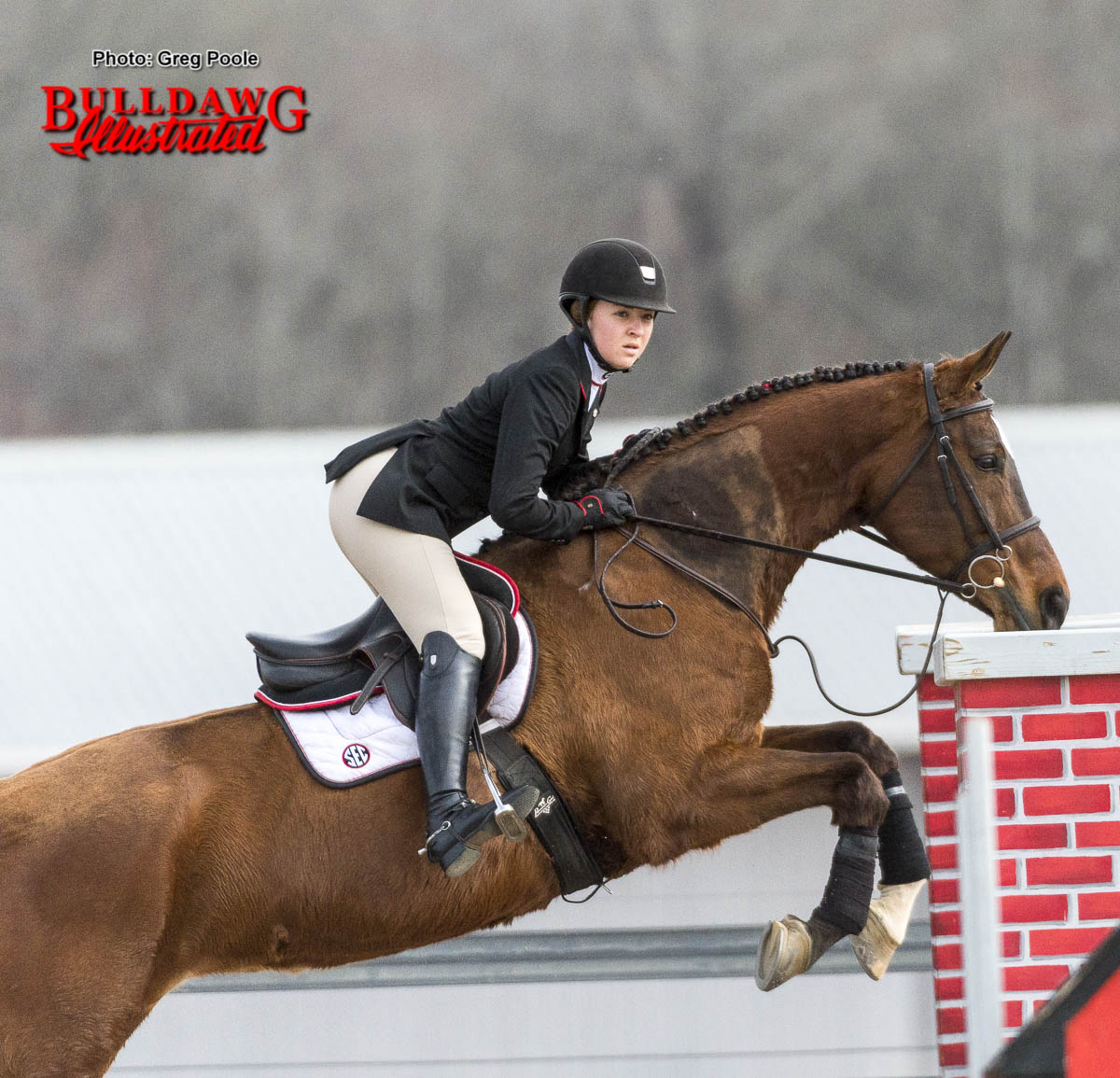 In a Friday afternoon home meet at the UGA Equestrian Complex in Bishop, GA, the 7th-ranked Georgia Bulldogs defeated 8th-ranked South Carolina by a score of 14-5 and improve to 5-4 on the season.


Three Bulldogs rode to season-high scores, including Maddy Darst (Equitation Over Fences), Liza Finsness (Equitation on the Flat and Equitation Over Fences), and Meg O'Mara (Equitation on the Flat). Darst and Finsness earned Most Outstanding Performance (MOP) honors for their rides.


"Coming into today, we just wanted to put in strong rides," Georgia head coach Meghan Boenig said. "We've seen so much development in these riders and we know this is a journey and a process. We've seen throughout practices what they are capable of so getting those scores and rewards feels awesome, but this is what we expected. We just need to expect this every time, continue to grow and do this on the road as well."


Georgia jumped to a 4-0 lead in Equitation Over Fences, with each Bulldog riding to impressive scores in the 80's. Finsness put the Bulldogs on the board with an 88-83 victory over South Carolina's Sydney Smith. Darst answered, scoring a career-high 89 to better Madison Butehorn's 81. O'Mara edged Lizzie van der Walde, 87-86, before Emma Mandarino tied Chloe Schmidt with an 84. Sydney Hutchins closed out the event with an 85-82 victory over Madison Sellman.


Georgia extended its lead in Horsemanship. Graysen Stroud bested Courtney Allen's 68.5, before Bailey Anderson scored a 73.5 to defeat Ashley Reichert. In the anchor position, Madison Anger scored a 72 over Megan Overberg's 65.5 to give Georgia a 3-2 advantage in the event.


No. 7 Georgia led No. 8 South Carolina, 7-2, at the break.


Georgia rode away with the meet in Equitation on the Flat. In the lead off position, Addyson Cord defeated van der Walde, 78-66. Freshman Grace Bridges made her collegiate debut in the ring earning a point for Georgia with a 77-74 defeat over South Carolina's Madison Sellman. O'Mara scored a career-high 95 to remain undefeated, before Finsness rode to a season-high and MOP-earning 91 to defeat Sydney Smith.


Georgia finished with a 3-2 advantage over the Gamecocks in Reining. Lindsey Cheek edged Bailey Walters, 65.5-65, to earn a point for Georgia. Kyndall Harper rode to a 64.5-61.5 defeat over Jordan Scott, before Stroud closed out the meet with a 69-66.5 victory over South Carolina's Maddie Thiel.


The double-header weekend continues Saturday, Feb. 4 as Georgia competes against Delaware State at 10 a.m., before hosting a neutral-site meet between South Carolina and Delaware State that afternoon.


CLICK HERE for the complete score sheet of the Georgia versus South Carolina equestrian meet.