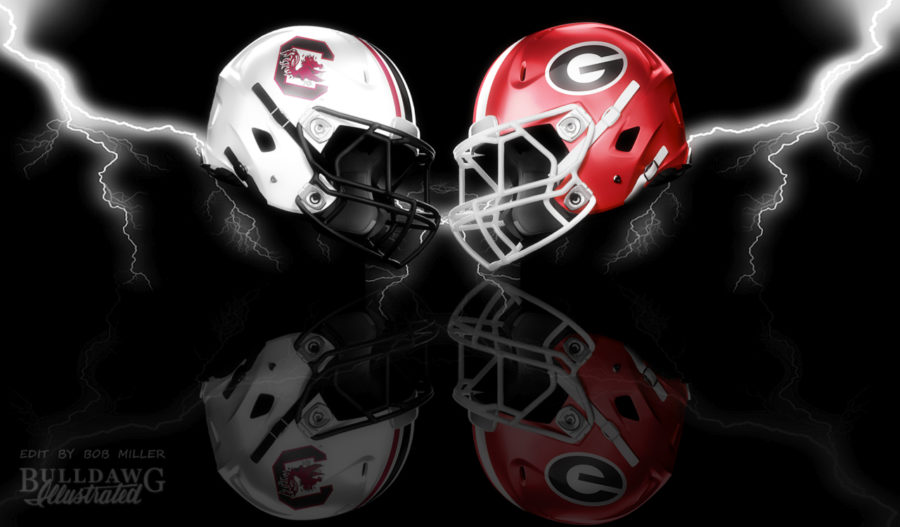 Welcome to Bulldawg Illustrated's Gameday Live Thread for Georgia vs. South Carolina. The 3rd-ranked Bulldogs are back home from dispatching the Volunteers up in Knoxville and are seeking their sixth win on the year against the Gamecocks between the hedges of Dooley Field at Sanford Stadium. We have your game day info, where to watch or listen to the game, college football scores, live chat, and more!
GAME DAY INFO & TIMELINE
Match-up: (5-0) #3 Georgia vs. (2-3) South Carolina
Location: Dooley Field at Sanford Stadium, Athens, GA (92,746)
07:00 a.m. ET – Tailgate locations open
08:00 a.m. ET – Pregame broadcast
09:45 a.m. ET – Dawg Walk
10:00 a.m. ET – Gates open
11:18 a.m. ET – Krypton
11:50 a.m. ET – National Anthem
11:54 a.m. ET – Battle Hymn
12:02 p.m. ET – Kickoff
GAME DAY WEATHER FORECAST
Weather for Dawg Walk: Mostly sunny 67-69°F
Weather for Kickoff: Mostly sunny and 76-78°F
Weather for end of the game: Partly Cloudy and 81°F
Weather provided by WeatherSTEM
T.V. BROADCAST INFO
TV announcers:
Play-by-play: Bob Wischusen
Game Analyst: Dan Orlovsky
Sideline reporter: Allison Williams
BULLDOGS RADIO BROADCAST INFO
BULLDOG NETWORK STATIONS:
WSB AM 750 & WSB FM 95.5 (Atlanta, GA)
WGAU AM 1340 & WNGC FM 106.1 (Athens, GA)
SiriusXM RADIO/Internet: 81/81/81
RADIO ANNOUNCERS:
Play-by-play: Scott Howard
Analyst: Eric Zeier
Sideline reporter: Chuck Dowdle
NATIONAL TOUCHDOWN RADIO
SiriusXM Radio 84
RADIO ANNOUNCERS:
Play-by-play: Brett Dolan
Analyst: Gino Torretta
GAME NOTES & ROSTERS
COLLEGE FOOTBALL SCORES
SOCIAL MEDIA
BD ILLUSTRATED'S YOUTUBE CHANNEL
For the latest videos on Georgia vs. South Carolina, interviews and press conferences with coaches and players…
A grassroots effort to unite the Bulldawg Nation. www.BulldawgIllustrated.com
GAME PREDICTIONS
It's week 7 of the 2019 college football season, and the Bulldawg Illustrated staff are mustering all their powers of prognostication to predict the outcome of today's Georgia vs. South Carolina game. Hamilton Culpepper: Georgia 41 – South Carolina 13 "Hot Rod lives up to his name and stays hot.
FOR MORE GAME DAY INFO:
Gates Open – Gate 1 is student only, please use game 10. Avoid using gate 2, consider using gates 3, 4a, or 4.