Quarterback
Back in 2017, when Stetson Bennett first came on the radar of the Georgia faithful as a scout team standout and opposing quarterback preparation secret weapon, everyone envisioned that he would be the Bulldogs starting quarterback in 2022. And that it would be Bennett behind center, not Jake Fromm, Jacob Eason, Justin Fields, Jamie Newman, or J.T. Daniels when Georgia vanquished Alabama to win the 2021 national championship. Right? Everyone saw that coming. Everyone? Right?
A perfect fit for Georgia's championship run of 2021, the lifelong diehard Bulldog fan is literally living the dream. The former walk-on, whose story is Moby Dick and Jaws compared to the Finding Nemo of Notre Dame's Rudy, was used to being the second, third, or fourth choice at quarterback for his beloved Bulldogs.
But the stars aligned, and time after time, it was Bennett to the rescue, beginning with the 2020 season-opening victory over Arkansas. Perhaps it was serendipitous that in 2021, Bennett made his second start of the season – following a Game Two amazing performance against UAB – again against Arkansas, and never relinquished the starting job on the Bulldogs' dream run to the mountaintop.
Now, taking advantage of the redshirt and Covid seasons, "Stet the Jet," "The Mailman," he's back for a sixth season at Georgia, he's back as a Bulldog folk hero, and he's back as the incumbent starting quarterback for college football's national champions.
Yep, Stetson Bennett IV is "The Godfather," and "Rudy" is "Howard the Duck."
Bennett was at his very best on the biggest of stages at the most critical of moments. Following a controversial fumble call that stunningly, like a similar play in the first quarter, went Alabama's way, the Bulldogs fell behind the Crimson Tide 18-13 in the fourth period in Indianapolis. By the way, Nolan Smith's two-point stop of Bryce Young was one of the biggest plays in the game. Getting the ball back down by five, with the chance to reclaim the lead, instead of being down by seven, needing a touchdown and Point After just to tie, was enormous.
Well, the kid from Blackshear completed his final four passes, two for touchdowns, and the Bulldogs emerged victorious. But you know that already.
On the season, Bennett completed 64.5% of his passes for 2,862 yards and 29 touchdowns, with seven interceptions. What has set the moxy-filled QB apart is his ability to run. Both on scrambles and by design. He picked up 259 yards on the ground, averaging 4.6 per scamper, and chalked up a touchdown in the Bulldogs' victory at Tennessee.
With so much of a generationally dominant defense (and punter) off to the NFL, the Bulldogs may lean a bit heavier on the offense to show the way in 2022, especially early in the year. By the way, Georgia's average margin of victory a year ago was 38.6-10.2.
The experience and versatility of the sixth-year graduate will be a big factor for a promising offense.
Bennett is back for the victory ride, as the undoubted first-string quarterback.
The big question, who is the No. 2, and subsequent front-runner to be the starter behind center in 2023?
There is a lot of talent, but not much experience.
Carson Beck, in his third season, seems the best bet when preseason camp begins. He was 10 of 23 for 176 yards with two touchdowns and two interceptions in reserve duty last season. Beck can spin it. He throws a good ball but is the least mobile of Georgia's signal-callers.
Brock Vandagriff played in just two games and threw only one pass as a true freshman last year. He's athletic, with good speed and a big arm. True freshman Gunner Stockton was a record-setter at Rabun County High School and has the luxury of making that push up the depth chart with the starting spot – knocking on wood, provided Bennett stays healthy – locked down.
If Georgia can build some big leads, it's a pretty good bet that head coach Kirby Smart and offensive coordinator Todd Monken would like to get some of these understudies some important game-action snaps.
Mike Bobo's return to the Georgia staff is another big lift. His expertise of the quarterback position, success as a play-caller, and long-time friendship with Smart, dating back to their playing days for the Bulldogs, is an enormous asset.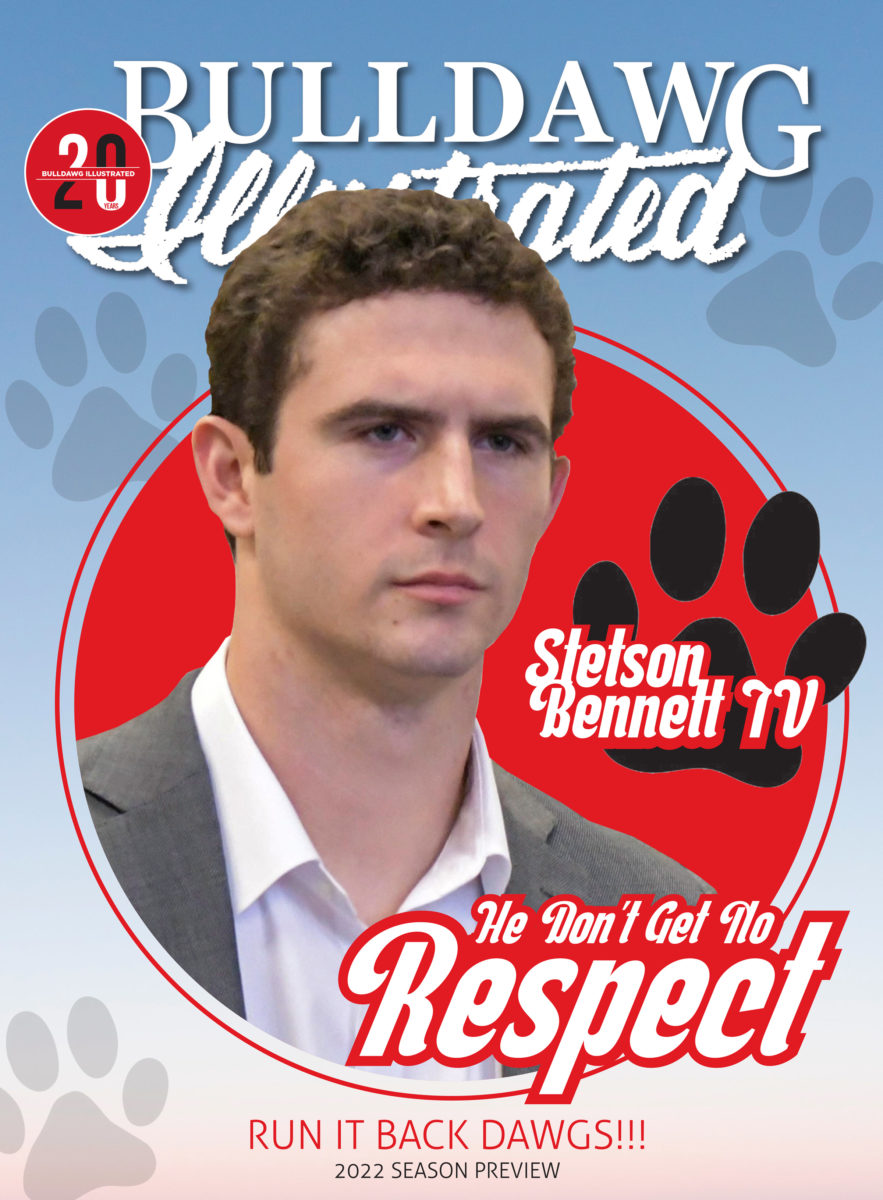 Running Back
Tailback U. sent Zamir White and James Cook to the NFL. Both had stellar careers, scored a lot of touchdowns, and got a bunch of big yards in enormous games. Most notably in Indianapolis. White rushed for 84 yards on 13 carries (6.5 per) and scored the Bulldogs' first touchdown, which was set up by a 67-yard dash by Cook, who had 77 yards on six carries (12.8 average). In the most critical, physical, and toughest of circumstances, White carried four times for 26 yards, and Cook ran twice for six yards on THE DRIVE that put Georgia up 26-18. With Alabama focused on the run, Bennett dumped off a short pass to All-American tight end Brock Bowers, who ran in from 15 yards out, with some excellent blocking from the line and Marcus-Rosemy Jacksaint.
The time is now for Kenny McIntosh, Kendall Milton, and Daijun Edwards, three veterans who have now moved from supporting to leading roles.
McIntosh ran for 328 yards (5.7 per carry) and three touchdowns, including a 59-yard scoring scamper in the Bulldogs' 45-0 victory at Tech. He's also an excellent receiver. In fact, he and Cook were arguably the most skilled pass-catching running back duo in the country last year. McIntosh had 22 grabs for 242 yards last season with two touchdown receptions. He is strong and physical. Remember his dragging a slew of Michigan defenders in the Orange Bowl? Oh, by the way, the versatile McIntosh also threw a touchdown pass to A.D. Mitchell against Michigan in Miami and is dangerous on kickoff returns.
Milton is also a top talent but has struggled to stay healthy his first two years. A strong runner (remember his run against Tennessee that set up a touchdown to go up 30-21 in 2020?) with outstanding potential, the M&M Bulldog backs will be leaned on heavily to carry on Georgia's great tradition of runners. Edwards has been the back who has run out the clock and put the cherry on top of some outstanding Georgia victories. He's also an outstanding special teams player.
There are two true freshmen added to the depth chart. Branson Robinson is a blue-chip recruit from Mississippi, while Andrew Paul from Texas was a late bloomer.
Wide Receiver
As a freshman, last season, Ladd McConkey and A.D. Mitchell were tremendous and made their marks in huge games (more on another rising sophomore pass catcher in just a moment). Mitchell's 40-yard TD reception from Bennett put Georgia up for good in Indianapolis, and he caught the halfback pass from McIntosh for a TD against Michigan. Those were two of his four touchdown catches. McConkey caught five touchdown passes, including one against Tech. He also ran for a touchdown and had the downfield block that sprung Bowers for the first touchdown against Michigan. Both Mitchell and McConkey snared scoring tosses from Bennett in the 34-10 win at Auburn.
Health has been such a big issue at the position. Kearis Jackson, Dominick Blaylock, Arian Smith, and Rosemy-Jacksaint have all had major moments, and they've all had to deal with an assortment of injuries.
That "if" word. If all of these standouts are healthy, Georgia will have an impressive fleet of receivers to go along with the Bulldogs' incredible assortment of tight ends.
Jackson had a 36-yard touchdown catch against Florida, battling back from injuries, a year after emerging as one of the Bulldogs' top receiving threats. He's also the incumbent punt returner.
As a freshman in 2019, Blaylock scored touchdowns against Florida, Auburn, and Tech. He too was a punt returner. Two knee injuries have sidetracked him, but Smart says Blaylock is close to being back.
Rosemy-Jacksaint had a horrible injury on his touchdown against Florida in 2020. He came back last season and was a valuable contributor – including a nice grab against Tech and the aforementioned downfield blocking on Bowers Indianapolis TD.
Smith is a difference-maker, a jet. One of the fastest players in the country, Smith has the big-play downfield long-bomb potential every team so sorely seeks. His fourth-down touchdown against Missouri to put Georgia up 7-3 was one of his biggest plays last year.
There are other contenders, and some talented freshmen coming in. But these six top the list of wide receivers. Trying to get the timing down with too many different receivers can cause some synchronicity problems. But Smart and Bryan McClendon, back as the wide receivers coach, are hoping for a deep and talented group. That will be the case, provided the Bulldogs can finally have a year of staying healthy at this position.
Tight Ends
Brock Bowers had one of the most spectacular freshman seasons of any player in Georgia history. Topped only by Herschel Walker in 1980 and rivaled only by Todd Gurley in 2012, Bowers was a First Team All-American and one of the ultimate difference-makers for Georgia's national championship. There are some similarities to 1980 and Walker being that missing piece for the national championship, even down to the injured shoulder in the title tilt.
A rare talent with all the tools and skills, Bowers has tremendous hands, incredible speed, textbook size and is a physical blocker and runner. He could be the best player in the country. It can be argued that Bowers had the best all-around season by any tight end in college football annals.
He scored touchdowns against Michigan in the Orange Bowl and Alabama in the National Championship Game. And the SEC Championship Game. And against Tech on a spectacular catch and run, splitting and out-racing six Jacket defenders. He had long grabs against Florida, Auburn, and Tennessee. Bowers was the team's leading receiver against Clemson. His 89-yard catch-and-run for a touchdown against UAB was reminiscent of Walker's famed 76-yard touchdown dash down the same North sideline against South Carolina in 1980.
Bowers smashed records with 13 touchdown catches and 882 yards on 56 receptions for an average of 15.8 per grab. He also, on tight end reverses, carried four times for 56 yards and a touchdown.
Hall of Fame Bulldog legend, Kevin Butler, nicknamed the native of Napa, California 'Cab,' as smooth as a delicious cabernet. He's got the stats, the moments, the amazing talent, and he's got the national championship. Like Number 34.
Now, what can Bowers do for an encore?
Tight Ends Coach Todd Hartley has a potential all-timer group, with Bowers at the head of the class.
The Skyscraper Darnell Washington is another of the nation's best. He fought through some injuries last season but excels as a dominant blocker and sure-handed threat. In 11 games, he caught 10 passes for 154 yards and recorded a touchdown in the SEC Championship Game. Washington is a load to bring down. When the Dogs run behind him, Washington, at 6-7, 265, helps pave the road.
Arik Gilbert, who was an elite recruit and a Freshman All-American at LSU in 2020, transferred in and missed last season. He was a big hit in the spring game. So was early enrollee true freshman Oscar Delp.
At this position, Georgia's cup runneth over. Brett Seither is the likely fifth-stringer. He would start at many schools. Ryland Goede, who has battled injuries, rounds out the depth chart.
Monken will have a golden opportunity to get innovative and creative in the running and passing game with this plethora of tight-end talent.
Offensive Line
This should be another position of strength, despite the matriculation of All-American Jamaree Salyer and three-year starter Justin Shaffer to the NFL. The Bulldogs also have a new offensive line coach. Sort of. Matt Luke did a great job succeeding Sam Pittman, who did a great job. Get the picture? Better be good up front, and that starts with outstanding offensive line coaches. Pittman is having outstanding success as Arkansas's head coach. Luke, a mentor of Bulldog legend and O-Line coaching guru Hugh Nall, is a former Ole Miss head coach. Following the national championship, Luke stepped down to spend more time with his family. Now Searels, another of the best in the business, who once worked for Mark Richt, is back for a second stint coaching the Bulldogs' "Big Uglies."
There is fantastic talent, depth, and size up front, the benefit of tremendous recruiting and development of offensive line talent in the Smart era.
Let's go from Left Tackle to Right Tackle …
Broderick Jones, a former five-star recruit, is the starter at LT. He played for Salyer there while the All-American was injured in November. Then in the National Championship Game, Salyer moved inside to right guard, with Jones taking over at left tackle. The Bulldogs' offense started clicking. Big time. Georgia's offense had touchdown drives of 80, 75, and 62 yards in the second half en route to the big prize.
The two starting guard spots will feature some outstanding battles in preseason camp. Tate Ratledge went five plays against Clemson before being injured and lost for the season. He'll have a shot to start at left guard. Warren Ericson is quick and versatile. If he doesn't start at guard, he's a tremendous "sixth man" type reserve in the middle. He can play center as well.
Devin Willock and Xavier Truss are enormous and powerful and in the mix. There are redshirt freshmen Dylan Fairchild and Jared Wilson, both with bright futures. Same for early enrollee true freshman Earnest Greene. There are also a pair of highly touted second-year tackles Amarius Mims and Micah Morris. They could be the heir apparent starters on the outside and/or push for starting spots inside.
Sedrick Van Pran is an All-SEC candidate at center. With Ericson behind him. The Bulldogs are in great hands here.
Same at right tackle with Warren McClendon. This Georgia legacy from Brunswick has been a rock at right tackle since taking over there in the 2020 opener against Arkansas.
Mims and Morris are the top backups at the two tackle spots. Austin Blaske is another versatile performer enhancing the depth chart. There are four other massive true freshmen, along with Greene, who are dipping their toes in the waters of college football.
Georgia's second-team offensive line should be really, really good.
The starting five will have the potential to be one of college football's best. So much of that comes down to finding the right mix and right combinations. The depth is great, but cohesion is so important.
There are options aplenty. The position battles and all the practices against the Bulldogs' defensive line should have that O-Line iron sharp.
Defensive Line
One of the greatest defenses in the history of college football was further showcased at the NFL Draft in Las Vegas. A record total of 15 Bulldogs were selected, including five first-round choices, all defensive players. Jordan Davis won the Bednarik Award (America's top defender) and Outland Trophy (America's best lineman). Travon Walker was the first overall pick, and NaKobe Dean won the Butkus Award (America's top linebacker). All three are amongst the eight Georgia defensive players selected in Las Vegas. Their legacy will live on forever in Bulldog lore.
So now let's look at who's coming back, who's coming in, and who's opportunity is now. Starting on the defensive line.
Tray Scott's unit was one of the all-time best in college football. There were four great defensive linemen. Walker, Davis, and DeVonte Wyatt all were first-round picks. Jalen Carter returns as the bell cow, arguably the best defensive lineman in the country. The total package and a potential top-five overall pick, this run stuffer, pass rusher, kick blocker, and lead blocker is amongst college football's most talented players. Carter will constantly be double and triple-teamed. So who can step forward and take some of the pressure off Carter?
Even though they often set up as classic defensive ends, Nolan Smith, who like Carter is a potential All-American, and Robert Beal will be classified as outside linebackers for the preview. Obviously Smith and Beal will have to consistently pressure the passer from the edge and keep containment against the run.
But what about on the defensive interior?
The other two starters up front come from a large pool of veterans, newcomers, and up-and-comers. Nazir Stackhouse, Zion Logue, Warren Brinson, and Tramel Walthour are all in at least their third season. All have had their moments, but must now take leading roles along with Carter. A group of redshirt freshmen, led by Tyrion Ingram-Dawkins and Jonathan Jefferson are fighting for snaps. And then there are the true freshmen. "Bear" Alexander, Christen Miller, and Shone Washington were all heavily recruited and have bright futures in the interior. Mykell Williams and Marvin Jones Jr. are five-star prospects who could wind up at defensive end or outside linebacker. This Georgia recruiting class could be the foundation of a down-the-road 2.0 version of Georgia's 2021 defense.
Logue, who had an outstanding spring, and Stackhouse could be the two best bets to start up front in a "3-4." Of course, everything is multiple, down and distance driven, and conducive to the offense's set.
As the season progresses, the continuity of the defense, complete with some newcomer impact, should improve. Smart, despite the incredible draft numbers, still has high expectations for the stop unit. Can Georgia be good on defense from the get-go, and outstanding by November?
No doubt that the defensive line will have a huge early test from the talented Oregon offense, loaded with a talented, veteran offensive front.
Linebacker
Nolan Smith's return is huge. A ++ performer, this five-star prospect, like Carter, has become a five-star player. He's come up with huge sacks – including the last play of the 2021 season in Indianapolis, come up with fumbles and interceptions, and blocked punts. Smith and Carter are two players who must be schemed for. The two turnovers he helped produce at the end of the first half of the 34-7 victory over Florida last season indicate the variety of ways that Smith can make a difference. He is also a team leader, well aware of the ripple effect as a big fish in the Bulldogs' pond.
Beal's return for a sixth season due to the Covid rules, gives the Bulldogs another talented veteran on the front. With all of the players lost to the NFL, the veteran talent and leadership of Carter, Smith, and Beal are vital to Georgia's success.
Behind Smith and Beal on the outside are some talented underclassmen. This is the norm now for Georgia. The recruiting and development have been incredibly strong. Chaz Chambliss is a big hitter who had some big hits last season as a freshman. M.J. Sherman is a junior who can also play inside. Chambliss could as well. This is another constant for Smart's Bulldogs – versatility and cross-training.
That showed last season with Quay Walker (first-rounder) and Channing Tindall (third rounder), inside 'backers by trade, lining up at multiple spots. Williams, Jones, C.J. Madden, and Darris Smith are all true freshmen who have plenty of promise on the edge.
Dean, Walker, and Tindall are all off to the NFL from the inside. All were tremendous last season, with Dean shining as one of the best players in the country. Amongst his highlight plays, the pick-six in the closing seconds of the first half gave Georgia a 24-0 lead in Jacksonville. He had the kind of All-American Butkus Award-winning season that Roquan Smith had for the Bulldogs in 2017.
The next "guy" on the inside looks like No. 10 Jamon Dumas-Johnson. In a reserve role, every time JDJ got a shot, he popped. From a pick-six against UAB to a sack against Tech to a stellar spring, Dumas-Johnson shows all the signs of a potential standout. The other inside linebacker spot is a bit more open. Veterans Trezman Marshall and Rian Davis have battled injuries, but are ready for their turn. Highly touted second-year players Smael Mondon and Xavian Sorey made a push up the depth chart, and early enrollee true freshman Jalon Walker is ahead of the curve. Then there is E.J. Lightsey, who was injured in a shooting as an innocent bystander in his hometown this past February. His survival and recovery from a potential tragedy is an uplifting and inspirational story.
Solidifying the inside linebacker spot, which has lots of depth and potential, is a top priority for the Bulldogs in preseason camp. But, like at every position on this talent-laden roster, the present is exciting and encouraging, and the future bright.
Secondary
Kelee Ringo will forever live in Georgia lore. His 79-yard interception return for a touchdown with the Bulldogs clinging to a 26-18 lead against Alabama late in the fourth quarter of the National Championship Game, is one of the grandest plays in Bulldog history. This highly-touted five-star from Arizona, with his wonderful, inspirational, cancer survivor mother as his biggest cheerleader, is the headliner for the Bulldogs at cornerback. He improved throughout the season, and then made the big splash in Indianapolis. Ringo is another defensive preseason All-American stepping into a leading role. Derion Kendrick, terrific in his one season in Athens, is off to the NFL. The other corner will likely be Kamari Lassiter or Nyland Green. Let's talk about versatility again. William Poole was strong in the playoffs despite not playing much in his Georgia career. He came back for that extra year, and can play corner or nickel or star. Tykee Smith, injured last year after transferring from West Virginia, is fighting for a starting spot at the "star" as well.
There is all kinds of highly touted true freshman talent in the secondary. Staying at corner, Daylen Everette, made an impression as an early enrollee. Jaheem Singletary and Julian Humphrey were big time recruits who came in this summer. The same goes for legacy corner Marcus Washington, who reclassified and graduated early.
Fran Brown is the new DB's coach. There's an impressive coaching tree at this position within the staff. Smart was an All-SEC safety, and co-defensive coordinator Will Muschamp was a big-hitting safety for the Bulldogs. It's in their DNA to strive for excellence in the secondary.
No doubt the Bulldogs will miss Lewis Cine, another first-rounder, and cornerstone at safety. This big hitter and team leader was the Defensive MVP of the National Championship Game. However, Christopher Smith is back for an extra year. His pick-six against Clemson was Georgia's first touchdown of the year. That's a nice championship book-end of TD returns off interceptions against Clemson and Alabama.
There are five stars, there are players who have waited their turns and thrived when their numbers have been called, and there are walk-ons. Not just Bennett and Jack Podlesny.
Dan Jackson had a big impact as a regular at safety and blocked a punt that Zamir White recovered for a touchdown against Arkansas. David Daniel – Sisavanh and Javon Bullard got their feet wet as freshmen last season. Blue-chip prospect Malaki Starks and fellow true freshman JaCorey Thomas have the look of that next wave.
The returning experience in the Bulldogs' secondary is huge. Like on the defensive front, the fourth and fifth-year players will be in leading roles this season and help bridge the gap for the next wave of potential Bulldog greats.
Special Teams
Jack Podlesny, the former walk-on, has made a lot of big field goals in his two seasons as Georgia's starting field goal kicker. He was two-for-two in Indianapolis and hit the game-winner to beat Cincinnati the year prior in the Chick-Fil-A Peach Bowl.
Consistency, making the kicks you're "supposed to make," and hitting the PATs, are the musts. For any kicker. Georgia has a great lineage at the position, and "JackPod" has done his part to enhance the legacy.
As for kickoffs and punting…
There might not be one individual player who will be more difficult to replace than Jake Camarda. The All-American punter, booming kickoff master, and standout holder, had a tremendous career in Athens. Going back to the days of Hall of Fame legend Bill "Hang 'em High" Hartman, Georgia has been blessed with many a super toe, Camarda was certainly one.
The Bulldogs' heir apparent is Australian-born Brett Thorson. How quickly he adapts to the SEC, like so many true freshmen, will be a big key to Georgia's success.
Jared Zirkel is the likely kickoff specialist for the Bulldogs.
As for the return game, Jackson is back on punts, with McConkey, and, who knows, maybe Blaylock factoring at some point. McIntosh is the top kick returner and there are plenty of talented speedsters to team up with him.
As for the positions that are so vital, but usually only get their names said if something goes wrong, holder and snapper, those positions have long been in good hands. Payne Walker and William Mote are the snappers. Will Thorson hold, or will it be one of the backup quarterbacks?
These are the particulars of preseason camp that are so important. And in season openers, special teams preparation truly shows.
The kicking game has been a great weapon for the Bulldogs under Smart's watch, and that certainly showed against Alabama in Indianapolis with Podlesny, Camarda, and the blocked field goal an enormous part of the national championship victory.