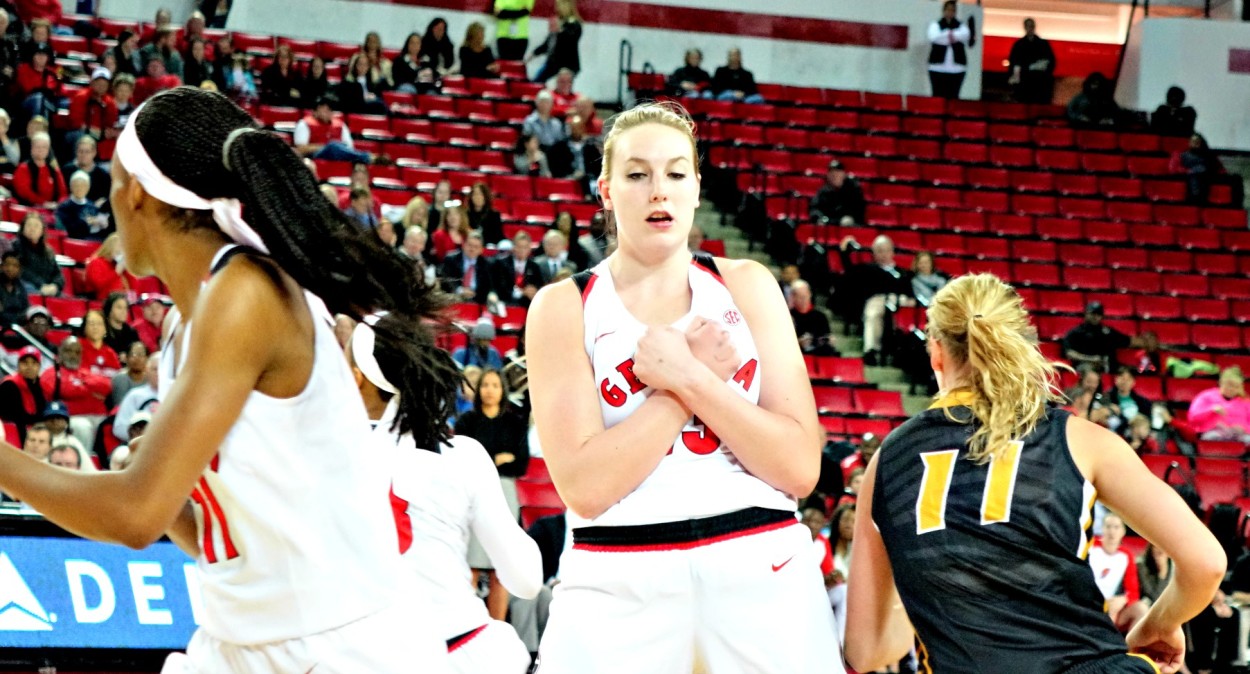 [su_spacer size="40″]
Georgia Lady Bulldogs vs Florida Gators
Thursday, Jan. 14, 2016 | Stephen C. O'Connell Center | 7 p.m. ET
TV: SEC Network + Adam Schick (PBP), Brittany Davis (Analyst)
Radio: Georgia Bulldog Radio Network by IMG (Jeff Dantzler, PBP)
[su_spacer size="40″] The Georgia Lady Bulldog basketball team makes the trek to Gainesville, Fla., on Thursday for the first of two road trips this week. Georgia will face No. 20 Florida at 7 p.m. ET Thursday before heading to Alabama to take on the Crimson Tide at 5 p.m. ET on Sunday.
[su_spacer size="40″] Opening Tip — Five Things To Know
» Georgia plays a ranked opponent for the fourth-straight game when it travels to Gainesville to take on No. 20 Florida. This marks the first time in school history the Lady Bulldogs have opened SEC play with four-straight ranked opponents.
» The Lady Bulldogs are third in the SEC (13th nationally) in scoring defense, holding opponents to 52.4 ppg. Georgia also ranks third in field-goal percentage defense (33.3 percent) and has held 15 of 16 opponents to 40 percent or below shooting.
» Georgia is one of the most unselfish teams in the nation, averaging 17.5 assists and just 13.3 turnovers per game — a ratio that ranks first in the SEC and ninth in NCAA women's basketball. Senior point guard Marjorie Butler leads the league in assist-to-turnover ratio with 71 assists and 22 turnovers this season.
» UGA finished non-conference action with a 12-1 record, which tied for the third-best start by an SEC head coach in his or her first season at a program. Pokey Chatman (13-0, LSU in 2004-05) and Tom Collen (13-0, Arkansas in 2007-08) are the only two to have better starts through their first 13 games.
» Senior guard Shacobia Barbee leads the Lady Bulldogs in scoring in conference play, averaging a double-double with 11.7 points and 11.7 rebounds per game through three SEC games. Barbee ranks in the top-5 in the SEC in rebounds (3rd with 9.3 per game), steals (4th with 2.5 per game) and assists (5th with 4.8 per game).
[su_spacer size="40″] A Georgia Win Would … 
– Be Georgia's first SEC win of the season. The Lady Bulldogs' last SEC victory came in the 2015 SEC Tournament against Missouri.
– Improve Georgia's record to 13-4 under first-year head coach Joni Taylor.
– Give the Lady Bulldogs their second win against a ranked opponent this season. UGA defeated then-No. 21 Seton Hall, 70-52, on Dec. 6 at Stegeman Coliseum.
– Improve Georgia's record to 3-2 on the road this season.
[su_spacer size="40″] Series Information 
Overall: Georgia leads, 51-15
In Athens: Georgia leads, 27-4
In Gainesville:  Georgia leads, 22-10
Neutral Sites: Georgia leads, 2-1
Current Streak: Georgia, 1-0
Last Meeting: Georgia won, 52-45 (3/1/15) Gainesville
[su_spacer size="40″] Scouting Florida 
No. 20 Florida enters Thursday's game with a 14-2 overall record and has reached the AP top-25 for the first time since the 2008-09 season. The Gators swept SEC Player of the Week honors this past week with Carlie Needles winning Player of the Week and Eleanna Christinaki earning Freshman of the Week honors. Florida is coming off an 85-65 win against Ole Miss and defeated No. 12 Tennessee, 74-66, last week in Knoxville.
[su_spacer size="40″] Last Time Out
Nine different Lady Bulldogs scored in a balanced offensive attack, but the Georgia Lady Bulldog basketball team could not overcome a 14-point deficit entering the fourth quarter and fell to No. 10/9 Kentucky by a 64-53 final score last Sunday afternoon at Stegeman Coliseum.
Halle Washington and Shacobia Barbee led all Lady Bulldogs with eight points, pacing an offensive effort in which nine of 10 Georgia players who saw playing time also appeared on the score sheet. The home squad showcased team basketball in the offensive end, finishing with 17 assists on 20 buckets. Defensively, the Lady Bulldogs finished just three points off of holding Kentucky to its season low of 61 points.
"We can't dig ourselves a hole," said head coach Joni Taylor. "We've come out in every SEC game and dug ourselves a hole we couldn't climb ourselves out of. Credit our players for playing hard, but we're past that now. We're supposed to play hard, we're supposed to keep fighting. If anything, we can look at that and hang our hat on that."
[su_spacer size="40″] Georgia Notebook
15 Opponents Below 40 … Lady Bulldogs Getting Defensive
– Georgia has held 15 of 16 opponents below 40-percent shooting this season and has held nine of 16 teams to their respective season lows in scoring. No. 16 Texas A&M became the first opponent to shoot above 40 percent in a game against Georgia this season as the Aggies hit 45 percent in the game.
[su_spacer size="40″] Griffin, Barbee Moving Up In The Record Books 
– Georgia's senior duo of Tiaria Griffin and Shacobia Barbee are leaving their mark on the Lady Bulldog record book. Griffin
currently ranks sixth in Georgia history with 183 career 3-point baskets and is third in the SEC in made 3-point field goals this season with 37.
After missing the last 10 games of the season a year ago, Barbee stormed back for the Lady Bulldogs in the first game of the year vs. Stetson, recording a triple-double with 10 points, 13 rebounds and 10 assists against the Hatters — becoming just the third Lady Bulldog player all-time to reach a triple-double (Teresa Edwards, 1986; Tracy Henderson, 1995). Barbee ranks ninth in school history in steals with 251 in her career.
[su_spacer size="40″] Butler Distributing The Ball 
– Georgia senior Marjorie Butler has developed into one of the top point guards in the SEC this season as she ranks first in assist-to-turnover ratio (3.58) and fourth in total assists with 71. Butler has dished out three or more assists in 15 of 16 games this season.
[su_spacer size="40″] Lady Bulldogs Faced Strong Non-Conference Slate
– The Lady Bulldogs faced five 20-win teams and seven schools that advanced to post-season play last season during the 2015-16 non-conference schedule. Georgia played five teams that competed in the postseason a year ago – Stetson (23 wins, NIT) on Nov. 15, Georgia Tech (19 wins, NIT) on Nov. 22, Mercer (20 wins, WBI) on Dec. 2, Seton Hall (28 wins, NCAA) on Dec. 6 and Furman (19 wins, WBI) on Dec. 8, winning each contest.
[su_spacer size="40″] Robinson Named SEC Freshman Of The Week On Dec. 29
– Georgia freshman forward Caliya Robinson has had a strong start to her Lady Bulldog career. Robinson was named the SEC Freshman of the Week on Dec. 29 after averaging nearly a double-double in wins against Cincinnati and Tennessee Tech. The Marietta, Ga., native currently leads the Lady Bulldogs in blocked shots with 14 and is averaging 6.3 points per game to go along with 5.1 boards per contest.
[su_spacer size="40″] Hempe Making A Difference
» Senior forward Merritt Hempe, who has recorded four double-doubles through 16 games this season, is not only making her mark on the court but she is also playing a pivotal role in the community. Hempe has been nominated for the 2016 AllState WBCA Good Works Team for her efforts off the court.
The Fredericksburg, Va., native participates in numerous community service efforts, including Special Olympics Homeruns for Hometown Rivals baseball game, Toys for Tots, writing Holiday cards for deployed soldiers, helping provide safe routes to school by partnering with Barrow Elementary, providing toiletries collection for the homeless, visiting Stroud Elementary throughout the year to encourage and mentor children, is an Alzheimer's Walk Volunteer and Ath-Half Volunteer, and volunteers as an AAU coach and operations staff member. The 2015-16 Good Works Team will be released in February.
[su_spacer size="40″] 56-Straight Is Nation's Best
– The Lady Bulldogs' 56-game home non-conference win streak ranks as the top mark in NCAA DI women's basketball. Georgia's last loss at home vs. a non-conference team came in 2008 — a 56-44 loss to Xavier on Dec. 30, 2008. Georgia has gone eight-straight seasons with an undefeated home non-conference record.
[su_spacer size="40″] In-State Dominance
– Georgia has won 19-straight games against teams from the state of Georgia, including a 4-0 record this season. The Lady Bulldogs' last loss to an in-state team came on Dec. 5, 2010 against Georgia Tech. Georgia is 104-35 all-time against NCAA Division I teams from the Peach State.
[su_spacer size="40″] Books And Basketball For Butler
– Georgia senior point guard Marjorie Butler is busy preparing for medical school as she completes her senior season. She entered college with over 50 hours of college credits, and is currently going through medical school interviews. The Knoxville, Tenn., native already has a degree in exercise science and will graduate with a second degree in biology this May.