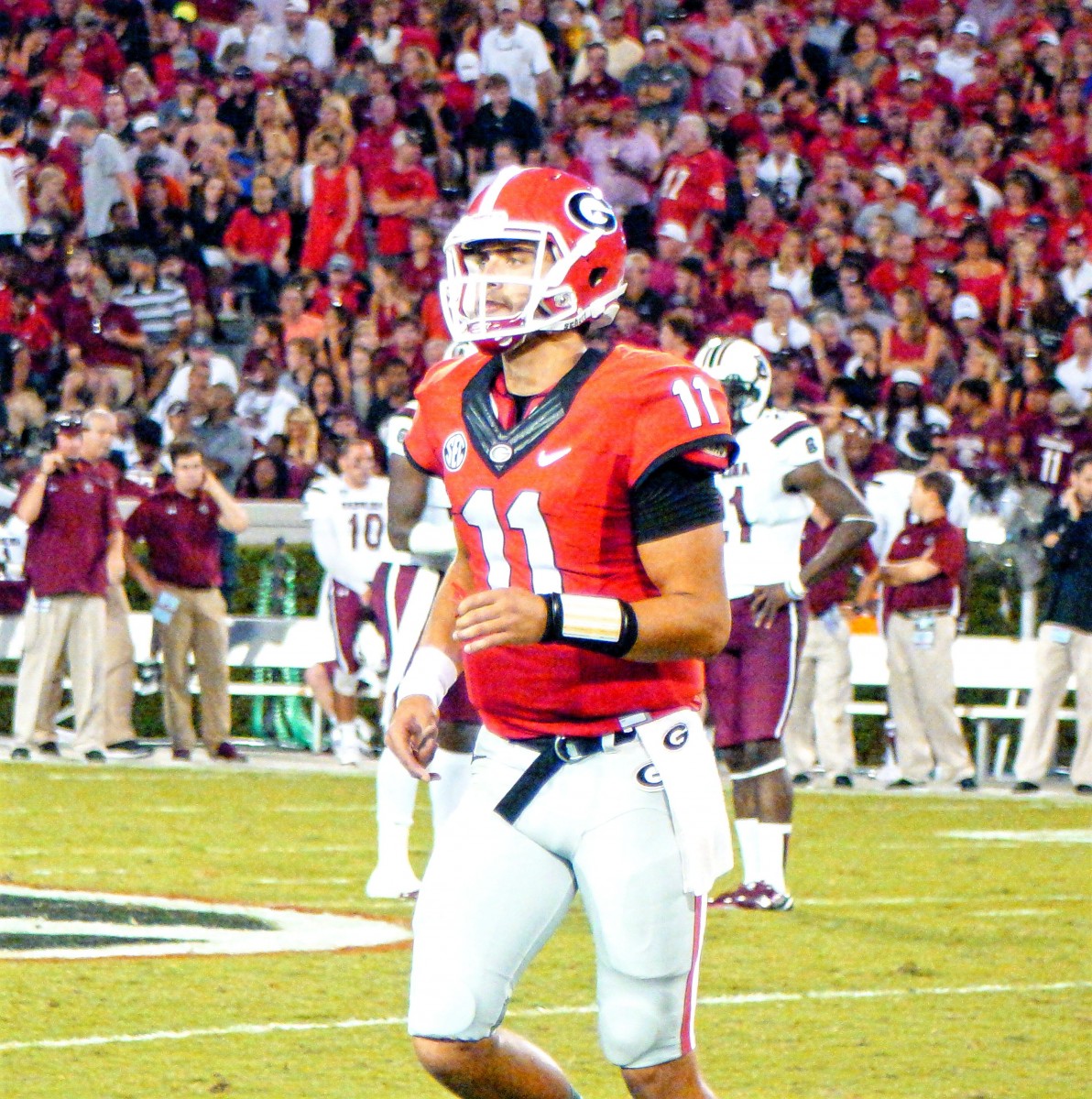 [su_spacer size="20″] Junior QB Greyson Lambert set an NCAA, SEC and Georgia record for Best Completion Percentage at 96.0% with a minimum of 20 completions as he finished 24-for-25 for 330 yards and 3 TDs. The old mark was 95.8% as Tee Martin (UT vs. S.C., 1998) and Geno Smith (West Va. Vs. Kansas, 2012) were 23-for-24 respectively. The previous Georgia mark was 86.9% by David Greene (20×23) against Vanderbilt in 2002.
[su_spacer size="40″] Lambert completed his last 20 in a row, also a Georgia record, which topped Mike Bobo's mark of 19 straight at the 1998 Outback Bowl in a win over Wisconsin. Lambert's three touchdowns matched his career high set against Florida State in 2014 while suiting up for Virginia. On Saturday, he connected with nine different receivers, including senior Malcolm Mitchell who caught eight balls for 122 yards and a touchdown. Mitchell's last 100-yard game came when he had nine catches for 103 yards at Kentucky in 2012.
[su_spacer size="40″] Sophomore TB Sony Michel finished the game with three catches for 32 yards and a pair of touchdowns. Michel had two touchdown catches during his freshman season in 2014. On the ground, Michel went for 51 yards on eight carries (6.4 avg.) and a touchdown plus he had three catches for 32 yards and two TDs.
[su_spacer size="40″] Georgia's 52-20 win ties the mark for most points ever scored against South Carolina in the series. It matches the 1970 game (52-34 in Athens) and 1974 contest (52-14 in Athens). With today's win, the Bulldogs extend their lead in the series to 48-18-2. Until tonight, South Carolina's defense had not allowed a point in the second half of games but Georgia tallied 28 over the final two quarters. Georgia amassed 576 yards of total offense on 63 plays.
[su_spacer size="40″] Senior PK Marshall Morgan put the Bulldogs up 3-0 with a 30-yard field goal midway through the first period. The Gamecocks countered with a 45-yard field goal late in the same quarter and then drilled a 51-yard field goal on the final play of the half. Georgia went up 10-3 with a 2-yard run by sophomore TB Nick Chubb. Chubb finished with 21 carries for 159 yards (7.6 avg.) and 2 TDs. Chubb now has 11 consecutive 100-yard games. This matches the FBS leader, Toledo's Kareem Hunt, who also has hit the century mark in 11 straight (Toledo kicked off at 8 p.m.).
[su_spacer size="40″] The Bulldogs held the Gamecocks to 20 points and 258 yards on 61 plays. Senior linebacker Jake Ganus finished as the leading tackler with seven stops. Sophomore SS Dominick Sanders led the Bulldogs with six stops at the half while junior OLB Leonard Floyd posted five tackles, including a sack.
[su_spacer size="40″] The Bulldogs remained at +3 in turnover ratio and have scored 24 points off five opponent turnovers this year while opponents have scored no points off two turnovers. On Saturday, Dominick Sanders had his second interception of the year (fifth of his career) deep in Gamecock territory. The Bulldogs scored a touchdown on the next play to go up 38-13. Georgia had a team fumble in the third quarter on a bobbled snap between Brandon Kublanow and Greyson Lambert. USC went four-and-out on its next possession.
[su_spacer size="40″] Freshman FS Johnathan Abram and freshman receiver Terry Godwin started for the first time. They are the seventh and eighth first-time starters for the Bulldogs this year.