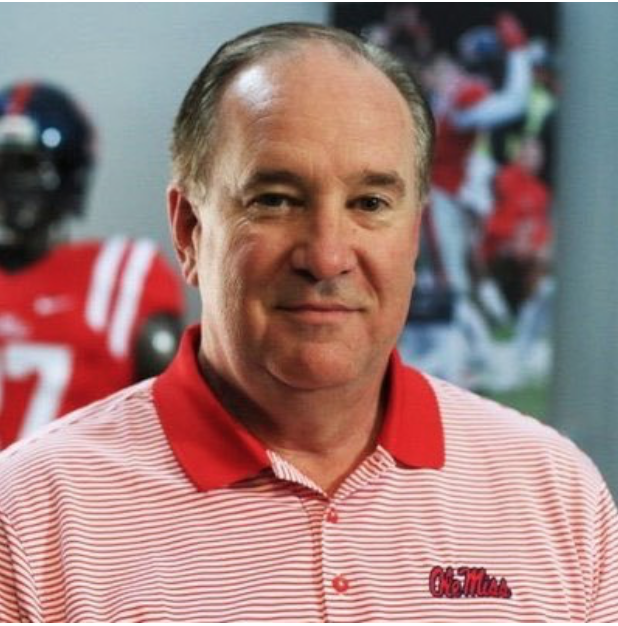 David Kellum, the longtime legendary Voice of the Rebels gives us fantastic insight into Saturday's showdown and a lot of great SEC perspective. DK began calling Rebel sports in the late 1970s, meaning he's been at it for his alma mater for part of six decades. He is an exceptional play-by-play announcer for football, basketball and baseball, and one of the most beloved figures in Ole Miss history. We've had a lot of great times together through the years, and it's wonderful to have him as a part of this week's issue of BI.
Talk about the effect Lane Kiffin has had on the program.
Lane has really energized the program. He has been very up front with his desire to lift Ole Miss to a championship level. He has 30 wins already and is the second fastest Ole Miss coach to 30. I would say the fastest in the modern era. The other guy coached in the late 30s and early 40s and garnered two wins over the Mississippi Teachers and one victory over the West Tennessee Teachers. Not sure that qualifies you. Lane has always been a fantastic offensive coach. Since his arrival, the Ole Miss offense is second to only Ohio State in yards per game. As a head coach, he continues to surround himself with good players, coaches, and staff. Getting Pete Golding as the DC was huge. The level of play on that side of the ball has been getting better as the season moves on. The fanbase has embraced him too. The stadium is packed. The students have really stepped it up this year. Lane has been in the SEC at three different schools, and he understands that the fans have to do their part too.
How would you rate the one-two running back punch this season amongst the better ones you've seen through the years in Oxford?
I would say one of the best for sure. Deuce McAllister and Joe Gunn were a special duo. Of course, Deuce had an impressive pro career with the Saints. Quinshon Judkins and Ulysses Bentley both should end up on the next level too. As of this writing they have combined for 47 career rushing touchdowns. The season that Judkins had last year as a freshman was the best in Ole Miss history and the second best to only Herschel in the league. Quinshon won National Freshman of the Year and finished with 1,567 yards. Mr. Walker had 1,616 as a freshman. Judkins got off to a slower start this year but has been rolling recently. Quinshon, being mentioned with Herschel and Deuce tells you the type of player he is, but at the moment Bentley averages more yards per carry. They both can be physical, make defenders miss, and then run away from you.
What is your take on Georgia?
Georgia is super talented yet again. Kirby has done a tremendous job. To win back-to-back titles, and be in position to do so again, is amazing in the modern era. The loss of Brock I'm sure is disappointing, but this team is loaded with pro players. The most impressive piece is Kirby's ability to keep the players from not getting complacent. They don't just "show up." I'm "old school" in preparing for games and I watch every one of our opponents' games each week. I haven't seen any lack of anything in the current Georgia team. This bunch seems to be determined to maintain the program's loftiness. They play hard and smart. Pardon the pun.
What does Ole Miss need to do to beat Georgia?
In years past when Alabama was on top of the world, we were able to get a couple of wins. In those wins we got exceptional quarterback play, matched the Tide's physicality, and then still needed a break or two. I see it the same way with this Bulldog team. Jaxson Dart can be and has been exceptional. This Ole Miss team is physical. We have better depth, especially in the defensive front, which gives you a chance late in games. Will UGA give a break or two, normally not, but we'll see.
You've traveled around the league a long time, where does Athens rate for you on Ole Miss road trips?
You know that I absolutely love Athens! From the historical music scene to the beautiful Georgia campus, it is an awesome place. Great food and plenty of entertainment everywhere. On game days, Athens becomes so vibrant. I am partial to the home front, with the Oxford Square and the Grove, but the two places are similar in their approach to being small town gems. The SEC is full of great stops. When I'm not in Oxford though, I would choose Athens every time.
I was so happy for you above anyone else when Ole Miss won the national title in baseball, what was that experience like?
Thank you so much. We do have a brotherhood among our SEC broadcast teams. Nearly everyone has congratulated me. Having been the "Voice" of the baseball program since 1978, it was very rewarding to see us win it all. I'm very grateful to Mike Bianco and the 2022 team for letting me ride along, ha! I've done several interviews about the experience, and it was incredible, but you would understand this when I say that the journey is awesome every year too. Those of us in the SEC baseball broadcast world know how special this league is and every day that I get to do a game excites me. We get to see the best talent in the country. Heck, the last three titles came out of the SEC West.
How would you like to see the SEC do the schedule for football beginning in 2025 with the likely new format?
The new playoffs will allow teams to have a little more breathing room during the regular season, so I would like a nine-team league schedule. I think most fans would rather see us play each other. It would allow the opportunity to continue some more rival matchups too. Who should play who is going to be an ongoing debate. Commissioner Sankey is much smarter than me and we have all grown to trust his leadership. I'm going to be happy with whatever the conference and schools decide. It is going to be fun to watch, and call.