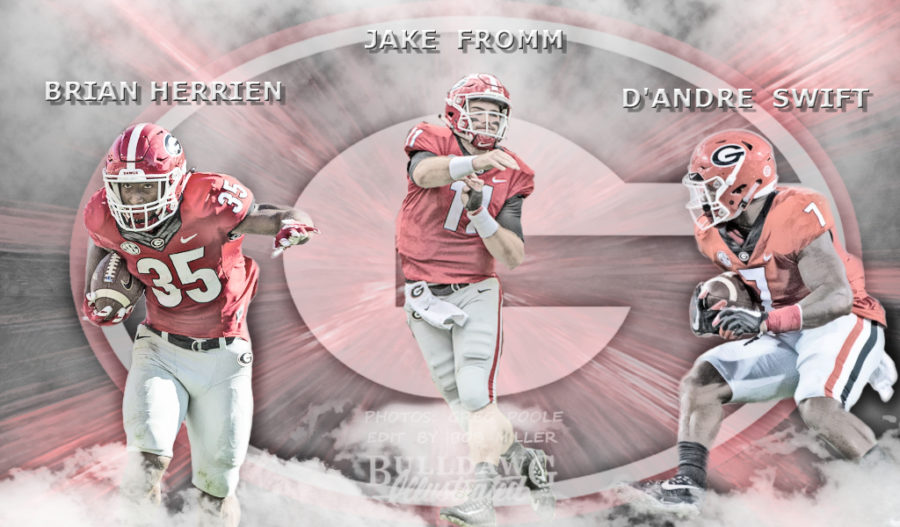 Last weekend, the Bulldogs brought back a big 'ole "W" from Nashville, TN, a 30-6 victory over the Vanderbilt Commodores, and as soon as the team was back in Athens, coaches and players turned their attention to the next opponent on the schedule.
This afternoon at 4:00 p.m. EST, Georgia will kick off their second game of the season versus Murray State between the hallowed hedges of Sanford Stadium. It is UGA's first home game of the year, and one that will hold special significance as the field will be named after legendary University of Georgia coach and athletic director Vince Dooley before the game begins.
Speaking of which, if you want to be there for the official Dooley Field Recognition, you need to get to your seats a little earlier than you normally do. I'll have the game day schedule posted down below, but the Dooley Field Recognition takes place approximately 25 minutes before kickoff at 3:42 p.m. EST.
Georgia vs. Murray State… Round 2
The Dawgs are hosting the Racers for only the second time in the school and program's history. The first meeting between Georgia and Murray State occurred back in 1945, where the Bulldogs came out on top with a 49-0 victory.
BB2's Keys to the Game
Defense
Murray State may not be as big or as deep as the Bulldogs in terms of the roster, but that doesn't mean the Racers will just lay down. The young men for Kentucky like to spread out opponents; so, discipline will be the key on defense for Georgia to prevent big plays which could give Murray State life.
Offense
Georgia should just grind and pound Murray States' front seven to wear them down. I know fans want to see Fromm and Company air it out, and we might see some of that; however, I expect Offensive Coordinator James Coley to keep things simple and RTDB.
Special Teams
I don't expect UGA to have to punt that often, but on the other side of the coin, whoever is fielding punts may get a workout. That very well could be senior wide receiver Tyler Simmons who had the opportunity to return three versus Vanderbilt. I would not be surprised to also see either Demetris Robertson, Dominick Blaylock, or possibly both. Regardless of whoever it is, don't give the Racers easy points with mistakes on punt returns.
Prognostications & What Not…
This is one of those games where the outcome should not be in question, no disrespect meant to Murray State, but it is also one of those games that can be hard to pin down as far as the final score and spread.
Give me Georgia by 49 over the Racers.
GAME DAY INFO & TIMELINE
Match-up: (1-0) #3 Georgia vs. (1-0) Murray State
Location: Sanford Stadium, Athens, GA (92,746)
07:00 a.m. ET – Tailgate locations open on campus
10:00 a.m. ET – Bulldogs Game Day on WSBTV
12:00 p.m. ET – Pregame broadcast
01:45 p.m. ET – Dawg Walk
02:00 p.m. ET – Gates open
03:42 p.m. ET – Dooley Field Recognition
03:58 p.m. ET – Battle Hymn
04:03 p.m. ET – "Countdown to Kickoff Video"
04:05 p.m. ET – Kickoff
RADIO BROADCAST INFO
BULLDOG NETWORK STATIONS:
WSB AM 750 & WSB FM 95.5 (Atlanta, GA)
WGAU AM 1340 & WNGC FM 106.1 (Athens, GA)
RADIO ANNOUNCERS:
Play-by-play: Scott Howard
Analyst: Eric Zeier
Sideline reporter: Chuck Dowdle
NATIONAL TOUCHDOWN RADIO:
Sirus Radio 78
XM Radio 81
Internet 962
RADIO ANNOUNCERS:
Play-by-play: Taylor Zarcour
Analyst: Gino Torretta
T.V. BROADCAST INFO
TV announcers:
Play-by-play: Beth Mowins
Game Analyst: Anthony Becht
Sideline reporter: Rocky Boiman
SOCIAL MEDIA