When you have an interior defensive lineman at or near the total tackles lead on a team, it bodes well for your overall run defense. The middle effectively clogged by Trent Thompson last season while the linebackers roamed, the University of Georgia continued to have a fairly prominent defense for a third straight year. Long gone are those dark days when teams moved on the Dawgs at will.


First, defensive coordinator Jeremy Pruitt came over from FSU in an unusual lateral career move right after winning the national championship. Immediate improvement led to dominance in his second and final campaign in Athens, as Georgia had the top pass defense in the country while his side carried the otherwise often flat team to ten wins. Pruitt stepped back into the not always comfy confines of the Saban Corp after that and paired with Lane Kiffin as the top coordinators for the SEC champs. His defense was not only the best in the nation; they actually scored as much as some offenses – double-digit touchdowns for a defense is crazy, folks.


Across the border in our much fairer state, Bama's once wunderkind was back in the Classic City. He didn't have it all together as a rookie head coach, of course, but the defense – the clear strength of the previous year's squad – looked to be in excellent hands under Kirby, who brought in tough guy Mel Tucker to run the defense. Kirby was, if anything, too defense-minded for most of 2016, harping on about a few missed tackles, as an example, after the Georgia-Florida second half collapse. When his football team failed to score in the second half and put up ten total points, the answers to why weren't on a defense that mostly held the defending and future SEC East champions in check. That is the spot that got Richt ousted after only five wins in fifteen good years and is where Kirby must make his lasting mark. Win in JAX!


Lining up so sweetly for our Dawgs this year with Eason, supposedly, rounding into form as a more experienced pocket presence while senior running back tandem Nick Chubb and Sony Michel run for glory. The offensive line has grown. The D?


Rarely a year materializes like this, where everybody comes back. Sure, Mo Smith is done as a ball hawking graduate transfer in the secondary, but 10-of-11 starters are back and our top eight tacklers. Even further in, 14-of-15 top tacklers return, while the young guns from recruiting are actually solid enough to play right away.




Trent Thompson probably has the most talent of any defensive lineman in the league, and the number one recruit from years gone will put it all together this season. He finished second on the team in total tackles last year, while commanding (literally) tons of attention. The way he penetrated the backfield in the Liberty Bowl showed the progress he has made and what he is capable of; he will be a high draft pick. The 3-4 defensive alignment regularly used at UGA relies so heavily on a mountain in the middle, but when that mountain gets mobile the destruction is imminent. Feels like John Atkins has been at Georgia forever, and he isn't on the diet, for sure. This guy is a huge classic nose tackle, who lets Trent Thompson get into gaps and/or command double teams. They can't both be doubled, and I'd love to see Atkins make more plays, as he is more than capable athlete for his stature. On his other side is a hidden potential star, Jonathan Ledbetter has had some character issues but may come into his own this year, especially because the opposition will have to game plan for Thompson when he plays at peak. Freshmen interior defenders from last year who got playing time will show up more prepared this season, too. The end position is far from a Too Tall Jones-type rush position in the 3-4, so don't expect sacks so much as solid run defense. And to survive in the SEC you simply must run and defend the run well.


Speaking of sacks, though, that's where we have struggled. Quarterback pressures are actually much more of a key stat than actual sacks, as you must put fear in the heart of any passing quarterback and shorten play length. We haven't. Tick-tock.


We keep waiting for our outside linebackers to thunder down on the passers in this league, and there is nothing like a senior year to give you the confidence to get it done. For Georgia to improve, Davin Bellamy and Lorenzo Carter have to make more big plays. These guys are NFL talents who came back for another run with Chubb and Sony, but they also returned to improve their draft stocks. Vital we get pressure. Chauncey Manac is emerging as the kind of "tweener" we may need. He can play end or outside linebacker and provides quality depth, at the least. While true freshman Robert Beal may be too good not to play soon.


Considering the offense's ineffectiveness at moving the sticks in 2016, the defense held up pretty well once we got through worse than shaky early play at Mizzou and at Ole Miss, where we were outclassed by precision passing to big wide receivers. When it shook down, UGA was 2nd in the SEC in pass defense, with little pressure.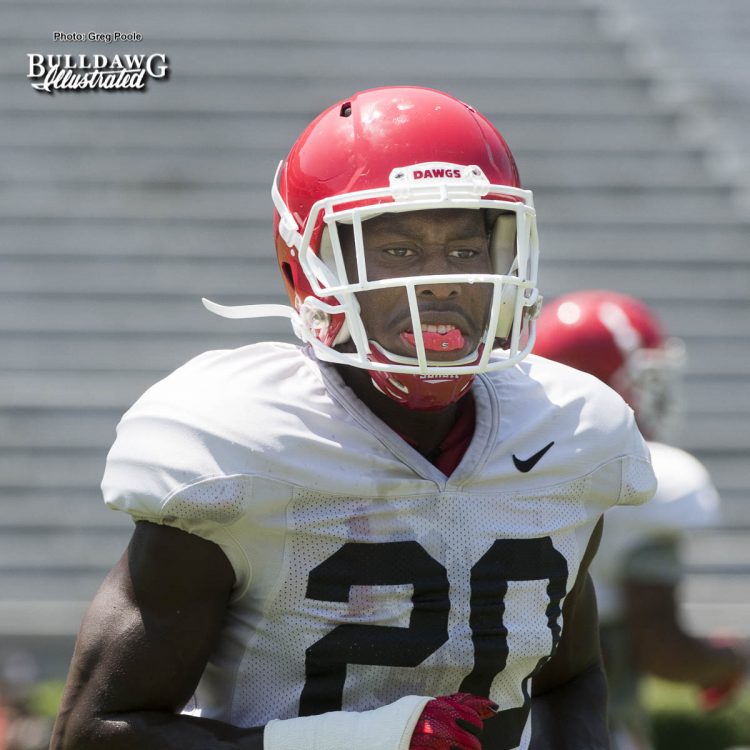 J.R. Reed, the Tulsa transfer, has been all the rage at safety, filling Mo Smith's shoes. Those youngsters are also strapping it up, as Richard LeCounte III may get the start in the opener. He and DeAngelo Gibbs can both play safety and corner. As can Aaron Davis, who was a highly effective All-SEC caliber corner before shifting to safety in the middle of his college career – we may need him to do both and will certainly need his cover skills. Deandre Baker is the big cornerback who drilled that Vol on the goal line, my favorite play from last year (which eerily foreshadowed my least favorite one). Malkolm Parrish has been an effective corner for the Dawgs, but his foot injury will slow him early in the season. Dominick Sanders magnetically collecting the football and his stellar run after catch on returns will be big, too. He had a shot at early NFL money but could make much more if he gets going as well as he did back in 2015. Sure tackling was a hallmark of Kirby's top defenses at Alabama, and he heartily led the nation over his double-tenure there as classes of kids came and went, usually to the pros. We need to tackle better in the secondary.


Now the heart of our defense: the inside linebackers at Georgia are the best in the country. While their non-arrest dorm-room-weed-cloud and then later squeaky-clean drug tests were the type of dubious thing we plainly want to avoid at the University post the pretty clean program discipline of Mark Richt, their play on the field was excellent. Roquan Smith shunned the lights of UCLA to have a good time in the Classic City, and he showed up big time last year, leading the team in tackles. His road dog Natrez Patrick picked up the scraps that Roq and big TT left behind. While solid Reggie Carter is essentially a third starter for the two backer spots.


In summation, the offense must move the chains more and the defense must create opportunities for the offense to get the ball back and score. With Joystick departing, I hope our special teams aren't a special need. But that's a whole other subject.


---


Han Vance is a regular contributor to Bulldawg Illustrated, writing on football itself and football culture. We will be publishing his fabled BIG HAIRY BLAWG every Tuesday & Thursday this college football season, while he will still continue to contribute additional articles such as this one.


You can follow Han Vance on Twitter at: @hanvance


---