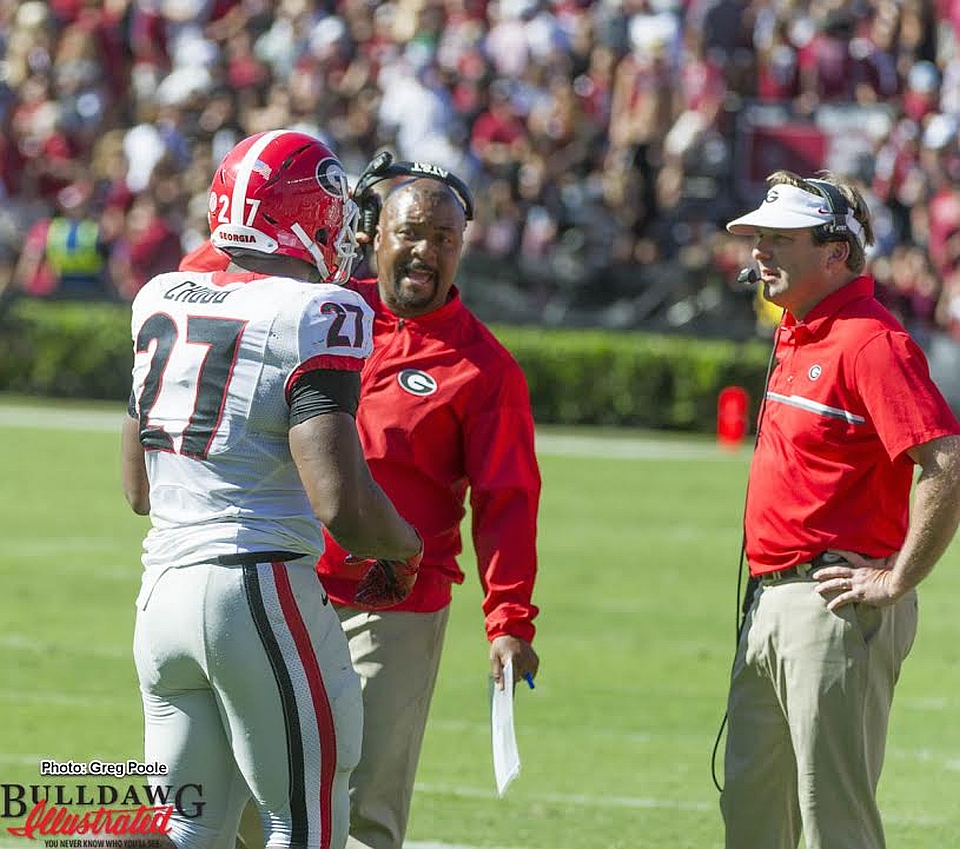 Han Vance on Georgia football: Late in the 2016 football season, Kirby Smart's first back in Athens, as head football coach, inexperienced players who had come on strong seemed keys to the immediate future. They weren't.
Quarterback Jacob Eason was a number one overall high school recruit out of exurban Washington state, who had played his best in the opener in Atlanta in relief, on a single late bomb pre-Hail Mary versus UT in Athens and at the Cocktail Party. He didn't appear to evolve much at all beyond those big games, taking an 0-2 mark as a starter in them. By Tech time – winning in Athens on a second consecutive try via an egregious Eason interception late – the bloom was clearly off the rose, as his completion percentage would remain too low.
However, players given starting time, especially at quarterback, tend to improve the most between their freshman and sophomore seasons. So, I was still hopeful and giving him the benefit of the doubt. He was only serviceable in an 11 a.m. Liberty Bowl edging of TCU. Taking out my parents' alma mater in a rare down year for them, a year before they'd bounce back up and into the Big 12 (they have ten teams!?!?) title tilt was clearly no impressive accolade, as the defense and running led the way, especially (yet another number one overall recruit) Trent Thompson, in a rare glimpse of his pure untapped potential at UGA, and the great, steady workhorse Nick Chubb.
I surmised by then that Georgia would see itself in much brighter lights than Memphis if they could get vastly improved quarterback play. Never envisioned Eason jettisoned back out west, wished for improvement from him.
His key weapon often, safety blanket and let's-party-road-dog he'd enrolled with was all-world high school talent at tight end, young Issac Nauta. Nauta fell way off, unexpectedly, after a freshman all-American campaign. The fact that he caught just nine passes – which could constitute only one huge afternoon on par with his potential exploits of vulnerable SEC secondaries – all football season as a sophomore flummoxes me. There was talk of his practice efforts being less than perfect, from Kirby himself, which I actually guessed meant maybe occasional hangovers and/or an unwillingness to block at the highest levels.
That he did in 2017. The credit Nauta claimed for himself in calling himself
"improved" was all about his physicality in point-of-attack, sealing and drive blocking in the SEC championship season, propelling Nick Chubb and Sony Michel to run for 2,500 yards. There honestly weren't a lot of balls left to go around, with true freshman runner D'Andre Swift chipping in another 600 yards and JUCO-transfer Javon Wims, who came to UGA the same year as Eason, Nauta and Ridley, catching key third down contested throws when yards were needed. Opponents knew the ball was going to Wims and couldn't stop it because of his range, hands, leaping ability and impeccable timing with true frosh passer Jake Fromm. The Bulldogs also ran it in third and long, and more often succeeded at it, than any other football team in the whole nation.
With offensive coordinator Jim Chaney currently coming off perhaps his peak as a play caller, feeding the heck out of the rock to the now-most prolific running back duo in NCAA history, allowing that to happen is more how I see it than making that happen. Here and now, he sees the position coaching of tight ends duties shifted to his plate. The proven gone; it's time for Nauta to breakout. Chaney can cement his status by doing it without the legendary running duo.
I tipped my hand that Ridley would be the next sophomore slump I suggest could be broken in the 2018 season. He is a junior now, and I'm less emphasizing that he finally played well in the ill-fated national championship game in Atlanta against his older brother than what he did as a true frosh in Athens. Not only did Ridley catch the would-be greatest pass play in Georgia-Tennessee history, somehow even eclipsing the Hobnail Boot…momentarily, only to see their Hail Mary shatter our illusions of a good rookie campaign for Kirby. He also was the only player to really show up prepared, along with his passer Eason, in the annual huge contest in Florida.
By Auburn week 2016, I thought we had Wims and Ridley established as real weapons and Eason starting to settle in, with Nauta there when he needed him. Georgia would put up an offensive TD goose egg that day in a home win over our ancient rival. Of that quartet, only Wims panned out the following year at all, none of the freshmen making the jump to sustained success as sophomores. 
It was a huge draft year for Georgia this time around, and top NFL drafts have been a negatively correlating variable for ultimate successes the following season in school history, in general. But if the Georgia freshman class of 2017 can play well, a repeat of, at least, the SEC East crown is inevitable.
Jake Fromm, currently holding off number one overall recruit (it must be asked why UGA hasn't won bigger with all these tops in the nation guys) Justin Fields, leads Georgia into a very manageable schedule. The Florida influence (they try to never leave the state) of their one-time second in command athletic boss, Greg McGarity, rears its ugly head in this utterly abysmal stinker of an out of conference schedule. At (unranked in many polls) LSU and home versus Auburn, who haven't won at Athens in a long time, are the toughest spots, on paper, with Florida wanting to reclaim the Okefenokee Oar after the Dawgs claimed it in 4-of-7 tries. At upstart South Carolina and at late-surging Mizzou will be tough early tests, each following a total cupcake; the schedule has three such in 2018, plus Vandy and Kentucky every year. Fromm can navigate this.
Will D'Andre Swift see a sophomore sink as the feature back or simply stay true to form? He averaged over seven yards per carry in 2017 and caught more passes than Sony and Chubb combined. Conversely, he has only scored three career touchdowns and has never had a 100-yard game in college, even in the two games where he had long touchdown runs (71-yarder vs. Mizzou, 64-yarder in SEC championship game versus Auburn). Ten attempts is his career high.
Next year's – now realized to be this year's – offensive skill production leaders will be so much different than it was in the run-up to the Rose Bowl, where Sony Michel finally fully emerged out of Chubb's long shadow as the best running back at Georgia, with just two games left to play. Swift will get first crack at being top back of a stable that features: Zamir "ZEU$" White, the number one running back recruit in America is actively recovering from injury as an early enrollee; James Cook, Dalvin Cook of FSU's freaky athlete kid brother is an incoming freshman; the undervalued, versatile Brian Herrien and a talented Elijah Holyfield. All five guys can't get many touches, but Georgia will be a run-first football team. The sophomore will swiftly lead the way.
A final sophomore I wanted to talk a bit about here is Andrew Thomas. He anchors a line that returns four full and two part-time starters and is infused with young talent in the two-deep. Making the seemingly simple move (it isn't) from right to left tackle after being thrust into the lineup early as a true frosh, I'm not overselling when I say this guy may be the key to a successful season. Isaiah Wynn was the first Georgia offensive lineman taken in the first round of the pro draft in fifteen seasons and leaves huge shoes. Thomas takes over his role.
Georgia returns 17-of-22 from the offensive two-deep. Few (such as senior wideout Terry Godwin) run out of eligibility after 2018. Indicating this current core of offensive playmakers are about to go on a two-to-three year run together.
Twitter: @ h a n v a n c e / Facebook: Big Hairy Blawg