Just like that, the regular season is half over. The University of Georgia Bulldogs are undefeated at 6-0 and have won a total of 10-of-11, dating to a 4-of-5 finish to last season. The Kirby hire is looking solid right now.

Though the polls are utterly irrelevant once the CFP committee starts slotting teams (again, based on essentially popularity NOT anything precisely quantifiable, and it changes week to week on whims), a good measure of where your team may stand has been the AP poll, because the media so greatly influences the opinions of those voters. At #4, GEORGIA is in position to be one of the four teams representing all of college football in a one-round play-in, called a playoff – really, whoever heard of the word non-plural? "PLAYOFFS" in every other sport in the world.


Bama, currently ranked first, and UGA have a decent shot of playing twice this year. To do so, we would have to beat them in the SEC championship game and they still get the fourth position in the nation. Zero chance of that happening for us, folks. We must win the SEC to get into the CFP, where we would, perhaps, face Bama again.


It's only a matter of time before strong programs Auburn and Georgia face off in a SEC championship game. The #10 team in the country mirrors Georgia in that they have an inexperienced QB leading a great running attack, with a nasty defense getting big wins. Only the defending national champions have beaten Auburn this year, and explosive Clemson only mustered 14 points on them. The last time Aubie was undefeated in league play this late in a season (2010), they won it all. Georgia visits the Plains on 11/11 and could see the Tigers again in the Mercedes-Benz Stadium for the SEC crown less than a month later. At the start of the year, I predicted the Auburn-Georgia game to be our only loss, as we have beaten them 9-of-11 and the ancient series is historically close. We could drop that game and still have a clear path to Atlanta if we win out otherwise, especially 10/28 in Jacksonville.


LSU and Florida are barely still sneaking around the chicken coop, with two losses apiece but only one loss per in conference, which is all that matters when it comes to winning a division.


Best win of any of the top three SEC schools – and nobody else is in the league is even ranked anymore (although Kentucky barely got past Mizzou and has only one loss) – looks to be Georgia over Notre Dame. They are decimating the opposition with a multi-player rushing attack and can skyrocket up the polls as more teams ahead of them lose. It's tough to get much movement with so many undefeated and one-loss pretenders still out there. Every year, they fade away, it's always the same. The strong remain and ND looks to me to be better than ever. Our 20-19 victory in Indiana could have been nearly meaningless by now if they were having a bad year. They aren't.


Alabama has won a remarkable 21 consecutive SEC games and is incredible in the takeaways (lots of them) versus giveaways (one) category, but otherwise looks to be inferior to Georgia. If we simply keep the ball, I'd definitely like our chances against them. I honestly think we have a better team defense and more playmakers on offense. Been badly wrong before about that two-team meeting in particular in the past, though.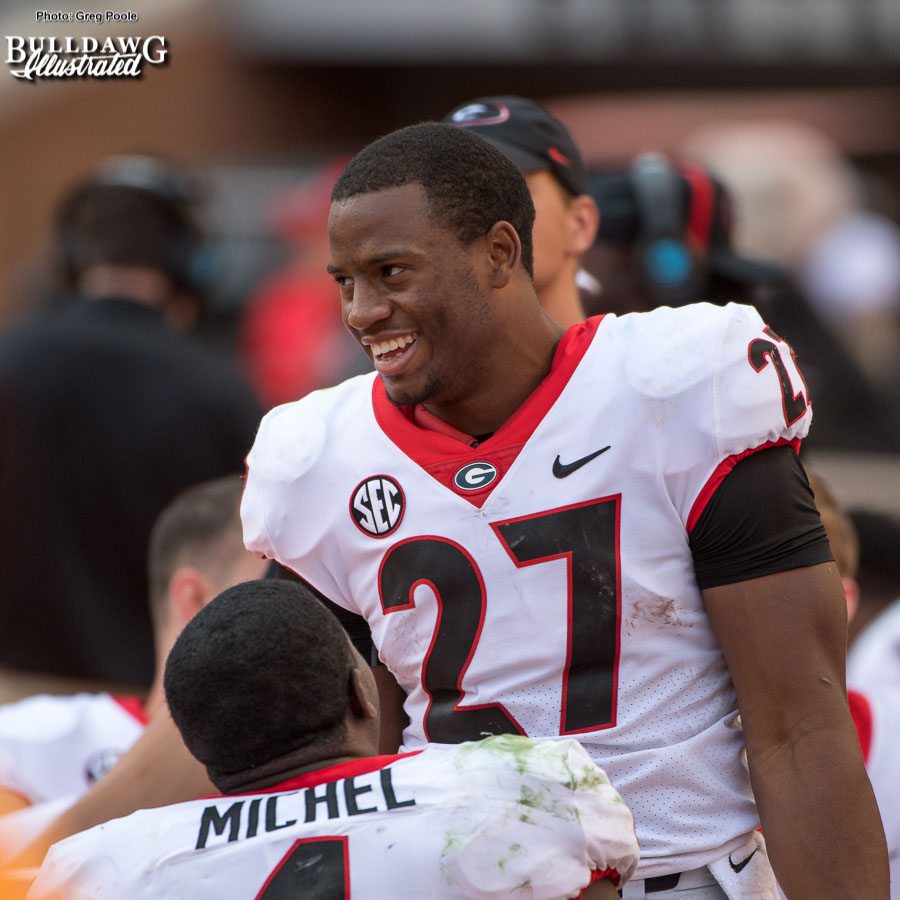 Now the SEC's total rushing yardage leader, Nick Chubb had 16 carries for 138 yards and two touchdowns. While Sony Michel went off for 150 yards and a touchdown on just 12 carries. The team averaged 10 yards a carry, and Holyfield and Swift each scored, Swift with a savvy play on a reception pylon reach. Our 423 yards rushing was the most by a Georgia team since 1987. I was sad to see the talented Holyfield fumble because that could hurt his chance at increased playing time, which instead increases his chance of transferring after the season. We would be served to play all five of our backs, considering the brutality of the position and the senior status of Sony and Nick. Next year there will be touches for Holyfield, Swift, of course, Herrien and also the incoming top runner in the nation, Zamir White.


We got a commitment from the top overall football player in the country recently, Harrison High quarterback Justin Fields, who can run and throw but needs to work on his touch passing. Another player on definite transfer watch is former starting QB Jacob Eason, who I thought played fairly well coming off the bench. He had nice accuracy on his passes, ran the team well and showed hustle and decent mobility on the fumble recovery when Holyfield lost the ball. Eason did fine. Sure, he was blindsided by a corner blitz when he first entered the contest, but that was simply a great call by Coach Mason – the Vandy head coach and respected defensive play-caller – on a rusty player. Eason bounced right back from that with aplomb.


Vandy scored 14 a season after scoring 17, so the marked improvement is we were up to 45, from 16. It was a good win, and I'm happy to know Kirby can preach about last season's loss to them for another week, because like I said last week, you can't lose Homecoming in consecutive years at a football school. You just can't!


Until Thursday, when I will muse on Homecoming ahead of my family trip to Athens, I will leave you with two quotes from Sony Michel. At SEC Media Days, Sony said: "We hold each other to a high standard on and off the field," and after the game in an interview Saturday, "We still have room to improve."


---
Recent Articles by Han Vance


[pt_view id="9a9402f8n5″]