Kirby Smart's second team at Georgia opened the season 9-0 and number one in the country, before losing a game at Auburn. They then ticked off four wins consecutive, claiming the SEC for the first time in twelve years and one of the biggest bowl wins in school history at the Rose. In the inaugural Early Signing period, the football program inked the number one class in the country, with (traditional) National Signing Day Wednesday, February 7th still to come.


Woe, the long-suffering Georgia fan, I tweeted out after the long season. When we stood in the ashes of a new dome in my hometown of Atlanta. After the implosion, the novelty of this from the first time has worn all the way off, as we've somehow come up a play short to Bama again.
The three worst type of losses are:

1. When the championship is on the line but you come up a little short
2. Blowouts
3. Games you lose barely, late, when you have had the lead
And, the last four times we played Bama we've been forced to endure each, in multiples. Two bad blowouts, the Black Out loss and Richt's rainout that was the same, but without the shimmer of hope from the explosive second half of the first one. That was the real coming out party for Nick Saban at Bama, after winning a national title at LSU. It was his second year at Bama. We didn't win the SEC during his tenure there before this year, with our last league crown captured way back in 2005. Key to keeping the program aloft is to win the league at least one more time in our next two tries. If not, the grumbling will begin and be valid. That's the type of program we are at Georgia.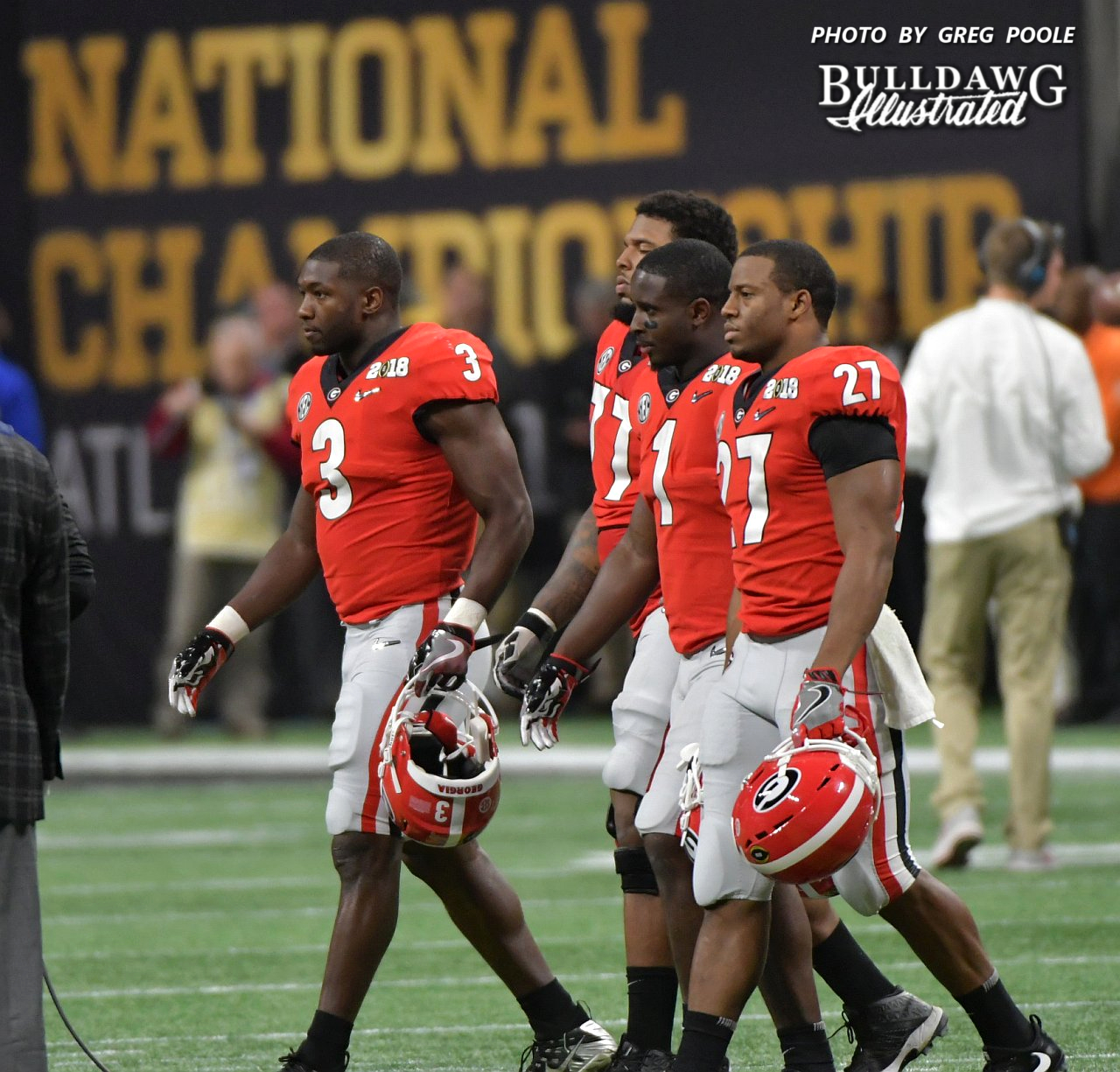 Winning the national championship is harder in college football than in any other sport, especially the breakthrough win, when the program has been dormant. Expecting another crack at a national title in the next go round seems far-reaching on the wishful list considering we lose the top running back duo in NCAA history, Chubb and Sony, our by far best blocker in Isaiah Wynn, best wide receiver in rangy Javon Wims, the guy with the most career starts at UGA, Dominick Sanders, who is also tied for the most career interceptions. That defense brought back what had to set records, 14-of-15 tacklers and ten starters in 2017, our most experienced defense in school history.
We can't realistically expect anything other than somewhat of a dip on that side of the ball, as we reload. We lose a number one overall player out of high school, Trent Thompson, off the D-line, plus his longtime running mate in big John Atkins. We lose Roqaun Smith – the best linebacker we ever had and perhaps our best defensive player…ever. Reggie Carter matriculates. Lorenzo Carter. Davin Bellamy. Even in top-rated recruiting classes full of defensive studs, young guys ever attaining these levels of quantifiable on the field success is always a long shot. On offense, Chubb had 1,345 yards and 15 touchdowns on 223 carries, while Sony slightly outplayed Nick overall, I felt, with 1,227 yards and 16 touchdowns on just 156 carries.
Our offense, even with these titanic losses, looks to be in good hands for years with sophomore Jake Fromm currently-to-be backed up by the number one football recruit in the country in mobile Justin Fields. Jacob Eason has left the building, heading home to play for an improved program in Washington, with a great QB developer at head coach in Chris Petersen. I'd envisioned him more in the neon of Miami; his football story still unfolding.
Only one football program has an edge in our conference. That's saying something, at Georgia, in the SEC, considering the league's lasting power and where we've been as a program. We are on a peak right now as SEC champions. Not just now but ever, in the SEC. Georgia has the second-most league titles now, tied with Tennessee, who aren't ready to contend again for a while with Jeremy Pruitt taking over for little red face, Butch Jones and Phil Fulmer getting his shine on from the orange-and-white checkerboard-ed faithful. Hate 'em.
The Swamp is trying to reclaim glories past but Steve Spurrier ain't walking through that door in Dan Mullen, although he does keep an office there. Sure, Dak at MSU and Tebow at UF, but as a head coach, Mullen wins 60% and he was blown out by Georgia this season, with one of his tougher teams. Florida has the biggest-in-the-South state population, outside of Texas which is way west for our concerns. They have the talent and the recent tradition of excellence, occasional excellence under Urban Meyer (two national championships there) and Spurrier (one). I see them challenging us before long but not next year. Then that year after, our team looks to have a much more mature and experienced roster, so we should find a way stay ahead of them. Consider, only Florida, Tennessee, Georgia have won the SEC out of the East since the league split, so fret ye not about Wildcats, 'Dores, Chickens, Mizzou, who should be moved to the SEC West in exchange for Auburn.
At LSU is a dicey spot on our upcoming schedule as Kirby has been blown out in both cross-division away games. Ole Miss put up forty-five while my face melted in Oxford. 2018 Georgia had no prayer at Jordan-Hare, Aubie cracked another forty. When it goes bad, we can still yield a full forty at Georgia; Baker Mayfield plopped up over thirty in a half and Bama's second-half production of twenty would average out to forty over a full game. I see us handling the rest of the comp based on program volition and talent, though, we do have some road SEC games against emerging teams. And, winning repeatedly in Jacksonville has proven tricky for Georgia over modern history. The rotation used to be with Auburn on the other-off year and Tennessee and Tech in Athens. Now, all three visit the Classic City the same year, that's even years, like 2018. Would rather not see three cupcakes scheduled.
As Bama 2015 and Clemson 2016 and Bama 2017 illustrate, 15-0 is ultimately unlikely. Our champions in the only sport that truly matters around here go 14-1. We have the type of schedule in 2018 to realistically go 11-1 entering the SEC championship as East champs, again. Maybe face Alabama.
---
Recent Articles by Han Vance
[pt_view id="9a9402f8n5″]