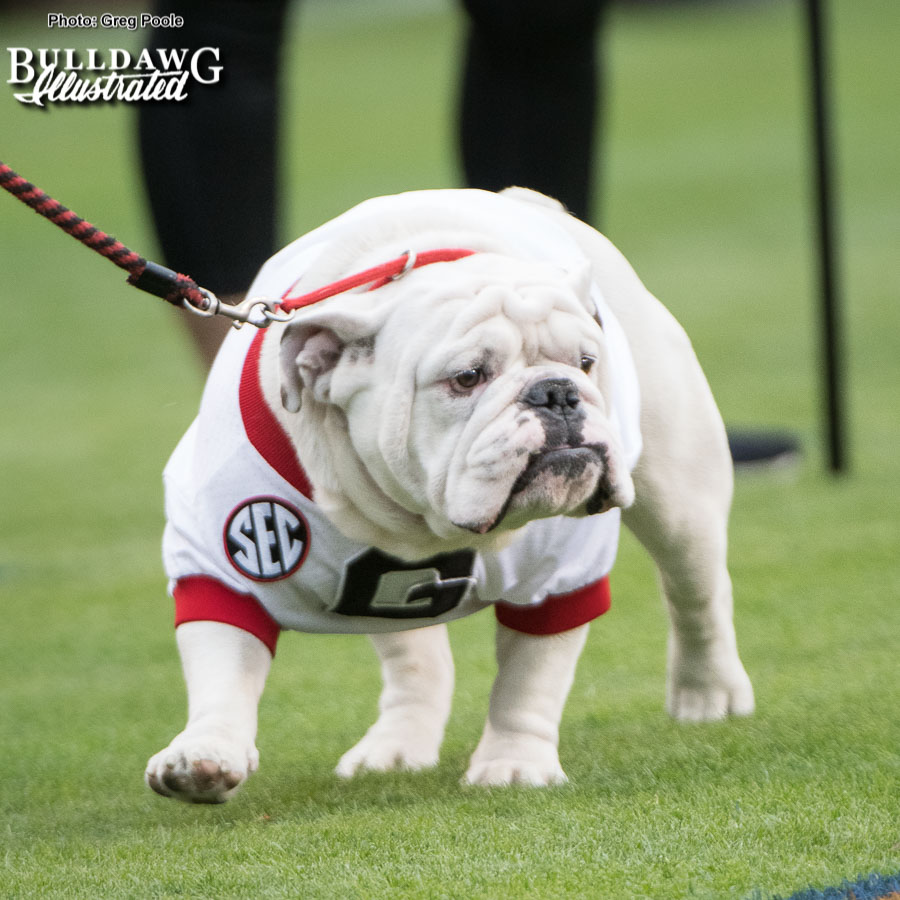 Georgia is a legitimate national title contender in prime position. That was, as they say in college basketball, a quality loss on the plains Saturday. Publishing Tuesday mornings (and Thursdays) necessitates I will be talking Georgia in the college football playoff every week that we have a shot at qualifying and won't know exactly where we are ranked for my first weekly pieces. The committee has stated they will "rerank from scratch" each week, announced Tuesday evenings. The CFP final will be played in my hometown of Atlanta, Georgia this year.

I dreamed of being, even prayed to be 9-1, coming off an 8-5 Liberty Bowl. Georgia was actually the earliest qualifier for any major conference's championship game and will definitely get a rematch: either Auburn, the only team to beat us, or Alabama, the team that beat us in Shakespearean fashion in our final chance for the SEC in the Georgia Dome. I will be covering the Georgia Dome implosion on November 20th.
A field goal gone right or wrong for us or them or maybe four yards short was the type of game expected by many, I sensed no overconfidence in our fanbase facing a tough road rival we'd whipped 9-of-11. It's 9-of-12 now.
Not yielding forty, with only Roquan and our stellar punter Nizialek living up to their lofty billings. The number one team was a no-show after the opening drive. Fromm was fresh meat, unable to work the middle of the field at all, under extreme duress. Chubb. Sony. Garbage. Over ten full football games, fellow Cobb County product and last year's folk hero, Rodrigo Blankenship simply isn't converting field goals at a high enough percentage for a scholarship kicker. He's fast but Mecole Hardman Jr. has hard hands, as he has shown on and off all year. He doesn't look the ball all the way in, which is somewhat coachable. You have to love the ball, which isn't coachable.
Wins worked his sideline and aerial game well and had a good game and a big drop. Ridley had a big drop. The offensive game plan left us extremely predictable, especially with our ineffective blocking throughout. We were dominated on both lines of scrimmage. Road game penalties we'd seen at Notre Dame reared their undisciplined heads again and we couldn't make any key plays to stem the tide. And here they come, them or Auburn again.
Yes, I'm already on the SEC championship game because at Georgia we are playing for championships. Get used to it. I want to get used to it. We have had these great teams exactly every five years since Richt's first one, his second year. Can we not only breakthrough but then maintain at the highest competitive levels?
We gave up forty points, I'll say again of and to our most experienced defense ever. As bad as it was on offense, if the defense held Auburn near our then-average of giving up ten points a game, we would have won a game similar to last year's in Athens. Georgia was sliced through the air and gashed on the ground, by an offense more physical and versatile than they could compete with Saturday. Holding them to three early field goals on three drives was nowhere near good enough, and that was before the floodgates opened up and stayed open. It was that bad.
Kirby Smart-coached teams have been blown out badly in both of their SEC cross-divisional road games, also yielding 45 at Ole Miss last year. As a program, we fell to 3-3 of late versus the SEC West, no longer able to claim any real advantage, although we are still 5-3 over four years. We were beaten soundly again.
Comparatively, Richt's first two years in Athens, his worst loss per season average was 10.5 with the worst loss by 14. Alarmingly, Georgia has been blown out in a game by more than 17 points every year except 2013 (worst loss by 15) dating all the way back to 2005. Richt's second and final SEC champion lost by 4, 1 and 3. His 2002 team lost just once, by 7.  In 2003, Richt endured his worst loss of his first five years (21 points); Georgia was blown out only twice total over those strong first five years.
This annual one very bad game trend began when Tennessee re-exerted dominance over Georgia in 2006 and has not only continued since but even gotten worse under Kirby compared to Richt's last two years. We've lost by: 23, 31, 28, 18. Before that it was by: 15, 28, 32, 18, 34, 39, 21, 18. Again, the last UGA team to not get blown out at all was our last SEC championship winner of 2005. That's a telling stat.
17-6 overall, Georgia alum and state native Kirby Smart fell to 3-4 in rivalry games, an obviously unacceptable percentage to him. Kirby could reach .500 with a win at Tech. It's impossible now for him to finish this regular season with a record better than .500 against any of the big four: Tennessee 1-1, Florida 1-1, Auburn 1-1, Tech 0-1. Every real rival has beaten Kirby already before he could say the same. Should Georgia get past the Jackets on the flats in Atlanta on the 25th and then avenge over Auburn in the new Mercedes-Benz Stadium downtown, Coach Smart could flip this currently negative record-stat to a game above neutral by this season's end. Rightly considered to be doing great overall, Kirby will have to significantly improve his winning percentage in rivalries to reasonably expect to survive that long in Athens. Richt excelled in overall rivalry winning percentages after they got his predecessor Jim Donnan fired, after just four years. Doing poorly in one rivalry alone was ultimately damaging enough that Richt was released, with the best overall winning percentage in school history. After 1-3 last year, Kirby has already improved to 2-1 in these big games so far this year, a state title win over Tech key.
Three-time defending SEC Champion Alabama was in basically the same situation later in the evening, because this is what happens in SEC road games. They catch up to you, eventually. It had already happened to two-loss Auburn at LSU. Hard to eliminate a good football program on their home fields in this league. Tide were undefeated and in deep trouble on the road in game ten. The difference was that they had the experience-based confidence to believe they'd still win when it would have been easy to fold. They threw the ball to their Ridley in the middle of the field. In the game, suddenly they changed who they were, based on a bad situation. Ridley and another receiver went out and won the game for them, even after they missed the would-be winning kick… after they came all the way back. They shifted, pivoted offensive game plan to pull one out. Hurts got them the rock, and they'll be #1.
Georgia, perhaps, doesn't yet have the mature psyche of a champion, although I think our team has the type of upperclassmen-led mentality to potentially get there. We were number one for just two weeks, a week longer than our last top-ranking atop the 2008 preseason polls.
Georgia was doing better than this way back in 1982 (and in our undefeated years of 1980 and 1946). Dawgs were also 9-1 in 2002, where we finished 13-1 and would have been in a four-team playoff (with Miami, Ohio State, USC) and 1981, where we suffered a second defeat in the Sugar Bowl. Hey, Georgia lost to Auburn in the national championship season of 1942. Georgia's last SEC champ in 2005 took their second regular-season loss at Auburn, before the Auburn game was moved from always being our SEC finale. Auburn improved to 4-0 in series history in meetings when both teams were Top 10, and the previous two Auburn teams that beat Georgia in the past dozen years each then beat Alabama, won the SEC and played for the national championship (they went 1-1). We have a winning record over Auburn in the series, still. Various trends looking good for both their team and ours.
Will we have enough confidence to beat them or Bama? That remains to be seen. We're going to Atlanta two weeks in a row, and this season hinges on those games.
The glass is half-full as I think of pouring myself a final leftover rum two days after the loss, the Tiki party a bit of a bust because Auburn was the best team we've played this year, and they kicked our butts. We are 9-1 and even still at the moment I write #1 in the CFP. We are playing for state, league, and possibly national championships.
At the beginning of this season, I predicted this game at Auburn to be our only loss. Utter demoralization from a lone loss significantly reduced via postseason expansion, as national champs usually have one loss these years. Also, we took a worse beating at South Carolina in 2012 and were still a play away from playing for it all later.
About the CFP: Auburn/Bama/Georgia appear poised for at least one slot for the SEC, with Oklahoma in prime position for one if they win the Big 12. My preseason CFP had Georgia and Bama, who could both still make it only if a one-loss Bama ekes in while Georgia wins the SEC, our goal at the start of this season. It's possible for Auburn and Alabama to both make it similarly, but both Georgia and Aubie have to win the league. Traditional powers Ohio State and USC were my other two picks. While they have two losses apiece, I still see them taking the Big 10 and Pac-12 and out. Wisconsin could win and get in but probably won't. Miami/Clemson is still one bid. A state down from both Georgia and Alabama, the Hurricanes advanced the nation's longest winning streak to fourteen, debasing Georgia's only marquee win by smashing an apparently overhyped Notre Dame. While the N.D. loss lessens our reputation from our win over them, it is probably better for our chances in that they are all-but technically eliminated from getting our potential slot in the CFP, and they probably would have been higher-ranked than Georgia now had they not lost. They are done with two losses, while Auburn still has a shot with the same record. Auburn needed this one so much more than SEC East Champion Georgia did. We had already clinched and should all be grateful.
While we have played only two two-loss teams and went 1-1 in those games, I still like our chances in a rematch with Auburn in Atlanta and give us a solid shot if Bama gets through; they having the experience and coaching edge. Until Kirby proves it over the course of the season, I will rightly reserve passing judgement on his early accomplishments. Kirby's epic run which I have documented here at Bulldawg Illustrated, including the last five games of last season where he went 4-1, ended at 13-1 (19-1 best in school history, Richt's best 16-1).
That was an amazing 14-game run, ending with us the top team in the country. The evaluation at season's end and championships are what matters more than bragging rights, and we've never been great as frontrunners, folks. It didn't work for us in 2008 or 1981 or 1982. The 1980 team came from low in the rankings to glory. The strong teams in 2002 and 2007 and 2012 were all considered surprises. If we can get to 13-1 again this football season, we get a banner and chance to play for another national championship. 14-1 would be the most wins in school history.
Nothing is lost.
Let's win these last couple games against honestly inferior competition and win the SEC. Anything less would be a disappointment. This week we get Kentucky in the Classic City, a feel-good story for our draft-eligible juniors and seniors on Senior Day, going out from Athens with a real chance at lasting glory. Glory, glory hail to Georgia.
---
Recent Articles by Han Vance
[pt_view id="9a9402f8n5″]