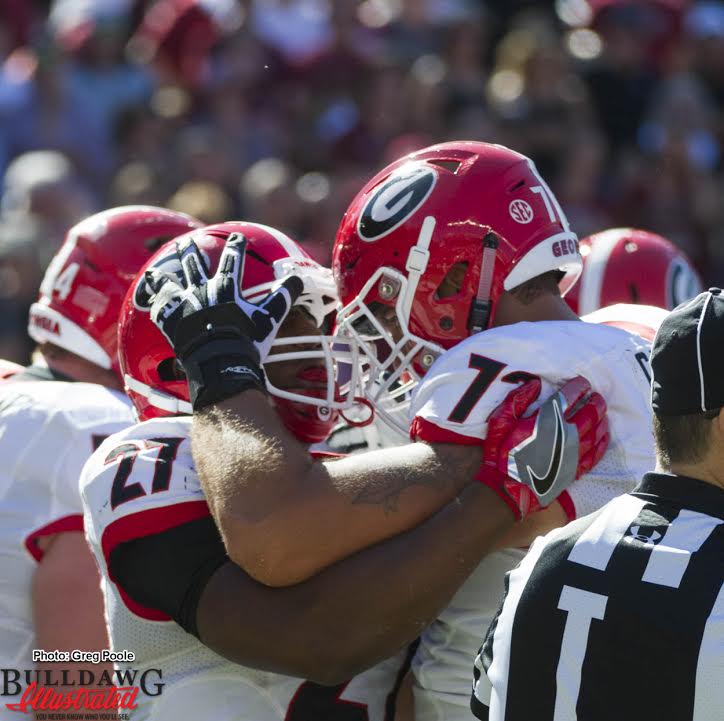 Failing to cash in on numerous golden scoring opportunities, the Georgia Bulldogs made this one a more difficult victory than it should have been but thanks to a revived running attack, de-feathered the South Carolina Gamecocks 28-14 Sunday afternoon at Williams-Brice Stadium in Columbia.
Georgia (4-2, 2-2 SEC)  pushed out to a 14-0 halftime lead but that margin could have been considerably more had the Bulldogs been able to reach the end zone every time their defense took the ball away from the Gamecocks in excellent field position.
As it was, Georgia couldn't put South Carolina (now 2-4, 1-4) away until sophomore wide receiver Terry Godwin scooped up a Gamecock onside kick – after the hosts had pulled within 21-14 with 1:40 remaining – and raced 43 yards untouched to the end zone. Godwin crossed the goal line with 1:33 to play and following Rod Blankenship's PAT kick, the Bulldogs had survived their own storm with a two-touchdown victory.
"We wanted to keep fighting," said Georgia head coach Kirby Smart. "I wouldn't expect anything less out of this group. They work hard every day. We had two really physical practices on Tuesday and Wednesday. We're going to do the same thing this week. We've got to get better and we've got a tough road ahead of us.
"We certainly made it more interesting than it needed to be," said Smart. "We challenged them to be physical, we tried to dominate the line of scrimmage, which I really thought we tried to do well. We have got to improve how we throw and catch the ball, which to be honest, especially early in the game, there were tough conditions out there.  They struggled early with it, we struggled early. But we were physical, kids played hard, very resilient guys."
On a sun-kissed afternoon after the Columbia area had felt the effects of Hurricane Matthew just the day before, Georgia used a three-pronged running attack featuring Sony Michel, Nick Chubb and freshman Brian Herrien to romp for 326 yards on the ground. Michel went for 133 yards on 21 carries, Chubb totaled 121 on 16 carries including two touchdowns plus a tackle-breaking 40-yard jaunt that should have led to another score but didn't, and Herrien used his quickness to tally 82 yards on just nine attempts.
Good thing too that the Bulldogs could take it to the Gamecock defense with the powerful run game because freshman quarterback Jacob Eason, throwing high all day, was able to complete just 5-of-17 passing attempts for a measly 29 yards with one interception, though Eason did complete a clutch 6-yard scoring pass to Isaiah McKenzie to lift Georgia up by 21-7 early in the fourth quarter.
Defensively, Georgia shut down Carolina's run game completely, allowing the Gamecocks only 30 net yards on 26 carries. However, SC quarterback Perry Orth did drill 26-of-36 pass attempts for 288 yards while being picked off once by Malkom Parrish. Sophomore linebacker Roquan Smith enjoyed a big day for Mel Tucker's defensive unit with 11 total tackles and had one fumble recovery and one forced fumble. Sophomore corner Deandre Baker followed with seven stops while Lorenzo Carter, Davin Bellamy, Tyler Clark, Trenton Thompson and Chuks Amaechi all recorded sacks.
"With the outside linebacker group we always tell each other that in past years it has always been a position that has impacted the game when the game needed it," said junior outside linebacker Bellamy. "I think today we came through, not just as a group but as a whole defense. The outside linebackers did our part in putting pressure on him [Perry Orth] and it all just fell into place."
The Bulldogs scored on their very first possession Sunday, taking the opening kickoff and driving 73 yards on seven plays to go up 7-0. Chubb and Michel each had dashes of 18 yards and Chubb hit paydirt on a 15-yard burst up the middle.
Georgia couldn't score again until early in the second quarter when Chubb got his second touchdown from the SC 1, the score set up by junior cornerback Malkom Parrish's leaping interception of Orth at the Gamecock 28-yard line. The Bulldogs, however, couldn't convert additional points after Roquan Smith and Deandre Baker pounced on South Carolina fumbles.
In the second half, Georgia squandered more scoring chances, one coming after Chubb broke at least six tackles on a splendid 40-yard scamper to the Carolina 9-yard line. But after Michel was tossed for a 5-yard loss on the next play, an Eason pass was deflected and picked off at the Gamecock 10-yard line by SC defensive back Antoine Wilder.
Thus rejuvenated, the Gamecocks proceeded to march 90 yards for their first score of the day, Deebo Samuel getting the touchdown from nine yards on a jet sweep to the right corner of the end zone. It was now 14-7 with 3:49 left in the third and the partisan South Carolina fans finally had something to cheer about.
Prior to the end of the quarter, however, a 59-yard rolling punt by Georgia's Marshall Long, which was downed at the SC 4-yard line, put the Gamecocks' back to the wall and after the Bulldog defense held and South Carolina managed only a 35-yard punt, out to its own 39-yard stripe, Georgia would take advantage this time. Runs of 14 and 18 yards by Herrien put the ball at the Gamecock 7 and after two plays netted only one yard, Eason passed to Isaiah McKenzie six yards for the touchdown, the little receiver reaching the ball past the pylon in a brilliant effort while being knocked out of bounds. Blankenship's kick blinked the scoreboard to 21-7 with 11:43 left to be played.
However, the Gamecocks weren't dead just yet. After a short Long punt carried only 17 yards to the South Carolina 26, Orth cranked up the Gamecocks' passing game once again and took his team the distance. Two costly penalties against the Bulldogs – one a 15-yard roughing-the passer call against sophomore D'Andre Walker (his second such penalty of the day) and the other a pass interference call on junior safety Dominique Sanders – put the ball on the Georgia 1 from where Rico Dowdle bulled in for the score that would enable the Gamecocks to pull with 21-14 with just the 1:40 remaining.
But that's when the on-the-spot Godwin fielded Elliot Fry's ensuing onside kick on the bounce and sped down the right sidelines to finally seal the Bulldogs 28-14 decision.
On his onside kick recovery and touchdown dash near game's end, Godwin commented, "We went over it every Thursday at practice. We practiced it on a high bounce and that was kind of a low one. My front line blocked it perfectly. I just saw green grass and said, 'Let's score.'"
The Bulldogs now have a short week to get ready for Saturday's 12 noon Homecoming battle with the Vanderbilt Commodores.