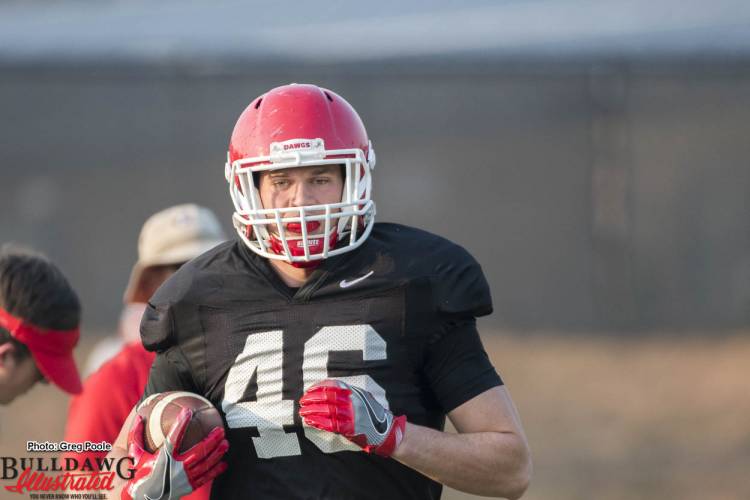 The Bulldogs practice saw a new face repping with the first team offensive line on Wednesday.
Left guard Isaiah Wynn has been nursing a knee injury that knocked him out of the Bulldogs game against Auburn and although he seems to be going full speed in practice, he may be questionable for the Bulldogs game against Louisiana-Lafayette.
The reason I believe he may be questionable is because he was repping with the second team for most of the practice periods open to the media.
This could mean a number of things: Perhaps Sam Pittman has seen more out of Dyshon Sims and is moving him up in the rotation or perhaps they are not confident that Wynn will be 100% and ready to go so they are preparing Sims to start.
Regardless of what is going in with this situation, it will be interesting to see what five offensive linemen take the field with the rest of the offensive players.
The Bulldogs injury report remains pretty much the same with wide receivers Jayson Stanley and Michael Chigbu out of practice, defensive tackle Daquan Hawkins-Muckle doing light work with trainers, and inside linebacker Natrez Patrick and wide receiver Reggie Davis in black non-contact jerseys.
However, a new face joined the group of players in black non-contact jerseys in backup fullback and long snapper Glenn Welch.
Welch will most likely not have an effect on the starting rotation but if fullback Christian Payne or snapper Trent Frix were to go down, then the Bulldogs might be in a tough situation because Welch is the primary backup for both of these positions.
As for the other players in black non-contact jerseys, I believe Reggie Davis should be good to go but Natrez Patrick is a bit more questionable, in my opinion.
However, If the Bulldogs feel comfortable enough with their wide receivers and inside linebackers, then this could be the type of game that the staff chooses to rest Patrick and Davis so that they will be 100% for Georgia Tech.
Just like last game, The Bulldogs injury report will be a primary storyline leading up to Saturday.