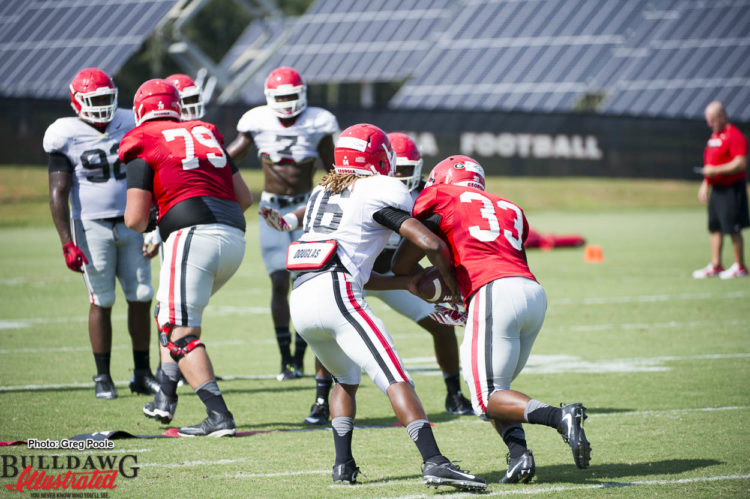 The preparation for the Bulldogs game went into full effect on the defensive side of the ball, as we saw the scout team wearing numbers that replicated the North Carolina Tar Heels offense. The Bulldogs as a whole seem to be shaping up in preparation for their season opener.



The injury report for the Bulldogs seems to be very favorable going into the last week of practice before the season opener. On the offensive side of the ball, Elijah Holyfield was back at practice today in a full capacity. However, Sony Michel did continue to practice in a black non-contact, but it has been rumored that he should be available in game one in some capacity.


Friday Practice Photo Gallery – Click HERE


On the defensive side of the ball, there were no significant players out, and I did not spot any players in black non-contact jerseys. This is great news for the coaching staff because the game against North Carolina will have two high powered offenses going head to head and the Bulldogs defense should be the determining factor of if this game will go down as a win or a loss.


The two biggest things that stood out in practice today were the offensive and defensive line and how they seem to be lining up in preparation for the season opener. On the offensive line, the story appears to remain the same with the starters in that it looks like it will be from left to right: Tyler Catalina, Isaiah Wynn, Brandon Kublanow, Lamont Gaillard, and Greg Pyke. This has been the lineup that I have seen at the most recent practices, and I expect this to be the lineup in game one.





On the defensive line, I saw some interesting groupings taking reps. Starting with the ones, it seemed that John Atkins and Trenton Thompson were joined by freshman David Marshall. They took multiple reps together and Marshall should receive some playing time if he does not start. The media period yesterday was very limited so as of right now I am giving Daquan Hawkins the edge over Marshall to start, but Marshall could be used during the UNC game more because of his athletic ability that he has since he played outside linebacker along with defensive end.


Finally, multiple scout team quarterbacks were seen wearing the number ten, which should be to replicate North Carolina's starting quarterback, Mitch Tribusky. The secondary was seen working against the scout team and had a good amount of success in practice today. One player that I spotted making a good pass break up was freshman Mecole Hardman, who was able to jar the ball loose from the receivers hand before making the catch.


The coaching staff is definitely installing a gameplay with the players and it should be interesting to see how the players and staff perform in their first game in the new era.