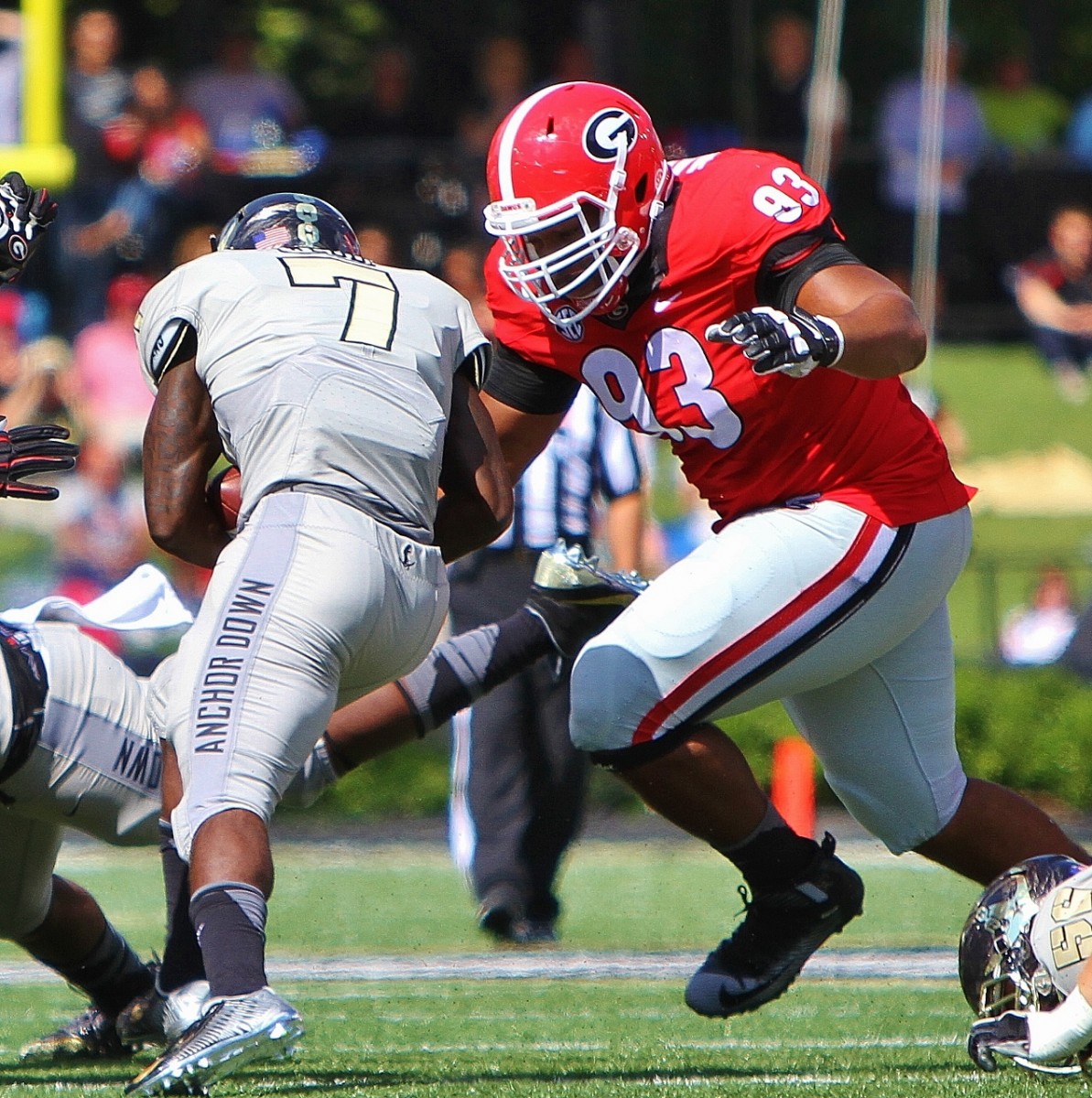 [su_spacer size="20″] Senior defensive lineman and nose tackle Chris Mayes talks about Georgia's up-and-coming game against Southern University on Saturday and discusses how the defensive line has played so far this season. He also talks shop about Georgia's freshman defensive lineman, Trenton Thompson.
[su_spacer size="20″]
How does Chris feel where Georgia's focus is at for the game on Saturday versus Southern University knowing that next week's game will be against Alabama?
[su_spacer size="40″]
The energy has still been up. We just see it as another game. We got to compete and get better. We know every game counts . . . We don't look at it as what we do to have to beat this team, we look at it as what we have to do as Georgia to get better.
[su_spacer size="40″] There is always a concern about the focus of a team after a big win over a rival with when they face a team like Southern, who they are expected to beat by several touchdowns, that is sandwiched in-between another big game, in this case, Alabama on October 3rd. I am confident that the team is focused for the task at hand on Saturday. Why?
[su_spacer size="40″] The coaches were on the players this week in practice as if they had lost to South Carolina for starters, but even more importantly is what you hear the senior leadership saying after practice. Nobody has said we expect to beat Southern by a mile. In fact, the attitude has been quite the contrary. Senior RB Keith Marshall stated that Georgia better win versus Southern or the Alabama game won't be as big. Senior WR Malcolm Mitchell echoed what Marshall as well as Mayes stated, that Georgia is looking at this game as another game that the team needs to win.
[su_spacer size="40″] Of course, that talk in practice and in this past week's pressers has to be executed on the field of play Saturday, but I just get a sense that this team has taken on the mindset of the coaching staff and the senior players and team leaders are not leaving anything to chance.
[su_spacer size="40″] Besides the game this weekend, number 93 discussed how the defensive line has performed so far through three games and talks about his freshman teammate Trenton Thompson aka "Jolly."
[su_spacer size="40″] Mayes talks about Defensive Line Coach Tracy Rocker's evaluation of the d-line's performance so far, specifically against the run.
[su_spacer size="40″]
Good but not good enough. We have a standard . . . too many yards have been given up. We definitely have to clean that up.
[su_spacer size="40″] Chris talks about the play that freshman Trenton Thompson versus South Carolina game on a third down on the Gamecocks last offensive series and the very last play in the game. He and the other defensive linemen were happy for him.
[su_spacer size="40″]
I feel like that was a great play, a huge play for him . . . I was over there dancing with him. I was happy for the guy because I know how it feels to make that first big hit.
[su_spacer size="40″] Thompson was in on all three tackles on defense on that last series of the game versus South Carolina, but that last tackle was impressive. Chris said Thompson came off the field with a huge smile, and I can attest that fans were smiling right along with "Jolly" and the Bulldawgs.
[su_spacer size="40″]
Chris Mayes interview – Southern U Week
[su_spacer size="80″]