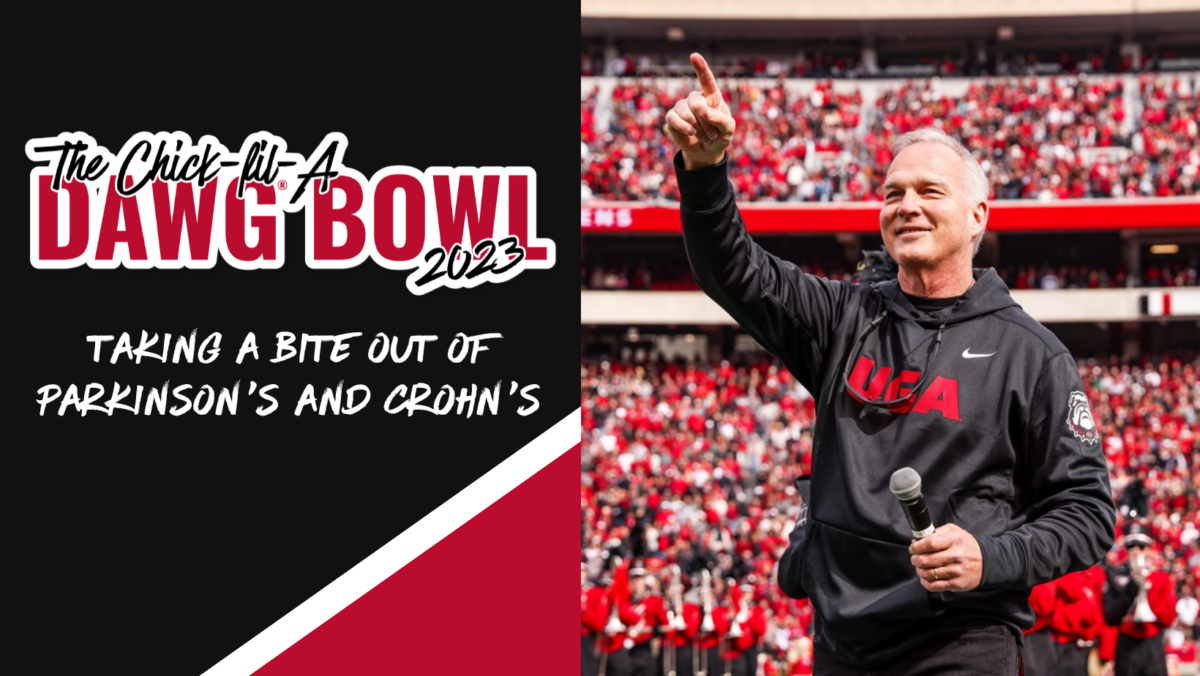 Parkinson's disease: a brain disorder that causes unintended or uncontrollable movements, such as shaking, stiffness, and difficulty with balance and coordination. Crohn's disease: an inflammatory bowel disease that causes chronic inflammation of the GI tract. Former University of Georgia head coach Mark Richt suffers from Parkinson's, diagnosed in 2021 while his granddaughter, Jadyn, suffers from Crohn's, diagnosed in 2015.
On Wednesday, October 18, 2023, Coach Richt, his family, head coach Kirby Smart, multiple past and current Bulldog players, and hundreds of Georgia fans gathered at Showtime Bowl (in Athens), launching the inaugural Chick-fil-A Dawg Bowl to raise money for research on the two diseases.
Two and a half weeks prior, Coach Smart invited Coach Richt to his weekly Monday press conference where the former Commander in Chief of Georgia football announced the campaign of the 2023 Dawg Bowl and its intentions to raise $750,000 for awareness and research for Parkinson's and Crohn's. The two coaches shared a laugh as Coach Richt noted that the winning team of the bowling event, including the current Georgia player paired with the group, would win a WWE-like championship belt. Coach Richt added that if the event took place during his time as head coach, the player would've been thrown in "NCAA jail!"
With a laugh shared among two Georgia legends and an announcement alongside Jadyn, the event was kicked off with the $750,000 goal set … it was up to the Bulldog faithful to come through and support the incentive. Well, the Red and Black showed up and showed out!
Fast forward once again to October 18, around 5:30 p.m., Georgia fans began filing in Showtime Bowl on Macon Highway. The Bulldog supporters began with some practice rounds beside Georgia legends like D.J. Shockley, Tra Battle, David Pollack, Jon Stinchcomb and more. Coach Richt officially began the competition with a speech and Jadyn by his side. He brought Dr. Anumantha Kanthasamy, Director of the Isakson Center for Neurological Disease Research, to the center of the bowling alleys to speak a little on his research and partnership with Coach Richt through the Dawg Bowl.
One of those big cardboard checks was printed a few days prior to the event and presented to Dr. Kanthasamy. At the time of its printing, $500,000 had been raised and was displayed on the check, but as of Friday, October 20, the $750,000 mark was surpassed!
After Dr. Kanthasamy spoke, Kevin "Chappy" Hynes, chaplain of the Georgia football team under Coach Richt, introduced the "Back-to-back National Champions, 2023 Georgia football team!" wherein 40 or so current players, wearing their home, red jerseys entered the building with a massive cheer from the hundreds of gathered supporters. With the players right behind Coach Richt, he said a prayer, blessing the event and the money raised for his and his granddaughter's diseases, then dispersed the players to each lane to begin the battle for the belt.
Although the event was a competition for the best bowler among the Georgia people, it was, of course, friendly banter between players, fans and even coaches. I captured some trash talk on camera between safety Tykee Smith and former player and current outside linebackers assistant coach Jarvis Jones. After a bowl from Jones that knocked down just three pins, Smith stepped up and left just one pin standing. Refusing to be shown up by one of his players, Jones walked right back up and put the ball straight in the gutter. Smith then unceasingly let Jones know he was the better bowler. Although these elite gamers showed their competitiveness off the gridiron and on the bowling alley, all gathered together for one goal: raise money and awareness for the diseases that affect Coach Richt, Jadyn, their family and 4 million other Americans.
From quarterbacks to walk-ons, from offensive linemen to defensive linemen, from past to current players and coaches, every person wearing the red and black showed love on the alley for Coach Richt and his family, despite not being the best bowler sometimes. Offensive lineman Micah "Big Mike" Morris said his hands were too big to even fit in the holes on the bowling ball, so his game was already at a disadvantage; however, it was still awesome fun being surrounded by the great Georgia people for the 6-6, 331-pound BIG Mike.
As I walked from alley to alley, it was all smiles from ear to ear on each fan and each player. Coach Richt and Coach Smart shared another laugh as they looked over the incredible event. What began with a laugh at that Monday press conference continued with another laugh between the two coaches at the Chick-Fil-A Dawg Bowl 2023, and the continuous support for the Richt family will never end as the Coach himself and his granddaughter continue to fight their respective diseases.
To continue donating, visit richtsdawgbowl.com All proceeds go directly toward research for Parkinson's and Crohn's disease.