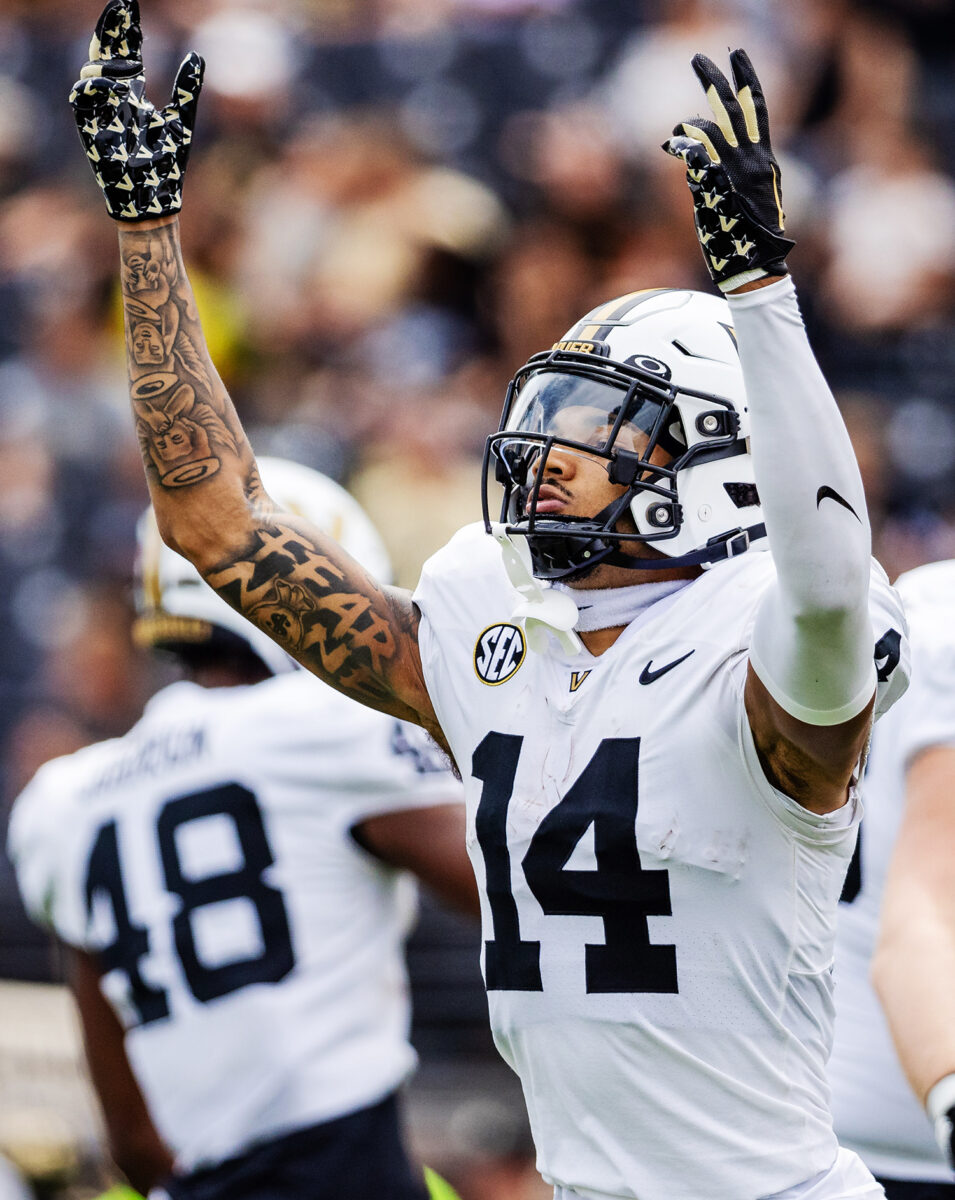 Clark Lea (HC) – Lea is midway through his third season back at his alma mater, having been hired to coach the Commodores in 2020. Turning Vanderbilt's program is almost an impossible task, but Lea was adamant he was the right man for the job. Lea and the Dores started 2-0, but are now on a streak of five straight losses. If Lea wants to extend his stay in Nashville, he needs a program-defying victory against the No. 1 ranked Bulldogs.
AJ Swann (QB #5) – Swann is a Georgia native and despite Vanderbilt's massive struggles, he has played good football having thrown for nearly 1,300 yards and 11 touchdowns. The turnover bug has proven to be a problem, however, having thrown seven interceptions in seven total games through 2023. Swann is a big quarterback with a strong arm. If given time in the pocket, he is capable of causing problems for the Bulldog defense through the air.
Patrick Smith (RB #4) – The junior from Egg Harbor Township, New Jersey is the Commodores leading rusher with 246 yards and two touchdowns on 59 carries. Smith is a smaller back standing at just 5'9" and weighing 189 pounds, but he is explosive and has big play capabilities. Smith needs to spark the Vandy rushing attack early to allow Vanderbilt to open up their offense against a dominant Georgia defense.
Will Sheppard (WR #14) – Sheppard is one of the better receivers in all of the SEC, but with little notoriety due to the team he plays for. The Louisiana product is midway through his senior season, and is a leader on this Vanderbilt football team, having forgone the NFL draft after an impressive junior campaign to return to Nashville for one final season. Sheppard is Vandy's leading receiver with 35 catches for 550 yards and a remarkable eight touchdowns. The senior is by far AJ Swann's favorite target and Georgia will need to be aware of the dangerous receiver this Saturday.
CJ Taylor (LB #1) – Taylor has been all over the field for the Commodores defense in 2023 having recorded far and away the most total tackles with 45. The junior also leads the team in sacks with three and has an interception to his name while also forcing two fumbles. Winning the turnover battle is one way Vanderbilt stays in this football game, and Taylor's ability to cause takeaways should be something the Bulldogs need to be aware of.
De'Rickey White (S #2) – White is a physically imposing safety that stands out 6'4" and weighs nearly 220 pounds. The senior from Gadsden, Alabama is tied for third on the team in total tackles with 29 and is first on the team in interceptions with two. White's ball hawking skills and ability to stop the run make him an impact player against the Bulldogs this Saturday, and the safety will need to have a career day to limit the Bulldogs offense.
Nate Clifton (DE #15) – Clifton is the Commodores biggest threat off the edge. So far through 2023, the senior is second on the team in sacks with 2.5. After Carson Beck showcased his ability to dissect defenses when given time in the pocket, it is imperative that Clifton finds a way to get the Bulldog quarterback on the ground. Georgia's offensive line will be well aware of 15 this Saturday, so number 15 in red and black can keep his jersey clean.
---
Vanderbilt's baseball program has appeared in 11 College World Series dating back to 2011, winning the national championship in 2014 & 2019 & finishing second in 2015 & 2021.
In Georgia's 20-13 victory over Vanderbilt in 1983, Commodores fullback Keith Edwards had a breaking performance, hauling in 17 receptions, the most ever by a Bulldogs opponent.
Hall of Famer Dan McGugin was Vanderbilt's football coach from 1904 – 1934, leading the Commodores to great success, highlighted by 15 seasons with a zero or a one in loss column.