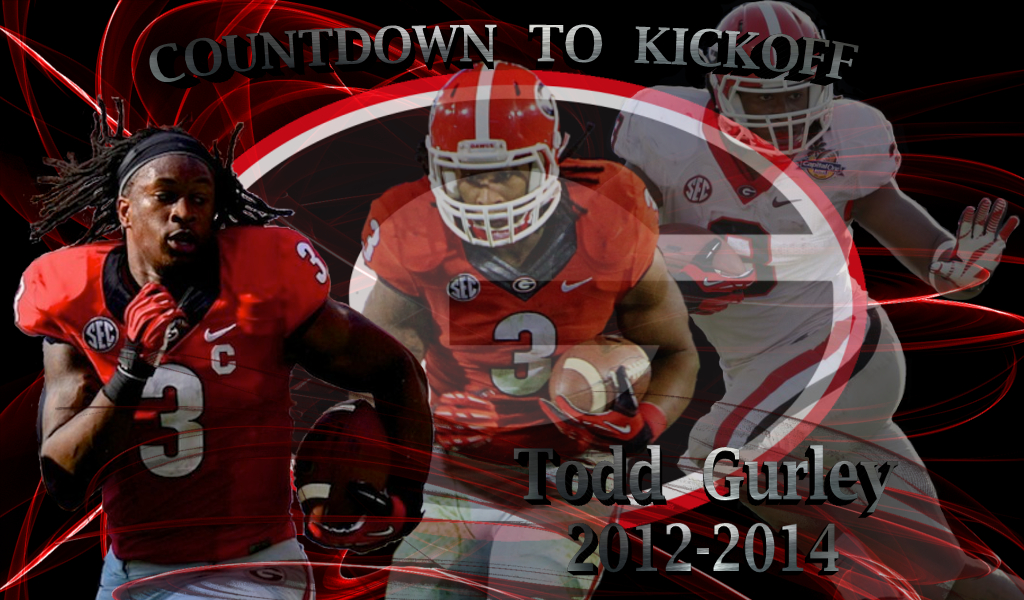 Whose that coming down the track sporting number 3 at running back? It's a Gurley man whose about to run you over Jack. Haha. We down to just 3 days left on Bulldawg Illustrated's Countdown to Kickoff 2016 and running past us on the way to zero hour is Todd Gurley.


Todd Gurley played for the Georgia Bulldawgs from 2012-2014, and during that time, number 3 put on a show from his tailback position. Gurley is a graduate of Tarboro high school out of Tarboro, NC where he played varsity football for Coach Jeff Craddock. He was part of Georgia's 2012 recruiting class.


It did not take long for Gurley to make a lasting impression on not only Bulldawg Nation but college football as well. As a true freshman, the 6 foot 1 and 226 lbs running back played in 14 games, starting 12 of them. He ran around, over and through the competition on his way to 1,385 yards on 222 carries and 17 touchdowns.


How good was Gurley's freshman season at UGA? At the time, his season rushing total ranked sixth all-time in school history, and he was only the third freshman to rush for 1,000 yards or more in a season. Herschel Walker did so in 1980 and Knowshon Moreno in 2007, but last year, Nick Chubb made the fourth freshman to do so and his season rushing total pushed Gurley to 7th all-time in school history.


For his 2012 performance, Gurley was named to the FWAA Freshman All-America Team, Phil Steele Freshman All-America Team, and the Sporting News All-America Team. He was also named to the Associated Press All-SEC First Team, All-SEC Coaches' Second Team, SEC Coaches' All-Freshman Team and Phil Steele All-SEC Team.




Gurley followed up his freshman campaign by almost rushing for back-to-back 1,000-yard seasons in 2013, but he came just short of doing so; rushing for 989 yards in 10 games on 165 carries for 10 touchdowns. He was also used more in the pass offense and had 37 receptions for 441 yards and 5 TDs. Gurley ended up missing three games versus Tennessee, Missouri, and Vanderbilt after spraining his ankle in Georgia's home game against LSU on the last Saturday of September.


Big things were expected of Gurley for 2014 with talk of Heisman hopes, but after the fourth game of the season, the tailback's college career and junior season were in jeopardy due to scandalous accusations that he had received monetary compensation for autographing sports memorabilia; a no-no for a student-athlete under the NCAA by-laws. Dawg Nation held its collective breath. Unfortunately, the accusations turned out to be true, but cooler and more level heads prevailed … well … it depends on who you talk to. Gurley would miss 4 games instead of being suspended for the season.


Number 3 made is triumphant return versus Auburn at home in the Classic City between the hedges. His teammates and Georgia fans everywhere could not be more ecstatic, but those feelings of bliss would give way to despair when Todd Gurley went down with an apparent leg injury in the 4th quarter after carrying the ball 29 times for 138 yards and a touchdown. Dawg Nation held its collective breath for a second time that season, but there would be no reprieve this time. Gurley had torn his ACL and was out for the rest of the season.


Gurley would finish with 911 yards on 121 carries and 9 touchdowns in just 6 games for 2014. One wonders might what could have been if he had not been suspended and held out for 4 games or if he had not suffered a season-ending injured.




For his career at UGA, the tailback rushed for a total of 3,285 yards on 510 carries in 30 games averaging 6.4 yards per carry. He scored 36 touchdowns and also caught the ball 65 times for 615 yards and 6 touchdowns. He was also dangerous as a kick returner, returning 11 for 422 yards and 2 touchdowns, averaging a blistering 38.4 yards per return.


Gurley's 44 career total touchdowns are only second to Herschel Walker's 52 in school history. He is also second to the legendary Heisman running back in all-purpose yards and rushing yards in school history. Gurley is also 3rd all-time in yards per carry for a season in school history with 6.24.


Many a beat writer, sports analyst, and fan speculated that Georgia's star running back would leave after his junior season and declare for the NFL draft. He did just that, and in the 2015 NFL Draft, Gurley was selected by the St. Louis Rams in the first round as the 10th pick overall. So how did TGIII do as a rookie in the pros? He rushed for 1,100 yards and 10 touchdowns earning the NFL Offensive Rookie of the Year as well as being selected to the Pro-Bowl. Not too shabby for a prospect out of Tarboro, North Carolina who some thought would make a better safety than running back.


And the countdown continues. Go Dawgs!