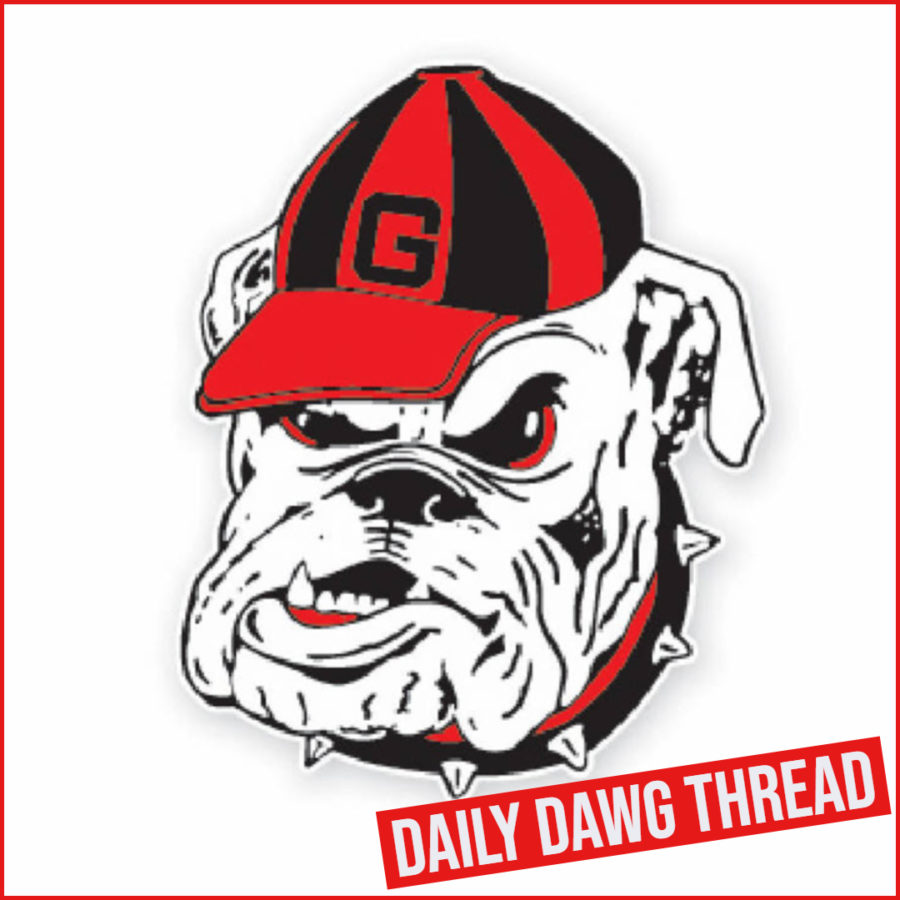 Daily Dawg Thread – 08May2019 – Class Of 2020 4-Star OLB Trenton Simpson – By Matthew Hall
With Clemson recently landing Class of 2020 5-Star QB DJ Uiagalelei and a flurry of other recruits in recent weeks, added pressure has been placed on the Georgia Football program to "keep up" in the world of recruiting top talent that will one day fill the roster and play for the Dawgs in Athens. Such is even more true as Alabama has also continued on in its torrid path of landing some of the country's most prominent future stars on the gridiron for the Class of 2020 and beyond. With that said, the Georgia coaching staff has in no way, shape, form, or fashion been lazy in blazing a path on the recruiting trail during the current NCAA evaluation period. On Tuesday, Georgia coaches and staff reportedly made stops to visit Class of 2021 Camden County OL Micah Morris, Class of 2020 SDE Zykeivous Walker, and Class of 2021 WR Latrell Neville. Tuesday also brought with it the knowledge of two offers being extended by the Georgia Football program to Class of 2021 LB Patrick Payton and Class of 2021 OL Cullen Montgomery. Henceforth, and in light of the aforementioned, no one could feasibly argue that UGA Head Coach Kirby Smart and the "Red and Black" coaching staff are not doing its part in terms of the continuance and key efforts to haul future players in. One potential recruit that did not receive a visit on Tuesday but that has been the talk of recruiting associated with the Dawgs as of late is Class of 4-Star OLB Trenton Simpson of Mallard Creek High School in Charlotte, North Carolina. While not a recipient of a Tuesday visit, the future collegiate outside linebacker did place the Georgia Football program among his top 5 schools recently on May 3, 2019.
With Simpson placing the Dawgs in his top 5, one could assume that the Georgia Football program would more than love to garner a commitment from him as it continues to try and bolster the defense of the program for the future. One piece of good news for Georgia is that the 4-Star OLB left both Clemson and Alabama out from among the list of his top schools and most likely much to their disappointment. In the case with Simpson, the Dawgs will have to duke it out with Miami, North Carolina, and SEC rivals Tennessee and Auburn for his commitment. It would appear now more than ever though that Georgia has a real legitimate shot to obtain the services of the Charlotte prospect based off of what has already taken place and off of what is already known. Simpson was a recent visitor to the Georgia spring game on April 20, 2019, and it has been noted that he came away from that visit highly impressed with what he took in while in attendance on that day.
Along with the impression that was made with Simpson while he was in attendance at G-Day, Georgia's Co-Defensive Coordinator and Inside Linebackers Coach Glen Schumann has been attempting to lure the OLB to come play defense for the Dawgs for some time now. One of the selling points Schumann has thrown out in Simpson's direction in regards to this entails the circumstances and the fact that the Dawgs have produced and developed some of the best players in the country at the position including recent NFL top 10 draft pick Roquan Smith. Schumann is not the only Georgia coach in on the action with the recruitment of Simpson as Head Coach Kirby Smart has also been in delegations with the top rated OLB. Simpson has publicly made it known that he has liked what he has seen when dealing with Coach Smart and that while the head coach is passionate about the game of football, he has also shown a great deal of interest in him as a person, with his family, and just in life in general. Smart has relayed the message to the Mallard Creek product that he is a recruiting priority for the Georgia Football program.
Simpson has a strong, stout, and athletic stature at the outside linebacker position standing in at 6-2.5 and 220 pounds. He is very versatile as can be seen in the fact that he plays on both sides of the ball. As so, it would appear that Simpson is a pretty effective running back offensively. Such is an aspect of his game that most assuredly grabs the attention of both Kirby Smart and other coaches throughout the country. Theoretically, Simpson would be a key prize if Georgia lands a commitment from him in that he could play OLB on defense and he could be called upon if ever a circumstance were to arise and a hole needed to be filled at the running back position. To further add weight, heft, and validity to such an argument and position, Simpson rushed for some 428 yards on 53 carries (8.1 yards per carry on average) and a touchdown as a Junior at Mallard Creek. The tool set that Simpson possesses of having the ability to play both OLB and be a rushing threat only adds to the lure and persona of the potential recruit.
While Simspon has already visited the University of Georgia on two previous occasions, he is slated to take an official visit with the Dawgs sometime this upcoming June. While 247Sports Crystal Ball Predictions pretty much have Simpson as a lock to the Tar Heels, it would be hard to rule out the Georgia Football program as a legitimate contender of where he may end up when considering the momentum the program has had with him in the recent past. As with so many other "what if" stories and possible scenarios out there in the recruiting world at this present time, the recruitment of Simpson and his possible commitment to the "G" is a tale that remains to be seen and that is still under development. Until the narrative unfolds and it all comes to fruition, this one wears the label of "to be continued".