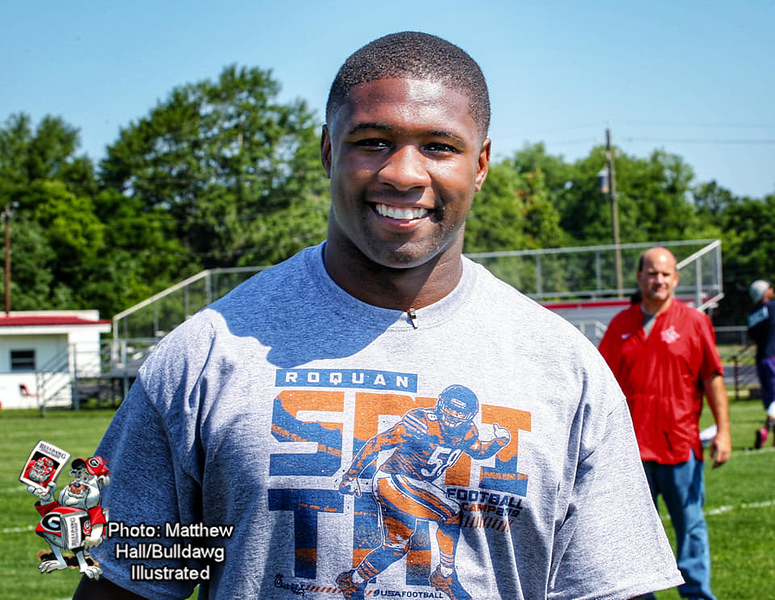 Former Georgia Football and current Chicago Bears LB Roquan Smith gave back to his community on Saturday by holding a football camp at his alma mater of Macon County High School in Montezuma, Georgia. The camp was formulated as a fundamentals camp in which Smith and others in collaboration with USA Football took part in football drills and focused practice areas concerning the game on the gridiron. Among those in attendance to help Smith with the camp were University of Georgia ILB Tae Crowder and DT Michael Barnett.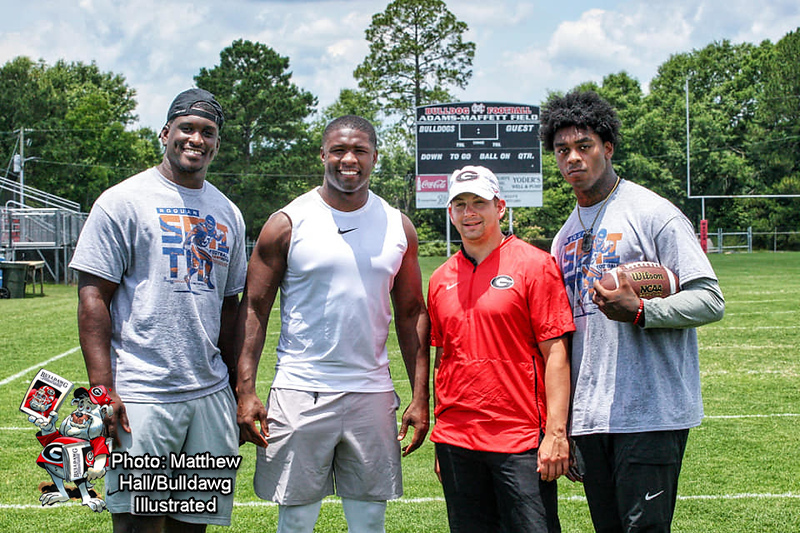 Following the conclusion of the camp, WMAZ 13 Sports Anchor/Executive Producer Marvin James interviewed Smith who spoke about his transition from UGA to the NFL, holding his first camp back in his hometown of Montezuma, what Smith is looking forward to in the coming year with the Bears, his being back enrolled in Georgia to finalize his degree, the differences between playing in Sanford Stadium and Soldier Field, and his overall thoughts on the Dawgs' upcoming 2019 season.
With respect to his transition to the NFL from Georgia, Smith stated that he felt the move was pretty seamless and that he felt playing for the "Red and Black" truly prepared him to make the transition to playing in the NFL. Smith further stated that having former UGA players LB Leonard Floyd and WR Javon Wims, both of who are also a part of the Bears organization, further aided and assisted him with the transition.
On having his first football camp back at "home" in Montezuma, Smith stated that being able to do so was huge for him and that he was once in those young athletes' shoes at one time in his life. "Being able to come back and give back means a lot", Smith further reiterated.
Smith said that as far as the coming year with the Bears that he is simply trying to get better each and every day while not taking the opportunity to do so for granted.
Smith spoke about enrolling back into the University of Georgia to finalize his degree, something that he promised himself that he would do even if he left early for the NFL. He let it be known that he is around a couple of semesters away from fulfilling that promise and that UGA had been great with respect to working with him as he goes through the process to fulfill this promise and obtain his degree.
When asked about his thoughts on Georgia in the upcoming season and about returning Junior QB Jake Fromm leading the charge, Smith called Fromm a phenomenal leader and spoke on the weapons that are around him as well that he expects to help the Dawgs have a successful 2019 campaign. Smith further elaborated in saying that the potential for a great year is there and the Dawgs as a whole must be consistent and not get complacent noting that the if the Georgia Football program can do so then they can write their own story.
On the differences in playing in Sanford Stadium to Soldier Field, Smith stated that both places are electric but he did not that Sanford Stadium was louder. Not taking away anything from Soldier Field in Chicago though, Smith spoke of all of the Bears' legends that have stepped on the field and played there leaving a legacy that is an honor to follow behind and one that helps him relate in keeping his opportunity to play in perspective.
Smith also spoke on the message that he would want to send out to the young athletes as it pertains to moving forward, with the game of football, and life in general. The former Georgia LB said that his advice would be for them to take advantage of each and every opportunity that would present itself and to not take them for granted. Smith further stated that they should really focus on academics and make them of the utmost importance.
Roquan Smith is now a Georgia Football icon and defensive legend. Even so and with his success and being blessed to be a part of the 1% of players that will ever make it to the NFL, he remains humble and true to his roots and to who he has always been. He continues to give back in ways to his hometown and to others abroad which should make all fans of the Georgia Football program proud to have had him as a Dawg. Though playing professional football and being a top 10 NFL Draft pick, Smith is back in school at Georgia finishing up his degree. Such is a testament and it speaks volumes of who he really is and his thoughts on the importance of academics for young athletes. At the end of the day and all in all, Smith will always be a Dawg and he is one that is in a class of his own in so many different ways.