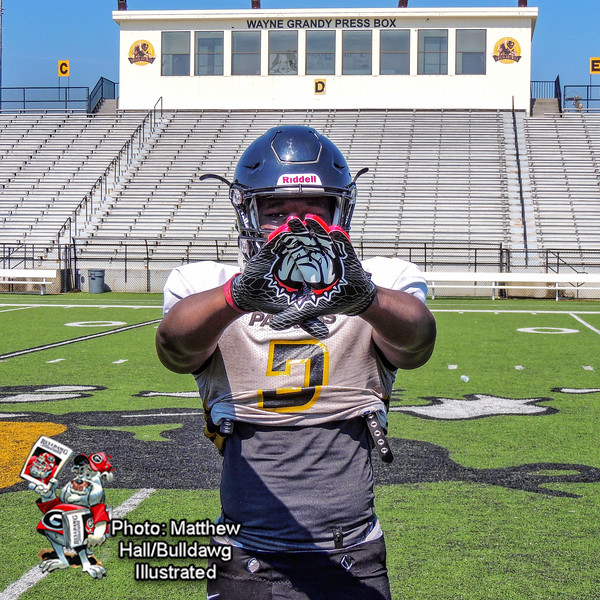 Daily Dawg Thread – 20June2019 – Class Of 2020 4-Star RB Daijun Edwards – By Matthew Hall
The Georgia Football program's current recruiting class is sitting nicely at the #4 overall slot in terms of Team Class Rankings per 247Sports Composite Rankings. That top 5 nationally ranked recruiting class for the Dawgs is not without some holes though. An example of that can be seen in the fact that the Bulldogs still do not yet have a running back commitment for the Class of 2020. Such is not the case or the result of poor recruiting or anything of the like as UGA Head Coach Kirby Smart, Running Backs Coach Dell McGee, and the rest of the Georgia coaching staff have and continue to blaze a path on the recruiting trail as they seek to bring in elite talent to the program. It is no secret that the Dawgs are hoping to land at least 2 prolific rushers in the present cycle of recruiting and one that they have heavily focused on is Class of 2020 5-Star RB Kendall Milton out of Clovis, California. Zachary Evans, Tank Bigsby, Ashaad Johnson, and a host of others have further drawn a great deal of interest as potential RB's to join the program in Athens. Another prospective running back in the Class of 2020 and perhaps one of the most underrated at the position is 4-Star RB Daijun Edwards of Colquitt County High School in Moultrie, Georgia.
Edwards was first extended an offer from the Dawgs all the way back on November 12, 2016. Since that time, the Colquitt County product has been the recipient of 9 more from prominent programs such as Auburn, Mississippi State, Tennessee, and Kentucky among others. He is currently rated the #23 overall running back and the #30 overall player in the state of Georgia for the Class of 2020 per 247Sports Composite Rankings. Even with other programs throwing their hats in the ring for his services, Edwards has continued to remain in contact with the Georgia Football program, RB Coach Dell McGee, and the area recruiter for the Dawgs in South Georgia Scott Fountain.
The Moultrie back is of a stocky build, frame, and stature standing in at 5-10 and 201 pounds. He is a physical back and is a gritty player on the gridiron. Edwards is a hard runner with a strong base and foundation and he is difficult to bring down once on the loose. Former Colquitt County Head Coach Rush Propst has gone on the record as stating that Edwards reminded him of former UGA RB great Nick Chubb who Propst once coached in an all-state game. The recently departed head coach of Colquitt County further elaborated on that saying that Edwards may be just as physical as the former Georgia rushing legend if not more so. These are big words and are eye-opening in many respects. The aforementioned assessment also adds weight, heft, and validity to the fact that Edwards is a hidden gem that has not received the amount of attention as some of the other rushers in the recruiting class even while being deserving of such.
As a Junior in 2018, Edwards rushed for 1,480 yards on 227 carries and logged an astounding 26 rushing touchdowns. He was not shabby during his Sophomore campaign either in 2017 as he went for 1,038 yards on 176 carries and 13 touchdowns on the ground. As a Freshman in 2016, Edwards missed the 1,000-yard rushing mark but not by much. During that season, he rushed for 887 yards on 147 carries and 13 rushing touchdowns. When looking at these numbers produced by Edwards over the course of the last 3 seasons in the largest classification of GHSA play, it is rather astonishing that he has only received a total of 10 offers.
Edwards is expected to make a commitment decision before the start of his Senior season for Colquitt County. He plans to take a few more visits before ultimately coming to that decision and it would appear that it is in many ways a toss up between Georgia, Tennessee, Auburn, and Florida State. The Bulldogs are definitely in the mix though as Edwards has stated that he will take part in a visit to Athens and that he is slated to visit the Georgia Football program to work out for the program in the near future. In any event, Edwards is a great running back prospect in the Class of 2020 and would be a more than viable option to fall in line in the backfield on Saturdays playing "Between The Hedges" should he end up "Committing To The G". Stay tuned for more developments and events on Edwards and his recruitment with the Dawgs as they develop, transpire, and come about. Until then and as always, Go Dawgs!!!