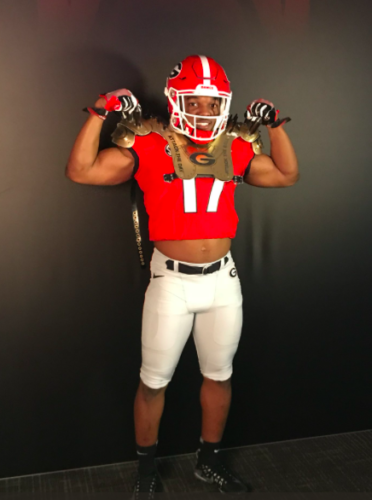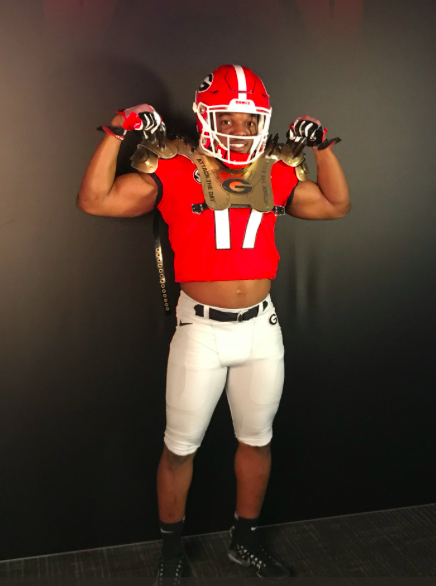 Daily Dawg Thread
TODAY'S FEATURED PROSPECT
Nakobe Dean is a five star inside linebacker from Horn Lake, Mississippi. He's 6-0 220 pounds. According to the latest 2019 247Sports Composite Rankings, he ranks as the No. 15 overall player, the No. 1 ILB and the No. 1 MS prospect.
Dean's not only a great player on the field, but off it as well as he holds a 4.3 GPA. He plans on majoring in engineering at the school of his choice. Dean said that out of the schools he's considering, all of them have academics that could allow him to do whatever he wants to in life.
According to MaxPreps after six games, Dean has 33 solo tackles, 23 assists, 56 total tackles, and averages 9.3 tackles a game.  He has ten tackles for a loss,  two sacks, and two interceptions one of which he returned for a touchdown. Offensively, Dean has seven carries for 69 yards averaging 9.9 yards a carry and four touchdowns.
Dean told me that he plans on signing in December and enrolling early.
Nakobe Dean Interview
Q: Are you suppose to come to Georgia this weekend or did you change the dates?
A: "Yea, One of the coaches called my mother and father and they were like this wouldn't be a good weekend because they don't feel like they would have enough time to spend with me. So we are going to do a later date. We are thinking about Nov. 10, but we haven't confirmed it yet."
Q: Do you have your set official visits yet?
A: "LSU during the second weekend of December. I'm going to Auburn on the 17th of November. I was supposed to go to Texas A&M  this weekend, but my brother plays at Ole Miss, and my mom hasn't seen him play yet and its homecoming so we're going to go down there and see him."
Q: What position does your brother play?
A: "He plays tight end."
Q: You mentioned LSU, Ole Miss, Texas A&M, FSU, Georgia and Alabama as like your top six the last time we talked, are those the school's you're still focusing on or are there other schools?
A:" Those schools and Mississippi State."
Q: Who are the schools that are talking to you the most? Is it the schools I mentioned earlier or other ones?
A: "Yeah it's mostly the schools you mentioned. I probably get some type of text from them once every day."
Q: What about Georgia? Who is reaching out to you from Georgia and what's your relationship like with them especially with your mom?
A: "With Georgia, it's mainly coach Schumann. I feel like we do have a great relationship with them. I feel like my mom has a little bit of a relationship with coach Lanning. She really likes it down there in Georgia."
Q: When you do take that official to Georgia, what are some things you hope to get out of the visit?
A: "I'm hoping to get a little bit of everything. The atmosphere and I want to see how the campus looks when it's crowded. I feel like every time I went before; everybody was gone. How it feels there, meet some more of the players and get acquainted with the people of the city."
Q: You mentioned your mom really liked Georgia, what stood out on that visit for your mom?
A: "I think it was the visit and she liked coach Smart too. She liked his demeanor and his mindset toward everything and his personality too. She talks about his personality all the time."
Q: What are your thoughts on Kirby Smart?
A: "In my opinion, I  do like him as a coach. He has that mindset that he's going to make me better. He's going to coach me hard. The player development guy Jonas Jennings, that's someone my mom really loved. My mom really loved him."
Q: Are you in contact with any of the current 2019 commitments?
A: "I am in contact with a couple of the people committed like Nolan Smith. I text him every once in a while."
Q: Does he try to convince you to come to Georgia?
A: "Yes, of course."
Q: Do team records matter to you at all and do you consider them?
A: "I'm not really taking it into consideration. That's something my dad looks at so much. He's not really big into football until I  started to get recruited. But he's a person that looks at the wins and losses and thinks about it like that, but me not so much." 
Q: Is Your Dad trying to push you to follow in his footsteps and become a doctor?
A: "No he doesn't really push me to be a doctor, but I'm trying to be a doctor. I 'm trying to get my undergraduate in engineering. But while taking engineering classes, I'm going to have classes focusing on medicine. Basically, my classes would get me ready to get into med school. 
Q: That's cool, I've never met a football player that wanted to be a doctor, why a doctor?
A: "It's always been a doctor when I  was younger. It was doctor first. It wasn't really football until the end of ninth grade. It's always been trying to be a doctor."
Q: Do you know what kind of doctor?
A: "I'm probably working toward sports medicine to stay in the game, but I  might try to work with prosthetics because of the engineering degree. So I  would like to try and maybe work with prosthetics." 
Q: This may be a random question, but do you look into the various strength and conditioning programs?
A: "I do look into that. I love Georgia strength and conditioning coaches; they're crazy. I  enjoy Alabama's, LSU's, and Mississippi State's. I don't think some of the schools haven't even shown me their strength and conditioning rooms, but it is something I look into." 
Q: Do you want early playing time and is that important with the school you choose?
A: "I plan on coming in and compete anywhere I go. I plan on coming in and working hard trying to earn a starting spot anywhere I go. I'm not biased to the notion of not starting the first year; I have to learn. But I do plan on coming in and competing, and that's one of the main reasons I 'm coming in mid-year."
Q: Do you enjoy competing?
A: "Of Course! I love to compete. First of all its not going to do anything but make me better. If I  know I'm out there competing against some of the best guys in the country every day; It's not going to do anything but make me better as a person. I can't complain. I can't complain about competing. It's going to make me probably push myself to levels I've never been pushed to before so I  can work."