Today's Contents – Click to Read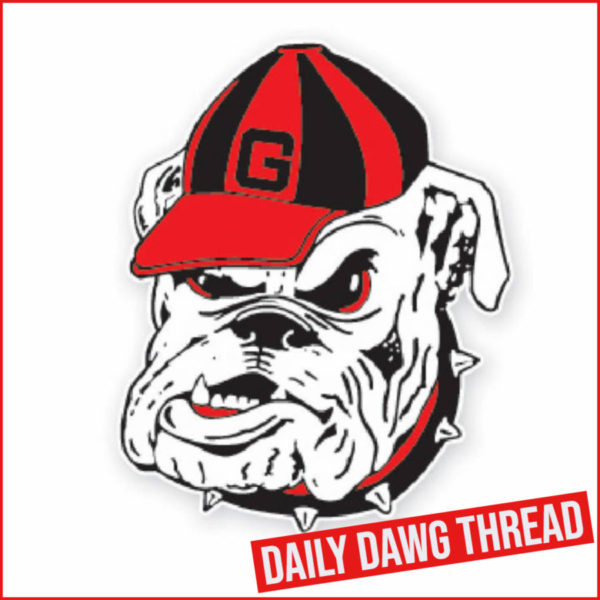 ---
MTENNIS: Georgia Beats LSU, 4-0
Close to 2,000 spectators were on hand to watch the No. 9-ranked Georgia men's tennis team defeat the No. 38-ranked LSU Tigers on Sunday at the Dan Magill Tennis Complex.
Following Georgia wins at the top two doubles courts, graduate Hamish Stewart clinched the match in singles to deliver the Bulldogs' seventh SEC victory of the year. The Bulldogs are now 15-5 overall and 7-2 in league play.
"Our guys came out and they were focused," head coach Manuel Diaz said. "They know that every match is so critical. We are focused on continuing to make progress and earn as good a seed in the SEC tournament as we can — that is crucial. We have a big weekend ahead and we turn our attention to Kentucky. We know that they are a top team, and they are going to be a huge challenge on the road."
Watch a fullscreen slideshow
HERE.
In doubles, Georgia went up a double-break 5-1 at court one and a break 4-2 on No. 2 to take the early momentum. No. 65-ranked Stewart and Tristan McCormick held off a short LSU rally to win their match 6-3, while No. 26-ranked Trent Bryde and Philip Henning defeated Boris Kozlov and Nick Watson, 6-2.
The Bulldog tandem of Blake Croyder and Erik Grevelius was tied at 5-5 at court No. 3 when the doubles point was clinched.
Up 1-0, Bryde and Croyder quickly put the Bulldogs ahead 3-0 thanks to a pair of straight-set wins. Bryde ousted Joao Graca, 6-3, 6-2, before Croyder downed Boris Kozlov, 6-3, 6-1.
Stewart then delivered the match with a 6-4, 6-2 victory at No. 1.
Today's Contents – Click to Read
---
WTENNIS: Dawgs Over Hogs, 6-1
The 10th-ranked University of Georgia women's tennis team defeated the 32nd-ranked Arkansas Razorback 6-1 Sunday afternoon, in Southeastern Conference action, to complete a three-match road stand.
In doubles, Georgia (13-3, 8-1 SEC) dropped two of three to Arkansas (12-7, 5-4 SEC). Arkansas' Kelly Keller and Indianna Spink took the first match of the day, beating freshman Guillermina Grant and graduate Meg Kowalski 6-0. The Bulldogs immediately responded with a ranked win on court one. No. 12 Ania Hertel and Morgan Coppoc cruised to a 6-1 win over No. 53 Morgan Cross and Tatum Rice – the pair's fourth-ranked win of the season. The doubles point came down to the match on court two, where Lenka Stara and Laura Rijkers defeated the 47th-ranked freshmen duo of Mell Reasco and Dasha Vidmanova 6-4, despite a late push.
In singles play, the Bulldogs swept the Razorbacks, earning wins from No. 21 Reasco, No. 27 Lea Ma, No. 40 Vidmanova, No. 71 Kowalski, No. 117 Hertel and Coppoc. Vidmanova picked up the first win of the day for Georgia, topping Indianna Spink in straight sets 6-1, 6-2. With the win, the freshman from Prague, Czech Republic, moved to 14-2 on the season, including 13-1 in straight-set matches. She was followed by Ma who defeated Tatum Rice 7-6(3), 6-1.
Hertel gave the Bulldogs a dominant third-set victory on court six, topping Laura Rijkers 6-0, 4-6, 6-0, while Reasco, a native of Quito, Ecuador clinched the match with a 6-2, 1-6, 6-4 win over Kelly Keller.
While playing the match out, Coppoc defeated Lenka Stara 6-2, 2-6, 6-3 to give Georgia a 5-1 advantage. Kowalski completed the singles sweep for the Bulldogs with a 6-4, 2-6, 6-2 win over Morgan Cross. Today's win marked the third time this season that Georgia has swept singles – last against No. 4 Ohio State.
Next up, the Bulldogs return to Athens to host the Kentucky Wildcats on Friday, April 8 at 4 p.m. and the Vanderbilt Commodores on Sunday, April 10 at 1 p.m.
Today's Contents – Click to Read
---
WGOLF: Cavs Top Dawgs
The No. 8-ranked Virginia women's golf team defeated No. 27 Georgia, 5-1, in a match play competition at the UGA Golf Course on Sunday.
After the Bulldogs grabbed early leads in five of six matches, the Cavaliers rallied. Both teams led in three matches at the turn before Virginia surged ahead on the back nine.
Céleste Dao earned Georgia's victory, a 1-up decision over Celeste Valinho. Although she never trailed, Dao played all 18 holes before securing her win.
"I stayed calm and patient the whole time," Dao said. "My game was good. I was solid off the tee and solid with my approaches. I was pretty happy with the day."
Dao grabbed the lead by winning No. 1 and pushed her advantage to 2-up soon thereafter. She maintained that edge through the turn.
"The first three holes are super critical, especially at UGA because they're hard holes," Dao said.
Valinho knotted the match by winning No. 12 and No. 16.
"Her putter woke up on the back nine, and she started draining putts, great putts," Dao said. "It got close over the last four holes because she really started to sink putts. On 16, she made a 30-footer to tie the match."
After halving No. 17, Dao captured the victory with a 14-foot birdie at No. 18.
Sunday was Georgia's first match play event of the season, although the Bulldogs are hoping to advance to the match play portions of the SEC and NCAA Championships during the postseason.
"We were trying to use this to build a little team unity today," head coach Josh Brewer said. "Usually, only five people play and it's over two or three days at a tournament with multiple schools. Today, everyone was involved, and it was nice. You had six singles matches. The players who didn't play, a couple of them coached and a couple of them covered it for the media. It was a great experience overall."
Seniors Jenny Bae and Jo Hua Hung served as the Bulldogs' coaches for the day. Caroline Craig and Isabella Holpfer, who both are part of UGA's Carmichal Sports Media Institute, assisted with updates on matches across the course.
Sunday completed the Bulldogs' regular-season slate. Georgia will open play in the SEC Championships on Wednesday, April 13 at Greystone Golf and Country Club outside Birmingham, Ala. The Bulldogs have won a league-leading 11 SEC team titles in women's golf, while eight Georgia golfers have claimed SEC individual crowns.
The SECs will feature 54 holes of stroke play qualifying, which will also determine the tournament's individual medalist. The top-8 teams from stroke play will advance to a bracketed match play competition, with quarterfinals and semifinals on April 16 and the final on April 17. The SEC Championship match will be televised live by the SEC Network from 8:30-1:00.
Today's Contents – Click to Read
---
MGOLF: UGA Opens Calusa Cup in Fourth
The No. 8-ranked Georgia men's golf team opened the Calusa Cup in fourth place on Sunday.
Playing Calusa Pines Golf Club's par-72, 7,320-yard layout, the Bulldogs fired a 1-under 287. Florida grabbed the first-round lead at 12-under 276, followed by Georgia Tech at 7-under 281, and Wake Forest at 3-under 285.
Junior Ben van Wyk paced the Bulldogs as he fired a 4-under 68, good enough for third individually and three shy of Ricky Castillo from Florida. The card for van Wyk showed seven birdies, including five over a 7-hole span in the middle of the round.
Senior Trent Phillips landed at 3-under 69 for fifth, powered by five birdies. Freshman Maxwell Ford stands 17th at even-par 72, while freshman Buck Brumlow carded a 6-over 78. Junior Nicolas Cassidy had Georgia's non-counting loop of 7-over 79.
The Calusa Cup will continue on Monday and will conclude on Tuesday. The Bulldogs will tee on Monday between 12:45 and 1:21 p.m. and will be paired with Oklahoma and Purdue.
Today's Contents – Click to Read
---
Jump To Comments