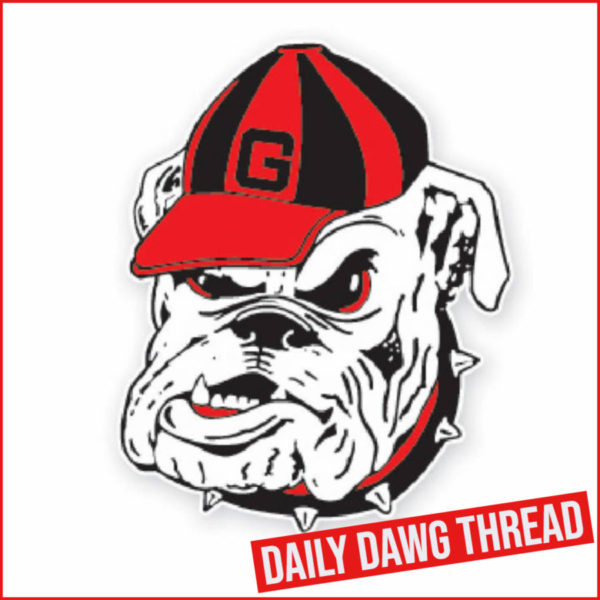 ---
ICYMI: Travon Walker Picked Number One by Jacksonville
University of Georgia defensive lineman Travon Walker was selected by the Jacksonville Jaguars with the first overall pick of the 2022 NFL Draft Thursday evening at the Linq Promenade.
Walker is the fifth Georgia football player to be selected first overall in the NFL Draft and the first since Matthew Stafford was picked first by the Detroit Lions in 2009. With the pick, Georgia ties Notre Dame, Oklahoma, and USC for the most first-overall picks by one institution at five. It is also the earliest selection for a Georgia defensive player in the Common Draft Era (1967-present), besting the No. 6 picks previously used on Richard Seymour (2001) and Johnathan Sullivan (2003).
Watch a fullscreen slideshow
HERE.
Walker is the 16th defensive lineman to be selected first in the draft, the third-most of any position behind quarterback and running back in the event's 87-year history. He is also the third defensive lineman to go first in the past decade, joining fellow SEC products Jadeveon Clowney (Houston Texans, 2014) and Myles Garrett (Cleveland Browns, 2017). Additionally, he is the fifth Bulldog to be chosen by Jacksonville, following former teammate Tyson Campbell, who was selected 33rd overall last year.
The Thomaston native started at defensive tackle in all 15 games last season for the Bulldogs, tallying 37 total tackles, six sacks, 7.5 tackles for loss, and a team-high 36 quarterback hurries. Walker closed out his Georgia tenure with a career-best seven pressures in the College Football Playoff National Championship Game against Alabama. In 2019, he was named to the Freshman All-SEC Team, helping Georgia clinch the SEC East title at Auburn on a fourth-down sack of Bo Nix/
---
WTENNIS: Five Dawgs Named All-SEC
Five Bulldogs took home seven yearly awards for the Georgia women's tennis team, the Southeastern Conference announced Thursday.
Junior Lea Ma and freshman Mell Reasco were named First-Team All-SEC. Additionally, three Bulldogs were named Second-Team All-SEC, graduates Morgan Coppoc and Meg Kowalski, and freshman Dasha Vidmanova. Reasco and Vidmanova also made the SEC All-Freshman team.
Ma, a native of Dix Hills, New York, went 16-8 on the season, including 10-4 in dual play at the top spot, with eight wins versus ranked opponents. She currently ranks No. 28 in the ITA rankings and has recorded wins over No. 4 Irina Cantos Siemers (OSU), No. 12 Jaeda Daniels (NCST), and No. 32 Kit Gulihur (UNF). Ma previously took home First-Team honors in 2020.
Reasco, a native of Quito, Ecuador, recorded a team-best 25-8 record in singles, including 10-6 versus ranked opponents. She earned six top-50 wins at the No. 1 & 2 spot, and a team-best 21-11 mark in doubles, including three wins versus ranked opponents. She is currently ranked No. 24 by the ITA and was recently named to the SEC All-Tournament Team. In the fall, Reasco won the 2021 ITA Southeast Regional and earned a berth in the 2021 ITA National Fall Championship, where she reached the quarterfinals.
Coppoc, a native of Tulsa, Oklahoma, went 20-11 on the season, including a pair of ranked wins in the middle of the lineup. In doubles, she went 19-14, including 10-8 at the top spot with Ania Hertel. The duo is currently ranked No. 14, with four ranked doubles wins. Coppoc previously took home First-Team honors in 2020 and Second-Team honors in 2019.
Kowalski, a native of Chicago, Illinois, went 19-9 on the season, including 12-5 in dual play, with a pair of ranked wins at the middle of the lineup. She recorded an 18-12 mark in doubles, including 11-8 at the No. 2 & 3 spots. Kowalski previously took home First-Team honors in 2020 and Second-Team honors in 2019.
Vidmanova, a native of Prague, Czech Republic, made an immediate impact after enrolling in January. The freshman logged a team-best 16-6 record on the dual season at the No. 2 & 3 spot, including eight wins against ranked opponents, and a 13-2 mark in league play. In doubles, she posted an 11-9 record. She is ranked a league-best, No. 5 (11.19) in the Universal Tennis Rankings.
Next up, the Bulldogs will continue preparing for the NCAA Tournament and are awaiting a bracket and regional location, which will be announced Monday, May 2 at 6 p.m.
---
BASEBALL: Georgia Meets LSU Tonight in Baton Rouge
The Georgia Bulldogs (29-12, 11-7 SEC) are back on the road this week to face No. 20 LSU (27-13, 10-8 SEC) starting Friday in Baton Rouge. Game times are 7:30 pm ET Friday (SECN+), 3 pm ET (SECN+) on Saturday and Sunday at 2 pm ET (SECN+). The entire series will be available on the Georgia Bulldog Sports Network.
The Bulldogs, under the direction of Ike Cousins head baseball coach Scott Stricklin, are ranked as high as No. 11 this week. They are 7-6 on the road including winning an SEC series at Alabama and South Carolina while dropping one at Kentucky. LSU is 21-5 at home, losing a series to Texas A&M and Auburn while sweeping Missouri. This will be LSU's second straight SEC home series and the second consecutive road series for the Bulldogs. The Bulldogs are batting .289 with 45 home runs, a 5.29 ERA and a .976 fielding percentage. The Tigers are hitting .292 with 67 home runs, a 3.55 ERA and a .960 fielding percentage.
LSU leads the all-time series 68-24-2. The teams last met at the 2021 SEC Tournament in Hoover, Ala., and the Bulldogs eliminated the Tigers 4-1. The last SEC series with the Tigers came in Athens in 2019 with the Bulldogs taking the series two games to one. Georgia's last visit to Baton Rouge was in 2017 and resulted in a Tiger sweep. Georgia's last series win in Baton Rouge came during the 2008 SEC Championship season, winning two and tying one. The 2008 Bulldogs went on to reach the College World Series Finals.
Due to injuries, Georgia has used six different SEC starting rotations and six different pitchers have started a league game. The LSU series will mark the first time in league play that the Bulldogs employ the same rotation two weeks in a row. Junior RHP Nolan Crisp (1-1, 3.77 ERA) has solidified the rotation, filling in for ace Jonathan Cannon and No. 2 starter Liam Sullivan after they missed multiple SEC starts earlier this year. In SEC action, Crisp is 1-1 with a 2.74 ERA in seven appearances including four starts. He provided a career-high 5.2 scoreless innings with five strikeouts in a 4-2 win over Alabama last Friday in Tuscaloosa. He is slated to start Friday against LSU. Cannon (7-1, 1.55 ERA), a preseason All-America selection and on the Golden Spikes Midseason Award watch list, will go on Saturday. He missed two SEC starts with a muscle strain (non-throwing injury) and then returned for the UA series on a pitch count, tossing five perfect frames Saturday in a 3-0 win. Sullivan (3-2, 5.27 ERA) will take his turn on Sunday. In the road series win over Alabama, the trio combined to pitch 13.2 scoreless innings before allowing a run in the series on Sunday. Senior RHP Jack Gowen (1-0, 1.57 ERA) ranks second in the SEC with eight saves including six of those in league play. Overall, the Bulldogs are 12-for-12 in save chances this season.
Georgia graduate CF Ben Anderson (.298-7-26) is a co-leader in the SEC with four triples. He has three leadoff home runs this year, the first in the season opener (Albany), then off Hunter Barco (Florida) in game one and this past Tuesday against Ga. State. Earlier this year, he had a 31-game on base streak. Graduate LF Connor Tate (.338-5-35) leads the team in batting. He has a team-best 18 multi-hit games. Sophomore 3B Parks Harber (.288-7-39) makes his hits count, tallying 40 hits to go with 39 RBI this season. In the Saturday shutout over Alabama, he went 3-for-4 including a three-run double to account for all the scoring. He hit his seventh homer this past Tuesday, going 2-for-5, 2 RBI. Graduate shortstop Cole Tate (.331-2-16) will miss the LSU series as he recovers from a stress fracture in his leg. Tate has been out the past nine games with senior Josh McAllister (.295-3-24) filling in nicely defensively.
Probable Pitching Matchups: UGA vs. LSU
G42 #11 Nolan Crisp (0-1, 4.62, RHP, RJr.) vs. Ma'Khail Hillard (4-0, 3.64, RHP, Sr.)
G43 #12 Jonathan Cannon (6-1, 1.71, RHP, Jr.) vs. Blake Money (2-3, 4.53, RHP, So.)
G44 #14 Liam Sullivan (3-1, 5.40, LHP, So.) vs. TBA
LiveStats Link: https://georgiadogs.com/sidearmstats/baseball/summary
Georgia Baseball Radio Links/TV Stream
Georgia Bulldog Sports Network (Announcers: Jeff Dantzler & David Johnston)
Free audio streaming of all Georgia Bulldogs games can be heard using the Gameday LIVE app.
Optimized for iOS7+ and Android 4.0+, Georgiadogs.com Gameday LIVE is now available for both smartphone and tablet in App Store and Google Play marketplaces. Georgiadogs.com Gameday LIVE is the official mobile application of Georgia athletics. Get the app here: georgiadogs.com/wireless/.

Friday Pregame Radio Show at 7:10 pm ET: https://georgiadogs.com/watch/?Live=4172&type=Live
Saturday Pregame Radio Show at 2:40 pm ET: https://georgiadogs.com/watch/?Live=4173&type=Live
Sunday Pregame Radio Show at 1:40 pm ET: https://georgiadogs.com/watch/?Live=4174&type=Live
SEC Network+ TV Links
The entire series will be on SEC Network+.
Friday SECN+ Link: https://www.espn.com/watch/player?id=597acb87-2562-4cd2-91dc-312f818b3e63
Saturday SECN+ Link: https://www.espn.com/watch/player?id=a6012cd4-9c69-43bd-a77a-d94e40be96bf
Sunday SECN+ Link: https://www.espn.com/watch/player?id=7b024c5c-29b4-494b-af62-7207f1505cc1
---
SOFTBALL: Series Begins at Auburn Tonight
Dates: April 29-May 1, 2022
First Pitch Times:
Friday – 7 p.m., EDT
Saturday – 7 p.m., EDT
Sunday – 2 p.m., EDT
Location: Auburn, Ala.
Stadium: Jane B. Moore Field
Media Information
Streaming: SEC Network+ (Friday)
Play-by-play: Brit Bowen
Analysis: Amy Reif/Kasey Cooper
No. 15 Georgia softball travels to Auburn, Alabama this weekend for a three-game series with the Auburn Tigers. The series begins Friday evening at 7 p.m., ET.
Saturday's game will also begin at 7 p.m., ET, with the finale set for 2 p.m. at Jane B. Moore Field.
All three games against Auburn will stream live on SEC Network+. Brit Bowen (play-by-play) with Amy Reif and Kasey Cooper (analysis) will be on the call.
Series History
» Georgia leads the all-time series 37-23
» The Bulldogs are 19-11 on the road in the series
» Georgia won the most recent series in 2019 in Auburn; Georgia has previously won the series in 2014
» The Bulldogs' win in game one in 2019 snapped an eight-game losing skid to the Tigers
A Look at What's Ahead
The 2022 regular season will wrap up next weekend in Athens when Ole Miss comes to town for a three-game series. The series begins Friday evening at 6 p.m. at Jack Turner Stadium. Georgia will then set its sights on the SEC Softball Tournament in Gainesville, Florida May 10-14.
Let's Recap
Georgia beat Furman Wednesday evening 9-2 in the Bulldogs' final midweek game of the 2022 season. Georgia's nine runs came on nine hits from nine different hitters in the lineup. Ellie Armistead highlighted the offense with her first-career grand slam in the fourth, her ninth home run of the season. Six of Georgia's nine hitters in the starting lineup contributed a hit Wednesday. Lauren Mathis picked up the win in the circle. Mathis worked four complete innings and fanned a season-high nine hitters, allowing both runs on four hits. Britton Rogers, Riley Orcutt, and Kylie Macy all saw time out of the pen to combine for the final three innings.
---
Jump To Comments