Jump To Top of Page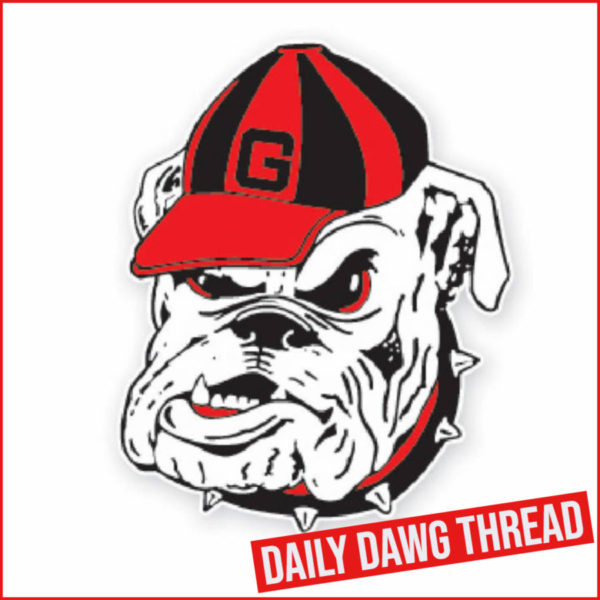 Video/Transcript: Kirby Smart open Fall Camp with a press conference
Video
Transcript
Opening Statement
"I will start with the release that was distributed yesterday about the improvements to Sanford Stadium. We're certainly proud of those. We value fan experience. Josh Brooks and myself both do. All the details will be included, but we are looking forward to those improvements, and certainly needed in those areas of the stadium. So we're excited about those.
We're opening camp today. We don't open practice, but we are practicing earlier tomorrow, which is not a seven-, eight-year tradition for us. We've traditionally practiced in the afternoon. We've got some guys still doing final exams, and it was going to cause us to miss a few guys, so we flipped the practice schedule around and going to go a little earlier at least tomorrow, then go back to our normal practice time in the afternoon moving forward from that. That probably prompted this meeting to happen today as opposed to tomorrow with us going earlier with the first practice. I'm excited to get the guys out there. They've had a great summer workout session. You usually measure summer success by where you are injury-wise in terms of soft tissue injuries, trying to avoid those, but you're also trying to be in shape. The only way to get in shape is run and run in the heat. I've felt like up until maybe the July 4th break we had not had the heat exposure we had needed. We had not been outside and conditioning in the heat, and then as soon as I said that, it flipped really quick, and it got really hot, and from our July 4th break on, our guys have trained really hard in the heat, had a lot of acclimation. We don't do, quote-unquote, testing anymore where you come in and have to run a test, but I feel really good about where our guys are from a conditioning level. The biggest focus for us in training camp is physical and mental toughness. That's why we do training camp. We try to expose our guys to a lot of scheme. We try to expose our guys to getting to know each other, moving into one central location, and really just focusing on ourselves. I think the difference in the two teams from the last two years is they connected well in training camp. That will be a goal in this training camp, to see how well we connect and how well we compete. We've got a lot of jobs that are going to be up for grabs and up for competition, and I'm very eager to see our guys compete for those spots. With that, I'll open it up."
On the quarterbacks heading into fall camp…
"I want to see them be where their feet are. I just got through talking to the team 10 minutes ago, and I had three or four older players, fifth-year and fourth-year players tell the younger players what the expectation for training camp is. That's exactly what I think about when I think about quarterbacks. To worry about today's walk-through, today's recovery period, today's meetings, whatever we're allowed to have, we're going to have today, and only thing you should worry about is that, then tonight you start worrying about tomorrow. But for those quarterbacks, it's not to overwhelm themselves with results, to overwhelm themselves with the process of getting better. They're going to get a lot of reps in the next 25 practices. They're going to get a chance to compete in the next 25 practices. Each one of them has individual things they need to work on, but for the whole I want to see them manage the offense, understand the offense, get people lined up and execute. The guy that does that best in critical situations will be the guy that becomes the quarterback."
On the secondary…
"We have really good leadership in our secondary. I think Coach Muschamp and Coach Fran do a great job of developing leadership. Probably one of our strongest leadership positions between Bullard, Tykee, Kamari, Malaki, Dan Jackson. The names go on and on in terms of good leaders in those rooms. The second part of your question as far as Bullard, you don't always weigh it based on what Bullard's best position for the team. It's who can play the positions around him. We're weighing that option. We feel like he's a very experienced star. He spent the majority of his development as a football player at star since being here. So we have really tried to push the safety issue in order to create more depth there and then figure out who's the best around him. I think Javon is one of our best 11 football players, but who is No. 10 and 11 and where do they fit, and all that should play out in camp."
On cross-training in the secondary…
"I would say with cross-training it's probably more contingent on the age of the player, the experience level of the player. We don't like to have an incoming player trying to cross-train. That's usually not fair to them. We have volume in our defense. We've proven that you can play as a true freshman and be successful in our defense, so it's not too much to learn, like some people say, and try to use it against us in recruiting. We had a kid, Malaki Starks, that walked in and played every single game at safety from a true freshman perspective, but we're not going to ask that guy to cross-train. We usually do cross-training based on the volume they can withstand and how much they can learn, and we make those decisions very, very delicately because there's a lot of guys you'd like to cross-train that you can't, and you've got to pick the right spot. Part of being a good coach is where do you put the players or where do you put the people in the seats on the bus."
On injured players missing time in camp…
"Smael and Branson will both be running. They're cleared to run, land running and do things, but they're not going to be full-speed practicing. Smael and Branson would be the two that are both ahead of the schedule that we thought five, six weeks ago, but they're not going to be cleared to just go out there and practice. Mykel has been able to do some activity and do some football activity and conditioning with us, and he should be a lower volume, but he should be able to practice some. Ty Ingram-Dawkins is dealing with a little bit of navicular foot issue, but it's not a break or anything right now. It's a stress reaction that we've had to hold him out some and keep him out of activities some, but he should be cleared soon. I don't think there's anybody else. We've got a few hamstrings and things like that, but the major deal right now is Ty, Smael and Branson, I think."
On preparing team for the physicality of the season…
"That's a goal of training camp is to establish physical and mental toughness. How do you do that? You don't go out and say, oh, please don't get hurt. Football is a tough and dangerous sport, which we practice as smart as anybody in the country. We feel like we have a method that allows us to be physical and be tough and also protect our players. We've been very fortunate in terms of training camp in the past, and we're still a month out. We want to get better, and we want our players to grow and get better, and you don't get better by not practicing. We're going to be physical, we're going to go against each other, and we're going to compete."
On Carson Beck's leadership…
"Carson is a very even-keeled individual. He's been that way since we recruited him all the way back to his 11th grade year. He's not a high and low, not a real emotional guy. He's not a real fiery guy. He's very laid-back, and he understands his job. He's very intelligent. Every leader has their own way, and he certainly commands the room. I think the players around him understand how bright he is, and they trust him. Carson has had a lot of reps and a lot of work, but it just hasn't all been game reps. He's had a huge mass of reps against good defenses, against really good defense in ours. But his leadership method is kind of still being developed, no different than Gunner and Brock. Each one have different ways about them, and that's true with the guy that just left, too."
On Austin Blaske's development…
"He's extremely tough. He's extremely dedicated. He's very prideful in his work. He's one of the most versatile linemen we've had. He's played center, played tackle, he can play guard. He's smart. He strains so hard that he makes himself relevant in terms of the movement he gets in the run game, screen game. He can go out on the perimeter and block guys. He's a good athlete. He was a real good wrestler in high school. Just been really pleased with how much he's improved to put himself in a competition to where he can contribute and play."
On interior defensive linemen developing in the summer…
"I don't know that I could measure by anything we see in the summer. Summer is built so much around conditioning, lifting weights, which are not — they're just not pertinent to being train wreckers and habit makers with football pads on. It may be a measure of strength, may be a measure of stamina, but not necessarily disruptive nature. I don't know where we're at in terms of that. I certainly concern myself with the depth at all positions, but that's a position, the defensive line, I would say end, tackle and nose, all in one, that concerns me in terms of depth. But a lot of positions worry me in depth. Offensive tackle concerns me at depth. We've been spoiled at some positions, and every year it's different. It's a different issue each and every year. But that's one of the issues we have this year is do we have enough players that can play winning football at each position group."
On the non-conference schedule…
"All we can do is go out and try to schedule the best we can, and when we scheduled the game with Oklahoma, we were trying to do that. We were trying to create this identity that we wanted to play our conference schedule, we wanted to play Georgia Tech and we wanted to play others. We lost out on that because of a realignment, adding teams to the conference, and that just is what it is. I certainly don't concern myself with the thoughts of College Football Playoff committee because I don't have any control over it."
On replacing Todd Monken at offensive coordinator…
"Anytime you lose a coordinator, you can rank it up there with like, okay, is that equal to an assistant coach. Probably not. You would think losing a coordinator is greater than others. I think retaining the rest of the offensive staff, and I think Todd would be the first to tell you, once I knew he was leaving and I sat down and had a long meeting with him, he re-emphasized how good this staff was at doing their job of presenting him ideas. I think a lot of people look at offensive coordinator as an island and this guy that sits over there and comes up with this stuff himself. Well, they have 15, 20 meetings a week on Sunday night, Monday, Tuesday, Wednesday, Thursday, where each coach gives a presentation of ideas or things they can do offensively, and he gets to sit back and be the decision maker on what's in and what's not. Those ideas really helped him, and he was quick to say, Coach, you're going to be fine no matter who you put in that position because you're going to oversee it and make sure they do it right as the leader, and then they're going to do a good job because they have pride in their performance as assistant coaches on offense, and then whoever you put in that position is going to have good players and be able to be successful. We were very fortunate to have Todd the time he was here, the growth he allowed us to make, the confidence he exuded with the players, and he had a package of offense that he felt confident in that fit the players that he was given. He made the personnel fit in his scheme. I don't see that changing. Obviously the quarterback is a major, major part of that, and we had really good quarterback play last year. A lot of times your offense is predicated off your quarterback play, so how well will our quarterback play, and that's the question."
On collaborating with coaches from other programs…
"Yeah, since the COVID year we've kind of quit doing it because we've found it's a lot easier to do through Zoom methods. We didn't go out and visit. Now, several of our coaches went to pro camps or went and met with maybe a D-line community or an O-line community group and they all kind of share ideas, but we didn't per se have anybody in particular we went and met with, but our individual coaches certainly studied teams that had the most turnovers, teams that did the best in the red area, teams that did something well. We tried to pick their brain on how they did it, without getting into any specific school."
On anticipating the first day of practice…
"I get excited, yeah. Not so much for today but for tomorrow I do, I think tomorrow being the first day we can go out and practice. But the NCAA has allowed you to do so much more in the summer. I was just telling our players, it's so different. We didn't see our coaches when we were here in the summer. We had testing when we got back. It was the first day that freshmen reported for us today. Now we've got 19 kids here in the spring. We had four or five show up summer, but they've even done workouts. It's not like the buildup of an NFL training camp where you haven't seen guys. We've seen our guys. They're here. They work out every day. It's very important to separate summer to training camp. Sometimes as a kid you can't see the separation because it's just constant. It's just all in a row. So we try to make a clear delineation between this is the end of this, this is the start of this."
On Xavian Sorey's development…
"Yeah, probably the most growth Xavian has had has been in the last five months, six months. Since Smael's injury, he has exponentially grown in terms of confidence, ability to execute. He's been healthy, number one, and he's had a lot of opportunity of reps of being out there with the ones. I mean, he's a guy who has really picked it up in terms of leadership and growth, and he has a lot of athletic ability."
On Jalon Walker's position…
"No, he'll start at inside. That's his natural position. That's what he wants to grow at, and he'll be in that competition for guys that get an opportunity to play. He has a unique trait of being able to rush the passer well, which not all inside linebackers have. He has some outside linebacker characteristics and he helped us a lot last year on 3rd down. Because of the injuries we had, we were like, okay, he's got a better chance of playing OLB than ILB. This year and really the entire time he was out in the spring with a shoulder, he still was in the ILB room, and he'll start in the ILB room, but he'll be part of the 3rd down package that allows him to rush the passer."
On the outside linebacker group…
"I don't think hitting the quarterback makes you a better outside linebacker. I think we can determine whether they win or lose each rush based on result. I'd love to be able to practice finishing, but we never get to practice that. I'm excited to see that group grow. We have a lot of young, eager guys that need to grow, and we've got the oldest vet in the room is Chaz, and he sets the tempo and the tone of the room all the time. I'm looking forward to seeing those guys grow. We've got to find unique ways to use those guys because some of them have really good athletic traits, and we've got to have times where we have two and three guys on the field at that position."
On the running back group…
"That'll be the challenge. I think Andrew coming off the knee, where is he in terms of catching the ball, stamina, burst, acceleration; Branson, when can we get him back. Obviously Kendall and Daijun have the most experience. A guy who had a great off-season and put up really good numbers in the weight room is Cash. Cash is maybe our fastest back. Pound for pound, he may be the strongest guy on the team. His unique ability is to catch the ball out of the backfield, but Daijun has got to be a guy that is consistent, stays healthy, durable and be kind of the — he and Kendall both be the leader of that group in terms of the way they work, catch the ball out of the backfield. I'm just excited to see all those guys work. I don't know that we have a superstar in the room. We've got a group that by committee does a tremendous job, and they work really hard, and they put the team first. All those guys play on special teams, and they've been a huge help for our special teams unit."
---
Softball: Tony Baldwin announced transfers Lilli Backes, Rachel Gibson, and Sarah Gordon
University of Georgia head softball coach Tony Baldwin has announced the addition of transfers Lilli Backes, Rachel Gibson, and Sarah Gordon for the 2024 season.
Backes, a left-handed pitcher from North Carolina, and Gibson, a right-handed pitcher from Clemson, will each have two years of eligibility while Gordon, a catcher/utility from Louisville, will have three seasons.
"We are very excited to welcome Lilli, Rachel, and Sarah to Georgia Softball," Baldwin said. "First and foremost, they are really good people and excellent students. They are also really good competitors!"
Baldwin continued, "With the three high school players and the three transfers that we have added, we believe our roster has improved and we are excited to get to work for the 2024 season.
"It takes an army to pull off all the recruiting that we do. I want to give special thanks to our coaching staff, Stephanie Ransom our sport administrator, Glada Horvat and Rhonda Kilpatrick in administration, Morgan Kent in academic services, Brandon Hummer in strength & conditioning, Sloan Vlahos in nutrition, Lijah Galas and Tony Walsh in creative services, and Sean Stevenson in sports communications. Without their commitment and time, none of this would be possible. Go Dawgs!"
Lilli Backes | LHP | 5-5 | Peachtree City, Ga. | North Carolina | Starr's Mill HS
A native a Peachtree City, Georgia, Lilli Backes will return to her home state to pitch for the Bulldogs. Backes was a 2023 All-ACC Second Team and All-ACC Tournament Team honoree. She made 39 appearances, leading the Tar Heels with a 2.79 ERA in 180.2 innings of work. She fanned 156 opponents. She concluded the 2023 campaign with a 16-14 record, going the distance in 15 outings. In ACC play, Backes went 11-4 with a 2.15 ERA, throwing eight complete games and four shutouts.
As a freshman, Backes pitched in 31 games, starting 21. She led the team with 114.2 innings pitched with 95 strikeouts. She pitched five complete games and earned eight wins.
Backes was a four-year letter winner at Starr's Mill High School in Fayetteville, Georgia. A three-time region pitcher of the year and three-time first team all-state selection, Backes finished her high school career with 912 career strikeouts. As a junior and a senior, she was named the 5A and Region Pitcher of the Year and led her team to a 2021 Region 2-AAAAA State Championship title. She graduated early in December 2021 to enroll at UNC. She played for Georgia Impact.
Lilli is the daughter of Chris and Laura Backes. She has one older brother, Nicholas.
Baldwin on Backes: "In today's game, you must have versatility and variation in your pitching staff. Lilli brings that to our team as a left-handed pitcher. She is a tough competitor and that has been well coached. We look forward to her continued development and making an impact on our pitching staff."
Rachel Gibson | RHP | 5-9 | Ringgold, Ga. | Clemson | Heritage HS
Rachel Gibson returns to her home state to don the Red & Black after two seasons at Clemson. The right-handed pitcher saw limited action in the circle in two seasons with the Tigers, making a pair of appearances in the circle and three as a pinch runner. Entering her freshman campaign in 2022, Gibson was tabbed a Top 75 Impact Freshman by D1Softball.com.
During her prep career at Heritage High School in Ringgold, Gibson was a two-time GHSA 4A Pitcher of the Year (2018, 2019) leading her squad to back-to-back GHSA 4A State Championships in the same seasons. Twice she was tabbed Best of Preps Softball Player of the Year (2018, 2019) and was the 2019 Georgia Dugout Club 4A Player of the Year.
Rachel is the daughter of Kat and Clint Gibson. She has an older brother, Lee, who played baseball at Troy University.
Baldwin on Gibson: "Rachel will strengthen our pitching staff. She is explosive and has a very live arm. We believe her potential is through the roof! We are excited to add her to our group as we believe her best days are ahead of her."
Sarah Gordon | C/UT | 5-6 | Lexington, S.C. | Louisville | Lexington HS
Sarah Gordon transfers to Georgia from Louisville where she had a breakout rookie season. She was recognized by D1Softball on its Freshman All-America Team, named Third Team All-America by Softball America, and was named NFCA All-Southeast Region second team. She was tabbed the 2023 ACC Freshman of the Year while earning First Team All-ACC and ACC All-Freshman Team accolades. Additionally, Gordon was one of 25 on the TUCCI/NFCA Freshman of the Year list.
Gordon started all 56 games for the Cardinals at catcher, first base, or as the designated player as a freshman. She hit .379, finishing second on the team with 66 hits, 41 runs, and 49 RBI. She hit a team high 12 doubles and hit the third-most home runs on the team with 12. She registered 20 multi-hit games and led the team with 14 multi-RBI performances. On the base paths, she was a perfect 8-for-8.
In her prep career, Gordon was a two-time all-state and three-time all-region performer at Lexington High School in South Carolina. She was named the 2022 South Carolina Gatorade Player of the Year and was on the All-American Futures watch list. In 2021, Gordon was the 5A Region Player of the Year, All-Chronicle Co-Player of the Year, and team MVP as she led her team to a regional championship. In her junior campaign, she posted a .495 batting average with a .552 on-base and 1.066 slugging percentage. She guided her team to a 2019 5A state title. She also played for the Louisville Lady Sluggers.
Sarah is the daughter of Tony and Donna Gordon. She has a twin brother, Ryan, and an older brother, Gavin.
Baldwin on Gordon: "Sarah is a softball player! Her competitiveness and versatility fit very well with what we look for in student-athletes. She will certainly provide competition at the catching position, but her versatility will give us other options as well. Her bat is her calling card, and we look forward to adding her into our offensive group."
---
UGAAA, in collaboration with Altius Sports Partners and INFLCR, has made significant additions to its NIL operations
The University of Georgia Athletic Association (UGA), in collaboration with Altius Sports Partners (ASP) and INFLCR, has made significant additions to its NIL operations.
Through Altius, Reggie Carter, a former Georgia football player, has joined the department as the full-time Athlete Marketing Manager. He will lead student-athletes to maximize their opportunities at the local, state, and national level with the new Georgia Bulldogs Exchange in partnership with INFLCR.
"We are excited to welcome Reggie Carter back to the University of Georgia," J. Reid Parker Director of Athletics Josh Brooks said. "As a Georgia alum, Reggie offers our current student-athletes a unique perspective when it comes to NIL. He is someone who cares deeply about the student-athlete experience at UGA, and we are thrilled to welcome him home."
Carter will work closely with NIL Director Tanner Potts and stakeholders to ensure effective communication, compliance, and maximize NIL opportunities for UGA athletes. Carter's responsibilities include providing day-to-day support, education, and training while collaborating with teams, the Georgia Way network, the Georgia Bulldog Club, Georgia Bulldogs Sports Marketing, and external partners to raise awareness of NIL initiatives at Georgia. With his extensive experience as an academic advisor at Georgia Tech and the University of Tennessee, Carter brings a firsthand understanding of the student-athlete experience and expertise in the evolving NIL landscape to assist UGA athletes.
"Bringing Reggie home to Georgia and launching our new Georgia Bulldogs Marketplace expands the support Georgia fans can provide to all Bulldogs." stated Potts. "Reggie brings valuable insights and expertise to our NIL team. The new exchange, combined with Reggie's hire, allows for new levels of engagement in NIL at UGA."
The Georgia Bulldogs Exchange empowers student-athletes to maximize their NIL opportunities by directly engaging with brands, businesses, fans, and donors. The marketplace offers a seamless and user-friendly experience without any transaction fees. Carter will play a vital role in facilitating these connections, highlighting the university's commitment to exceptional support and innovative solutions for student-athletes. Businesses interested in working with UGA student-athletes can register for the Georgia Bulldogs Exchange and start presenting NIL opportunities.
"As a former Bulldog, I'm honored and thrilled to join UGA in this new role. My complete dedication is to assist our student-athletes in navigating the NIL landscape and accessing valuable marketing opportunities," said Carter. "The launch of the NIL marketplace will revolutionize how our athletes engage with brands and create a positive impact. I'm excited to collaborate with Tanner and contribute to Georgia's overall NIL efforts."
"We are proud to have Reggie join the UGA team," said Celine Mangan, Director of Business and Client Strategy at ASP. "His invaluable insights and dedication to athlete success will contribute significantly to maximizing NIL opportunities for UGA student-athletes."
"It's exciting to see the commitment Georgia is putting towards supporting NIL opportunities at their institution," said Jim Cavale, INFLCR founder. " "The launch of the Georgia Bulldogs Exchange will create powerful connections between student-athletes, businesses, and collectives resulting in NIL deals. These opportunities, coupled with Reggie's focus and experience, and the support of the entire UGA NIL team is impressive to see."
The NIL department, supported by ASP, will focus on empowering student-athletes and cultivating a wide range of opportunities for Georgia athletes. With on-campus guidance, support, and education, UGA is committed to creating an environment where student-athletes can excel and thrive both on and off the field.
---
Jump To Today's Discussion Thread