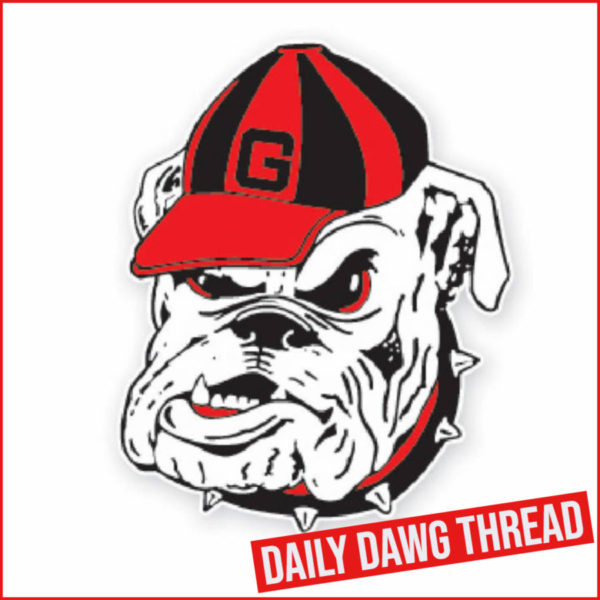 ---
MBB: Georgia (5-7) Meets Gardner-Webb (5-7) Tonight
Date: Wednesday, December 29, 2021
Tipoff: 7:00 p.m. ET
Location: Stegeman Coliseum (10,523) in Athens, Ga.
Watch: SEC Network+ (Kaleb Fracy, pbp; Mark Slonaker, analyst)
Listen: Georgia Bulldog Sports Network – Flagship: WSB AM 750; XM: 382; SXM App: 972. (Jeff Dantzler, play-by-play; Chuck Dowdle, analyst; David Jones, producer)
The Starting 5…
• Through games of 12/27, Aaron Cook ranked No. 2 in the SEC and No. 5 nationally in assists at 7.0 apg.
• Georgia has used 6 different starting lineups in the first 12 games…largely due to injuries and illnesses.
• Braelen Bridges leads UGA with eight double-figure outputs…and has two more games with nine points.
• Jaxon Etter has drawn 11 offensive fouls this year…and 19 in UGA's last 23 games dating back to last season.
• UGA's seven first-year transfers combined to score 4,782 points at their previous schools.
The Opening Tip
Following a week-long holiday break, the Georgia Bulldogs will return to action on Wednesday evening when they host the Gardner-Webb Runnin' Bulldogs at Stegeman Coliseum.
Both bands of Bulldogs enter the contest with 5-7 records on the season. 
Georgia is 3-2 in December to date, a mark headlined by an 82-79 upset of No. 18 Memphis that also represented the 400th victory of Tom Crean's head coaching career.
The Runnin' Bulldogs have been a streaky bunch. Gardner-Webb began the season with a trio of losses before stringing together four straight wins. That was followed by a quartet of losses. GWU won its last outing, a 79-46 decision over Converse on Dec. 17.
Keeping An Eye On . . . Entering Today's Game:
Aaron Cook is…
• 14 assists from 400 for his career
• 6 outings from 150 games played in his career
• 19 steals from 200 for his career
Series History With GWU
Georgia is 4-0 all-time against the Runnin' Bulldogs of Gardner-Webb, with all three of those matchups taking place here at Stegeman Coliseum.
Most recently, the Bulldogs topped Gardner-Webb, 77-59, in the sixth game of the 2016-17 season on Nov. 25, 2016.
Eleven different Bulldogs scored, with three reaching double figures. Yante Maten posted team highs of 16 points and nine rebounds, while J.J. Frazier and Mike Edwards each added 10 points. 
The Bulldogs led 40-37 following a back-and-forth first half featuring no less than 14 lead changes and 10 ties.
The second half was all Georgia as the Bulldogs opened up on an 18-8 run to take a 58-45 advantage. Edwards hit a jumper at the 6:09 mark to extend Georgia's lead to its largest of the game at 72-49.
Scouting The Runnin' Bulldogs
Gardner-Webb is 5-7 on the season and is playing its first game since a Dec. 17 victory over Converse.
The Runnin' Bulldogs are led offensively by a trio of double-figure scorers. D'Maurian Williams paces the team at 14.6 ppg, while Lance Terry chips in 13.5 ppg and Kareem Reid adds 11.8 ppg. Ludovic Dufeal is Gardner-Webb's top rebounder at 6.7 rpg.
The Runnin' Bulldogs distribute the ball well, with no less than eight players sporting double-digit assist totals.
---
WBB: Jillian Hollingshead Named SEC Freshman of the Week
Jillian Hollingshead, who has put together an impressive rookie season for the Georgia Lady Bulldogs basketball team, has been named the Southeastern Conference Freshman of the Week, the league office announced Tuesday.
The Powder Springs, Ga., native posted the first double-figure scoring game of her career with 12 points in 15 minutes of action against South Alabama. Hollingshead was perfect on the day, knocking in 4-for-4 from the field and 4-for-4 from the free-throw line.
Hollingshead scored eight of her 12 points in the fourth quarter as she was a perfect 3-for-3 shooting in the final 10 minutes.
Her performance in an 89-50 win against the Jaguars helped the Lady Bulldogs secure an 11-1 non-conference record and guided the team to its 19th win in the last 23 contests dating back to last year.
---
ICYMI: Todd Monken Interview with Transcript
TODD MONKEN: All right, so here we are. Everything that you work for in the off-season, that you point towards, we're here. I think we've had a really good couple of weeks of practice, getting the guys going again right after the Alabama game was hard with finals and a lot of things they had on their plate, but last week I thought we had a good week of practice, and we've continued that once we got down here. We're excited about the opportunity being one of four teams left that have a chance to play for a National Championship, and I'm confident we'll be ready to go.
Q. Let's start with a quarterback and receiver question. Obviously, you've gone with Stetson Bennett for many weeks in a row now since JT Daniels returned from injury. Why is that, number one; and number two, we understand George Pickens is back now after a brief hiatus in the middle of bowl practice. Can he figure into things? Did that stall his progress of coming back and being able to help you?
TODD MONKEN: Well, you're right, there's a number of questions there, and I'll try to get to all of them.
First off, the reason Stetson Bennett plays is we think he gives us the best chance to win. Without getting into too much detail, we think he gives us the best chance to win, and that's really the end of that question.
You know, we anticipate all of the players that we had against Alabama to be ready to play, including George Pickens. George has done a fantastic job of working to get back, to give himself a chance to play at the back end of this season. When I think back to the spring when he injured his knee and thinking, wow, what a disappointment for him and his development and for us. But he has done a fantastic job of trying to get back.
There are going to be some things that he's continued to work through, trusting the knee, obviously reps. He's still a young player when you think about playing as a freshman, and then we didn't have any spring ball. So he's basically missed the last two springs when you think about a young player's development, and then he missed a couple of games the year before. So he's still a young developing player, and we're still trying to work him in and to make sure that he can help us offensively and most importantly help us win with what he can do at this point.
But he's done a great job of getting back and helping this team.
Q. JT is the starter when the season starts. He plays well. When he gets hurt twice, Stetson then becomes basically at this point the permanent starter, even though JT apparently is healthy. I think the question a lot of fans have, a lot of people like me also have, is basically what changed? You guys did know what Stetson brought to the table and you knew what JT brought to the table, so what did change to make Stetson the starter?
TODD MONKEN: Well, probably not a lot in terms of our confidence in both players. I think that's probably the best way to put it. You know, I think Stetson at times — I'm talking about me, have probably undervalued his skill set. We've tried to elevate guys that have talent on our roster, and we do that at every position, and some guys just combat that and fight and scratch and continue to play well and try to prove you wrong, and that's what Stetson Bennett did.
It wasn't really anything JT did, it was more along the lines of what Stetson did that we thought gave us the best chance to win, his mobility, those things, in the run game and the pass game when things break down we believe give us the best chance to win. It's nothing really that JT did, and it just happened where Stetson got an opportunity, took advantage of that opportunity, we continued to win. It never really ended up flipping the other way.
I can't say that — because they're really talented players. Carson Beck is a talented player, Brock Vandagriff is a
talented player. Sometimes opportunity leads to things that end up going in your direction. I don't know if I said that exactly right, but it never went back the other way where JT got a chance to get in there. So it's just the way it is, and we believe that he gives us the best chance to win in a couple of those things that I've said.
Q. With your time in the NFL, the tight end position has sort of become — has exploded. There's always been good tight ends. You and I are both guys who go back to the Kellen Winslow days, but the position really has exploded in recent years, and as much as there are very good tight ends and you have one of them in college, it doesn't seem like at the college level the level of production at that position is quite the same or has been exploited in quite the same way as the NFL. I'm wondering as somebody who's been in both of those worlds, do you see it as a difficult position to max out in the college game? Is there something about getting the ball to the tight end that's a little tougher for quarterbacks that takes them a little time to master?
TODD MONKEN: Well, first off, I think the game has changed. When the game evolved to more spread teams, especially in high school, you saw a lot more air-raid wise and not a lot of tight ends. Tight ends were playing now defensive end or being bulked up to play tackle. When you think back at guys that were elite when I was a kid growing up or when I was young in the profession, you'd take like a Kellen Winslow, that was different at that time, or the guy that played at Miami, I can't think of his name, is it Shockey or whatever his name was, they were different. They were athletic. They were more wideouts that were built into tight ends, which is where it's going now, all of those guys. You look at what Kittle was out of high school, I think he weighed 205 pounds and Ertz and those guys and the Kelces of the world that might have been quarterbacks.
The game has changed in terms of athletic, big guys at the tight end position that have developed as route runners, receivers that — it used to be they were blockers that develop their wide receiver skill sets, where now they're receivers developing their blocking skills, if that makes sense. The game has changed from a size standpoint, a range, their route running has developed and grown. You see those guys running routes and they look like receivers because they started that way.
I think that's where it's changed, and I think the more you're a spread team — and the more you max protect, you see certain teams, it's hard to get the tight end involved if you're a max protect team because they're involved in protection. The ability to utilize those guys in the route running and if you're chipping them — if you chip them in
protection, it also doesn't allow them to get into their routes, so you have to be able to protect. You have to be able to utilize their skill set, and a lot of that comes from play-action run game. What else eliminates some of that? We've gotten into the world of RPOs. A lot of RPO world, well RPO world uses the tight ends in blocking and run game and uses the wideouts in terms of the RPO world where you're shrinking plays if that makes sense. Old school football used to be, if you got the right box count, you ran the ball, and if you got too many guys in the box you went to play-action pass. Well, that included the tight end a lot more, where now teams are running a lot more RPOs where the tight end is part of the blocking structure and you're throwing it to wideouts.
Q. I want to circle back to the quarterbacks again. You said that there wasn't any chance for JT, but after the Florida game I think Stetson had a couple picks and was about 50 percent passing and they talked about competition at the position, and then in the Alabama game you guys fell down by 21 points and a lot of people wondered why you wouldn't put more of a pass-first quarterback in. Kirby said you didn't even talk about it. Can you address those two instances where there might have been another look at a quarterback?
TODD MONKEN: Sure. I'm not surprised we're circling back to that, first of all.
The reality is that there's no question at any point and everywhere I've been where when a certain player, doesn't matter quarterback or any position, doesn't play up to — forget our standard, their own standard, the way they believe they should play, that — we're always looking to play our best players. There's no question.
There are times in games where any of our players don't play their best, and we're disappointed in how they played. But the body of work that we felt like that Stetson had given us I think allowed us to carry it over to the next weeks. The reality is that we don't know what's behind the next decision. We know what we make the decision based on what we see on a daily basis.
You're right, we do compete every week. It doesn't matter who's healthy at any position. They're always competing. The guys that are going to come up here and talk to you guys, they understand that. No one is guaranteed week to week. We've had competition every week at running back, and they earn the reps and the touches that they get, and it's the same at quarterback.
I get it. I've been around it. We have really good players at the quarterback position, and we do, and we're lucky to
have the guys that we have, and Stetson Bennett is a hell of a football player, and so is JT Daniels, so is Carson Beck and we believe Brock Vandagriff is going to be a good player. It's a good problem to have. We're disappointed when we don't score. We're disappointed when we turn the ball over. We're disappointed when we don't have the production that we expect to have, starting with me in terms of calling it, structuring it, the week of practice, how we do it, because I'm in charge of all of it.
So ultimately it falls on me, and when Stetson Bennett takes the field, we feel like he gives us the best chance to win.
Q. James Cook, he's one of the local guys here for us. Just wanted to get your thoughts on where he's grown the most over the two years you've been here and just what he brings to your backfield that complements Zamir White.
TODD MONKEN: Well, first off, James is a tremendous football player, a tremendous young man, works awfully hard in practice. I say it all the time, when I first got here, him and Zamir pair up whenever we're doing our off-seasons to compete against each other, they're two of our hardest workers. James is one of our most versatile players. You can get him the ball in a number of ways, which is fun to have guys like that, whether it's Brock Bowers who's the same way, James is like that. I think a number of our backs have worked to develop their skill set where we can feel comfortable with them route running and catching the ball out of the backfield.
The more versatile you are at certain positions, the tougher it is on the defense because you can do more with them in terms of formations.
Again, I think James, one, has had a tremendous career here. He's one of our leaders that every week we talk about, along with Zamir and some of our other guys, being captains of our team, and I think he's going to have a fantastic career at the next level.
It's just hard because we have a number of versatile, talented running backs and there's just never enough touches for all of them. It's just the way it is with our skill players. There's only one football, and he's like a lot of our players, have been very selfless. I get it. It's about touching the ball. It's about opportunities. Plays are one thing, but opportunities with the ball in their hands, and he does a tremendous job. We've relied on him heavily and he's done a great job with it. Like all those guys, for the most part, they've stayed healthy, Zamir and James.
Q. I wanted to ask you about Brock Bowers. When did you sort of realize that he was capable of having the season that he's had this year, and what does it say about him that as a freshman he's able to go out and lead Georgia in every major statistical receiving category?
TODD MONKEN: Well, I've said this to whoever has asked this. I haven't had a chance to talk to you guys but I get to talk to the commentators each week. When he first got here, we put GPS systems on the backs of our top 40 guys or whatever, and there's a small group of guys and a couple of them are sitting right here about to talk to you, they're at running back, and Brock, that when you put that GPS system on them, their band of their top and their bottom miles per hour are really, really small. They only know one speed, and that's working their rear end off every day.
Some guys their band can be from 20 or 21 miles an hour to like 13, and right away you can tell he only knew one speed. We would be running in the stadium and you're doing run the long, walk the short, run the long, walk the short, just as conditioning team. Well, we would do it by position groups, and right out of the jump, I wouldn't have done it as a young player, I would run with the pack, I would have run with the rest of the guys. Not Brock Bowers. Tight ends were running, he'd be 10 yards in front of every other guy. He was working at his own speed to be the best he could be, and that is a rare quality to put yourself out there like he did.
So right away you could see this guy is different. He only knows this way to work. All he did every day was work hard. He's going to continue to develop his skill set. He's probably got more range than we thought. We knew he had the run-after-catch ability. We saw that on tape. They used him in the backfield out of high school, but he's got a little more range than we thought and he's continued to develop as a route runner. But he works awfully hard at his craft. It's important to him. He doesn't say a lot, he just works.
You're going to talk to these running backs that are going to come up here next, they're the exact same way. They don't say a lot, they just work. It's just amazing how it carries over. It just does. Guys just work, don't say a lot, and just compete and take coaching, and you don't have to say anything to those guys. It's the most amazing thing. Like I spend less time talking to James Cook, Zamir White, Brock Bowers, those guys of the world because they're trying their rear end off to be the best player they can be for them and for our team.
Q. I wanted to ask you, what does Stetson need to do to help lead you guys in the next couple games to the national title in terms of his performance, and how much does JT missing a week of practice impact what he can bring? And with Michigan what they bring off the edge, is this a game where Stetson's mobility is even more important?
TODD MONKEN: First question was what Stetson needs to do to lead us to a National Championship. First off, do what he continues to do. Obviously we can't turn the ball over. I don't care who you are. That isn't a Stetson problem, that's a national problem. When you turn the ball over, you don't give yourself a chance to win. Those are things we always address. It doesn't matter who it is, whether it's JT as a quarterback or Jameis Winston or whoever I've been around. If you look at the plays he's made, he's made National Championship plays. He has.
You turn on the film and look at some of the throws he makes, the decisions he makes, the things he does with his feet. There's no doubt in my mind we can win the National Championship, and we have — there's no doubt in my mind we can win it with Stetson Bennett. There's no question.
We went into the championship game with Stetson Bennett as our quarterback as a favorite over a team that hasn't been an underdog in over five years. That ought to tell you about our quarterback and how he played, and some reason we get into this stereotyping of players based on where they were at some point. Okay, at some point. Be it one was a walk on, one was a five star, whatever. If you just look at the production and what he's done for our football team, it's impressive.
So let's start with that.
Okay, JT is a student of the game. I don't anticipate any of what he hasn't been a part of — he's one of those guys that can come right in and know exactly what we want to do. He's been in every meeting, Zoom meeting. He'll be ready to go. There's no question in any mind he'll be ready to go.
---
Dawgs in the NFL – Week 16
Chiefs 36, Steelers 10
Deandre Baker, DB: Baker appeared on 27 defensive and eight special teams plays as the Chiefs clinched the AFC West for the sixth straight season.
Mecole Hardman, WR: Hardman had three receptions for 31 yards and a touchdown, a 20-yard kickoff return, and an 18-yard punt return for Kansas City.
Packers 24, Browns 22
Eric Stokes, DB: Stokes made two tackles and broke up a pass on a 2-point conversion attempt for Green Bay. He ranks first among NFL rookies and sixth overall with 14 passes defended.
Nick Chubb, RB: Chubb led the Browns in rushing yards (126 and a touchdown on 17 carries) and receiving yards (58 on three catches). He stands third in the NFL with 1,143 rushing yards and ninth with eight rushing touchdowns.
Richard LeCounte, DB: LeCounte recorded one tackle for Cleveland.
Titans 20, 49ers 17
Ben Jones, OL: Jones logged all 62 snaps at center, helping the Titans roll up 278 total yards.
Charlie Woerner, TE: Woerner appeared on 18 special teams and five offensive plays for the 49ers.
Rams 30, Vikings 23
Leonard Floyd, OLB: Floyd picked up four tackles, including one for loss, for the Rams, who clinched a playoff berth on Sunday.
Sony Michel, RB: Michel rushed for a season-best 131 yards — two shy of his career high set in 2018 — and a touchdown on 27 carries for Los Angeles. He added a 4-yard reception and a tackle following an interception by the Vikings.
Matthew Stafford, QB: Stafford went 21-of-37 for 197 yards and a touchdown for the Rams. He ranks second in the NFL with 36 touchdown passes and fourth with 4,339 passing yards.
Bengals 41, Ravens 21
Trey Hill, OL: Hill was active for the Bengals, but he did not see any action.
Ben Cleveland, OL: Cleveland played all 59 snaps at guard as the Ravens rolled up 334 total yards.
Nick Moore, LS: Moore snapped on three extra points and three punts and made a special teams tackle for Baltimore.
Bills 33, Patriots 21
Isaiah McKenzie, WR: McKenzie set career-high totals in catches (11) and yards (125) and hauled in a touchdown pass for Buffalo. His previous single-game bests were six catches and 65 yards. McKenzie ranks eighth in the NFL with 584 yards on kickoff returns.
David Andrews, OL: Andrews played all 64 snaps at center as New England rolled up 288 total yards.
Isaiah Wynn, OL: Wynn logged all 64 snaps at tackle, helping the Patriots accumulate 288 total yards.
Colts 22, Cardinals 16
A.J. Green, WR: Green caught a 33-yard pass for the Cardinals. Despite the loss, Arizona clinched a playoff berth on Sunday.
Texans 41, Chargers 29
Chris Conley, WR: Conley led the Texans with 60 yards, including a 41-yard touchdown, on three catches.
Tre' McKitty, TE: McKitty hauled in a 12-yard pass for the Chargers.
Bears 25, Seahawks 24
Alec Ogletree, OLB: Ogletree made eight tackles and defended a pass for Chicago.
Roquan Smith, ILB: Smith led the Bears with nine tackles, including two for loss. He ranks fourth in the NFL with 149 tackles.
Falcons 20, Lions 16
Shawn Williams, DB: Williams appeared on 17 special teams and eight defensive plays for the Falcons.
D'Andre Swift, RB: Swift missed his fourth straight game for the Lions with a shoulder injury.
Jets 26, Jaguars 21
Tyson Campbell, DB: Campbell picked up seven tackles for Jacksonville. He ranks third among NFL rookies with nine passes defended.
Eagles 34, Giants 10
Lorenzo Carter, OLB: Carter had three tackles, including a sack, a forced fumble, and a defended pass for the Giants.
Tae Crowder, ILB: Crowder recorded four tackles for New York.
Jake Fromm, QB: Making the first start of his NFL career, Fromm went 6-of-17 passing for 25 yards and added 12 yards on three rushing attempts for the Giants.
Azeez Ojulari, OLB: Ojulari made three tackles for New York. He stands third among NFL rookies with eight sacks.
J.R. Reed, DB: Reed came off the Giants' COVID-19 list and logged 14 special teams plays.
Andrew Thomas, OL: Thomas played all 76 snaps at tackle as New York accumulated 192 total yards.
Isaiah Wilson, OL: Wilson was a COVID-19 replacement from the practice squad, but he did not see any action as he dressed for the Giants for the first time.
Dolphins 20, Saints 3
John Jenkins, DL: Jenkins was not active for Miami.
Practice Squads
Bengals: Lamont Gaillard, OL; Elijah Holyfield, RB
Cardinals: Jonathan Ledbetter, DL
Colts: Eli Wolf, TE
Football Team: Tyler Clark, DL
Raiders: Javon Wims, WR
Reserve Lists (IR, NFI, COVID)
Broncos: Natrez Patrick, ILB
Chargers: Mark Webb, DB
Chiefs: Malik Herring, DE
Colts: Rodrigo Blankenship, PK
Dolphins: Solomon Kindley, OL
Jaguars: Terry Godwin, WR
Ravens: Justin Houston, LB
Texans: Jordan Jenkins, DE
Titans: Monty Rice, ILB
---
Photo Rewind: Georgia vs. Auburn 2021
Watch a fullscreen slideshow
HERE
.
---
Jump To Comments