Today's Contents – Click to Read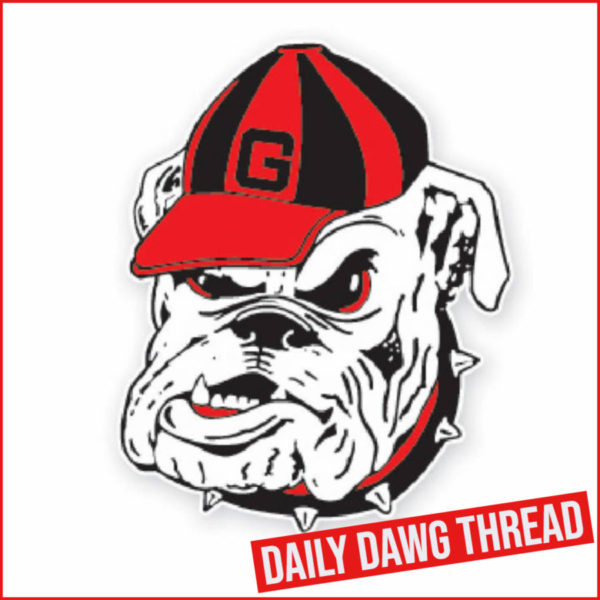 ---
MTENNIS: Dawgs Open With Big Wins in Miami
The Georgia men's tennis program tallied four singles wins and two doubles victories on Friday, Jan. 7, the opening day of the Miami Invitational. Out of the day one wins, two Bulldogs defeated nationally-ranked opponents in singles and one ranked opponent in doubles competition.
In a matchup between two of the top players in Miami, Trent Bryde defeated Texas' No. 20 ranked Micah Braswell 7-5,3-6,6-2. Braswell went 20-5 in singles last season on his way to earning Big Twelve Freshman of the Year honors.
In addition to Bryde's victory, No. 32 Graduate Hamish Stewart took down No. 121 Dan Martin of Miami after getting down in the first set en route to a 2-6,7-6(3),6-4 victory.
No. 119 Freshman Thomas Paulsell and No. 110 senior Blake Croyder both topped their opponents in straight sets in singles competition. Paulsell defeated UCF's Cooper White 6-4,6-3, while Croyder took down UCF's Kento Yamada 6-2,7-5.
"I thought our guys looked like they worked hard over the holidays and showed up in pretty good shape," said head coach Manuel Diaz. "They all fought very well and we played well in all our matches. Even when we lost a couple of matches today I was encouraged and believe we can do well next time out. We've got a focused team that is up for the challenge this spring. We have a very tough schedule but I see our guys ready for the challenge."
Three Bulldogs dropped back-and-fourth matches in the third set to their counterparts. Junior Texas' Chih Chi Huang defeated junior Erik Grevelius 6-3,2-6,6-2, Perez Peña fell t to Texas' Evin McDonald 4-6,6-1,6-7, while McCormick fell to No. 105 Siem Woldeab of Texas 6-7,6-7. Senior Britton Johnston fell in back-to-back sets to Miami's Oren Vasser 6-3,6-3.
Highlighting doubles play for Georgia was the Graduate tandem of Hamish Stewart and Tristan McCormick who ranked No. 25 nationally in September 2021 in a 7-6(5) win over UCF's No. 22 Trey Hilderbrand and Bogdan Pavel. Freshman doubles pair Miguel Perez Peña and Thomas Paulsell took down Texas' Evin McDonald and Eshan Talluri 6-3.
The other two Georgia doubles teams dropped their first match in the Miami Invitational. Bryde and Johnston lost to the pair from Texas of Woldeab and Pierre-Yves Bailly 6-3. Croyder and Grevelius fell to No. 13 doubles pair Richard Ciamarra and Cleeve Harper of Texas 6-3.
Today's Contents – Click to Read
---
Georgia (5-9, 0-1 SEC) vs. Kentucky (11-3, 1-1 SEC) Tonight in Lexington
Georgia (5-9, 0-1 SEC) vs. No. 13/16 Kentucky (11-3, 1-1 SEC)
Date: Saturday, January 8, 2021
Tipoff: 6:00 p.m. ET
Location: Rupp Arena (20,500) in Lexington, Ky.
Watch: SEC Network (Kevin Fitzgerald, PBP; Dane Bradshaw, analyst)
Listen: Georgia Bulldog Sports Network – Flagship: WSB AM 750; XM: 387; SXM App: 977. (Scott Howard, play-by-play; Chuck Dowdle, analyst; Adam Gillespie, producer)
The Starting 5…
• Through games of 1/2, Aaron Cook ranked No. 6 nationally in assist average (6.8) and No. 9 in total assists (82).
• UGA has used 6 different starting lineups in the first 13 games, with no quintet starting more than three games together.
• Braelen Bridges leads UGA with nine double-figure outputs…and has two more games with nine points.
• Jaxon Etter has drawn 11 offensive fouls this year…and 19 in UGA's last 24 games dating back to last season.
• UGA's seven first-year transfers combined to score 4,782 points at their previous schools.
The Opening Tip
The Georgia Bulldogs will play their first game away from Athens in 46 days when they venture to Lexington to face No. 13/16 Kentucky on Saturday evening at 6:00 p.m. in Rupp Arena.
Georgia's last outing outside of Stegeman Coliseum was on Nov. 23 – the Tuesday before Thanksgiving – in the Roman Legends Classic at the Prudential Center in Newark. Since then, the Bulldogs have conducted an eight-game homestand in Athens.
Georgia is currently 5-9 on the season, 0-1 in SEC play, and looking to snap a three-game losing skid. Two of those setbacks have been painful, last-second decisions.
The Bulldogs lost to ETSU, 86-84, on Dec. 22 when a potential game-winning 3-pointer in the closing seconds was off the mark.
On Tuesday, Georgia battled back from an 18-point, first-half deficit to Texas A&M and grabbed a one-point lead with 5.5 seconds remaining before the Aggies sunk a game-winner with 1.2 left on the clock.
Prior to the A&M game, head coach Tom Crean stated: "I like the spirit. I like the energy. We just need something to go right for us. These kids are working so hard, so hard…I like the way they're working."
Following the contest, Crean offered: "There are so many things that I don't care about. What I do care about is how much better we get every day, and not allowing distractions and disappointments and discouragement and all those kind of things to enter into us… They are getting better. It would be hard to say some guys aren't getting better. We certainly don't have a record the last few weeks to show for it, but we are improving and we'll get there."
Today's Contents – Click to Read
---
Jump To Comments