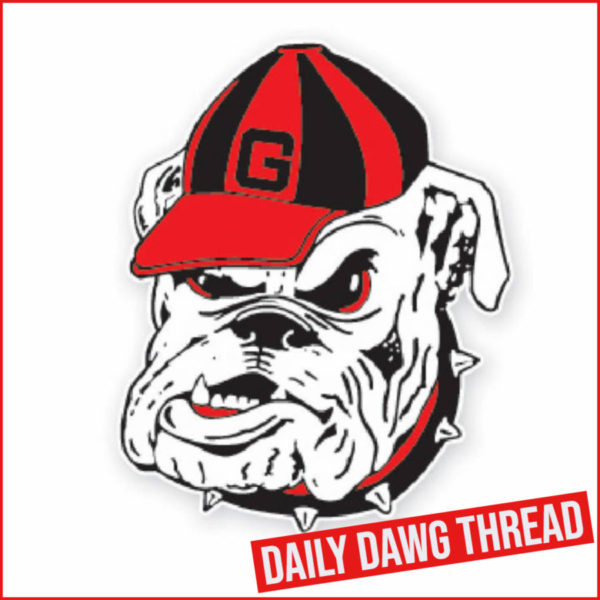 ---
Brock Bowers Earns Freshman Of The Year Award
Bulldog true freshman tight end Brock Bowers has won the fourth annual Shaun Alexander Freshman of the Year Award, according to an announcement from the Maxwell Football Club.
Bowers, a native of Napa, Calif., becomes the first Bulldog to garner the honor as well as the first tight end to win the award. He is the second player from the Southeastern Conference to earn the accolade after Alabama's Will Anderson was the 2020-21 winner. Clemson's Trevor Lawrence and Memphis' Kenneth Gainwell have also won the Shaun Alexander Freshman of the Year Award since its inception in 2018.
The formal presentations of the Shaun Alexander, Maxwell and Bednarik awards will be made at the Maxwell Football Club Awards Gala hosted by Harrah's Hotel & Casino Atlantic City on March 18. Bulldog senior Jordan Davis won this year's Bednark Award and will be receiving his trophy alongside Bowers.
Bowers was a USA Today, ESPN and The Athletic First Team All-American and was the SEC Freshman of the Year in his first year with the Bulldogs. He has a team-best 52 catches for 846 yards and 13 touchdowns (12 receiving, one rushing). Bowers owns school records in receptions, yards and receiving touchdowns for a tight end. In fact, the Mackey Award semifinalist owns the overall UGA record for touchdown catches with his dozen through 14 games.
---
MTENNIS: Dawgs Are Perfect on Last Day of Miami Invitational
Facing bad weather that altered the competition schedule the Georgia men's tennis program was perfect going four-for-four on the final day of play of the Miami Invitational.
The Georgia Bulldogs were determined to make their mark on the last day of competition even when storms rolled into south Florida for the second day in a row. The Bulldogs were originally scheduled to play eight singles matches in the morning session and four doubles matches in the afternoon. However, the weather only allowed for four singles matches to take place on Sunday morning. But the Bulldogs took advantage of one last go at their competition.
Two out of four Bulldogs defeated nationally-ranked opponents on Sunday morning. Graduate transfer and No. 32 Hamish Stewart secured a win over Texas' No. 20 ranked Micah Braswell 7-6 (7-4), 6-4. Braswell went 20-5 in singles last season on his way to earning Big 12 Freshman of the Year honors. No. 110 senior Blake Croyder ousted No. 105 Siem Woldeab from Texas in a 6-2,3-6,10-5 victory. Woldeab was a top contender in singles play in the 2021 season earning Second-Team All-Big 12 and Big 12 All-Tournament Team honors.
In addition to Stewart and Croyder's victories No. 62 senior Trent Bryde and graduate transfer Tristan McCormick also bagged wins for Georgia. After being down in the first set Bryde defeated Lleyton Cronje of UCF 2-6, 6-3, 12-10. McCormick also came from behind in the first set to defeat Texas' Pierre-Yves Bailly 3-6, 7-6 (7-5), 10-5.
The Georgia men's tennis program will return to the state of Florida for their first dual match of the spring season against familiar competition UCF on Monday, January 17.
---
Dawgs in the NFL – WeeK 18
The 2021-22 NFL regular season came to an end on Sunday, with seven AFC and seven NFC teams advancing to the playoffs. There are 19 Georgia alums on active rosters, practice squads, or reserve lists scattered among 10 (six AFC and four NFC) of the teams that made the postseason.
The Bulldogs have had at least one player on a Super Bowl roster for 20 straight seasons, the longest current streak for any school.
Anchored by center Ben Jones, Tennessee secured the AFC's top seed and a first-round bye in the playoffs. The Titans also have linebacker Monty Rice on injured reserve. No. 2 Kansas City, which has appeared in each of the last two Super Bowls, has receiver/return specialist Mecole Hardman and defensive back Deandre Baker on the active roster and defensive lineman Malik Herring on the non-football injury reserve list.
No. 3 Buffalo's roster includes receiver/return specialist Isaiah McKenzie. No. 4 Cincinnati boasts offensive lineman Trey Hill on the active roster and offensive lineman Lamont Gaillard and running back Elijah Holyfield on the practice squad. No. 5 New England has its offensive line anchored by center David Andrews and tackle Isaiah Wynn. No. 6 Las Vegas has receiver Javon Wims on its practice squad.
The NFC's No. 1 seed and first-round bye went to Green Bay, which features Eric Stokes at defensive back. The Packers additionally have former Georgia staffers Kirk Olivadotti (inside linebackers) and Wendel Davis (defensive quality control).
The No. 4 Los Angeles Rams feature outside linebacker Leonard Floyd, running back Sony Michel, and quarterback Matthew Stafford. The Rams' coaching staff includes Georgia alums Thomas Brown (assistant head coach/running backs) and Nick Jones (offensive line assistant). No. 5 Arizona includes receiver A.J. Green on the active roster and defensive end, Jonathan Ledbetter, on the practice squad. No. 6 San Francisco has tight end, Charlie Woerner. 
In addition, No. 3 Dallas and No. 7 Philadelphia have former Georgia staffers in George Edwards (senior defensive assistant) and Tracy Rocker (defensive line), respectively.
The Saturday wild-card games will be Raiders vs. Bengals at 4:30 p.m. and Patriots vs. Bills at 8:15 p.m. Sunday's action will be Eagles-Buccaneers at 1 p.m., 49ers-Cowboys at 4:30 p.m., and Steelers-Chiefs at 8:15 p.m. The Rams and Cardinals will square off on Monday at 8:15 p.m.
How the Bulldogs in the NFL fared in Week 18:
Bills 27, Jets 10
Isaiah McKenzie, WR: McKenzie had a 10-yard carry and a 9-yard reception for Buffalo.
Chiefs 28, Broncos 24
Deandre Baker, DB: Baker was not active for the Chiefs.
Mecole Hardman, WR: Hardman hauled in eight passes for a career-high 103 yards, including a 44-yarder, and added a 10-yard rush and a 5-yard punt return for Kansas City.
Packers 30, Lions 27
Eric Stokes, DB: Stokes had two tackles for Green Bay. He led all NFL rookies in the regular season with 14 passes defended and came in ninth with an interception.
D'Andre Swift, RB: Swift carried seven times for 30 yards and caught four passes for 16 yards for the Lions.
49ers 27, Rams 24 (OT)
Charlie Woerner, TE: Woerner appeared on 24 special teams and 11 offensive plays for the 49ers.
Leonard Floyd, OLB: Floyd recorded one tackle for the Rams.
Sony Michel, RB: Michel had 21 carries for 43 yards and one catch for six yards for Los Angeles.
Matthew Stafford, QB: Stafford went 21-of-32 for 238 yards and three touchdowns for the Rams. He finished second in the NFL with a career-best-matching 41 touchdowns and third with 4,886 passing yards.
Titans 28, Texans 25
Ben Jones, OL: Jones logged all 68 snaps at center as Tennessee accumulated 405 total yards.
Chris Conley, WR: Conley was not active for the Texans.
Jordan Jenkins, DE: Jenkins had three tackles for Houston.
Browns 21, Bengals 16
Nick Chubb, RB: Chubb had nine carries for 58 yards and one catch for two yards for Cleveland. He finished second in the NFL with 1,259 rushing yards and 10th with eight rushing touchdowns.
Richard LeCounte, DB: LeCounte was not active for the Browns.
Trey Hill, OL: Hill logged all 54 plays at center, helping the Bengals post 182 total yards.
Seahawks 38, Cardinals 30
A.J. Green, WR: Green made four catches for 23 yards for the Cardinals.
Dolphins 33, Patriots 24
John Jenkins, DL: Jenkins played 11 defensive snaps for the Dolphins.
Solomon Kindley, OL: Kindley got in for five of Miami's special teams plays.
David Andrews, OL: Andrews logged 60 plays at center, helping the Patriots roll up 379 total yards.
Isaiah Wynn, OL: Wynn appeared on nine snaps at tackle for New England before exiting with an ankle injury in the second quarter.
Raiders 35, Chargers 32 (OT)
Tre' McKitty, TE: McKitty appeared on 22 offensive and four special teams plays, making a tackle for the Chargers.
Steelers 16, Ravens 13 (OT)
Ben Cleveland, OL: Cleveland played all 71 snaps at guard as the Ravens rolled up 381 total yards.
Justin Houston, LB: Houston registered three tackles for Baltimore.
Nick Moore, LS: Moore snapped on seven punts, two field goals, and one extra point for the Ravens.
Jaguars 26, Colts 11
Tyson Campbell, DB: Campbell led the Jaguars with eight tackles, including one for loss, and he defended a pass. He finished third among NFL rookies with two interceptions, fourth with 10 passes defended, and seventh with 73 tackles.
Football Team 22, Giants 7
Lorenzo Carter, OLB: Carter had 10 tackles, including a sack, and defended a pass for the Giants.
Tae Crowder, ILB: Crowder paced New York with 12 tackles, including one for loss.
Jake Fromm, QB: Fromm went 15-of-31 for 103 yards and his first NFL touchdown pass and led the Giants with 53 yards rushing on five carries.
Azeez Ojulari, OLB: Ojulari had three tackles and two quarterback hurries for New York. He finished third among NFL rookies with eight sacks.
J.R. Reed, DB: Reed appeared on four of the Giants' special teams plays.
Andrew Thomas, OL: Thomas played all 60 snaps at tackle as New York had 177 total yards.
Saints 30, Falcons 20
Shawn Williams, DB: Williams posted 11 tackles for Atlanta.
Vikings 31, Bears 17
Alec Ogletree, OLB: Ogletree had four tackles, including one for loss, for Chicago.
Roquan Smith, ILB: Smith posted six tackles for the Bears. He finished fifth in the NFL with a career-high 163 tackles.
Practice Squads
Bengals: Lamont Gaillard, OL; Elijah Holyfield, RB
Cardinals: Jonathan Ledbetter, DL
Colts: Eli Wolf, TE
Football Team: Tyler Clark, DL
Raiders: Javon Wims, WR
Reserve Lists (IR, NFI, COVID)
Broncos: Natrez Patrick, ILB
Chargers: Mark Webb, DB
Chiefs: Malik Herring, DE
Colts: Rodrigo Blankenship, PK
Jaguars: Terry Godwin, WR
Titans: Monty Rice, ILB
---
Jump To Comments