Today's Contents – Click to Read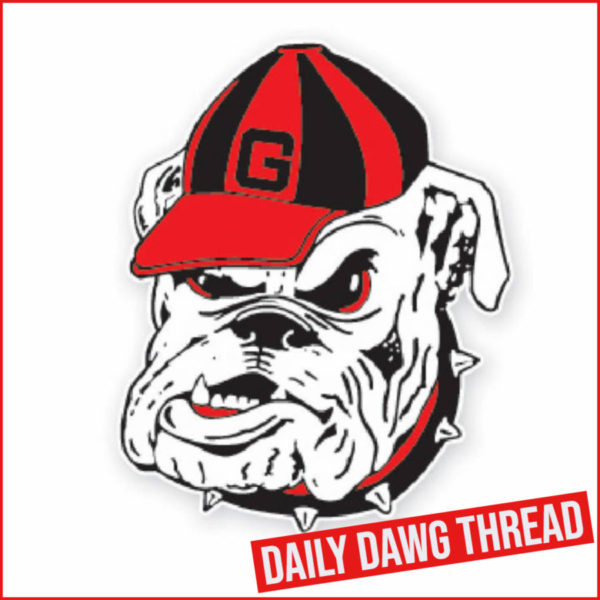 ---
WTENNIS: First Serve Event is Saturday
The fourth-ranked University of Georgia women's tennis team will host its annual First Serve at the Dan Magill Tennis Complex on Saturday, Jan. 15 at 9 a.m.
The First Serve is the annual Red vs. Black open practice, giving fans and media the opportunity to get a first look at the 2022 squad heading into the upcoming dual season. The event is open to the public and kicks off a spectacular weekend here in Athens, with the football team's Championship Celebration at 2 p.m. and men's basketball game versus Vanderbilt at 6 p.m.
Today's Contents – Click to Read
---
GYMNASTICS: Two Meets Postponed Due To Covid
The Georgia at Kentucky gymnastics meet scheduled for Friday, January 14 has been postponed following COVID protocols within the Georgia gymnastics program, consistent with Southeastern Conference COVID-19 management requirements.
Additionally, Georgia's meet against Iowa on Monday, January 17 in Stegeman Coliseum has also been postponed.
Today's Contents – Click to Read
---
T&F: Georgia Opens Indoor Season at Clemson Invitational
Georgia's track and field teams will compete for the first time in more than seven months with the arrival of the Clemson Invitational in Clemson, S.C., on Friday.
This weekend during the two-day indoor meet, Georgia will open on Friday at 2:10 p.m. in the women's 1000 meters (senior Anna Marian Block, redshirt freshmen Charlotte Augenstein, Victoria Schneider, redshirt sophomore Aleesa de Castro). Junior Sam Bowers and sophomore KC Heron will start the men's portion on Friday in the 1000m at 2:20 p.m.
The Bulldogs will then compete again at the Clemson Indoor Complex on Saturday with action starting in the women's high jump (freshman Elena Kulichenko, junior Shelby Tyler) at 11 a.m. Sophomore Gavin Beverage, junior Kyle Garland and junior Ziggy Zoller (shot put) will also begin day two for the men at 11 a.m. Garland captured his second straight SEC heptathlon title in 2021 and was the NCAA runner-up.
This will mark the first meet with Caryl Smith Gilbert leading the Bulldogs as head coach. The Georgia men were third and the women were fifth at the 2021 NCAA Indoor Championships. The Bulldog teams have combined for nine top-10 national indoor finishes since 2013, including the 2018 women's title, in addition to the 2021 finishes.
Smith Gilbert's USC teams finished fourth (women) and 11th (men) indoors nationally last year before the Lady Trojans captured the 2021 outdoor championship and the men took fifth.
The Competition: The Bulldogs and the meet host Tigers will join UCF, Charleston Southern, Florida, Florida State, Kennesaw State, Life University, North Carolina, Richmond, Texas and others at the first meet.
Live Results: For live results to this weekend's meet, please visit: https://gado.gs/899
Coach Caryl's Comments: "We are excited about finally having a meet after a whirlwind summer and full fall of getting to know and training these teams with our coaching staff," said Smith Gilbert. "We still have a long way to go, but I'm eager to see what all of our student-athletes can do across the events.
"The goal for this opening meet is to knock the rust off and see where we stand since the postseason comes quickly indoors. Can't wait to get started and Go Dawgs!"
Who's Competing & When: Eighteen Georgia women and 18 Bulldog men are scheduled to travel for UGA. In addition to those mentioned above who will compete first, other Georgia women making the trip are: seniors Titiana Marsh, Imani Carothers, Halle McClintock, juniors Ana da Silva, Sara Bailey, redshirt sophomores Elsie Igberaese, Mia Anderson, redshirt freshmen Michaela Prevallet, Sophia Baker and freshmen Eddiyah Frye, Kenondra Davis and Bella Witt.
In addition to the first men competing, seniors Alencar Pereira, Delano Dunkley, Elija Godwin, juniors Matthew Boling, Curtis Borden, Caleb Cavanaugh, Tyler Fox, redshirt sophomore Nicolas Fontova, redshirt freshman Noah Hayes and freshmen Nikolai van Huyssteen, Grant Briscoe, Bryce McCray and Will Bray are scheduled to compete for the Bulldogs.
Bulldogs Making Their Debut: This will mark the first action in red and black on the indoor track for 16 Georgia team members, including nine true freshmen.  Da Silver, Igberaese, Augenstein, de Castro, Schneider, Baker and Hayes will be competing for the first time in their Georgia careers indoor after joining the program last year, transferring in to UGA or redshirting a previous season.  Frye, Prevallet, Davis, Kulichenko, van Huyssteen, Briscoe, McCray, Bray and Witt will line up during the first spring semester of their collegiate careers.
Today's Contents – Click to Read
---
Jump To Comments