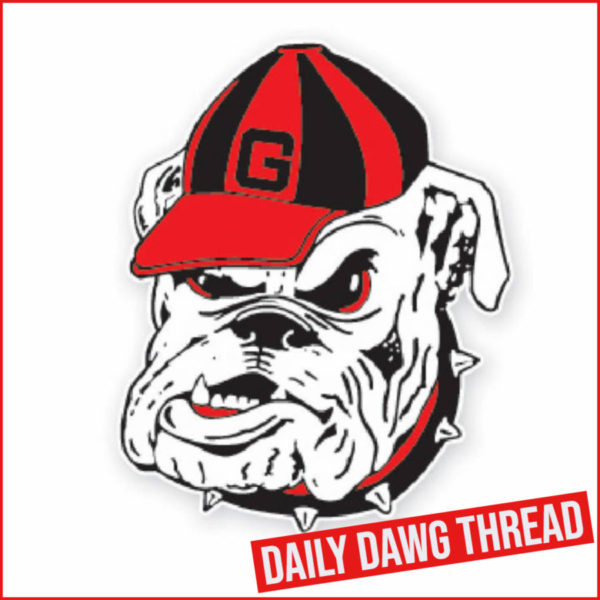 ---
MGOLF: Trent Phillips, UGA Lead Southwestern Invitational
With senior Trent Phillips setting the pace, the No. 13 Georgia men's golf team grabbed the first-round lead in the Southwestern Invitational Presented By Topgolf on Monday.
Playing the North Ranch Country Club's par-72, 6,992-yard layout, the Bulldogs carded a 9-under 279. Georgia is four clear of Arizona State and nine ahead of host Pepperdine and UCLA.
Phillips signed for a 6-under 66, one better than Devon Bling of UCLA and two ahead of Nathan Petronzio of SMU and Texas' Cole Hammer. Phillips, who won twice in the fall for Georgia, made an eagle on the par-5, 474-yard 15th and rolled in seven birdies.
Freshmen Buck Brumlow and Maxwell Ford each posted a 2-under 70 for the Bulldogs to land in seventh. Brumlow's loop included four straight birdies on Nos. 12-15, while Ford had birdies on four of five holes on the back nine as well.
Junior Ben van Wyk rounded out Georgia's day at 1-over 73. Junior Connor Creasy had the Bulldogs' non-counting score of 8-over 80. Competing as an individual, junior Nicolas Cassidy opened with a 6-over 78.
The Southwestern Invitational will continue on Tuesday and will conclude on Wednesday. The Golf Channel will air College Central from 4-4:30 p.m., followed by live coverage of the Southwestern Invitational from 4:30-7:30 p.m. Golfstat will provide live scoring, pairings, and tee times.
---
BASEBALL: Dawgs Will Open 2022 Ranked 14th
The University of Georgia will open the 2022 campaign with a preseason ranking of No. 14, according to Baseball America, it was announced Monday.
The Bulldogs are one of eight Southeastern Conference (SEC) teams in the top 25. While Texas occupies the top spot, Vanderbilt and Mississippi State are No. 2 and 3 as they squared off in last year's College World Series Finals. The other league teams in the poll include Florida (No. 6), Arkansas (No. 8), Ole Miss (No. 9), LSU (No. 10), the Bulldogs, and Tennessee (No. 17).
This is the second outlet to include Georgia in a preseason top 25 poll. Earlier this month, D1Baseball.com released its top 25, and the Bulldogs claimed the No. 16 spot. The SEC has the most teams of any conference in the polls. Preseason polls from USA Today and the National Collegiate Baseball Writers Association (NCBWA) have yet to be released.
The Bulldogs, under the direction of Ike Cousins head coach Scott Stricklin, resume team workouts Friday. The 2022 season opener is Feb. 18 at Foley Field. The Bulldogs will feature 29 returning lettermen including eight starters around the diamond and 13 pitchers who logged innings a year ago.
The staff of Baseball America determined the Top 25 rankings. For a look at their complete Top 25 preseason poll click HERE.
---
Georgia (5-14, 0-6 SEC) vs. Alabama (13-6, 4-3 SEC) Tonight at The Stege
Date: Tuesday, January 25, 2022
Tipoff: 6:30 p.m. ET
Location: Stegeman Coliseum (10,523) in Athens, Ga.
Watch: SEC Network (Tom Hart, pbp; Dane Bradshaw, analyst; Alyssa Lang, reporter)
Listen: Georgia Bulldog Sports Network – Flagship: WSB AM 750; XM: 380; SXM App: 970. (Scott Howard, play-by-play; Chuck Dowdle, analyst; Adam Gillespie, producer)
The Starting 5…
• Georgia leads the SEC in FT pct. in conference games, connecting on 82.5 percent of its trips to the line as a team in SEC play.
• Braelen Bridges is 3 made FGs shy of qualifying for NCAA stat leaders…or he would rank No. 8 nationally in FG pct.
• Jaxon Etter has drawn 19 offensive fouls this season…and 27 in UGA's last 30 games dating back to 2020-21.
• Christian Wright has scored 55.8 percent of his points at the FT line during his three double-digit scoring contests.
• UGA's seven first-year transfers combined to score 4,782 points at their previous schools.
The Opening Tip
Georgia returns to action on Tuesday evening when the Bulldogs host Alabama at Stegeman Coliseum at 6:30 p.m. The outing is one of just two home contests in a seven-game span for Georgia.
After opening league play with a heart-breaking, last-second 81-79 setback to Texas A&M, the Bulldogs have trekked to Lexington, Starkville, Auburn, and Columbia (of the South Carolina variety) while hosting Vanderbilt only in that five-game span.
Following Tuesday's game versus the Crimson Tide, Georgia will wrap up its January schedule by returning to the road on Saturday for a rematch at Vanderbilt.
The good news about a travel-dominant January is that it's countered with a home-heavy February slate. Five of the Bulldogs' eight outings in the calendar's shortest month will be contested at Stegeman Coliseum.
The Bulldogs are 5-14 overall and 0-6 in SEC play and looking to snap an eight-game losing skid.
There have certainly been plenty of positive signs for Georgia and its roster, which features 10 newcomers.
The Bulldogs led Texas A&M with 1.2 seconds left before a heart-breaking 3-pointer. Georgia was ahead or tied for 12:19 of the first half at Rupp Arena and led Mississippi State, Vanderbilt and South Carolina at halftime.
Tom Crean stated before the Texas A&M contest: "I like the spirit. I like the energy. We just need something to go right for us. These kids are working so hard, so hard…I like the way they're working."
---
Jump To Comments