Today's Contents – Click to Read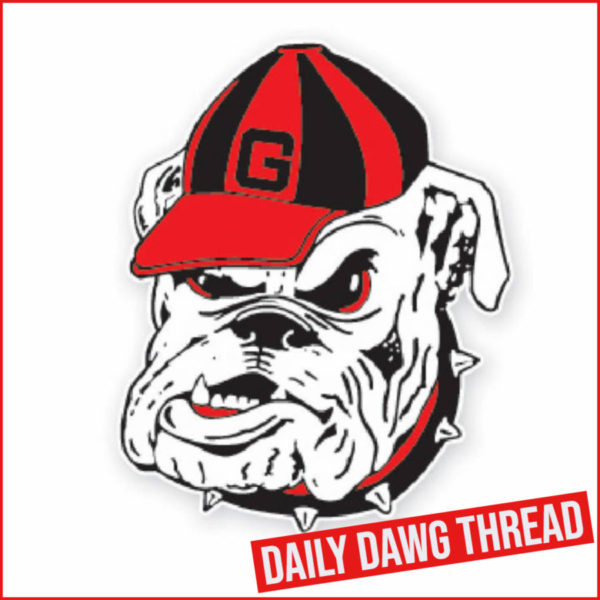 ---
MBB: Clean, Old-Fashioned Hate Date Announced
The 2022 basketball version of "Clean, Old-Fashioned Hate" between Georgia and Georgia Tech will take place on Tuesday, Dec. 6 in Atlanta.
The Bulldogs and Yellow Jackets will meet at McCamish Pavilion for the first time since 2018. Georgia has won each of the past two meetings in Atlanta. The Bulldogs earned a 60-43 win on Dec. 20, 2016, and secured a 70-59 on Dec. 22, 2018. The matchup in 2020 was canceled when a date for the game could not be found during the COVID-shortened campaign. That represented the first time since the 1923-24 season that the intrastate rivals did not meet on the hardwood.
Georgia Tech won the most recent matchup last season in Athens, snapping a five-game winning streak for the Bulldogs. Georgia's quintet of successive victories matched its second-longest stretch of success ever against the Yellow Jackets. The Bulldogs won seven straight meetings between 1908-21 and also captured five consecutive W's between 1929-31 and 1939-41.
This year's contest will be Georgia's first under head coach Mike White, who averaged more than 22 wins per year in combined 11 seasons as head coach at Louisiana Tech (2012-15) and Florida (2015-22) before coming to Athens in March. White led the Bulldogs and Gators to postseason competition during nine of 10 possible seasons, and Florida was a consensus pick to earn a bid to the 2020 NCAA Tournament before it was canceled.
Today's Contents – Click to Read
---
Five Bulldogs Participate in SEC Student-Athlete Leadership Council
Five University of Georgia student-athletes recently participated in a meeting of the Southeastern Conference Student-Athlete Leadership Council.
Football player Kearis Jackson (Fort Valley, Ga.), men's basketball player Jabri Abdur-Rahim (South Orange, N.J.), cross country runner Ellie Hall (Marietta, Ga.), equestrian rider Hannah Smith (Winston-Salem, N.C.), and women's basketball player Diamond Battles (Winter Haven, Fla.) were among the 65 student-athletes who attended the meeting at the SEC offices in Birmingham, Alabama.
During the two-day meeting, the Council heard a leadership presentation from Clay Scroggins and participated in a mental health discussion with Nafis Ricks. The student-athletes were also updated on the NCAA Division I Student-Athlete Advisory Committee (SAAC) and discussed SAAC programming on SEC campuses. The agenda also included a conversation with SEC Commissioner Greg Sankey and updates on the SEC Council on Racial Equity and Social Justice and SEC and NCAA legislative items.
Meeting attendees include representatives from the Student-Athlete Advisory Committee (SAAC), Football Leadership Council and Men's and Women's Basketball Leadership Council.
Student-Athlete Leadership Councils were introduced in 2016 for the sports of football and men's and women's basketball, which, in addition to SAAC, provide student-athletes with additional opportunities to engage with campus leaders and conference office staff. The councils serve as a conduit of communication to the conference office on issues related to student-athlete experience and student-athlete wellness.
Today's Contents – Click to Read
---
WTENNIS: Anastasiia Lopata signs with the Bulldogs
University of Georgia women's tennis head coach Jeff Wallace announced Thursday, June 30, the signing of Anastasiia Lopata (pronounced Ah-nah-stah-SEE-uh Low-pot-uh) to the Bulldog tennis program.
Lopata, a native of Kiev, Ukraine has climbed as high as No. 34 in the International Tennis Federation (ITF) junior rankings. She made her Junior Grand Slam debut this summer at the French Open and will make her Wimbledon debut next week.
Recently, Lopata won the Grade 1 Beaulieu-sur-Mer in France without dropping a set and made it to the finals of the Grade 2 Cap d'Ail in France — both on clay courts. Lopata also captured three doubles titles, winning the Grade 1 Bamberg in Germany, the Grade 2 Istres in France and the Grade 2 Cap d'Ail in France.
Throughout her career, Lopata has posted a career-high 10.79 Universal Tennis Rating and has posted 13 top-75 wins, including four top-30. In 2021, She won the Grade 3 Lviv in Ukraine, and advanced to the semifinals of the W15 Chornomorsk in Ukraine, defeating the No. 1 seed Anastasia Zolotareva (No. 335 WTA) along the way.
"We are excited to welcome Anastasiia to Athens this fall," associate head coach Drake Bernstein said. "She is a humble, hard worker who has a bright future on the court ahead of her. She has a lot of tools on both her forehand and backhand side, and a terrific way of figuring things out on the court. She is also a tremendous student who will represent us well in the classroom. We look forward to seeing her shine in red and black for years to come."
Today's Contents – Click to Read
---
Jump To Comments