Jump To Top of Page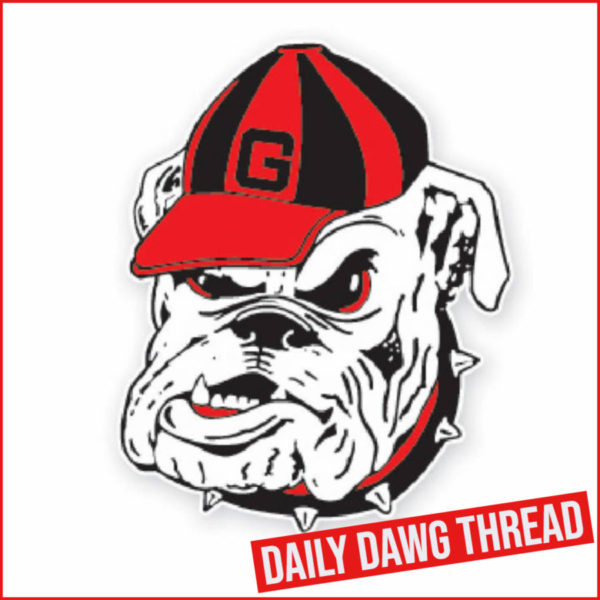 Photo/VideoFlashback: 2018 Rose Bowl
Watch a fullscreen slideshow
HERE.
Box Score
Video
Murray Poole's Rose Bowl Report – 01/02/2018
PASADENA, Calif. – The smiles were everywhere in the Georgia locker room and, with good reason. The third-ranked Bulldogs had just clinched a berth in the CFP National Championship Game on Jan. 8 against Alabama by staging a remarkable comeback to shock the second-ranked Oklahoma Sooners 54-48 in two overtimes in the 2018 Rose Bowl Monday night.
Down 31-14 late in the second quarter to Heisman Trophy winner Baker Mayfield and the explosive Sooner offense, the Bulldogs got a Rose Bowl record 55-yard field goal from Rodrigo Blankenship on the final play of the half to draw within two touchdowns. Georgia then proceeded to dominate the final two quarters and two overtimes by outscoring the Sooners 37-17, notching the winning touchdown in the second OT via a 27-yard touchdown run by the game's offensive MVP, Sony Michel, after senior outside linebacker Lorenzo Carter had minutes earlier blocked an Oklahoma field goal attempt to give the Bulldogs an opportunity to clinch the game with either a field goal or touchdown.
"I just got my hand up," said Carter, who notched 10 tackles on the night in addition to his big play in overtime. "How many field goals have I blocked before … zero," said Carter, displaying his ever-present smile as he talked.
Freshman quarterback Jake Fromm, playing in the biggest game of his life thus far, never flinched in guiding a Bulldog attack that rushed for 317 yards and passed for 210 more, with Fromm drilling 20-of-29 attempts for those 210 yards and two touchdowns, with no interceptions.
"I think it was awesome to come back the way we did and just shows us what we're about," said Fromm. "This win was huge, this game has a lot of history and we're just thankful that we could play in it and come out with the win. Sony didn't get down at all about his fumble (which resulted in a scoop-and-score for Oklahoma defensive back Steven Parker in the game's final seven minutes). He's the same guy and came back and made a heck of a play when we needed it (winning score in second overtime). Our defense had a little trouble in the first half but going into halftime we knew they were going to make adjustments and our defense always comes up big when we need them," said Fromm. "And we were thankful they came up with the stops when we needed them in the second half. And on offense we just kept chopping and scored as many points as we could."
Carter's Georgia counterpart at outside linebacker, senior Davin Bellamy, said it was just a matter of the Bulldogs' defense getting back to its usual style of play, after the shaky first-half showing.
"We took their best shot in the first half," Bellamy said. "Oklahoma's kinda like Auburn. They came out with 20 plays scripted and they're gonna run it fast. And after those plays are done, they get back to their tendencies. We played our worst game in the first half but we never quit. We practice those situations in practice, like blocking kicks. We go full live and try to beat the blocking, practice it every Friday and it showed today," he said. "In that second half, after they got into their tendencies, we got the pressure on the quarterback. We just kept chopping tonight and no one on the team doubted we would come back."
Senior wide receiver Javon Wims, Georgia's leading receiver on the season but who went without a catch in the SEC championship game, rebounded in this stirring victory with a team-leading six receptions for 73 yards and a four-yard scoring catch from Fromm that was set up by Dominick Sanders' 39-yard interception return inside the Oklahoma 5-yard line. With the pick Sanders tied the school career record of 16 held jointly by All-American Jake Scott and Bacarri Rambo.
"We understood we had to keep battling," said Wims. "The offense knew we had to have the defense's back and that's what we did. Oklahoma is definitely an underrated defense. That's a very good defense that we played. It's a dream come true, going to the national championship. That's what I've worked for my whole life and it doesn't matter who we play," said Wims, not knowing at the time it would be Alabama the Bulldogs will face next Monday night in the Mercedes-Benz Stadium for all the marbles.
While the happy Georgia players were meeting with the media in the team's locker room, head coach Kirby Smart and the two outstanding players of the game, Michel and junior linebacker Roquan Smith, were participating in the post-game press conference in another area of the stadium.
"First off I'd like to thank the Tournament of Roses College Football Playoff Committee," said Smart, who is remarkably taking the Bulldogs to the national title game in just his second season in Athens and will be squaring off against his former mentor at Alabama, Nick Saban, when the two SEC powers meet in Atlanta next week. "They've done a tremendous job hosting both teams. This is a really unbelievable atmosphere. To think about both sides, both fan bases did a tremendous job. I want to give a lot of compliments to Oklahoma. You know, Coach (Lincoln) Riley does a great job. Lincoln has been a problem for a lot of defenses, and he created a lot for us tonight. He does a really good job."
"But our kids are so resilient," added Smart. "They never stopped chopping wood. They kept fighting. They believed. There were offensive players affecting defensive players in the locker room at halftime and they kept fighting. We didn't play the way we were capable of, but the best news is we get a chance to play again. So I'm really proud of the fight, the resiliency of our seniors and our fan base."
Smart admitted it was a tough first half for the proud Georgia defense, which surrendered 31 points to the explosive Sooners over the first two quarters.
"Yeah, I'm really disappointed and upset," he said. "I didn't think we played to the level that we're capable of. I do think that the players fought, and they are a good offensive football team, but, man, we stunk it up and played really bad. I want to give a lot of kudos to the offense for staying behind us and fighting, and the defensive players for doing that. But if it was a measure of heart attack, I'd be on the Rector scale pretty high. But in the second half, we played with passion, we played with energy, we played with enthusiasm. We ran to the ball better. We tackled a little better, and we played a little more aggressive," Smart said."
Michel, who ran for 181 yards on just 11 carries and tallied three touchdowns rushing and one receiving, as usual credited his teammates on his 27-yard game winner in the second overtime.
"I mean, when the play was called, everybody just looked each other in the eyes," Michel said. "There were 11 guys just executing the play, and everybody did their job. It was successful for us. I mean, when I scored a touchdown, I knew it was over. Now, we finally get a chance to play for something big."
"I don't exactly know what the feeling was after that first half," said Smith, who again led the Bulldogs' defense with 11 total tackles, including one stop for a loss. "I just knew it wasn't playing to our style and whatever that was. So we had to make those adjustments, and we did. We played a little better in the second half but not to our standard. We expected that (potent offense) from a great Oklahoma team."
---
Jump To Today's Discussion Thread