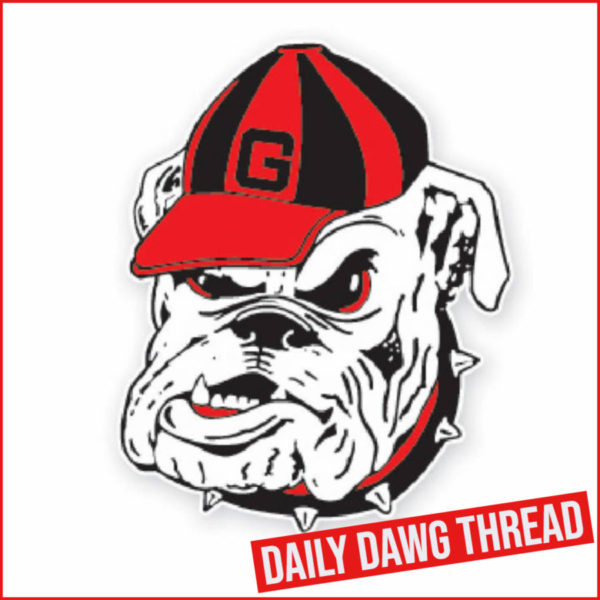 ---
Photo Gallery From Pro Day 2022
Watch a fullscreen slideshow
HERE.
---
WTENNIS: Tenth Ranked UGA Knocks Off #4 Ohio State
The 10th-ranked University of Georgia women's tennis team swept the fourth-ranked Ohio State Buckeyes 7-0 Wednesday afternoon, in non-conference play. Today's win marked the first win over a Top-5 team since the Bulldogs beat No. 5 Duke in 2019.
"We are super excited," said Georgia head coach Jeff Wallace. "Ohio State is No. 4 in the country and we shut them out. Anytime you blank the No. 4 team in the country, you know you've had a fantastic day. I was really proud of our doubles effort today, I thought it was one of our best doubles points of the season. Then, we just kept rolling in singles. Everybody just played outstanding. I think this win will help us a lot as the season progresses. Super excited that we were able to beat these guys 7-0."
In doubles, Georgia (7-2, 4-0 SEC) took two-of-three from Ohio State (8-3, 1-0 BIG 10). At the top spot, graduate Morgan Coppoc and junior Ania Hertel dominated No. 15 Irina Cantos Siemer and Sydni Ratliff 6-2. After graduate Meg Kowalski and freshman Guillermina Grant fell 6-4, the freshmen duo of Mell Reasco and Dasha Vidmanova clinched the doubles point with an impressive 6-4 win over Lucia Marzal and Kolie Allen.
In singles play, the Bulldogs swept the Buckeyes. No. 25 Reasco picked up the first win of the afternoon, cruising to a straight-set win of No. 19 Isabelle Boulais 6-1, 6-4. She was followed by fellow freshman No. 113 Vidmanova who picked up her sixth-consecutive win over No. 43 Sydni Ratliff 6-4, 6-3. Coppoc clinched the match for UGA, dominating Shelly Bereznyak 6-4, 6-3.
With the win secured, Lea Ma upset No. 4 Irina Cantos Siemers in a thrilling three-set match, 2-6, 6-4, 6-2, while No. 71 Kowalksi beat Kolie Allen 6-2, 7-5. No. 114 Hertel clinched the sweep for Georgia topping Lucia Marzal 6-2, 6-3. (Note: The match was moved indoors due to inclement weather)
Next up, the Bulldogs travel to Knoxville, Tennessee to face the Tennessee Volunteers on Saturday, March 19 at noon.
---
WTEN: Dasha Vidmanova Tabbed SEC Freshman of the Week
Following road wins over No. 15 Florida and No. 59 South Carolina, the 10th-ranked University of Georgia women's tennis team earned one Southeastern Conference weekly honor, as announced by the league office in Birmingham Wednesday afternoon.
Freshman Dasha Vidmanova was named the SEC Women's Freshman of the Week. This is the first career accolade for Vidmanova.
No. 113 Vidmanova, a native of Prague, Czech Republic, continued to dominate, going 4-0 for the second consecutive weekend, helping guide No. 10/23 Georgia to road wins over No. 15 Florida and No. 59 South Carolina.
In the weekend's first match against Florida, the freshman tandem of Mell Reasco and Vidmanova clinched the doubles point with a huge win over No. 18 Dudeney and Spee – marking the pairs second straight ranked doubles win. In singles action, Vidmanova took on No. 55 Marlee Zein and recorded a dominant 6-1, 6-4 win – her third-ranked win of the season.
Later in the weekend, Reasco and Vidmanova recorded their fifth win together – fourth consecutive – rallying from down 2-3 to win 7-5 over USC's Akli and Cruz. Vidmanova recorded the fourth and final point for the Bulldogs in singles against the Gamecocks, defeating veteran player Megan Davies and clinching the win.
Vidmanova picked up two ranked wins on the weekend – one singles, one doubles – and improved her record to 8-1. The freshman is riding a five-match win streak, including 8-1 in since arriving on campus in January. She ranks No. 6 in UTR ranking (11.21) – a team-high and league-best. Her efforts have helped guide the Bulldogs to a 7-2, 4-0 SEC record, including a bolstering 24 match win streak versus SEC opponents, dating back to the 2019 SEC Tournament.
---
Jump To Comments