Jump To Top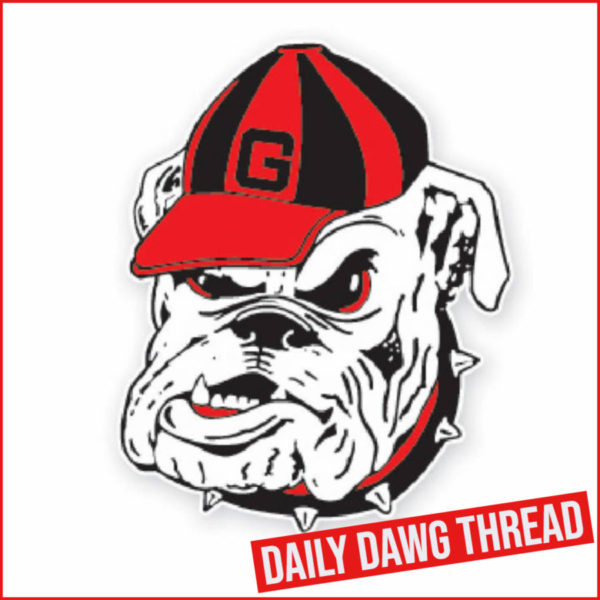 Softball: Dawgs run rule Kennesaw
The 17th-ranked Georgia softball team run ruled the Kennesaw State Owls Wednesday evening in five innings at Jack Turner Stadium, 9-0.
Winners of seven-straight games, the Bulldogs improves to 25-6 on the season. The seven-game win streak matches Georgia's longest of the season (Feb. 24-March 3).
Sara Mosley was responsible for two of Georgia's seven hits while Sydney Chambley and Sydney Kuma each drove in three runs Wednesday. Jaiden Fields and Kuma each drew two walks.
Graduate Shelby Walter (12-1) worked four shutout innings in her start, allowing just three hits. She struck out five and walked zero Owls (9-19).
Jayda Kearney's 10th home run of the season gave Georgia a 1-0 lead in the third. Georgia wasn't finished in the inning, putting the next two batters aboard. Chambley blasted a three-run home run to right center, lengthening the lead to 4-0.
A five spot in the fourth widened the lead to nine for Georgia. The scoring began when Dallis Goodnight led off with a single, stole second, and scored on a base hit from Mosely. After a walk, Fields fouled out to right and both runners tagged and advanced. On the play, an errant throw to second allowed Mosely to score, 6-0. With bases loaded, Kuma plugged the right-center gap with a bases-clearing double, bringing the lead to 9-0.
Madison Kerpics entered and pitched a 1-2-3 fifth inning to close the game.
Georgia welcomes Mississippi State to Athens for a three-game series this weekend at Jack Turner Stadium beginning Friday. First pitch of the series opener is set for 6:30 p.m. in the Battle of the Bulldogs.
Head Coach Tony Baldwin's Comment
On the team's performance Wednesday…
"What we just talked about and has been a theme of ours is that consistent teams think consistently. Where you start to get in trouble with these midweeks is when you start to think differently based on the opponent or it's not an SEC game, that's when you don't honor the game the way you're supposed to. I thought tonight we competed well, I thought we were in a good place in terms of how we were thinking, and that controlled our behaviors. Their pitcher was impressive the first time through the order, but I thought we made some good adjustments the second time. I think we finished the game as 13 of 18 at bats were quality at bats. Anytime we're having that kind of discipline in the batter's box, good things can happen and we'll put some runs on them. Proud of all those things. I thought Shelby [Walters] made some good pitches with runners in scoring position and I thought Ellie [Armistead] was outstanding tonight at shortstop. She made some really quality plays, made routine plays, and then made some tough ones. All in all, it was a really great day and we're excited to get back to practice tomorrow."
---
BASEBALL: Georgia begins weekend series at Auburn tonight
The Georgia-Auburn baseball series begins tonight on the SEC Network with both teams looking for their first victory in league play. First pitch will be at 7:02 p.m. ET, and it will be available on the Georgia Bulldog Sports Network.
Georgia posted an 8-3 win over Georgia State Tuesday at Coolray Field, the Triple-A home of the Gwinnett Stripers, in Lawrenceville. The Bulldogs are in a stretch where they play eight of their next nine games on the road. Last weekend in the SEC, the Bulldogs (14-7, 0-3 SEC) were swept by No. 14 South Carolina (20-1) while the Tigers (14-6, 0-3 SEC) dropped all three league contests at seventh-ranked Arkansas (18-2). Before the USC series, Georgia hadn't been swept in an SEC series since 2019 (at Miss. State), and that year Georgia finished 21-9 in the SEC.
Series History: Auburn leads the all-time series with Georgia 151-125-3 in records dating to 1897. The road team has won the last three series (Auburn going 2-1 in Athens in 2017 and 2021; Georgia went 2-1 in 2019 in Auburn). The last time Georgia began league play 0-3 was 2017 when it was swept at No. 6 LSU, Then, it returned home to face Auburn and won game two of the series.
It's Gone: Home runs are a common theme around the nation this season. Who knows if it's the hitters, the pitching, the baseball, the bats, regardless the balls are flying out of the yard. This past weekend, Georgia faced the national leader in USC, and the Gamecocks hit eight long balls to Georgia's four. Georgia began the week ranked fifth nationally with 45 home runs.
Georgia redshirt-freshman OF/1B Charlie Condon (.500-9-36) ranks among the national leaders in batting, slugging, RBI and home runs. He has hit safely in 20 games and has a team-leading 14 multi-hit games and 10 multi-RBI games. On Saturday, graduate OF Connor Tate (.463-7-24) saw his 22-game hitting streak end. Junior 3B/1B Parks Harber (.316-8-22) had the best series against USC, hitting .556 (5-for-9) with a double, two home runs, and four RBI. He has a nine-game hitting streak.
The Bulldogs have hit at least one home run in 18 of 21 games this year. Thirteen different Bulldogs have hit a home run this season. Auburn has tallied 25 home runs, including a combined 16 by senior Bryson Ware (.421-9-23) and Justin Kirby (.273-7-20).
On The Mound: The Bulldogs have a 5.82 ERA with 232 strikeouts and 102 walks. Auburn sports a 5.30 ERA with 196 strikeouts and 80 walks. Georgia's rotation will feature freshman RHP Kolten Smith (1-0, 5.19), junior LHP Jaden Woods (3-0, 2.96) and junior LHP Liam Sullivan (3-1, 2.28). Auburn will counter with graduate LHP Tommy Vail (2-1, 2.55) on Thursday and freshman LHP Zach Crotchfelt (0-1, 4.87) on Saturday. The Tigers have not announced a Friday starter.
Radio/TV/Live Stats Information
Thursday at 7 pm ET in Auburn, Ala. (SEC Network)
960TheRef: https://georgiadogs.com/watch/?Live=4378&type=Archive
SEC Network (Tom Hart, David Dellucci): https://www.espn.com/watch/player?id=3850835c-85c9-4de3-b371-88b5eba2a22b
Live Stats: https://georgiadogs.com/sidearmstats/baseball/summary
Friday at 7 pm ET in Auburn, Ala. (SEC Network+)
960TheRef: https://georgiadogs.com/watch/?Live=4379&type=Archive
Streaming: SECN+ (Kyn Rollins, Kyle Wren): https://www.espn.com/watch/player?id=8c7defb5-b1f1-4ace-90bc-7e96f5f0999f
Live Stats: https://georgiadogs.com/sidearmstats/baseball/summary
Saturday at 3 pm ET in Auburn, Ala. (SEC Network+)
960TheRef: https://georgiadogs.com/watch/?Live=4380&type=Archive
Streaming: SECN+ (Wiley Ballard, Mark Fuller): https://www.espn.com/watch/player?id=5bc17253-4d12-4f9e-b519-b315ae44619e
Live Stats: https://georgiadogs.com/sidearmstats/baseball/summary
---
Swim/Dive: Georgia opens NCAA Championships with a school record
With a new school record and two All-America relays, the University of Georgia men's swimming and diving team posted a solid opening to the 2023 NCAA Men's Swimming & Diving Championships Wednesday evening at the Jean K. Freeman Aquatic Center.
Senior Bradley Dunham, junior Jake Magahey, senior Zach Hils, and sophomore Mitchell Norton finished 11th in the 800 freestyle relay with a season-best time of 6:12.69, the fifth-fastest performance in school history. Dunham led off the relay with a 200 freestyle split of 1:33.67, while Magahey moved the Bulldogs up the board with a split of 1:32.27 before Hils turned in a 1:32.88 and Norton closed at 1:33.87. Texas won the overall event with an American Record time of 6:03.42.
In the 200 medley relay, Dunham joined freshman Kristian Pitshugin, junior Wesley Ng, and senior Dillon Downing to reset their previous school record with a 13th-place time of 1:22.98, earning Second Team All-America honors. Dunham led off the relay with a personal-best 50 backstroke split of 20.93, while Downing closed with a season-best 50 free relay split of 18.44. NC State finished first in the relay with an NCAA record time of 1:20.67.
Following the opening night of competition, Arizona State leads the field with 68 points, followed closely by NC State (66), California (62), and Florida (60). Georgia stands in 13th place with 20 points.
The NCAA Championships continue Thursday with the 500 freestyle, 200 IM, 50 freestyle, 1-meter diving, and 200 freestyle relay. Magahey is seeded second in the 500 freestyle with a time of 4:09.83, having previously won the title in 2021 and finishing second in 2022 behind teammate Matthew Sates. Hils ranks 16th in the 200 IM, while Downing enters the meet at 19th in the 50 free.
Swimming prelims begin at 11 a.m. EST, followed by diving prelims at 1 p.m. and finals at 7 p.m. Live coverage of the meet will stream on ESPN+, with live results available online and to paid subscribers on the MeetMobile app.
For all news and updates about Georgia swimming and diving, follow the Bulldogs on Twitter (@UGASwimDive), Instagram (@ugaswimdive), and Facebook (UGA Swimming and Diving).
STANDINGS
1. Arizona State, 68
2. NC State, 66
3. California, 62
4. Florida, 60
5. Indiana, 58
6. Texas, 50
7. Louisville, 42
8. Auburn, 40
9. Stanford, 38
10. Alabama, 26
13. Georgia, 20
RESULTS
200 Medley Relay
1. NC State – 1:20.67
2. Arizona State – 1:21.07
3. Florida – 1:21.14
4. California – 1:21.24
13. Georgia – 1:22.98
800 Freestyle Relay
1. Texas – 6:03.42
2. Arizona State – 6:05.08
3. California – 6:06.41
4. Indiana – 6:07.97
11. Georgia – 6:12.69
---
Jump To Comments