Jump To Top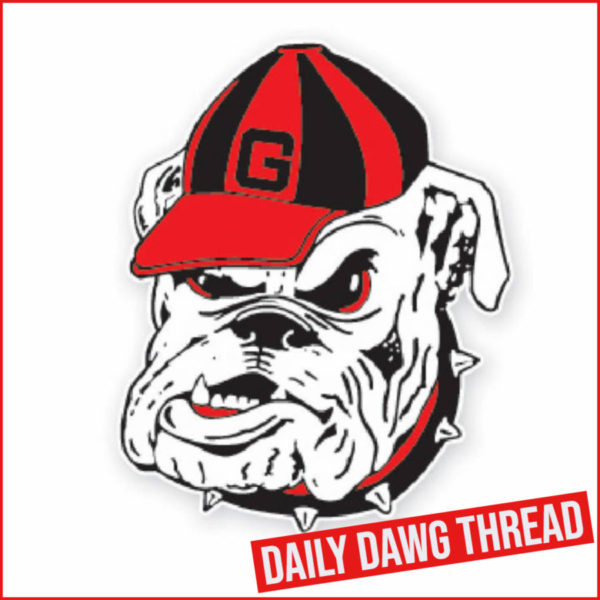 WTennis Super Regional: Georgia advances to NCAA quarterfinals with win over Oklahoma
Watch a fullscreen slideshow
HERE.
The third-ranked University of Georgia women's tennis team defeated No. 13 Oklahoma 4-1 on Friday evening before 817 spectators at the Dan Magill Tennis Complex, in the round of 16 of the 2023 NCAA women's tennis tournament. Today's match marked the final home match of Georgia head coach Jeff Wallace's career.
In doubles, Georgia (25-4, 12-1 SEC) swept Oklahoma (22-10, 8-1 Big 12). The sophomore tandem of Guillermina Grant and Mai Nirundorn cruised to a 6-1 win over Alexandra Pisareva and Layne Sleeth, while Meg Kowalski and Lea Ma clinched the doubles point with a 6-3 victory over Julia Garcia Ruiz and Dana Guzman, on their graduation day.
In singles play, the Bulldogs won three matches. Grant earned the first win of the day for the Bulldogs on court six. The sophomore topped Emma Staker 6-0, 6-4 to give Georgia a 2-0 match lead. The Sooners responded with a straight-set win on court one. The Bulldogs responded with a win on court five. No. 125 Kowalski defeated Julia Garcia Ruiz 6-7(8), 6-1, 6-1. This marked her 13th consecutive victory. The match was clinched by No. 4 Dasha Vidmanova who topped No. 78 Dana Guzman in straight sets 7-6(5), 6-4.
Up next, the Bulldogs will take on the winner of Michigan vs. Virginia in the quarterfinals of the NCAA Tournament on Wednesday, May 17 in Lake Nona, Florida. This marks the 28th time in 38 seasons that Georgia has advanced to the elite eight.
Georgia Head Coach Jeff Wallace
On the match and the emotions of coaching his last match at the Dan Magill Tennis Complex…
"It was an epic battle. Oklahoma came in and played unbelievable. I thought our doubles was fantastic today. We are just getting better and better every time we go out and play doubles. The crowd was amazing. Oklahoma fought like crazy in those singles matches and turned it into an epic college tennis match. I was excited to see Meg (Kowalski) get that point being a fifth-year senior and her last match she will ever play out here was really neat. Mell (Reasco) was down match point and had one of the most incredible match points I think I have ever seen in all my 38 years. To say that, up in the tie breaker, Dasha (Vidmanova) closes it out. Of course, Gigi (Grant) gets that first singles point for us. We got a lot of work to do now. We are so fortunate to go down to Orlando in the Elite Eight. There is more great tennis to play."
Georgia Sophomore Dasha Vidmanova
On the start of doubles…
"We've changed our doubles a lot this season, but we've kind of found the right balance. I think we played great doubles today on every court, and it definitely helped us in singles after that."
On pulling out the first set and the match…
"I was up 5-1 in the first set, but then I started losing. I knew that this was a big match and that I had to fight no matter what. After I won the set, when other people were coming back if they lost the first set , it definitely helped me. I was less nervous and I actually didn't expect to clinch. I expected other people to clinch, but I had the chance and did it, which was great."
Results
Doubles Results
1. Dasha Vidmanova/Mell Reasco (UGA) vs. #5 Carmen Corley/Ivana Corley (OU) 5-4, unfinished
2. #25 Guillermina Grant/Mai Nirundorn (UGA) def. #63 Layne Sleeth/Alexandra Pisareva (OU) 6-1
3. Meg Kowalski/Lea Ma (UGA) def. Julia Garcia Ruiz/Dana Guzman (OU) 6-3
Singles Results
1. #50 Layne Sleeth (OU) def. #3 Lea Ma (UGA) 6-3, 6-0
2. #4 Dasha Vidmanova (UGA) def. #78 Dana Guzman (OU) 7-6 (7-5), 6-4
3. #63 Mell Reasco (UGA) vs. #110 Carmen Corley (OU) 6-3, 1-6, 6-6 (6-3), unfinished
4. #81 Anastasiia Lopata (UGA) vs. Alexandra Pisareva (OU) 3-6, 6-3, 4-3, unfinished
5. #125 Meg Kowalski (UGA) def. Julia Garcia Ruiz (OU) 6-7 (8-10), 6-1, 6-1
6. Guillermina Grant (UGA) def. Emma Staker (OU) 6-0, 6-4
---
MTennis Super Regional: Georgia will continue play in the NCAA Tournament with its Super Regional match against No. 11-seed Harvard
#6 Georgia (22-6, 12-0 SEC) vs. Harvard (21-5, 7-1 Ivy)
Round: Super Regional
Date: Saturday, May 13, 2023
Time: 2 p.m. ET
Location: Athens, Ga.
Venue: Dan Magill Tennis Complex
Tournament Central: https://link.edgepilot.com/s/5b366ba2/gC9hKZz5pE2Wt_fzY4yvdg?u=https://gado.gs/age
Match Notes: https://link.edgepilot.com/s/25104522/r0PtD2S8KU_Aqj9QhHgrYQ?u=https://gado.gs/ak0
Live Stats + Video: https://link.edgepilot.com/s/b6597774/KFmB9HY8b0uj6ecmYzKIzQ?u=https://gado.gs/9kh
CrackedRacquets CrossCourt Cast: https://link.edgepilot.com/s/6db6880c/d–sbk8ocEWYdQ152ePJ8g?u=https://gado.gs/ak2
Georgia Season Stats: https://link.edgepilot.com/s/333eb9eb/oestwRkelEuYrkQhVddUDA?u=https://gado.gs/9xb
Harvard Season Stats: https://link.edgepilot.com/s/d3016d78/omDnFsC92E_Z35Mfa_ShSg?u=https://gado.gs/ak1
Postseason Play Continues
The Bulldogs continue their postseason after winning matches in the first and second round of the NCAA Tournament. Georgia beat Florida Gulf Coast, 4-0, in the first meeting in program history against the Eagles on May 6, before beating Oklahoma, 4-1 on May 7. Georgia finished as the runner-up of the Southeastern Conference Championship in Auburn, Ala.
Joining the Bulldogs in the Athens Super Regional is No. 11-seed Harvard. The Crimson advanced after a pair of 4-0 sweeps against Siena and Arizona State in Cambridge, Mass. The winner of the match will advance to the national site at the USTA National Campus in Lake Nona, Fla. for the quarterfinal round and onward, which will be played on May 18-20.
The program is seeking its seventh NCAA national championship (1985, 1987, 1999, 2001, 2007, 2008) and ninth team title in history (ITA Indoor National Champions in 2006, 2007).
32-Time SEC Champions
With the Bulldogs' win against No. 12 Mississippi State at home on Thursday, April 13, Georgia clinched the outright regular-season SEC Championship for the 32nd time in program history, which leads the SEC. Georgia earned a perfect 12-0 record in conference play for the 16th time and sixth in the Manny Diaz era. With an 18-5 record, the team finished the regular season with a .783-win percentage, the best since the 2015-16 squad entered the postseason at 18-3, good for a .857 percentage.
All-American Bulldogs
By being named a top-16 seed in the NCAA Singles and Doubles Championship, Ethan Quinn has earned Intercollegiate Tennis Association All-American Honors for both competitions and is joined by redshirt senior Trent Bryde for honors in doubles. This marks the fifth career All-American honor for Bryde.
Quinn, a native of Fresno, Calif., claimed the No. 2 seed in the 64-person field after he played the top spot for Georgia in singles. He finished with a 16-8 record, including winning his previous nine matches and is 14-1 since Feb. 19. After winning the Intercollegiate Tennis Association All-American singles title in October, he entered the spring as the top-ranked singles player in the country and did not leave the top five all season.
Quinn paired with Bryde in doubles, where they were named the No. 4 seed in the 32-team event. Together, they went 15-9 in the spring, earning 11 wins against ranked opponents, and are 8-2 in their last 10 matches. The No. 5 doubles team in the country, Bryde and Quinn, clinched the point six times for the Bulldogs and have eight wins by 6-3 or better.
Dawgs in the Rankings
In the latest team rankings from the Intercollegiate Tennis Association, Georgia held the No. 6 spot – the same as its NCAA Tournament seed – in the team rankings for the second straight week.
Redshirt freshman Quinn moved up to No. 2 in the singles ranking and is 14-1 in his last 15 match results, dating back to Feb. 19. The SEC Freshman of the year reached his highest singles ranking since Nov. 16, 2022, where he was the top-ranked player in the country heading into the spring season.
Blake Croyder, tied for the most dual match singles wins on the team with 19, moved to No. 106. The Marietta native reached his 100th career win after defeating Mississippi State's No. 95 Ewen Lumsden by a 6-2, 6-1 score on April 13. Bryde makes his third straight appearance in the singles poll, now being ranked No. 116. The Sewanee native is 10-7 on court three this season and 7-3 in his last 10 match results.
Bryde and Quinn make up the top spot for Georgia in doubles and rose to the No. 6 pair in the country in the latest doubles poll. The tandem has won 16 matches this season on court one, including five point-clinching victories. Quinn is the only freshman in the nation to be ranked in the top 10 of both the singles and doubles poll.
Super Regional Schedule
Friday, May 12 (Women's Super Regional)
4 p.m. — No. 4 Georgia vs. No. 13 Oklahoma
Saturday, May 13 (Men's Super Regional)
2 p.m. — No. 6 Georgia vs. No. 11 Harvard
Series History
Georgia vs. Harvard – UGA, 33-0
– Last five meetings:
§ 2003 (ITA National Team Indoors) – UGA, 4-3
§ 1998 (NCAA Tournament) – UGA, 4-2
§ 1994 (USTA/ITA National Team Indoors) – UGA, 5-2
§ 1992 (NCAA Tournament) UGA, 5-2
§ 1991 (USTA/ITCA National Team Indoors) – UGA, 5-4
Georgia in the NCAA Tournament
– Last five tournament finishes:
o Second Round, 2022 (Athens)
o Quarterfinals, 2021 (Lake Nona, Fla.)
o Second Round, 2019 (Chapel Hill, N.C.)
o First Round, 2018 (Norman, Okla.)
o Semifinals, 2017 (Athens)
Ticket Information
Tickets for this weekend's matches can be purchased at Georgia Bulldogs | Online Ticket Office | Event Groups (evenue.net). Fans can also purchase tickets at the Dan Magill Tennis Complex beginning one hour prior to the start of the first match each day (based on availability). Will call opens at 4 p.m. Friday and 1 p.m. Saturday. Tickets are $5 for adults and $3 for youth and seniors and the clear bag policy is in effect.
---
Baseball: Missouri's five homers down Dawgs
Missouri hit five home runs, and Ross Lovich hit for the cycle as the Tigers beat Georgia 13-3 in seven innings Friday in front of a crowd of 1,383 at Taylor Stadium
The Tigers (28-20, 8-17 SEC) took a 2-0 lead in the first on a two-run home run by Luke Mann, his team-leading 18th of the season. Lovich was on after a leadoff double. In the second, Georgia turned to junior left-hander Luke Wagner in relief of freshman Kolten Smith. Missouri responded by sending nine batters to the plate and extending their lead to 6-0 on five hits, including home runs by Mann and Hank Zeisler.
In the fourth, graduate Connor Tate smashed his 14th home run to get the Bulldogs on the scoreboard. It extended his hitting streak to 12 games and was the 41st home run of his career. The Tigers answered with a pair of runs on two hits in their half of the fourth to take an 8-1 lead. Georgia cut the deficit to 8-3 with two runs on four hits in the sixth. Redshirt freshman Charlie Condon led off with a double and scored on a base hit by Tate. With one out, designated hitter Cole Wagner lined an RBI-single off left-hander Daniel Wissler. The Tigers halted the rally by turning their third double play of the night. Then in the bottom of the sixth, Ty Wilmsmeyer hit a two-out, three-run home run to put the Tigers up 11-3. Missouri added two runs in the seventh for the final.
"A loss is a loss, and it stinks," said Georgia's Ike Cousins head baseball coach Scott Stricklin. "We didn't pitch well enough, and we didn't have enough good at bats. The double plays were rally killers. We had several opportunities for a big inning, and we'd hit into a double play."
Missouri right-hander Chandler Murphy started and went five innings for the victory to even his record at 4-4. He allowed two runs on four hits with three walks and fourth strikeouts. Smith dropped to 2-3, surrendering two runs on two hits in one inning. Georgia falls to 28-22 overall, 10-15 in the SEC.
Tate finished 2-for-3 with two RBI to give him an SEC-leading 78 hits while Condon (2-for-3) is right behind him with 77. Condon has hit safely in eight straight games.
The series continues Saturday with first pitch scheduled for 3:02 p.m. ET. The game will be available on SEC Network+ and the Georgia Bulldog Sports Network. The Bulldogs will start junior left-hander Liam Sullivan (4-2, 4.94).
Box Score
---
MBB: RJ Sunahara, The 2023 Division II National Player of the Year, has signed a letter of intent to play for the Georgia Bulldogs
RJ Sunahara, who was named 2023 Division II National Player of the Year after leading Nova Southeastern to an undefeated season and NCAA Championship, has signed a letter of intent to play for the Georgia Bulldogs, head coach Mike White announced on Friday.
Sunahara (pronounced soon-uh-harr-uh), a 6-8 210-pound forward, was named DII Player of the Year and won the Bevo Francis Award as the nation's top small college player following Nova Southeastern's perfect 36-0 campaign in 2022-23. He averaged 18.9 points, 5.4 rebounds, 2.5 assists, 1.7 steals, and 1.6 blocks in 26.7 minutes per game for the Sharks while shooting 59.9 percent from the floor, 40.0 percent from 3-point range and 74.3 percent from the line. Sunahara capped his career at Nova Southeastern with a 29-point, nine-rebound outing in a 111-101 win over West Liberty University in the Division II national championship game.
Sunahara started all 92 games played over three seasons with the Sharks and amassed 1,579 points (17.2 ppg), 585 rebounds (6.4 rpg), 232 assists (2.5 apg), 172 blocks (1.9 bpg) and 132 steals (1.4 spg). He is Nova Southeastern's career leader in blocked shots and free throws made (342) and also ranks No. 2 in scoring, No. 2 in field goals (594), and No. 6 in rebounds. Sunahara was named the Sunshine State Conference's Player of the Year in 2023, Defensive Player of the Year in 2022, and Freshman of the Year in 2020. Nova Southeastern was 90-7 during Sunahara's career, going 36-0 in 2022-23, 31-1 in 2021-22, and 24-6 in 2019-20. The Sunshine State Conference season was canceled due to the COVID-19 Pandemic.
Sunahara redshirted during the 2018-19 season at Fairmont State University. A native of Bay Village, Ohio, Sunahara played basketball and football at Bay High School. As a senior, he averaged 22.3 points, 11.5 rebounds, 3.3 assists, and 2.6 blocks per game en route to earning Conference and Morning Journal Player of the Year honors and second-team all-state accolades.
Sunahara becomes the ninth newcomer to sign with the Bulldogs for the next season, joining four transfers and four prep prospects. Georgia is one of only two programs with both its high school and transfer recruiting classes ranked among the top 20 nationally, according to 0n3.com. The website lists the Bulldogs' batch of transfers at No. 8 and the prep players at No. 18 in its respective ledgers.
In addition to Sunahara, Georgia's four other transfers are Jalen DeLoach, an All-Atlantic 10 performer at VCU in 2022-23 who is originally from Savannah, Ga.; RJ Melendez, ESPN.com's No. 56 recruit in the Class of 2021 who played at Illinois the last two seasons; Russel Tchewa (pronounced chee-wuh), the second-leading rebounder in the American Athletic Conference (AAC) and second-leading scorer for South Florida last season; and Noah Thomasson, who led the Metro Atlantic Athletic Conference (MAAC) and ranked No. 34 nationally in scoring last season at 19.5 points per game at Niagara.
The four high school signees are all ranked among the top 100 prospects in the Class of 2023. Last November, the Bulldogs inked two ESPN.com top-100 prospects – No. 83 Mari Jordan, a small forward from Norcross High School, and No. 90 Dylan James, a power forward from Winter Haven (Fla.) High School. This spring, Georgia added Blue Cain, a shooting guard from Knoxville, Tenn., and the IMG Academy ranked No. 52 by ESPN.com, and Silas Demary Jr., a guard from Raleigh, N.C. ranked as high as No. 41 nationally by On3.com.
During White's first season in Athens, the Bulldogs improved from 6-26 in 2021-22 to 16-16 in 2022-23. Georgia's +10 win tally represented the second-biggest regular-season improvement by any Power 5 program last season.
---
Softball: Six Bulldogs named to the 2023 All-SEC Softball Teams
Junior outfielder Jayda Kearney, senior second baseman Sydney Kuma, senior third baseman Sara Mosley, and graduate right-handed pitcher Shelby Walters all earned First-Team accolades. Redshirt-senior first baseman Jaiden Fields and junior right-handed pitcher Madison Kerpics appear on the Second Team. Additionally, Kuma has been recognized on the SEC All-Defensive Team.
"I'm so proud of this group earning All-Conference recognition," head coach Tony Baldwin said. "They have been highly consistent and have put together a competitive SEC season. I'm excited for them to be recognized for their accomplishments and we're looking forward to them finishing the season on a strong note."
Georgia's six All-SEC picks is the most by the Bulldogs since 2016, when seven were honored. Additionally, this is the first time Georgia has placed two pitchers on the All-Conference squads in program history.
Jayda Kearney, a native of Columbus, New Jersey, finished SEC play in the top 10 in six categories, including batting average (.353), slugging (.765), on-base percentage (.464), hits (24), home runs (8), and total bases (52) while finishing 11th with 18 RBI. She was Georgia's leader in batting, runs scored, hits, RBI, slugging, walks, and on-base percentage in Conference play.
This is Kearney's second First Team All-SEC appointment (2022, 2023) and she was an SEC All-Freshman Team member in 2021.
Fresno, California native Sydney Kuma earns the first First Team honor of her career, following Second Team honors in 2022 and All-Newcomer Team honors in 2021. Kuma's .323 average finished 13th, while she finished ninth with a .629 slugging percentage and 13th with a .432 on-base clip.
Kuma's defensive prowess landed her a spot on the SEC All-Defensive Team as a second baseman. Kuma becomes Georgia's first infielder to earn All-Defensive Team honors since Alisa Goler (third base) and Brianna Hesson (first base) earned the honor in 2011.
Sara Mosley, hailing from Elijay, Georgia, concluded 12th in batting (.324) and was fourth in slugging (.757). Her 24 hits in SEC play matched Kearney's, but her nine home runs led Georgia while finishing second in the league. Mosley totaled 56 total bases to finish third.
Like Kearney, this is Mosley's second First Team honor in her career (2022, 2023). Mosley earned All-America status as well in 2022.
Shelby Walters, who hails from Cohutta, Georgia, transferred to Georgia this season from Duke and made an immediate impact in the circle. Walters' 1.61 SEC ERA finished fifth in the league while she pitched the fifth-most innings (69.2). Her six wins tied for sixth-most, while her six saves led the league in 2023. She made the most appearances (19), making 11 in relief.
Walters was a 2021 First Team All-ACC performer for the Blue Devils as she adds First Team All-SEC to her resume.
Jaiden Fields from Kennesaw, Georgia, hit .309 in SEC play, slugging five home runs and driving in 13 runs. She concluded the Conference season slugging .574 with a .356 on-base percentage.
This is Fields' first postseason SEC honor of her career.
Suwanee, Georgia native Madison Kerpics earns Second Team All-SEC honors after finishing 9-3 in Conference play, the fourth-most wins of anyone in the league in 14 starts. In 68 innings, Kerpics' 61 strikeouts finished seventh in the league, while her 17 punchouts finished fifth.
This is Kerpics' first postseason SEC honor of her career.
The Bulldogs will await the NCAA Tournament selection show on Sunday, May 14. The selection special will air on ESPN 2 at 7 p.m. ET.
---
Jump To Comments