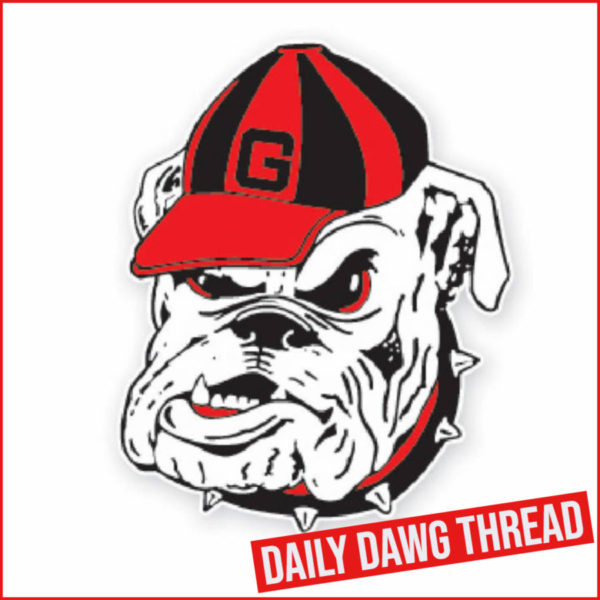 ---
Video/Transcript: Kirby Smart post-practice interview – October 04, 2022
On the defensive lineman who can fill Jalen Carter's absence…
"Really the same ones. Jalen's been out for awhile. Naz, Zion, Bear, Bill Norton, Jonathan Jefferson, Warren Brinson – those are the interior guy who will get the abundance of reps. Christen Miller is in that. All of those guys.
On Tykee Smith…
"He's done everything we've asked. He has an unfortunate injury that happens. There are guys walking all over the NFL with the same injury he had. I still think there are guys who are better the next year after that injury, and he's in the first year recovering from it. He's done a really good job with that. He's very bright, and he's very conscientious. Those two things will get you far when you're intelligent. He asks really smart questions. He takes the initiative to watch a lot of tape. He's done everything we've asked, and he's a great kid."
On Nazir Stackhouse…
"He spent a lot of time down there [with the scout team] and grew and got better. I can remember when he first got here, his block recognition, his ability to play blocks, and strike blocks is not anywhere near where it is now. I think Tray Scott has done a incredible job with Naz of developing him. It's very similar progression to some of those other guys that we have had. He just gets better with each year. He's smarter and wiser. The defensive line is not a position that you just walk in and play. There's a lot of things that can happen to you when you play inside. If they happen enough times, you figure it out. It's not just ability, it's recognition of plays, back-blocks, and pullers. He does a really good job now of playing that. He's been a big part of our success inside."
On Tyrion Ingram-Dawkins and Chaz Chambliss…
"Chaz was dealing with a hamstring last week and did not make the trip. He was here rehabbing, and he's fighting back this week. It's not as bad as Nyland's was, and we hope to get him back. I don't know when it will be. Tyrion, he was on the trip. He was there. Tramel and Mykel just played more snaps than him. He continues to develop and get better. It's up to Tyrion, how he practices, and the things he does that determines how much he plays. We want to play as many guys as we can play, and he knows that."
On Jalen Carter's injury…
"I hate it for Jalen as a guy who has had a really good two years. He's really talented, and the very first play of the year was when the ankle got injured. He played on adrenaline in the Oregon game and then struggled to get back. He got back, and then he felt good. It's a different injury. It didn't really have anything to do with the ankle. Tough is the only way to put it, but it's football. Our mantra around here is 'next man up.' We've had a lot of that with the inside players dinged up. It's 'next man up,' and they go play the snaps for them."
On Jamon Dumas-Johnson's leadership…
"He's been great. He's been very vocal. He's a very energetic and passionate guy, which it requires to play that position. He directs his energy usually in the right way, and that's the big part of being a young player – understanding how and when to apply your energy. He's done a good job of that, and he'll continue to. He's a good football player."
On Malaki Starks…
"It's great to have a young guy because you know you have him to develop him. But it's a work in progress still. There are things that happened with Richard Lecounte, Lewis Cine, and all those guys who have played. I go back to a number of mistakes they have to make before they get it right. Malaki is not really any different. He makes mistakes each and every practice, and he keeps chopping and getting better. He doesn't let one mistake get him done. I think he's come to the realization that you are going to make mistakes. Don't make them twice and learn from them. I'm really proud of his maturation process, and I think he's going to be a leader for us as he grows in confidence."
On more emphasis on ball security in practice…
"No. I mean the emphasis is put on ball security every day. There is not a day that we don't start practice with ball security. I would think if you weren't putting emphasis on it in the beginning, then you're not a very smart coach. There is a process to what we do. We believe in the way we've practice, and it works. A lot of it is on the individual to carry it. We might scream and yell at the scout team to strip it more and try to create more contact for a guy, but we don't change the drills we do."
On Auburn's fast starts to SEC matchups…
"I don't know how to answer that. The only game that I am relevant to is this year. After we played them last year, I don't really know what games you are referencing, and I didn't watch them probably. This year's games, they have started fast. They started fast against LSU, jumped up on Missouri, as well. They have a good plan, and they're well-coached, playing at home. There's a lot of things that factor into that."
On Tate Ratledge and Smael Mondon…
"Tate's been great. He hasn't been complaining about it any. It is a hard injury to get over. I think he'll be the first to tell you, but he'd never tell you. He fights every day out there because that foot is a long process to get back from. I still don't know if he is at 100 percent, but he would probably tell you he is. He gives us everything he's got each and every day. He's a really smart and physical player. He continues to get beter the more he plays. Smael is struggling a little bit. He got an ankle during the game. I guess he played on adrenaline because he did go back into the game and play, but he's been hurting a little bit. He's been in a brace, but he's been able to practice some. We've got several guys out there where it's been tough. We've got some guys who were beat up in that last game, and they're hurting a little bit. It's one of those where we have 'next man up' mentality."
On Javon Bullard…
"He's really paid attention to detail. He practiced with us last week. He went out on scout team. A lot of the things carry over, so he went out on the scout team and took reps. He was on scout special teams. The great thing about Javon is that he competed. He was down there going as hard as anybody, and I think that is very indicative of his character and what he stands for. He practices really hard regardless of what his role is. Hopefully, he'll continue to do that and not skip a beat."
On having a better start against Auburn…
"Strike and attack. It's not a real complicated message. it's going to be a physical game."
On reaching the ball out to gain more yardage…
"Never stick the ball out unless it's fourth down. It's the same thing that Eli [Drinkwitz] teaches. There's not a coach out there that thinks it's worth sticking the ball out prior to fourth down. You'll take the risk on fourth down. The alternative is you don't score, but with another down you never ever stick the ball out. I thought that Brock subconsciously was about to do it and then thought it wasn't worth it. We've had guys do it, too. It's not like any of us are immune to it. Guys make decisions in the moment. You don't want player to do it, but we've done drills here before where you get close and you don't. Coach Dell does a drill with his players. But at the end of the day, it's valuable possession of the ball, and you can't afford to lose it."
On AD Mitchell…
"I don't know. I feel much better. He hit some good speeds yesterday in conditioning and did some cuts. I didn't get to see him practice as much today because I was with the defense, but he went in some of the scout periods. I'll get to watch his tape. It looks very promising from him yesterday in terms of what I saw from him running. I don't know how much the role will be, but we'll see. We've got a lot of guys banged up, so it's going to be done by committee in a lot of places.
On targeting Darnell Washington in the red zone…
"We've called several plays in those situations for him. Some of them are based on a look, and some of them are based on a protection. There are plays built for a guy to be a red zone target, and he certainly is that. I you miss a protection, miss a certain guy, or you miss a coverage, it can go some routes. There are doubles on guys in the interior. One of the calls was to him on the play that Brock made against South Carolina, but the look they gave us dictated to go to Brock. There have been several like that, but he is certainly a weapon that we get to use."
On Arian Smith…
"He had a series where he got in the game in two-minute, and he had to stay in the game. During two-minute, you don't sub. He got three or four plays in a row. It was really promising to see him go out there and execute three or four plays in a row. He actually got a catch which was big for his confidence. Getting hit and tackled is big for his confidence. He has missed so much time, and he is still developing as a receiver. If you could take all the time that he's been out, I still think it's greater than all the time he has been in here. He's raw as a receiver, but he's gotten better. We have to find ways to use his athletic ability."
On Kenny McIntosh…
"Kenny's been great. He's had a really good two days of practice, and I think him not getting that hit again last week helped him get ready for this week. He's been good."
On Auburn's run game…
"We think probably two of the best backs in the SEC are there together. The Hunter kid is strong and physical. When you chart the number of broken tackles those two guys have had together, it's as much as anybody in our conference. You package that with a quarterback who is super fast and really elite, you've got three. Tackling is going to be a premium in this game because they're big, physical guys, including the quarterback, who you have to wrap up and knock back tackle. I've been very impressed with the backs."
---
Video/Transcript: Tykee Smith and Nazir Stackhouse Interviews – October 04, 2022
On the transition from West Virginia to Georgia…
"It is definitely a blessing to be here, coming from where I come from. I am far from my daughter, that is the biggest thing. I am blessed to have the opportunity to be here."
On his first start for Georgia against Missouri…
"It meant a lot to me being able to go out there and help the team in the best way possible. It meant a lot ot me to be able to get out there after all of the injuries I have been through."
On his support system over the past year…
"My family means everything to me. It has definitely been hard. I go by the phrase, 'sacrifice now to live how you want to live in the future,' so I have to sacrifice it now in order for me to take care of (his daughter) in the future."
On his social media page…
"At first, I started in junior year high school, doing a little bit of it [content creation] all-star games in Texas, the USA team, I went to Nike opening. It was just something that we thought would be fun to do. I just started carrying along with it and who knows when I seen that more people started to like and view it. At the time, I wasn't really too big on social media, I was more subtle when it came to posting and with videos. I think over time, I started to use it as a side hobby, something that entertained me on the side of football. We go through a lot of things as football players. So, I'll use my social media platform, which is Tik Tok, to try to get my mind off of maybe academics, or how hard practice was that day or whenever I get time throughout the day, I just like to spend it either doing schoolwork or if I have just enough time, I'll post a video here and there."

On transitioning from a joyful guy to being locked in on gameday…
"I feel like I play with controlled aggression. I wouldn't say I play angry because the coaches stress if you play angry, you play out of control. me more. My aggression is more controlled. Sometimes, people would question that a lot. Like, 'Oh, this guy, he's jolly outside of football. How does he lock into game day mode?' I ask myself that question too, because when I'm on the field, I'm a whole different person. You wouldn't really know that from the TV or from the stands, but it's something that I work on doing. Especially when you're striking someone who was not your teammate throughout the week, or that Saturday when you're striking someone who is different, it's more you're playing for you brothers. Whatever happens, I'm always out there playing with physicality, playing with my best ability and potential."
---
BASEBALL: 2023 SEC Schedule Announced
The Georgia Bulldogs' new Southeastern Conference schedule for the 2023 baseball season was announced Tuesday by the league office.
The Bulldogs will open the 30-game conference slate March 17-19 when South Carolina visits Foley Field. The Bulldogs' other four SEC home series will feature Kentucky (Apr. 7-9), Arkansas (Apr. 21-23), Tennessee (May 5-7) and LSU (May 18-20). Georgia's five SEC road series will be at Auburn (March 24-26), Vanderbilt (March 31-Apr. 2), Florida (Apr. 14-16), Ole Miss (Apr. 28-30) and Missouri (May 12-14).
The 2023 SEC baseball television schedule will be announced later; therefore, it is possible some series could begin on Thursdays. The 2023 SEC Tournament returns to Hoover, Ala., and will be held May 23-28. The format again will feature the league's top 12 finishers. NCAA Regional action will be June 2-5 with Super Regionals slated for June 9-12, both played at various campus sites. The College World Series will be conducted June 16-26 in Omaha, Neb.
Georgia's non-conference schedule and all game times will be announced­­ later. Season ticket applications and renewals will be available online in early December. Follow this link for information on the Georgia Baseball Fund (GBF).
Georgia began fall practice last month under the direction of Ike Cousins head baseball coach Scott Stricklin who enters his 10th season. In 2022, the Bulldogs advanced to an NCAA Regional in Chapel Hill, N.C., and finished with a 36-23 (15-15 SEC) mark.
Georgia has 24 returning lettermen, including six starters, around the diamond. The Bulldogs welcome back graduate outfielders Connor Tate (.345-13-58) and Ben Anderson (.274-9-34), sophomore outfielder Cole Wagner (.276-6-21), junior infielder Parks Harber (.307-13-53), junior catcher/designated hitter Corey Collins (256-11-37) and junior catcher Fernando Gonzalez (.258-4-22). The pitching staff will be led by senior Nolan Crisp (1-4, 5.12 ERA), juniors Liam Sullivan (4-3, 4.62 ERA), Jaden Woods (1-1, 4.80, 3 SV) and Luke Wagner (5-3, 6.15 ERA) and sophomore Chandler Marsh (4-1, 3.74 ERA). The Bulldogs have 18 newcomers.
The fall season will feature two exhibitions. The Bulldogs play host to UAB on Oct. 16 at Foley Field. First pitch will be at 1 p.m. with free admission. The annual Red versus Black Fall World Series will be Oct. 21-23. The Florida exhibition in Jacksonville on Oct. 28 will conclude fall workouts.
Georgia will be the home team against Florida this year. Tickets for the Georgia-Florida baseball contest are $15 and are now on sale online via Ticketmaster at the following link: https://link.edgepilot.com/s/ea7bd389/BUWxn6VwB0inGzxW5qbGXQ?u=https://gado.gs/9ia
Georgia's SEC Home Series
South Carolina March 17-19
Kentucky Apr. 7-9
Arkansas Apr. 21-23
Tennessee May 5-7
LSU May 18-20
Georgia SEC Road Series
@ Auburn March 24-26
@ Vanderbilt March 31-Apr. 2
@ Florida Apr. 14-16
@ Ole Miss Apr. 28-30
@ Missouri May 12-14
---
Dawgs in the NFL – Week 4
GIANTS 20, BEARS 12
Tae Crowder, ILB: Led New York with 11 tackles, including a sack, forced a fumble, and recorded a quarterback hurry.
Azeez Ojulari, OLB: Made two tackles, including a sack, and forced a fumble for the Giants.
Andrew Thomas, OL: Logged all 65 plays at right tackle as New York accumulated 333 total yards and saw action on five special teams plays.
Roquan Smith, ILB: Led Chicago with 10 tackles. Leads the NFL with 46 stops.
EAGLES 29, JAGUARS 21
Jordan Davis, DL: Had four tackles, including one for loss, for the Eagles.
Nakobe Dean, ILB: Appeared on 17 special teams plays and made one tackle for Philadelphia.
Tyson Campbell, DB: Recorded five tackles and defended a pass for the Jaguars.
Travon Walker, OLB: Posted five tackles, including one for loss, for Jacksonville.
FALCONS 23, BROWNS 20
Lorenzo Carter, OLB: Rolled up seven tackles, defended a pass, and posted a quarterback hurry for the Falcons.
Nick Chubb, RB: Ran for 118 yards and a touchdown on 19 carries and caught two passes for nine yards for Cleveland. Stands second in the NFL with 459 yards and five touchdowns.
Richard LeCounte, DB: Appeared on 11 plays with no stats in his season debut with the Browns.
CHARGERS 34, TEXANS 24
Tre' McKitty, TE: Caught a 4-yard pass for the Chargers.
Sony Michel, RB: Caught three passes for 16 yards and rushed six times for 11 yards for Los Angeles.
Jamaree Salyer, OL: Earned his first career start at left tackle, logging 70 snaps (plus six more on special teams) and helping the Chargers roll up 419 total yards.
BILLS 23, RAVENS 20
James Cook, RB: Saw action on two offensive plays with a target but no stats for the Bills.
Isaiah McKenzie, WR: Caught four passes for 21 yards and a touchdown and returned two kickoffs for 46 yards for Buffalo.
Ben Cleveland, OL: Logged four special teams plays for the Ravens.
Justin Houston, OLB: Was on the Ravens' inactive list (groin injury).
Nick Moore, LS: Snapped on three punts, two field goals, and two extra points for the Ravens.
PACKERS 27, PATRIOTS 24 (OT)
Eric Stokes, DB: Had five tackles for the Packers.
Quay Walker, ILB: Posted seven tackles, including one for loss, and a special teams stop for Green Bay.
Devonte Wyatt, DL: Registered one tackle for the Packers.
David Andrews, OL: Played all 58 snaps at center and helped the Patriots roll up 271 total yards.
Isaiah Wynn, OL: Logged 48 plays at right tackle (plus four more on special teams) as New England accumulated 271 total yards.
TITANS 24, COLTS 17
Ben Jones, OL: Played all 54 snaps at center and helped the Titans post 243 total yards.
JETS 24, STEELERS 20
Lawrence Cager, TE: Was on the Jets' inactive list (coach's decision).
George Pickens, WR: Hauled in six passes for 102 yards, setting career highs in each category for Pittsburgh.
CARDINALS 26, PANTHERS 16
A.J. Green, WR: Was on the Cardinals' inactive list (knee injury).
Jonathan Ledbetter, DL: Appeared on seven defensive and two special teams plays with no stats for the Cardinals.
RAIDERS 32, BRONCOS 23
Zamir White, RB: Had two carries for 24 yards for the Raiders.
CHIEFS 41, BUCCANEERS 31
Mecole Hardman, WR: Caught a 4-yard pass for Kansas City.
Malik Herring, DL: Appeared on seven defensive plays with no stats for the Chiefs.
Jake Camarda, P: Punted three times for a 41.7-yard average, kicked off six times, held on four extra points and one field goal, and made a special teams tackle for Tampa Bay.
49ERS 24, RAMS 9
Charlie Woerner, TE: Appeared on 22 special teams plays with two tackles and 19 offensive plays with one target for San Francisco.
Leonard Floyd, OLB: Posted five tackles, including one for loss, for Los Angeles.
Derion Kendrick, DB: Had three tackles and defended a pass for the Rams.
Matthew Stafford, QB: Went 32-of-48 for 254 yards for Los Angeles.
BENGALS 27, DOLPHINS 15
Trey Hill, OL: Was active but did not see any action for Cincinnati.
John Jenkins, DL: Recorded two tackles for Miami.
Channing Tindall, OLB: Appeared on 13 special teams plays with no stats for the Dolphins.
VIKINGS 28, SAINTS 25
Lewis Cine, DB: Fractured his left leg on a special teams play for the Vikings in London and will miss the rest of his rookie season following surgery.
SEAHAWKS 48, LIONS 45
D'Andre Swift, RB: Was on the Lions' inactive list (shoulder injury).
Practice Squads
Cardinals: Javon Wims, WR
Chargers: Mark Webb, DB
Falcons: Justin Shaffer, OL
Texans: Chris Conley, WR
Reserve Lists (IR, PUP, NFI, COVID)
Bengals: Elijah Holyfield, RB
Commanders: Eli Wolf, TE
Falcons: John FitzPatrick, TE
Raiders: Jordan Jenkins, OLB
Titans: Monty Rice, ILB
---
Jump To Comments