Jump To Top of Page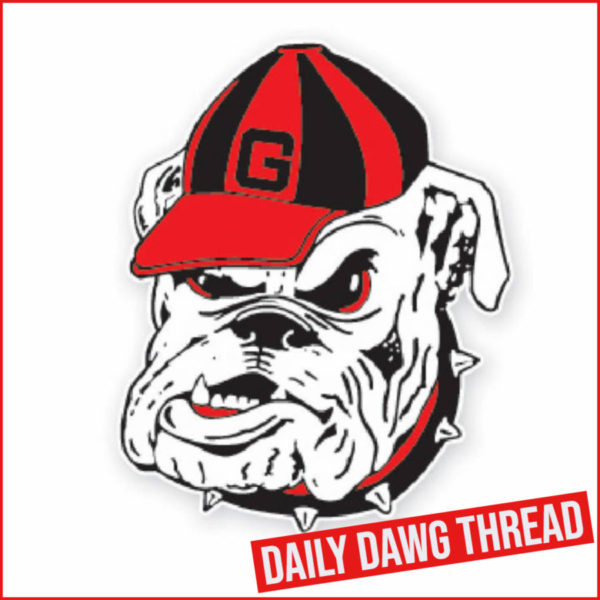 Video/Transcript: Sedrick Van Pran and Dillon Bell Interviews
#63 Sedrick Van Pran | OL | Jr.
On being physical against Kentucky…
"That is something we try to hang our head on every year if I'm being honest, saying what Coach Smart preaches. I think the biggest thing is that we try our hardest to be a physical team and go out there and depend on the run, stopping the run as well. That's what we want to be able to do. This will be a physical game. Their goal as well is to run the ball and stop the run. At the end of the day, it will be about who can execute the best and go from there."
On the energy going into Saturday night's game…
"The guys are definitely excited. I think they are really looking forward to the opportunity. The biggest thing is not becoming too excited or becoming too overstimulated. It's understanding the game has to be played day in and day out. You can't play the game on Monday or Tuesday and be burnt out by Friday. You have to take it in stride. You have to prepare the right way, give yourself a break in between that, and then get back to work. That's the biggest thing is being able to handle those emotions and understanding that there is a level of excitement. There is a level of relaxation that comes with it in between that builds up throughout the week and goes on until you finally get to that climax of preparation."
On his preparation to face Kentucky's defense…
"For me specifically, I prefer to be covered up just by the simple fact that it's usually a beating. You don't have to read too much or process what your guards doing, what that guard or that three tick's doing. You don't also have to process what that linebacker is doing. It's usually very simple in what you're doing for that assignment. Typically, it's either one of two things – either that guy is going to rock you or he's going to play into you. Somebody's going to fill that A-gap in. It's just going to be a matter of who's going to do their job the best. Speaking for me as a center, I kind of prefer to do that, especially with what a great guy they have, just a really good, really strong, really stealth guy. I think it's a great challenge for myself this week. You kind of look forward to things like that as a competitor. I just want to go out there and compete to the highest level and hope that I can shine some glory on God." 
#86 Dillon Bell | WR | So.
On his progression in balancing playing two positions…
"I feel like as I practice the role more, my confidence gets higher and higher each time especially with coaches helping me every day at practice and making sure I know the plays. As I continue to practice the plays, it increases my confidence."
On Ladd McConkey's return…
"It's always great to have Ladd back out there. He's one of the veteran guys on the team. It's great to have his leadership back. We were all smiling when he was making clutch plays on third downs."
On if he's considered playing a hybrid role at the next level…
"Most definitely. That's something I would love to pursue. That Deebo Samuel role, Ty Montgomery, Cordarrelle Patterson, guys like that."
---
Dawgs in Pro Baseball Update
Former Bulldog Kyle Farmer helped the Minnesota Twins snap a record postseason winless streak Tuesday with a 3-1 decision over Toronto in game one of the American League Wild Card Series.
A utility infielder for the American League Central champions, Farmer pinch-hit in the seventh and played the final two innings at third base. Minnesota had made six postseason appearances without a victory (18 games) since beating New York in game one of the 2004 AL Division Series. Farmer, now in his seventh season in the Majors, is the only one of the four Bulldog Major Leaguers whose team advanced to the playoffs this season. Game two of the Wild Card series with the Blue Jays is Wednesday at 4:38 p.m. (ESPN)
Along with Farmer, pitchers Emerson Hancock (Seattle Mariners), Alex Wood (San Francisco Giants) and first baseman Jared Walsh (Los Angeles Angels) played in the Major Leagues this year. Below is a summary of how all the former Bulldog professionals fared this season.
MLB
In the regular season, Farmer batted .253 with 11 home runs and 46 RBI, appearing in 120 games. He played every position in the infield along with left field and as a designated hitter. He has made 32 starts at third base, 20 at second base and 27 at shortstop for the Twins. Also, he served as one of the "co-managers" for the Twins in their final game of the regular season in case he pursues that after his playing career.
For more on that, check this out: https://www.mlb.com/video/polanco-farmer-on-managing
Hancock made his MLB debut on Aug. 9 after getting promoted from Double-A where he went 11-5 with a 4.32 ERA in 20 starts. He got a no decision against the San Diego Padres. He allowed one run on two hits over five innings with three walks and three strikeouts. Hancock made two more starts before a shoulder strain landed him on the 60-day disabled list to end his season. He finished 0-0 with a 4.50 ERA in 12 innings with three walks and six strikeouts. He is on track to be ready by Spring Training.
Hancock Debut: https://www.mlb.com/mariners/news/emerson-hancock-yields-1-run-in-mlb-debut
Wood started and pitched in relief for the Giants. He went 5-5 with a 4.33 ERA in 29 games including 12 starts. He had 74 strikeouts in 97.2 innings. Wood's Final outing in 2023: https://www.mlb.com/giants/video/alex-wood-fans-five-x9392
Walsh split time between the Angels in Los Angeles and their Triple-A club in Salt Lake while getting healthy. He ended the year with the Angels and logged 39 games in the Majors while batting .125 with four doubles, four home runs and 11 RBI. He made 27 starts and saw action at first base, right field and as a designated hitter.
One Of Walsh's Home Runs In 2023: https://www.mlb.com/angels/video/pablo-lopez-in-play-run-s-to-jared-walsh
Triple-A
Third baseman Aaron Schunk batted .290 with 14 home runs and 77 RBI for Albuquerque Isotopes. Schunk went to Spring Training with the Rockies earlier this year.
Infielder LJ Talley had reached Triple-A with the Toronto organization. In 60 games with Buffalo this season, he batted .219 with four home runs and 27 RBI. However, the one-time seventh-round pick was released in late July after five years of professional baseball. He had spent time in Spring Training with the Blue Jays earlier this year.
Double-A
After beginning the season in Triple-A Omaha, outfielder Tucker Bradley finished in Double-A Northwest Arkansas (NWA). For the year, he batted .277 with 22 doubles, four triples, seven home runs and 45 RBI. In 69 games with Omaha, he hit .267-4-36 plus had 10 stolen bases. In 27 games with NWA, Bradley hit .301-3-19. He went to Spring Training with the Royals earlier this year.
Pitcher Jonathan Cannon (Chicago White Sox) finished the year with the Birmingham Barons where he was 1-4 with a 5.77 ERA in 11 starts. In 48.1 innings, he had 39 strikeouts and 15 walks. He began the year in High A with Winston Salem. After going 5-2 with a 3.59 ERA in 14 starts, he received a promotion. In a combined 121 innings this year, Cannon had 106 strikeouts and 39 walks.
Pitcher Ben Harris (Los Angeles Dodgers) played for the Tulsa Drillers, and he went 2-3 with a 4.88 ERA and two saves in 46 relief appearances covering 51.2 innings. He had 74 strikeouts and 48 walks.
Pitcher Zac Kristofak (Los Angeles Angels) pitched for the Rocket City Trash Pandas. He went 4-3 with a 4.07 ERA in 16 games including six starts. In 42 innings, he had 33 strikeouts and 16 walks. In mid-June, he was placed on the injured list and did not see any action for the rest of the season.
Pitcher Cole Wilcox (Tampa Bay Rays) pitched for the Montgomery Biscuits. He posted a 6-8 mark with a 5.23 ERA in 25 starts. In 106.2 innings, he had 99 strikeouts and 44 walks.
Single/Advanced-A
Infielder Cory Acton (Atlanta Braves) began the year in Rome (Ga.) and moved up to Augusta (Ga.) in early August. For the year, he batted .237 with eight doubles, three home run, 29 RBI and 24 stolen bases in 75 games before being released in mid-September.
Pitcher Garrett Brown (Chicago Cubs) has spent time with the ACL Cubs and in Myrtle Beach while getting healthy. For the year, he went 0-1 with a 3.00 ERA and two saves in seven relief outings spanning nine innings with 11 strikeouts and nine walks.
Pitcher Will Childers (Milwaukee Brewers) saw action with the Carolina Mudcats. He posted a 2-4 mark and 5.95 ERA in 14 games including eight starts. In 59 innings, he tallied 42 strikeouts and 27 walks.
Pitcher Liam Sullivan, a 14th-round pick of the Washington Nationals this past July, made his debut with the Fredericksburg Nationals. He went 1-0 with a 4.96 ERA in seven games including six starts. In 16.1 innings, he had 25 strikeouts and 12 walks.
Pitcher Ryan Webb (Cleveland Guardians) served as a starter for the Lake County Captains. He went 3-4 with a 3.29 ERA in 17 starts. In 82 innings, he tallied 83 strikeouts and 34 walks. Currently, he's playing in the Arizona Fall League for the Peoria Javelinas as their season began Monday and runs through Nov. 11.
Pitcher Jaden Woods, who was a seventh-round pick of the Pittsburgh Pirates this past July, made his debut with the Bradenton Marauders. He went 0-1 with a 3.14 ERA in 10 relief appearances. In 14.1 innings, he had 21 strikeouts and just three walks.
In August, pitcher Tim Elliott was released after five years in the Seattle Mariners organization. He last pitched with the Everett (Wash.) AquaSox. He was 3-1 with a 4.01 ERA in 25 relief appearances this past season. Also, pitcher Jack Gowen (Miami Marlins) was released by the Jupiter Hammerheads. He was 2-1 with a 4.00 ERA and two saves in 14 relief appearances. He was in his second season in the minors. Pitcher Tony Locey (Tampa Bay Rays) was released by the Bowling Green Hot Rods. He had made 16 relief appearances in 2023 and was 3-0 with a 4.74 ERA and one save in 19 innings. He had 17 strikeouts and six walks. In five minor league seasons, he was 10-8 with a 5.13 ERA in 63 games including 30 starts.
Additionally, Shane Marshall (Chicago Cubs) and Dylan Ross (New York Mets) have yet to make their professional debut due to injuries after being drafted in 2022. Former free agent infielder Cole Tate (Minnesota Twins), who went on the 60-day injured list in late June, retired in August.
---
Dawgs in the NFL – Week Four
Former University of Georgia football players Quay Walker and Roquan Smith recorded double-digit tackles in each of their respective games as they both were inside the top six tacklers in the league with 47 and 43 respectively. Matthew Stafford's weekend performance also stood out among former Bulldogs with an impressive 319 yards passing and a game-winning touchdown pass in overtime for the Rams.
Active Rosters
Bills 48, Dolphins 20
James Cook, RB – Started at running back for the Bills, carrying the ball 12 times for 29 yards and a touchdown, along with one catch for 48 yards in the win. The touchdown was Cook's first of the season for Buffalo. Cook currently ranks ninth in the league in scrimmage yards with 411 on the year for an average of 102.8 yards per game.
Leonard Floyd, DE – Started at defensive end for the Bills, posting two tackles and two quarterback hits.
Isaiah Wynn, OT/OG – Started at left guard for Miami as they gained 393 total yards on offense.
Channing Tindall, ILB – Played zero snaps for the Dolphins in the loss.
Lions 34, Packers 20
Quay Walker, ILB – Started at linebacker for the Packers playing every defensive snap while recording 19 total tackles and one tackle for loss. His 19 tackles on Thursday night were a career high, ranking him fourth in the NFL in tackles with 47.
Devonte Wyatt, DT – Played 59 percent of snaps for Green Bay on Thursday night, totaling four total tackles, one sack, and two tackles for loss.
Jaguars 23, Falcons 7
Tyson Campbell, CB – Started at cornerback for Jacksonville, playing all 58 defensive snaps while recording six total tackles and two passes defensed.
Travon Walker, DE – Started at defensive end for the Jaguars, recording two tackles, a sack, and two quarterback hits.
Lorenzo Carter, OLB – Played 17 total snaps for Atlanta, recording no statistics.
John Fitzpatrick, TE – Played one snap for the Falcons, and recorded no statistics.
Ravens 28, Browns 3
Roquan Smith, ILB – Started at linebacker for the Ravens, recording 10 total tackles, one tackle for loss, and two passes defensed. Smith has now posted double digit tackles in three out of four games this season and is just 13 tackles away from 750 in his career.
Ben Cleveland, OG – Served in a reserve offensive line role for Baltimore, playing zero snaps.
Titans 27, Bengals 3
Monty Rice, ILB – Served in a reserve linebacker role for the Titans, playing zero total snaps.
Trey Hill, OC – Inactive for the Bengals due to coach's decision.
Rams 29, Colts 23
Matthew Stafford, QB – Started at quarterback for the Rams, throwing for 319 yards and one touchdown while completing 67.5 percent of his passes.
Derion Kendrick, CB – Started at cornerback for Los Angeles, posting three total tackles and one tackle for loss in the win.
Warren McClendon Jr., OT – Dressed for his first NFL game and served as a reserve offensive lineman, playing zero snaps in the win with the Rams.
Isaiah McKenzie, WR – Played seven total snaps for the Colts, recording one catch for six yards in the loss.
Buccaneers 26, Saints 9
Jake Camarda, P – Punted four times for the Buccaneers, with an average punt distance of 47.5 yards, along with two punts downed inside the 20 yard-line.
Eagles 34, Commanders 31
Jordan Davis, DT – Played 37 percent of defensive snaps for the Eagles, recording two total tackles.
Jalen Carter, DT – Played 46 percent of defensive snaps for Philadelphia, recording three total tackles.
D'Andre Swift, RB – Started at running back for the Eagles while carrying the ball 14 times for 56 yards and a touchdown to go along with four catches for 23 yards in the win. Swift is currently second in NFL in rushing yards with 364, trailing only Christian McCaffrey. Along with being second in the league in rushing yards, Swift ranks 10th in the NFL in scrimmage yards with 401 for an average of 100.2 yards per game.
Nolan Smith, OLB – Played 9 total snaps for Philadelphia on Sunday, recording no statistics in the win.
Kelee Ringo, CB – Dressed but did not play in the win for the Eagles.
Vikings 21, Panthers 13
Lewis Cine, S – Was inactive for the Vikings on Sunday due to a hamstring injury.
Justin Houston, OLB – Played 38 percent of defensive snaps for the Panthers, recording one tackle.
Texans 30, Steelers 6
George Pickens, WR – Started at wide receiver for Pittsburg, reeling in three passes for 25 yards in the loss.
Darnell Washington, TE – Played 42 percent of the Steelers offensive snaps, catching one pass for 10 yards in the loss.
Broderick Jones, OT – Served in a reserve offensive line role for Pittsburg, playing 51 total snaps after starting tackle Dan Moore Jr. went down with an injury.
Chargers 24, Raiders 17
Jamaree Slayer, OT/OG – Started at right guard for Los Angeles, playing 100 percent of offensive snaps as the Chargers gained 305 total yards.
Tre' McKitty, TE – Played a season high 26 offensive snaps with the Chargers on Sunday but recorded no statistics.
John Jenkins, DT – Started at defensive tackle for the Raiders, posting six tackles and one pass defense.
Zamir White, RB – Served as the backup running back for Las Vegas, rushing the ball three times for 15 yards in the loss.
Christopher Smith II, S – Dressed for the Raiders for the first time this season, playing 18 snaps on special teams while recording no statistics in the loss.
Cowboys 38, Patriots 3
David Andrews, OC – Started at center for the Patriots as they gained 253 yards in the loss.
49ers 35, Cardinals 16
Jonathan Ledbetter, DT – Was inactive for the Cardinals on Sunday due to a finger injury.
Charlie Woerner, TE – Played seven total snaps for the 49ers, recording no statistics in the win.
Chiefs 23, Jets 20
Malik Herring, DE – Played 12 snaps for the Chiefs defense, recording no statistics.
Mecole Hardman Jr., WR – Played six snaps for the Jets but recorded no statistics in the loss.
Seahawks 24, Giants 3
Andrew Thomas, OT – Was inactive for New York in Monday Night's loss due to a hamstring injury.
Azeez Ojulari, OLB – Played 73 percent of snaps for the Giants, recording one total tackle.
Lawrence Cager, TE – Played five total snaps for New York on Monday, recording no statistics.
Practice Squads
Falcons: Justin Shaffer, OL
Buccaneers: Richard Lecounte III, S
Commanders: Jake Fromm, QB
49ers: Chris Conley, WR
Reserve Lists (IR, PUP, NFI)
Eagles: Nakobe Dean, ILB
Seahawks: Kenny McIntosh, RB
49ers: Robert Beal Jr., DE
Packers: Eric Stokes, CB
Ravens: Nick Moore, LS
Rams: Stetson Bennett, QB
Titans: Kearis Jackson, WR/PR
Browns: Nick Chubb, RB
---
Jump To Today's Discussion Thread