Jump To Top of Page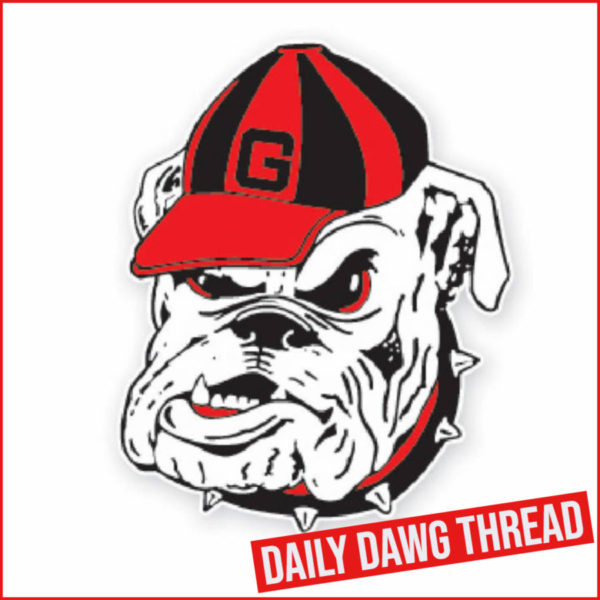 Video/Transcript: Kirby Smart's Tuesday Post-Practice Presser
On how practice has been this week…
"It's been good. We practiced good yesterday, and I thought we had a good practice today. Some highs and lows and some ups and downs. Like I always say, it's like a broken record, if it's cool outside we tend to practice better and if it's hot outside, we tend to struggle. It was cool today and we had good spirits and thought we had good prep."
On the team's weekend gameday schedule with a noon kickoff…
"Exactly like we do everything. It'll be 8 o'clock pregame meal eastern time, 7 o'clock their time. Steak and eggs, get ready to go play. We've done it before and we got do it again. We'll do some biorhythm prep the day before and try to get them up early on consecutive days and get them used to it. They're young and they can handle it."
On Daylen Everette's confidence this season…
"Well, I think if you don't have confidence, you will never be a corner in this league. You better have some confidence, whether you play well or not, you better have it because they're going to keep coming at you, they're going to challenge you. There's great catchers and throwers. Throwers and catches in this league are elite so you're going to have some plays that you won't win, but you've got to believe that you're going to win them all. I think he has a very quiet confidence about him. He's a very intelligent young man and he works really hard. You know, he's in a tough competition too because Julian Humphrey has played well and done a good job. I mean every day out of practice. I thought Julian had a really good practice today, so we'll continue to get those guys better and let them compete."
On how the secondary has played through six games this season…
"I think some more depth. Disguise better, tackle better, punch out more balls."
On Roderick Robinson's condition…
"He is getting closer. Dry land running, weight bearing, running, but doubtful for this game. He is closer. He's out there running around, but he's not practicing with us."
On Mark Stoops' comments about Georgia…
"No reaction. Much to do about nothing really. I think Mark is trying to garner interest in money from his fan base for his collective and we're all trying to do the same in terms of trying to get money for our collective. Mark and I talked about NIL pregame, and we talked about it in our meeting. I'm not biting on that."
On if running backs getting healthier will affect Dillon Bell's game…
"It's just a matter of where we are at back. We do have Kendall [Milton] back and he seems much more healthy. Daijun [Edwards] is back, but Dillon gives us a lot of versatility to do other things. He's gotten better at his protections, picking things up, IDing things, understanding jet protections, understanding slide protections. He's getting better at those things. We want to continue to grow his arsenal of plays and continue to use him as a wideout so that's probably not going to stop regardless of who is there."
On where he wants to see Carson Beck improve at quarterback…
"Mobility, getting in and out the pocket, decisions when to tuck it down and run versus stand in and throw. Some designed runs probably wouldn't hurt him and running red area things that he can do. He's a good athlete. The one or two plays a game that he puts us at risk, removing that is the most critical thing in his decision making."
On the disconcerting signals penalty…
"They probably got it right, but there's been ones that we got right too and they weren't called, so it's a matter of doing it the way you're supposed to be doing it. And, that's what our kids are coached to do, to do it the way you're supposed to do it and sometimes the kids overdo it and that draws a penalty. But, I don't know, I saw a few LSU Missouri plays that weren't clapping, so I don't know if that's exactly right in terms of clapping. Clapping is the most often way it happens, but they don't get that either because Auburn clapped five or six times and they didn't get it. So, it's one of the hardest things to officiate in all of sports is that. And that sometimes is subjective, so it's complicated.
On what he has seen in Rara Thomas' development…
"He's gotten better every week. He probably struggled a lot in the spring. He grew up a lot during camp. He went through some hamstring issues. He learned how to work his way through our practices and how many reps and be physical and the way we go about things. He's learning how to play special teams. I mean, it's like all this world of stuff coming at him, and that's what he said he wanted when he came here. He wanted to learn to be a complete wideout and play special teams and learn in a pro-style system, so he's doing that step by step. To the kid's credit, he's getting better every week."
On depth throughout the team…
"We have more depth at some positions than others. We're thin at some positions. We're thin at some positions because of injuries and we're thin at some positions because of not recruiting enough guys or enough guys that are playing winning football, so that varies for different reasons. I wish we had more depth at every position but some are better than others."
On the lack of fumbles the defense has forced thus far…
"I don't know. I don't know if we have less snaps. I would love for that to be my excuse, that we get off the field on third down so we don't get as many opportunities but we still have a lot of snaps that we get an opportunity. We forced one, we didn't get it. David Daniel [-Sisavanh] punched it out and we didn't recover it. We give rewards in points, the kids compete each week for points, and we give points for strip attempts so since we've started going up on those point awards, they all compete to have the highest points. The strip attempts have gone up but the fumbles haven't, so we continue to chop wood. Usually those things come in bunches and if you keep doing it and doing it right, it's kinda like our offense you know. You keep working, you keep improving, you keep doing it and they come when you need them."
On the parental approach if a child wants to participate in football…
"It depends on the age. If we're talking about a six-year-old, I don't know that we're going to get there at that age. If we're talking about a 14-year-old, he better be well into it and like contact and like the toughness it requires to play the sport, so I think there's stages in development and there's a lot of places in the state of Georgia that have unbelievable youth football programs. That's usually a good sign for us because they develop talent and kids choose to stay in football when they have good coaches. Kids choose to leave football when they have bad coaches, so I think the biggest thing is who are the coaches developing your child."
On the importance of younger players getting reps later in games…
"They get confidence. I think they get a reward for what they work on in practice. I think so many young players, in my experience of being the places I've been, especially at the higher end, there's a misconception that, 'I'm gonna walk in and take over the world because everybody's told me how good I am." We've signed, at Alabama and here and everywhere I've been, FSU, LSU, there's been unbelievable players that we've signed, and very few, very few have instant success, so they have to go through that process of failure. Failure is good for these kids because it's going to be hard in life and it's going to be hard what they do. I'm proud of a lot of the freshmen getting some opportunities in these games we've had leads in, but they got a long way to go to be ready to contribute like a starter. It starts in the meeting room, not taking notes or taking notes, at walk through they don't walk through like the other guys. I showed ten minutes of tape today that was look at this guy walkthrough and look at this guy walkthrough. They're doing the exact same play but one's a senior and one's a freshman. Look at this guy's intentional way he walks through and he shows his eyes and puts his hands on people, and then you got a guy that's a freshman that's just casual and just like it doesn't matter because he doesn't think he's going to play. Well, the difference in that is just stunning. So, I think learning how to be a good player is part of the process."
On Marvin Jones' rep count against Kentucky…
"He's doing great. Marvin was dealing with an ankle injury. He sprained his ankle on Tuesday – maybe it was Wednesday. On Tuesday or Wednesday he sprained his ankle. Him and Brock [Bowers] collided and stepped on and rolled his ankle. He couldn't practice. He couldn't practice Wednesday, Thursday, Friday. He felt like he could go Saturday. We took him out for warm-ups, and he thought he could go. He was able to go a little bit. He played some, and he really pushed through the pain really well. Just didn't get a lot of reps in terms of it and probably wasn't quite 100-percent. He played more in the previous games, but he's had a run of tough luck with two games almost missed with different things. He's done a great job in practice, and he's got a really bright future. He's a very talented player. He's very smart. He's one of the guys that we say, 'He knows the defense inside and out.' He can go out there and execute at a high level."
On how Vanderbilt's stadium renovations may affect Georgia's gameday routine…
"We got some different things that they have handled with our ops people in terms of where we arrive, where we go, where we change, where we go to at halftime. All that stuff has changed. We went and site-visited over the summer. Other teams have done it already, and they've told us about it. We're well aware of it, and we've told the players."
On if Jalon Walker will take more reps on first and second down…
"No, that's not his position. That's not quite how the game works. You got 235, 240 pounds. He can be an outside backer and play outside backer, but we're developing him as an inside backer because we have outside backers. There are certain plays where the tackle is 6'6, 340 pounds, and you don't ask a guy that is 240 pounds to play on that game. If they are going to pass it every play, that's a great idea. But they don't do that in our league."
---
Video/Transcript: Daylen Everette and Zion Logue Interviews – October 10, 2023
On growing in confidence as a corner and who has supported him…
"I feel like it's grown a lot and really because of the people I have around me that help me build my confidence. If something goes wrong, they're there to help me up – all the older guys. Definitely, Kamari [Lassiter], Tykee [Smith], Javon Bullard, like they all try to point me to the right direction. I really appreciate them for that because I try to take stuff that they take out of their game, I try to put into mine. That's what helps me build my confidence."
On the punchout play he made against Auburn…
"I was definitely excited, but I appreciated the d-line forcing the ball out quickly. The quarterback, he couldn't really get a perfect throw in, so that helped me out a lot. So, they put me in a better position to make a play. I really appreciate them for that."
On the mindset required to put a bad play behind you…
"Honestly, it's just next play mentality. You can't focus on a play that's happened, good or bad, you just got to worry about the next play because that will probably throw you off."
On how Vanderbilt has evolved during his Georgia career…
"They've gotten a lot better, this team just from last year to this year. I know a few guys that play there and they're very happy with where this team is right now. They're competing their tails off and we know that we're going to get their best shot.."
On Daylen Everette's growth this year…
"Last year I personally pushed Daylen a little bit because I saw the greatness he had when he came in. He's fast and pretty long for a corner and technique savvy. He's a guy who wants to compete every rep. I just taught ever since I saw him in the first couple of days of fall camp last year to just keep going, keep working, because his time was going to come. It's here now and he's gone out and showed it."
On how Georgia has defended the run in the past few games…
"Going into the week of Kentucky we knew what we were getting into because the week prior Auburn ran for over 200 yards which nobody is supposed to do against the University of Georgia. We knew going into Kentucky we had to hone in on owning our gaps on the line of scrimmage, which we did very well against Kentucky. Going into Vanderbilt, we still want to carry that over, not just for Vanderbilt, but for the rest of the season."
---
Dawgs in the NFL – Week Five
Over 30 former University of Georgia football players were in action across the NFL this past weekend. Steelers' George Pickens led the Bulldogs with his impressive performance against the Ravens, posting 130 yards and a game-winning touchdown. Pickens' current Steelers teammate Broderick Jones also helped lead Pittsburgh to a win, making his first career start at left tackle.
Active Players
Jaguars 25, Bills 20
Tyson Campbell, CB – Started at cornerback for the Jaguars, playing all 60 snaps while recording five total tackles and one tackle for loss.
Travon Walker, DE – Started at defensive end for Jacksonville, posting one tackle and one quarterback hit.
James Cook, RB – Started at running back for the Bills, rushing five times for negative four yards along with three catches for 25 yards.
Leonard Floyd, OLB – Played 52 percent of defensive snaps for Buffalo, recording two tackles, two sacks, and two quarterback hits.
Falcons 21, Texans 19
John Fitzpatrick, TE – Played one offensive snap for the Falcons, recording no statistics.
Lorenzo Carter, OLB – Played 22 defensive snaps for Atlanta, posting two total tackles, one tackle for loss, and a quarterback hit.
Lions 42, Panthers 24
Justin Houston, OLB – Appeared in 12 defensive snaps for Carolina, recording no statistics.
Colts 23, Titans 16
Monty Rice, ILB – Served in a reserve linebacker role for the Titans on Sunday, playing zero snaps.
Isaiah McKenzie, WR – Played seven total snaps for the Colts, recording no statistics.
Dolphins 31, Giants 16
Isaiah Wynn, OT/OG – Started at left guard for the Dolphins as they gained 524 total yards.
Channing Tindall, ILB – Played exclusively special teams for Miami, recording no statistics.
Andrew Thomas, OT – Inactive for the Giants on Sunday due to a hamstring injury.
Lawrence Cager, TE – Played 15 snaps on special teams for New York, recording no statistics.
Azeez Ojulari, OLB – Played 43 percent of snaps on defense for the Giants, recording no statistics.
Saints 34, Patriots 0
David Andrews, OC – Started at center for New England.
Steelers 17, Ravens 10
George Pickens, WR – Started at wide receiver for the Steelers, playing 58 total snaps while catching six passes for 130 yards and a touchdown. After Sunday's performance, Pickens now has at least 75 receiving yards in three of his last four games. This was also his third game in a row against a divisional opponent with 70 or more receiving yards and a touchdown catch. Pickens has now found the end zone in four of the last five games the team has played at Acrisure Stadium.
Broderick Jones, OT – Made his first career start at left tackle for Pittsburgh as they gained 289 total yards on offense.
Darnell Washington, TE – Played 46 offensive snaps for the Steelers, catching zero passes on two targets.
Ben Cleveland, OG – Served in a reserve offensive line role for the Ravens, playing zero total snaps.
Roquan Smith, ILB – Started at linebacker for Baltimore while playing 100 percent of offensive snaps, recording 11 total tackles and one pass defended. With his pass breakup on Sunday, that makes it three games in a row that Smith has recorded at least one pass defended. Smith is currently ranked third in the league in total tackles with 54, his best output through five games in his career.
Bengals 34, Cardinals 20
Trey Hill, OC – Inactive for the Bengals due to a coach's decision.
Jonathan Ledbetter, DT – Inactive for the Cardinals due to a finger injury.
Eagles 23, Rams 14
Jalen Carter, DT – Served as a backup for the Eagles, appearing 70 percent of the team's defensive snaps and recording four total tackles, including two sacks for 12 yards and two quarterback hurries.
Jordan Davis, NT – Started at defensive tackle in Philadelphia's win, recording one defensive tackle.
Kelee Ringo, CB – Participated in 14 special teams plays for the Eagles, recording no statistics.
Nolan Smith, OLB – Recorded one tackle for Philadelphia in 20 total snaps between defense and special teams.
D'Andre Swift, RB – Posted 108 all-purpose yards, 70 on the ground with 17 attempts and 38 yards on six catches for the Eagles. Swift upped his rushing total to 434 yards this season, the fourth-most in the league.
Matthew Stafford, QB – Threw for 222 yards on 21 completions, including two touchdowns, on 37 passing attempts for Los Angeles. With his performance in the week five loss, Stafford now has the fourth-most passing yards in the NFL with 1,451.
Derion Kendrick, CB – Started at corner for the Rams, recording eight tackles, the third-most of all players in their game against Philadelphia, including one for loss.
Warren McClendon Jr., OT – Appeared as a reserve offensive tackle, appearing in eight snaps between defense and special teams for Los Angeles.
Jets 31, Broncos 21
Mecole Hardman Jr., WR – Was inactive for the Jets on Sunday due to a coach's decision.
Chiefs 27, Vikings 20
Malik Herring, DE – Played 35 percent of snaps for the Chiefs recording no statistics.
Lewis Cine, S – Inactive for the Vikings on Sunday due to a hamstring injury.
49ers 42, Cowboys 10
Charlie Woerner, TE – Appeared as a backup tight end for the 49ers in 22 defensive snaps and 89 percent of special teams plays, recording no statistics.
Raiders 17, Packers 13
John Jenkins, DT – Played 45 percent of snaps for the Raiders defense, posting three total tackles.
Zamir White, RB – Played in a reserve running back role for Las Vegas, playing zero snaps.
Chris Smith II, S – Inactive for the Raiders on Monday night due to a coach's decision.
Devonte Wyatt, DT – Played 52 percent of snaps for the Packers on defense posting one tackle.
Quay Walker, ILB – Played 17 snaps for Green Bay's defense, recording four tackles and a tackle for loss before exiting with a knee injury.
Practice Squads
Falcons: Justin Shaffer, OL
Buccaneers: Richard Lecounte III, S
Commanders: Jake Fromm, QB
49ers: Chris Conley, WR
Chargers: Mark Webb, DB
Reserve Lists (IR, PUP, NFI)
Eagles: Nakobe Dean, ILB
Seahawks: Kenny McIntosh, RB
49ers: Robert Beal Jr., DE
Packers: Eric Stokes, CB
Ravens: Nick Moore, LS
Rams: Stetson Bennett, QB
Titans: Kearis Jackson, WR/PR
Browns: Nick Chubb, RB
---
Jump To Today's Discussion Thread