Jump To Top of Page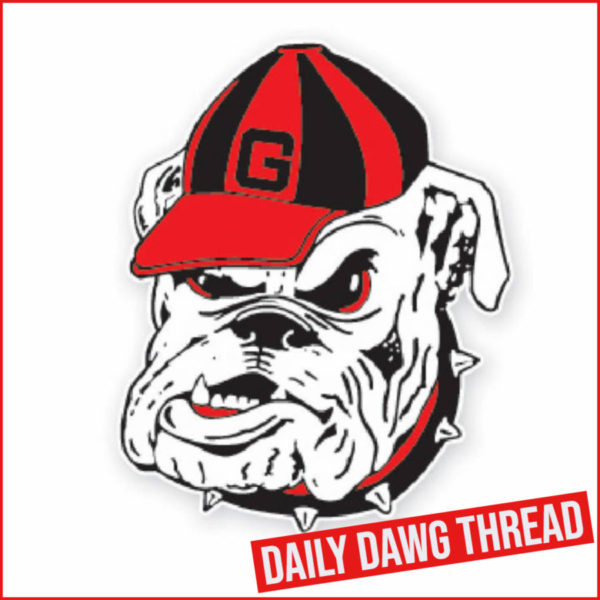 Video/Transcript: Kirby Smart's Bye-Week Presser
Opening Statement…
"We started on our off-week prep, bye week prep today. The guys had good energy. We didn't have a great practice, but we had good energy and that was important. We're really working hard on conditioning and connection. Trying to get some guys healthy and well, but also get some good work in. Our offensive and defensive coaches have targeted some areas, each one a different area. Some I can share, some I can't that we want to work on to get better at and then special teams as well. So, we kind of take a picture of where we are, what we can do better, and how we can practice it better to maybe get better results. That's what we started on today. We do work on future opponents. We worked on some for a team that's further out today, then a little less further out tomorrow, and then we'll start on Florida prep probably Wednesday or Thursday, tomorrow or Thursday. So now I'll open it up."
On Lawson Luckie's track to recovery…
You don't fast track an injury, or really any injury. You do what the medical staff tells you and what the body tells you. Lawson has done a fabulous job rehabbing from his. Lawson is a really tough kid. Both parents were college athletes. He's not afraid of work and he's done a great job. I still don't think Lawson is 100 percent if that's what you're asking, but he's definitely been cleared to play. You know, technically since Auburn, he's been cleared to play but just hadn't quite been ready to play."
On his thoughts of the playing surface at Vanderbilt…
"I don't get much into that. I hadn't read that anywhere or seen that anywhere. I mean, we had guys slip, sure. We have guys slip every time we play on turf. There was a game, I can't remember who Kentucky was playing. I counted like 15 times people slipped in one of the Kentucky games before we played them, and I thought 'well that was Kentucky at home.' I think just traditionally a lot of our college teams don't practice or play much on turf. When they do, they traditionally have slipped more. We did a big surface study last year that we're looking into to get our indoor better up to date because ours is I think on year nine or 10, maybe eight or nine. We're looking at this monofilament that more of the NFL teams are going to. That's actually what Vandy has I think, so it's very standard."
On Brock Bowers' injury, weighing his NFL draft stock…
I don't think it's much about any of that as it is the more I have learned, I have slowly become a bigger expert on this tightrope surgery not because of Brock, but because we've had multiple other guys. So have other teams you know. I've talked to Hugh Freeze, Shane [Beamer], and several guys in our conference have dealt with this injury. It's much more common. It's all over the NFL. It's happening at a higher rate I guess you would say. A lot of studies have been done on it and philosophically to get healthy, you need to get back moving that ankle as soon as you can. Meaning get on it, get weight bearing, move around and we've had guys going through this process. Brock will take on that same rehab process and his surgeon and Ron [Courson] will work together on that and it won't be done any differently. The key is that we are trying to get him back healthy. There is no timeline for when he comes back to play. The timeline is when he's healthy. I don't think you could put a timeline on it because historically there's been guys that came back really fast and there's been guys that come back really slow. Each one has been different."
On updates for Xavier Truss and Amarius Mims…
"I don't know. Truss did not practice today, but Truss was weight bearing in the second half of the game. He was on the sideline over there and his deltoid was a little bit hurt and it's not tight rope or anything like that. We think he should be fine and should be good to go. I don't know if he'll be good to go by Thursday, but he should be good to go by Monday. Mims is working his way back. He's weight-bearing, he's running, he's moving around. I thought he looked much better yesterday when we did some stretching strides stuff. He's been out there at practice, but he hasn't taken any reps. It's going to be a timetable on him the same as everybody else because of those injuries. When they're cleared and they're comfortable and they can play at a winning rate, they'll get a chance to go back out there."
On who he expects to step up and fill the hole in the offense following Bowers' injury…
"I've coached football for 25 years, and every year you have different challenges. This year is no different than any other year. The challenges are only different, so one of our big DNA traits is resiliency. This team has been extremely resilient. I have one hundred percent confidence that they'll be resilient, and if they think that one guy's going to replace Brock Bowers, they're wrong, and if anybody thinks they've got to be Superman, they don't need to be on our team because they'll be disappointed. Superman is not real. He's dead. He's not alive. He's not real, so you can't try to be that guy. There's no player that we're asking to step up and do more than you can. As a collective effort, every player's going to do more. That includes defense getting turnovers, special teams getting better field position, other guys getting opportunities to touch the ball, and make the most of it."
On Kendall Milton's ability to practice today…
"He did some stuff. He was able to go out there and practice. I feel good about Kendall. It was not a high rep day for him, no, but he was out there, and I'm pretty sure he went. I mean, I think he did."
On how Bowers is doing mentally and emotionally after surgery…
"Brock Bowers is great. Brock Bowers is rock solid. He wanted to get the thing done as soon as he found out it had to be done, and we were able to expedite that process. He's great. He's looking everybody in the eye today and wishing he could be out there, so he's in great spirits. He's got great family. He's got great heart. I mean, he's a warrior, so he'll handle it the right way."
On how Monroe Freeling responded after getting thrown into action…
"You get thrown in there, and it's great because about three weeks ago I called him in and told him – I said, 'Monroe, you realize you're one play away, and every rep you take in practice you should be imagining that it's a road game, you're in there, in the stadium, and ready to go,' and sure enough, it happened. I thought he did a good job. There's a lot of things he could work on, but there's butterflies in that. Fortunately, he had gotten to play in some games but not in that situation, so I was thrilled that he got to go out there and get some confidence and go play. He's a really good athlete and he's a worker, so he'll work really hard to get better."
On how tough it is to see Bowers as a person go through his injury…
"I mean, it's hard on me for Amarius Mims. It's hard on me for Lawson Luckie. It's hard on me for Branson Robinson. I don't mean that in any negative way towards Brock, but there's a lot of guys on our team who have been dinged up and hurt. Ty Ingram-Dawkins hadn't been able to go the entire year – he went one game, I guess, and then we had to shut him down. Brock's aware that other guys have to deal with this too, and we had, one time, I think seven or eight starters that had been out. I have empathy for all of them, not one more than the other. I don't look at Brock's as more significant because he's a greater player asset. They all have value. We got walk-on kids who are having to have surgery, so it's tough any time a player loses practice time and play time."
On what he has seen from Oscar Delp as he prepares for a bigger role…
"He's not in a bigger role. He's in the same role he was in which is to help our team. I don't believe that for one second that he's in a bigger role. The plays that you design, guys, I think y'all think of them as Brock plays. There are a lot of positions that can be in those spots. Delp can be in those spots, Dom [Lovett] can be in those spots, Dylan Bell can be in those spots, Marcus Rosemy[-Jacksaint] can be in those spots – our offense is not built around one person doing one thing. It's built around plug-in, and you can do it in 10 personnel. You can do it in 11 personnel. You can do it in 13 personnel. I think every offense that is a good offense is that way because if you limit yourself to just one player, we've had scenarios and catastrophe plans that are like, 'What if this happens in a game? What is our answer?' We went immediately to that answer and said, 'These are the things we have to do.' So I'm not going that route on the Oscar Delp thing because Oscar Delp's got to do what he's always done, which is play as hard as he can and play winning football."
On how Ladd McConkey is doing on his return from injury and his initial thoughts on Florida…
"I can't give you comments on Florida. I have been able to watch a couple games. I've watched other teams, and I'll watch more as the week goes. As far as Ladd, he did well today. He practiced today and probably did more today than what he's done on the Tuesdays in the past, but he also had Monday and Sunday off. I feel good about where he's at, but also he's day-to-day."
On areas where he wants to see the team improve…
"Well, the obvious areas we can improve in, defensive, the red area's a key area and forcing more turnovers is a huge area. Offensively, the ability to run the ball and be explosive running the ball, we want to continue to do that and improving in the red area. We've had games where we were elite offensively in the red area, and then we've had games where we were forced to kick field goals, and it usually came by way of losing first or second down, not really third down. So those are the areas that we can get better at. Special teams is kind of one-by-one. There's some things that we can do better."
On the problems with red zone defense…
"It's been hard to pinpoint because every game it's been a different person or different thing. There is no common theme. There's no like, 'Well, they're throwing it over our head,' this guy is a weakness, and he is getting beat. No, everybody is taking turns. This guy got beat, and he had bad eyes. This guy had great leverage and got beat. This guy gave up a run in his gap because he didn't run the right stunt. And then sometimes they just whip you. They whip you. South Carolina ran it in on us, and we say at Georgia that we are not going to let you run it in. Well, some teams have."
On how Carson Beck has grown at this point in the season…
"He plays very consistent, winning football when he plays within the system. I think sometimes when he tries too much, he gets himself in trouble. But he's played at a really high level to me. Like a 90-percent success rate and keeping a 10-percent from being catastrophic is critical. That's the ones you want to get back. If you can take that 10-percents and throw them away to keep his 90-percent and his accuracy, we're going to be good offensively when he's good."
On Mekhi Mews after a few muffed punts this season…
"You ever caught one? You ever caught a rugby, left-footed in the wind? I have. I'm glad I'm not back there, and I'm glad Mews is. I trust him, and I've got a lot of confidence in him. But until you've gone back there and seen Tim Wakefield's knuckle ball through the wind, and seen the ball do this through the wind, because the other option is don't catch it. I don't think that's a good option, either, because the ball rolls. Check college football right now and see how many drops and fumble punts there are. They aren't your traditional kick-off and they're not your traditional spirals. They're really hard to catch, and I'm proud of what he's done."
On Smael Mondon's performances this season and communication breakdowns on defense…
"I don't know what he [Mondon] is referring to. When you say communication breakdowns, I don't; we had a bust in coverage and just had a rule that two guys were on the same page. I wouldn't call it a bust. But Smael's been a good leader. Smael is closer to 100-percent. I think he played early in the camp on an injury that a lot of people take a long time to come back from, and I think he made it back in four months and was able to go play early in the season. The early season was like his camp. He didn't get a camp to go through, and he is back up to speed and doing a good job. I think he's really wanting to have a good back half of the season and play more physical and play faster. I count on him to do that."
On if having to deal with injuries to the offense in past season's helps the team with offensive injuries this season…
"I don't know. I don't know if I would agree with that statement. We've always had somebody who was impactful, I think you may be suggesting George [Pickens] or some of those guys, but we've always had other guys who were impactful. And I think we still have other guys who are impactful players on our offense now. We've got good football players, and our guys are excited for the opportunity. We've got good coaches that will find ways to get good players the football.
On if he think Brock Bowers will feature again this season…
"You really think I'm going to answer that question. I mean, is that all this is about? All y'all want to talk about is if he is going to be back or not. That's not – like that is the furthest thing from my concern, right now. My concern is this team and getting Brock Bowers healthy. And this team and getting Brock Bowers healthy. To answer that question is speculative, and I'm not going to speculate."
On success in two-minute drills to end halves…
"Getting the ball back for the offense to let them go two minutes. I think we have been good. Historically we have been good. The middle eight numbers have been really good for us, and this year has probably been our worst year in the middle eight. But it was good Saturday, and that was the difference in the game. Getting them the ball back is the biggest thing to get them going, get them started."
On using the doubt for Georgia after losing Bowers to motivate the team…
"I don't know. You said it. I don't think we need that to have motivation. The motivation is to be great. I don't know if it creates that edge or what, but I'm just focused on what we are going to do tomorrow."
On what he wants the players to focus on for the bye week…
"The back half of the week will be about Florida. The front half of the week will be about us. The focus is on us and how we can get better."
---
Video/Transcript: Marcus Rosemy-Jacksaint, Dylan Fairchild and Malaki Starks Press Conference – October 17, 2023
On how he got his last name Jacksaint…
"Back when I was in my freshman year of high school, I was living with my biological dad and my stepmother at the time. At this point, I had just started playing football, maybe for about 3 years. I had just got accepted into St. Thomas Aquinas down in South Florida. It is one of the most prestigious schools in the nation for football. It was one of my dreams because my cousin played at St. Thomas, and I looked up to him, so I knew I wanted to play there. At the time, my parents were into whatever they were getting into and ended up separating. I started living with my youth football coach, his wife, and his two kids. I planned to live there until my dad got on his feet, at first. After the first year, I wasn't hearing from my dad much. He wasn't calling me; I was trying to call and get in contact with him, but he wasn't answering. So, I stayed there until my senior year. When it was time to apply for college and sign my letter of intent, I needed a legal parent or guardian, and I didn't have either one of them. I was 18 at the time so I could make the decision myself. I decided to let them adopt me, and that's how I got the last name Jacksaint."
His advice to Brock Bowers on going through a potentially season-ending injury…
"Keep your head up. You're definitely going to have doubts. You're definitely going to be down on yourself. You're going to be missing a lot of being with the team. The work, the grind. You'll miss that part, but definitely keep your head up. It's a time for you to get your mind and body right and focus on the injury. Focus on trying to get back and healthy. I know Brock is a hard worker, and he comes in and works his tail off every day, so he's going to attack this like he attacks everything."
On Carson Beck's immediate play response to throwing an interception…
"That definitely caught me off guard. I was in on that play too, and I'm watching him cover down, and I was not expecting him to through his body at him like that. That just shows you the type of guy Carson is. Even though he's the quarterback, he's not scared of getting hit, and he's not scared to hit somebody. It's that type of toughness and that type of grit that he brings to the offense."
On how Monroe Freeling did being put out in the Vanderbilt game…
"He stepped up. He showed no fear, no anxiousness. He just stepped up in the moment and took care of business. I think he did great."
On the key to success for the guys up front…
"Reverting back to our fundamentals. We're still not satisfied. We might have improved, but we're still not at our standard. Like I said, going back to the fundamentals and going back to the basics is the main thing."
On how the team responds to the narrative that the team is done now that Brock Bowers is out…
"Our morale is good, but our whole philosophy is 'next man up.' We've got some guys that can make some big plays, and they've got a big opportunity. Some guys need to step up and take care of business."
On Oscar Delp as a player, teammate, and friend…
"He's a really gutsy player. He'll jump in the air, I mean Y'all have seen him do front flips, so he's a really gutsy player. He does a great job at coming to work every day and trying to get better every single day. That's something he does really well."
On the miscommunications against Vanderbilt and what it means to have a miscommunication on a football play…
"If everybody is not on the same page, it's not going to work out. The defense has to work as a unit. Sometimes, one side of the field is playing another call and the other side is in a completely different coverage, and they don't mesh well together. So, if we are not on the same page, bad things happen. We just have to get it fixed and get the call from one side to the other."
On the red zone defense and some of the issues the defense has faced with keeping teams out of the end zone…
"The biggest thing is us. It is nothing that the opponents are doing, nothing we haven't seen before, and nothing we can't stop. It is more of an us thing. It goes back to communication, being on the same page, and focusing on the little things. That is one thing we have taken a big emphasis on this off week is just working on the things we need to work on and correct. This is something we take a lot of pride on and it's something that we've been lacking for a while, so we're going to get back on that."
On the reception he gave up on 4th & 8 and what went through his mind when he gave up that catch…
"Man, I'm still mad about that play. I take pride in coverage, that's my thing as a DB and the first thing one of my coaches told me when I got back was 'He's on scholarship, too.' He's a really good player and he's going to have a great career. Going against him, I respect him, and I knew the route was coming because I got the same route on Wednesday and Thursday. I messed it up on Wednesday, I covered it on Thursday. I watched tape on it on the flight there. I knew it was coming and I slid and just looked just a second late and he got me. He's a great player, he's on scholarship, too, but it's tough. You never want to give up those plays especially in that type of scenario, but I have to learn from it."
---
WTennis: Alexandra Vecic advances to the main draw of the ITF Macon 80K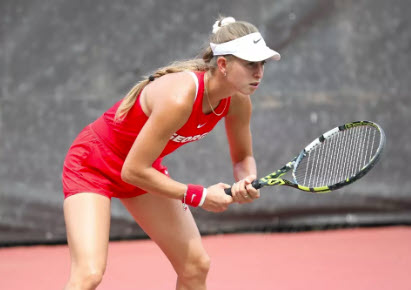 Trailing by one set for the first time in the tournament, sophomore Alexandra Vecic battled back in dominant fashion and capped off the performance with a 3-6, 6-1, 6-2 comeback victory in the ITF Macon 80K qualifying draw second round on Tuesday.
After a first round victory over Jaeda Daniel on Monday, Vecic faced off against Chelsea Fontenel in the second round of the qualifying rounds with a trip to the main draw on the line.
In the first set, Vecic and Fontenel split the opening six games to pace towards a 3-3 score. Vecic pushed to keep up in the next three games, but the set leaned opposite as she fell 6-3 to trail by one set.
Vecic responded immediately early in the second set with back-to-back games to lead 2-0. Fontenel picked up her only game of the set to trail 2-1 before Vecic regained momentum and took control as she leveled the match with a 6-1 second set victory. Vecic produced her best set of the day as she won three break points and capitalized on three double faults from Fontenel.
Heading into the deciding third set, Vecic set the tone early as she jumped out to a quick 2-0 lead. Despite losing two advantage points and dropping the following game, Vecic responded by winning eight of the next nine points to take the next two games and lead 4-1. With the score line at 5-2, Fontenel produced a late effort for a comeback bid, but Vecic secured the match point and closed out the set to win the match 3-6, 6-1, 6-2 and advance to the main draw.
ITF MACON 80K
Date: Monday, Oct. 16 through Sunday, Oct. 22
Location: Macon, Ga.
Venue: John Drew Smith Tennis Center
Live Video: https://bit.ly/46uVj7f
Live Stats: bit.ly/3FkP5Lk
---
Twenty-two former University of Georgia football players will be inducted into the Georgia High School Football Hall of Fame Saturday
Twenty-two former University of Georgia football players will be inducted into the Georgia High School Football Hall of Fame Saturday in Atlanta.
The induction will be held at the College Football Hall of Fame. Georgia's 22 former players are part of the 40-member induction class. The 2022 inaugural class included 36 total inductees, 13 of which were former Bulldogs. Nine more received automatic entry as members of the Pro Football Hall of Fame in 2022 including two former Georgia players.
Former Georgia players scheduled for the 2023 induction Saturday:
Pre-1948
Bill Hartman – Georgia Military Prep Graduate
Bill Hartman starred for Georgia Military Prep's 1933 team that was coached by Wallace Butts and declared a state champion. According to the Macon Telegraph, Hartman "was the outstanding star of the game" in a 26-0 victory over Gordon Institute that clinched the mythical title. Hartman played quarterback and running back and was highly regarded prior to Georgia Military when playing at Madison A&M. He played fullback and linebacker at Georgia and made an All-America team in 1937. Hartman became the first Georgia Bulldog ever taken in the NFL Draft as the 69th overall pick in 1938. He played one NFL season, starting four games, though mostly backing up legendary quarterback Sammy Baugh, but he declined to return to the league and joined Georgia's coaching staff full-time under Butts and served until 1956. He later worked as volunteer kicking coach under Vince Dooley for 20 years. Hartman became a legendary figure in the Athens community and Georgia's athletic department. He was president of the university's alumni association and the Georgia Student Educational Fund, which was formed to raise private funds for athletic scholarships. Hartman entered the Georgia Sports Hall of Fame in 1981, the College Football Hall of Fame in 1984 and the University of Georgia's Circle of Honor in 1999. Hartman passed away in 2006 at age 90.
Billy Henderson – Lanier (Macon) High School Graduate
Billy Henderson is best known as a GACA Hall of Fame high school coach at Willingham and Clarke Central, but he was inducted into the Georgia Sports Hall of Fame in 1962 purely as an athlete. A Macon newspaper reporting his induction said Henderson was "believed to be the only prep athlete in Georgia to ever earn All-American honors in two sports, being named in football and baseball." Henderson was a two-time All-Southern football player and three-year starter at Macon's Lanier High. According to the Macon News, he scored a GIAA-record 150 points in nine games as a senior (equivalent of 25 touchdowns), breaking Clint Castleberry's record of 138. The GIAA was Georgia's highest level at the time and included only about a dozen of the state's largest schools. Henderson scored 318 points for his career, more than 50 touchdowns, in a low-scoring era. Henderson played football and baseball at Georgia and then two seasons of minor league baseball. Henderson had a long career as a Georgia high school coach and won 285 games and state championships at Clarke Central in 1977, 1979 and 1985. Henderson passed away Feb. 14, 2018, at age 89.
Vernon 'Catfish' Smith – Lanier (Macon) High School Graduate
Vernon "Catfish" Smith earned all-state recognition in football, basketball and baseball at Lanier High in Macon. As a football player, he was a three-time All-GIAA player. The GIAA was the highest brand of Georgia high school football at the time. Smith went on to play college football at Georgia and was a consensus All-American in 1931. His most famous game came as a sophomore in 1929 when Georgia faced a heavily favored Yale team in the first game played at Sanford Stadium. Smith accounted for all of the Bulldogs' points in a 15-0 victory. He recovered a blocked punt in the end zone, kicked the extra point, had a receiving touchdown pass from Spud Chandler for his second touchdown and added two points when he tackled a ball carrier for a safety. Smith was also a multi-sport athlete in college, playing basketball and baseball at Georgia, and was captain of both teams. After his collegiate career, Smith remained involved with football, serving on coaching staffs at Georgia, South Carolina and Mississippi. After his playing and coaching careers, he joined the Air Force and rose to the rank of colonel before retiring in 1963. Smith earned the Legion of Merit, Air Force Commendation Medal (twice), World War II Victory Medal and more. In 1956, Smith and Clint Castleberry were the first two athletes inducted into the Georgia Prep Hall of Fame, which evolved into what is now the Georgia Sports Hall of Fame. In 1979, he was inducted into the College Football Hall of Fame.
1960's
Buzy Rosenberg – Northside (Atlanta) High School Graduate
As a three-year starter at Northside of Atlanta in the late 1960s, Buzy Rosenberg played wingback and defensive back under coach Wayman Creel. As a senior against Grady, Rosenberg ran for two touchdowns, returned an interception for a touchdown, returned a punt for a touchdown and passed for a touchdown. He helped lead Northside to a 25-5 record in his years as a starter and was named honorable mention all-state as a sophomore and junior and first-team all-state as a senior. Rosenberg often was compared to an earlier Northside star, quarterback Stan Gann, a 2022 Georgia High School Football Hall of Fame Inductee. Creel, who would become the state's all-time leader in coaching victories, called Gann his greatest quarterback but Rosenberg his best two-way starter. Rosenberg went on to play at Georgia and was Associated Press first-team All-SEC in 1970 and 1971. Rosenberg, listed as 5 feet, 7 inches and 188 pounds as a senior, was a cornerback and one of the Bulldogs' greatest return men in history. Against Oregon State in the 1971 season opener, Rosenberg returned five punts for a still-standing school record of 202 yards with touchdowns of 74 and 66 yards. Rosenberg led the Bulldogs in punt return yards for three seasons, and his career total of 946 yards ranks fourth in school history.
1970's
Ray Donaldson – East Rome High School graduate
Ray Donaldson, a six-time Pro Bowl center and 17-year NFL player, began his historic football career as a two-sport star for East Rome High. He played just two varsity football seasons in addition to earning letters on the basketball team. He starred as a fullback, tight end and linebacker on the gridiron. As a senior in 1975, he was named a first-team AJC all-state player. The University of Georgia recruited Donaldson to play linebacker before he switched to center. He was named first-team All-SEC and third-team All-America in 1979. The Baltimore Colts drafted Donaldson in the second round of the 1980 NFL Draft (No. 32 overall). He is believed to be the first African American full-time starting center in NFL history. He made 127 starts in his career and made four straight Pro Bowls (1986-89) for the Indianapolis Colts. In 1988, he helped pave the way for NFL rushing champion Eric Dickerson (1,659 yards). Donaldson made his final two Pro Bowl teams at age 37 and 38 with the Dallas Cowboys and was a member of the Cowboys' Super Bowl winner for the 1995 season. Donaldson was inducted into the Rome Sports Hall of Fame in 2004 and the Georgia Sports Hall of Fame in 2006.
Anthony Flanagan – Southwest Atlanta High School Graduate
Anthony Flanagan, the first African American quarterback at the University of Georgia, was a historic multi-sport athlete at Atlanta's Southwest High. He was named AJC Class 2A Back of the Year and a Parade All-American in 1973, when he led Southwest's football team to the Class 2A championship. Flanagan was 126-of-233 passing for 2,136 yards and a state-record 31 touchdowns on a 13-0 team. He also scored 12 touchdowns and kicked 56 extra points and two field goals. Additionally, the 1973 team was the first all-Black football team to win a GHSA championship. Flanagan was ambidextrous and could throw a football 70 yards with his throwing arm and nearly 60 with the other. Flanagan was an all-state basketball player who led Southwest to state championships in 1972 and 1973. He also was a baseball player. Flanagan signed with Georgia and played basketball the first two seasons, leading those teams in assists. In the second game of the 1976 football season against Clemson in a backup role, Flanagan became Georgia's first Black quarterback and first athlete to play both football and basketball since Zippy Morocco in the 1950s. After leaving Georgia, Flanagan returned to Atlanta and became a coach. He died Jan. 12, 2001, at age 44 from complications of diabetes. The City of Atlanta named a recreation center after Flanagan in 2016.
Ray Goff – Moultrie High School Graduate
Ray Goff was a standout player at Moultrie High, the SEC Offensive Player of the Year at Georgia and the coach who replaced Vince Dooley as head coach of the Bulldogs in 1989 at age 33. At Moultrie – now Colquitt County – Goff helped the Packers to a 19-3 record in his two seasons as the starting quarterback in 1971 and 1972. He passed for 1,571 yards for the 1972 Moultrie team that won the state's strongest region and lost to Central of Macon in the semifinals of the Class 3A playoffs and finished 11-1. Goff was the first player from Moultrie to pass for more than 300 yards in a game. Before switching to quarterback, Goff played in the defensive backfield and made seven interceptions as a sophomore. He also was an outstanding baseball pitcher who once threw a 19-innning shutout in a 1-0 victory in which he had the winning hit. Goff went on to Georgia, where he would lead the Bulldogs to an SEC title and Sugar Bowl berth in 1976 and finish seventh in the Heisman Trophy voting. Goff transitioned into coaching and was an assistant at South Carolina before returning to Georgia in 1981. He became head coach in 1989 and served for seven seasons. Goff was inducted into the Georgia Sports Hall of Fame in 2011. Goff is now a part owner of Zaxby's Chicken franchises and lives in Oconee County.
Guy McIntyre – Thomasville High School Graduate
Guy McIntyre is a three-time Super Bowl champion and five-time Pro Bowl guard. He first starred at Thomasville High and was named All-State by the AJC and All-American by Coach and Athlete Magazine. McIntyre was a tight end in high school, then moved to the defensive line at the University of Georgia before ultimately settling in as an offensive tackle. McIntyre was a member of the Bulldogs' 1980 national championship team and their 1980, 1981 and 1982 SEC championship teams. He made All-SEC in 1982 and 1983 and won the Jacobs Award for the SEC's best blocker in 1983. The San Francisco 49ers drafted him in the third round, and he played 13 NFL seasons as a guard and occasionally as a blocking back/fullback in coach Bill Walsh's innovative offenses. He won Super Bowls in 1984, 1988 and 1989 and made five straight Pro Bowl teams (1989-93). McIntyre has worked the past 20 years in the 49ers' front office and is currently the team's director of alumni relations. McIntyre was inducted into the Georgia Sports Hall of Fame in 2007.
Scott Woerner – Jonesboro High School Graduate
Scott Woerner, who earned his highest honor in making the College Football Hall of Fame for his career at the University of Georgia, was an all-around athlete at Jonesboro High. He lettered in basketball and track and field and played quarterback and running back for GACA Hall of Fame coach Weyman Sellers. Though his high school teams were not outstanding, Woerner stood out. He was a first-team all-state player as a senior and one of three Georgia players named to the 1976 Coach & Athlete All-America team. At Georgia, he became a starting cornerback and return man as a sophomore in 1978 on the Wonder Dogs team that went 9-2-1. Woerner made first-team All-SEC in 1979 and 1980. He was a consensus first-team All-American in 1980. In his final college game, Woerner intercepted two passes in Georgia's 17-10 victory over Notre Dame that clinched the national title in the Sugar Bowl. Woerner gained more than 2,000 return yards in his college career on punts, kickoffs and interceptions. The Atlanta Falcons drafted Woerner in the third round of the 1981 NFL Draft. He played a season with the Falcons and moved on to the new USFL and won championships in 1984 and 1985 with the Baltimore/Philadelphia Stars. Woerner was inducted into the Georgia Sports Hall of Fame in 2014 and the College Football Hall of Fame in 2016.
1980's
Keith Henderson – Cartersville High School Graduate
Keith Henderson was a rare three-time first-team all-state running back (1982-84) at Cartersville and was a Parade All-American and the AJC's all-classification player of the year in 1984. As a senior, he rushed for 2,046 yards and 20 touchdowns on 191 carries in only 10 games for a team that ironically didn't make the playoffs in an era when only region champions qualified for state. He rushed for 5,872 yards and scored 60 touchdowns in his career and compiled 6,937 all-purpose yards when including receiving, passing and return yards. Henderson rushed for a single-game state record 432 yards against Cass in 1984. Henderson led the University of Georgia in rushing as a true freshman (731 yards) and finished with 1,648 yards despite missing his junior season with a knee injury. The San Francisco 49ers drafted Henderson in the third round. He was the team's leading rusher (531 yards) in 1991 on a team that featured Joe Montana and Jerry Rice. Henderson played four NFL seasons.
1990's
Mike Bobo – Thomasville High School Graduate
Mike Bobo, best known today as the University of Georgia's offensive coordinator, was the USA Today Georgia player of the year and AJC co-player of the year in 1992, when he passed for 2,477 yards and 23 touchdowns at Thomasville High while playing under head coach George Bobo, his father. For his high school career, Mike Bobo was 329-of-590 passing for 5,167 yards and 42 touchdowns. He led Thomasville to consecutive region championships and 10-3 quarterfinal appearances in Class AAA. "If you could pick the perfect high school quarterback, it would be Mike Bobo," Colquitt County coach Jim Hughes once said. "Like having a coach on the field. … Maximizes his talent." Bobo went on to play at Georgia. From 1994 to 1997, Bobo passed for 6,334 yards, the seventh-most in program history. In his final game, he was MVP of the Outback Bowl and set Outback records for consecutive completions (19) and completion percentage (92.8%) as he was good on 26 of 28 attempts in Georgia's 33-7 victory over Wisconsin. Bobo began his coaching career as a Georgia graduate assistant in 1999. He was Georgia's quarterbacks coach in 2001-06 and was promoted to offensive coordinator in 2007. Bobo was Colorado State's head coach from 2015 to 2019. He became Georgia's offensive coordinator again in 2023 under coach Kirby Smart, his former Georgia teammate.
Reggie Brown – Carrollton High School Graduate
Reggie Brown was a multi-sport athlete at Carrollton High and was the AJC's all-classification state l player of the year, Georgia's consensus No. 1 recruit and a USA Today and Parade All-American in football as a senior. In 1998, he was a two-way starter on Carrollton's first state championship team in 24 years and caught 62 passes for 1,046 yards while also playing in the defensive secondary. In the title game, a 37-18 victory over Early County, Brown had seven receptions for 149 yards and two touchdowns. Carrollton was 50-6 during Brown's four seasons of varsity football. Brown was also a part of three consecutive region championship teams in basketball. In track and field, he set a state record in the long jump as a sophomore, jumping 24 feet, 9 inches. Brown continued his football career at Georgia, where he caught 144 passes for 2,008 yards and 12 touchdowns. Georgia was 50-14 during Brown's four seasons, including a 13-1 mark in 2002, when the Bulldogs won an SEC title and the Sugar Bowl. The Philadelphia Eagles selected Brown with the 35th overall pick in the 2005 NFL Draft. Brown led NFL rookies with 571 receiving yards. During his tenure with the Eagles, Brown caught 177 passes for 2,574 yards and 17 touchdowns. After his playing career, Brown transitioned to coaching. He is currently a wide receivers coach for the Cambridge Bears.
Quincy Carter – Southwest DeKalb High School Graduate
Born in Chicago, Carter was raised in Decatur and starred in baseball and football at Southwest DeKalb and led the Panthers to the 1995 Class 4A championship under coach Buck Godfrey. Carter finished his high school career with 4,450 passing yards, 37 passing touchdowns, 1,489 rushing yards and 32 rushing touchdowns. He was the AJC and AP all-classification player of the year and a Parade All-American for the 1995 season. Carter signed originally with Georgia Tech but was taken in the second round of the MLB Draft and played in the minor leagues for two seasons. Carter enrolled at Georgia in 1998 and became the Bulldogs' starter for the opener that season and for a memorable upset at No. 6 LSU in his fourth game. In his Georgia career, Carter passed for 6,447 yards, second in school history at that time behind Eric Zeier. Carter was a second-round NFL Draft pick and played four NFL seasons and started 34 games. Carter is now a private quarterbacks coach locally. This year, he joined Southwest DeKalb's staff as a community coach.
Randall Godfrey – Lowndes High School Graduate
Randall Godfrey was a three-sport athlete (football, basketball, and track) at Lowndes. In football, he started his first varsity snaps at safety as a freshman before moving to linebacker his sophomore season. In his senior season, he finished with 111 tackles, six sacks and two interceptions. He was an AJC Super 11 pick, a USA Today All-American and one of the top 10 recruits nationally. Godfrey went on to Georgia and became the first true freshman in school history to lead the team in tackles (114) and was named SEC Defensive Freshman of the Year. He made all-SEC teams in 1993 and 1994. The Dallas Cowboys selected Godfrey in the second round of the 1996 NFL Draft. He played 12 NFL seasons with the Cowboys, Titans, Seahawks, Chargers and Redskins and was second-team All-Pro in 2000. Godfrey, now an Atlanta resident, has established foundations in his name that support youth recreational centers and domestic abuse survivors. His son R.J. is a basketball player at Clemson, and his son Grant is a linebacker at Kentucky.
Charles Grant – Miller County High School Graduate
Charles Grant was a two-way player at Miller County and was best known as the running back who tied Herschel Walker's state-record 45 rushing touchdowns in 1997. Grant scored 101 touchdowns over a three-year career in which Miller County was 29-7. Grant rushed for 2,530 yards and had 102 tackles as a senior for a 12-1 team that averaged 49.5 points per game. Grant was the 1997 GSWA Class A Player of the Year and AJC Class A Offensive Player of the Year. As a junior in 1996, he was the AJC Class A Defensive Player of the Year and the GSWA Class A Player of the Year. After a year at Hargrave Military, Grant moved on to Georgia, where he started across three seasons as a linebacker/defensive end. As a freshman, he recorded 33 tackles and seven sacks while also rushing for 79 yards and three touchdowns at fullback. He ended his college career with 136 tackles, 27 tackles for losses and 15 sacks. The New Orleans Saints took Grant with the 25th overall pick in the 2022 NFL Draft. Miller played eight NFL seasons with the Saints as a defensive end. He started 106 of 118 games and recorded 47 career sacks and 66 tackles for losses. In his final NFL season, Grant was a member of the Saints' Super Bowl XLIV champion for the 2009 season.
Adam Meadows – McEachern High School Graduate
Adam Meadows was a four-year starter at McEachern and led the Indians to three region championships, one state semifinal appearance and a 42-8 record in Georgia's highest classification. He made first-team all-state as a senior tight end in 1991. In his junior season, he had 16 receptions for 378 yards and seven touchdowns but was primarily used as a blocker in a powerful wing-T offense at 6 feet, 5 inches and 290 pounds. He was an AJC preseason Super 11 pick and the state's No. 4 recruit. Meadows signed with Georgia and became a four-year starting tackle with the Bulldogs after a redshirt season. Meadows was named All-SEC first team in 1996. The Indianapolis Colts selected Meadows with the No. 48 overall pick in the 1997 NFL Draft. Meadows played eight NFL seasons, mostly with the Colts, starting 99 games. He was starter on offensive lines that won two division titles and produced 1,000-yard rushers Marshall Faulk and Edgerrin James. He was the first former McEachern player to appear in the NFL. Meadows has worked in business after football and served as a volunteer assistant high school coach.
Jon Stinchcomb – Parkview High School Graduate
Jon Stinchcomb was a 1997 Parade and USA Today All-American, an AJC Super 11 pick and the Atlanta Touchdown Club's Lineman of the Year during Parkview's Class 4A championship season. He was a four-year starter and the Gwinnett County TD Club's offensive lineman of the year as a sophomore, junior and senior. Then he was a four-year starter at Georgia and a two-time All-SEC selection. He also helped pave the way for the Bulldogs' offense in 2002 that led the SEC in scoring (32.6 points per game) and won the SEC championship. Off the field, he was a three-time Academic All-American and a four-time Academic All-SEC selection. The Saints selected Stinchcomb in the second round of the 2003 NFL Draft. He took over the starting right tackle position in 2006 and started 86 consecutive games. Stinchcomb was selected to the Pro Bowl in 2009 and won a Super Bowl the same season. He retired in 2011. Today, he is the chairman of the board for the Next Generation organization, which promotes the development of character-building and chaplaincy programs in local schools.
Marcus Stroud – Brooks County High School Graduate
Marcus Stroud was a standout defensive lineman on Brooks County's 1994 Class A championship team as a junior and became an AJC Super 11 pick entering his senior year. As a junior, he registered 75 tackles and 13 sacks and followed that with 76 tackles and eight sacks as a senior. He made all-state teams both seasons. At 6 feet, 6 inches and 266 pounds, Stroud was a blue-chip prospect and appeared on the cover of Sports Illustrated ahead of 1996 National Signing Day. The covered showed Stroud ripping off a University of Florida shirt to reveal a Georgia shirt underneath, making him a bit of a Bulldogs legend. In Athens, Stroud was a three-year starter who helped the program rebuild under coach Jim Donnan. He was an All-SEC defensive tackle in 2000. Stroud entered the NFL Draft in 2001, and the Jacksonville Jaguars took him with the No. 13 overall pick in the first round. Playing defensive tackle at 300 pounds, Stroud played 10 NFL seasons, nine as a starter. He played seven seasons with the Jaguars and three with the Buffalo Bills. He finished with 62 tackles for losses and 29.5 sacks in his career. Stroud made three Pro Bowl teams and three first-team All Pro teams.
2000's
Rennie Curran – Brookwood High School Graduate
Rennie Curran left Brookwood as the Broncos' all-time leading tackler. During his senior season, he tallied 150 total tackles with 13 sacks and 23 tackles for losses. He was the GACA Class 5A defensive player of the year in 2006, when he led Brookwood to a state finals appearance. He was a rare three-time first-team GSWA and GACA all-state pick and back-to-back Gwinnett TD Club defensive player of the year. He was named to GHSF Daily's statewide all-decade team (2000-09). A consensus top-250 national recruit, Curran signed with Georgia and made first-team All-SEC in 2009 and was a Butkus Award finalist. He was a third-round NFL Draft pick in 2010 and played two NFL seasons and three CFL seasons. He was inducted into the Gwinnett County Sports Hall of Fame and the Georgia-Florida Hall of Fame in 2019. Now an author and motivational speaker, Curran continues to inspire individuals with Game Changer LLC and makes regular appearances on local and national TV networks, including those covering Georgia and the Atlanta Falcons.
Charles Johnson – Hawkinsville High School Graduate
Charles Johnson was a three-sport athlete at Hawkinsville High, where he starred as a football defensive end, a basketball forward and a track-and-field sprinter on a state-winning 4×100 meters relay team. He was a defensive lineman with exceptional speed (4.6 seconds over 40 yards) for someone 6 feet, 3 inches and 240 pounds. During his senior football season, Johnson led Hawkinsville to a 15-0 finish and the Class A title. He registered 16 sacks. In the championship game, which Hawkinsville won 18-8 over No. 1-ranked Lincoln County, Johnson returned an interception 83 yards for a touchdown. Johnson was the AJC's Class A Defensive Player of the Year. Georgia High School Football Daily named Johnson one of its four defensive linemen on the 2000-09 All-Decade Team. Johnson was a five-star recruit and the consensus No. 21 prospect when he signed to play at Georgia. He played three seasons for the Bulldogs and made All-SEC as a junior in 2006. The Carolina Panthers selected Johnson in the third round of the 2007 NFL Draft. Johnson played 11 NFL seasons, all with the Panthers, appearing in 143 games with 114 starts. Johnson made an All-Pro team in 2010 and finished with 67.5 career sacks. He was part of the Panthers' Super Bowl 50 team for the 2015 season. In 2012, Johnson established the Charles Johnson Foundation, which supported underprivileged youth and single African American mothers and awarded scholarships to students in Hawkinsville and Charlotte.
Jarvis Jones – Carver (Columbus) High School Graduate
Jarvis Jones, a fast and rugged 6-foot-3, 245-pound outside linebacker, helped Carver to the program's first state championship in 2007, when the Tigers defeated Cairo 16-13 for the Class AAA championship in his junior year. Jones was named the AJC, GSWA and GACA Class AAA Defensive Player of the Year that season after making 157 tackles, 26 tackles for losses, four sacks and two interceptions. He was an AJC Super 11 selection entering his senior season in 2008 and finished as first-team all-state again and a USA Today All-American. Jones was the consensus No. 49 prospect nationally as a senior. After playing in the 2009 All-American Bowl, Jones played one season at Southern Cal before transferring to Georgia. After sitting out a year, he became a two-time first-team All-SEC selection. In 2012, Jones was the SEC Defensive Player of the Year and a consensus first-team All-American after setting a school record with 14.5 sacks for a 12-2 team that finished ranked No. 4 in the final coaches poll. The Pittsburgh Steelers drafted Jones in the first round with the No. 17 overall pick in 2013. Jones played four NFL seasons with 50 games played and 35 starts with the Steelers and Arizona Cardinals. Jones completed his degree from Georgia in 2019. He now works for his alma mater on the football support staff as a player connection coordinator.
D.J. Shockley – North Clayton High School Graduate
D.J. Shockley was a two-time first-team AJC and GSWA all-state quarterback (1999, 2000) at North Clayton and a 2000 Parade All-American. As a senior, he passed for 1,861 yards and 11 touchdowns while rushing for 864 yards and another eight touchdowns. His junior season, he passed for 1,352 yards and 17 touchdowns while rushing for 733 yards and nine touchdowns. Shockley was the consensus No. 18 recruit nationally and the No. 1 dual-threat prospect in the class of 2001. He was the No. 3 prospect in the state when he took his talents to Georgia, where he played three seasons as a backup before getting his first time to start as a senior. When his chance came, Shockley made the most of it, passing for 2,588 yards and 24 touchdowns, leading Georgia to the SEC title, and was named SEC Offensive Player of the Year. The Falcons drafted Shockley in the seventh round of the 2006 NFL Draft. He spent seasons in the NFL. Since 2017, Shockley has worked as a color commentator and studio analyst for college football broadcasts, Atlanta Falcons coverage and high school football coverage with GPB. Shockley became a sports anchor for WAGA-TV (Fox 5 Atlanta) in 2021.
---
Jump To Today's Discussion Thread