Jump To Top of Page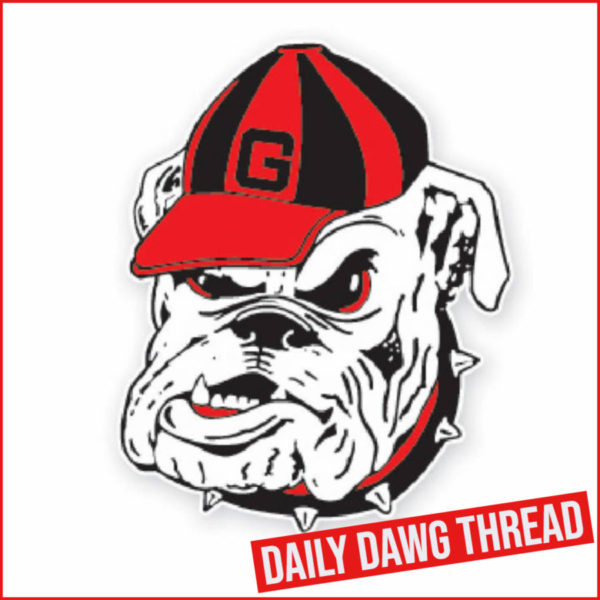 Soccer: UGA defeated Kentucky Wildcats to clinch the SEC East Division regular season championship for the first time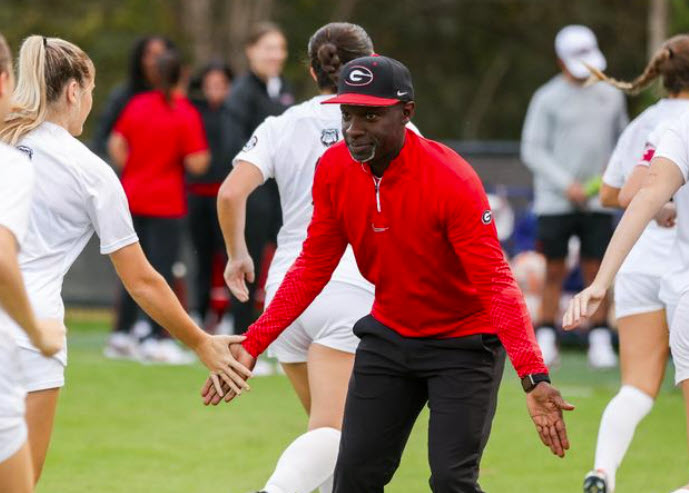 The University of Georgia soccer team defeated the No. 23 Kentucky Wildcats, 1-0, to clinch the SEC East Division regular season championship for the first time in program history Thursday evening at the Turner Soccer Complex before 1,601 spectators.
"(Associate head coach) Jason (Lockhart) said it best in the huddle," Georgia head coach Keidane McAlpine said following the match. "Anytime we do something for the first time, it's special. It's foundation-building for the program. When we came in, this is kind of what we started thinking about. It's a testament to the work that the women have put in, and it's not easy to do this in this league in the East. So, to have that kind of response and whatnot is special."
Redshirt freshman and reigning SEC Offensive Player of the Week Summer Denigan scored her fifth goal of the season to boost the Bulldogs ahead. Georgia (8-3-4, 4-2-2 SEC) tallied 15 shots on the night. Kentucky (8-2-5, 2-2-4 SEC) posted seven total shots, with two shots on goal. Sophomore goalkeeper Jordan Brown recorded a pair of saves throughout the full 90 minutes as she earned her fourth shutout of the season.
The Bulldogs opened the game fast, putting up four shots within the first 20 minutes. In the 21st minute, graduate Hannah White navigated the ball to the corner of the keeper's box and sent a short pass to Denigan, who kicked the ball to the bottom left corner of the net to give Georgia a 1-0 advantage. The Bulldogs' defense only allowed the Wildcats two shots for the remainder of the half as Georgia notched 10 shots in the opening period.
"Obviously, (our end goal) is to win a national championship, but the little things are to finish out the season strong," White said. "We still have two big games that are really important, so that's on our list right now. Just finish the season strong and start getting ready for obviously SEC play, but also seeding for NCAAs."
Georgia opened the second half strong, ripping a shot on goal by redshirt senior Nicole Vernis within the first five minutes. Kentucky was limited to three shots in the second half. Brown posted her second save of the night in the 86th minute off a Wildcat corner kick and stopped a corner in the final 10 seconds to seal the win.
"Keep the energy high and win out the rest of our games to put us in the best position for the SEC tournament and NCAAs," Denigan said following the match.
The Bulldogs will return to the pitch on Sunday, Oct. 22 when they travel to Columbia to face the South Carolina Gamecocks. Kickoff is slated for 2 p.m., and the match will be live on SEC Network+.
---
Kirby Smart Named to 2023 Dodd Trophy Midseason Watchlist
The Bobby Dodd Coach of the Year Foundation and Peach Bowl, Inc. today released the midseason watch list for the 2023 Dodd Trophy Presented by PNC Bank. This year's list includes 20 of the nation's top college football coaches representing all Power Five conferences, as well as the AAC, Mountain West, Sun Belt and an independent.
Managed by Peach Bowl, Inc. and presented by PNC Bank, The Dodd Trophy, college football's most coveted national coaching award, celebrates the head coach of a team who enjoys success on the gridiron, while also stressing the importance of scholarship, leadership and integrity – the three pillars of legendary coach Bobby Dodd's coaching philosophy.
The watch list was created through a selection process by the Bobby Dodd Coach of the Year Foundation and Peach Bowl, Inc., taking into consideration each program's graduation rate, Graduation Success Rate (GSR), commitment to service and charity in the community, on-field success thus far for the 2023 season and Academic Progress Rate (APR).
Coaches named to this year's midseason watch list were required to have an APR of 965 or higher. Additionally, coaches in the first year with their current teams were not included as they are ineligible to receive The Dodd Trophy until their second year with their program.
The 2023 Dodd Trophy Presented by PNC Bank Midseason Watch List:
| | | | | | |
| --- | --- | --- | --- | --- | --- |
| Coach | School | Conference | Current AP Ranking | Current Record | APR |
| Mack Brown | North Carolina | ACC | No. 10 | 6-0 | 982 |
| Troy Calhoun | Air Force | Mountain West | No. 22 | 6-0 | 992 |
| Curt Cignetti | James Madison | Sun Belt | N/A | 6-0 | 970 |
| Ryan Day | Ohio State | Big Ten | No. 3 | 6-0 | 993 |
| Kalen DeBoer | Washington | Pac-12 | No. 5 | 6-0 | 986 |
| Eliah Drinkwitz | Mizzou | SEC | No. 20 | 6-1 | 989 |
| Mike Elko | Duke | ACC | No. 16 | 5-1 | 983 |
| Kirk Ferentz | Iowa | Big Ten | No. 24 | 6-1 | 968 |
| Marcus Freeman | Notre Dame | Independent | No. 15 | 6-2 | 989 |
| Willie Fritz | Tulane | AAC | No. 23 | 5-1 | 981 |
| Jim Harbaugh | Michigan | Big Ten | No. 2 | 7-0 | 987 |
| Lane Kiffin | Ole Miss | SEC | No. 13 | 5-1 | 995 |
| Mike Norvell | Florida State | ACC | No. 4 | 6-0 | 983 |
| Lincoln Riley | USC | Pac-12 | No. 18 | 6-1 | 972 |
| Nick Saban | Alabama | SEC | No. 11 | 6-1 | 995 |
| Steve Sarkisian | Texas | Big 12 | No. 8 | 5-1 | 974 |
| Kirby Smart | Georgia | SEC | No. 1 | 7-0 | 965 |
| Jonathan Smith | Oregon State | Pac-12 | No. 12 | 6-1 | 973 |
| Brent Venables | Oklahoma | Big 12 | No. 6 | 6-0 | 967 |
| Kyle Whittingham | Utah | Pac-12 | No. 14 | 5-1 | 988 |
This collective group of coaches has won 10 National Championships, 34 FBS conference titles and secured 2,138 career wins throughout their careers.
Of the 20 coaches on the watch list, five are previous winners of The Dodd Trophy, including Mack Brown (2008), Nick Saban (2014), Kirk Ferentz (2015), Kyle Whittingham (2019) and Willie Fritz (2022).
Additionally, four of the finalists for last year's award are represented, including Jim Harbaugh, Kirby Smart, Kyle Whittingham and the 2022 recipient of The Dodd Trophy, Willie Fritz.
The SEC and Pac-12 lead all conferences with four coaches named to the midseason watch list, followed by the ACC and Big Ten with three each. The Big 12 has two coaches on the list, while the American, Sun Belt and Mountain West conferences each have one coach represented, as well as one independent.
A panel consisting of previous winners, national media, a member of the Dodd family and a College Football Hall of Fame member will identify the final list of potential recipients at the conclusion of the 2023 season. The winner of the 2023 Dodd Trophy Presented by PNC Bank will be announced in Atlanta during the week of the Chick-fil-A Peach Bowl.
---
WGolf: UGA Begins Fall Finale Today at Stanford Intercollegiate
The No. 25-ranked Georgia women's golf team will play its fourth and final tournament of the fall this season this weekend when the Bulldogs compete in the Stanford Intercollegiate hosted by Condoleezza Rice. The 54-hole event will be contested Friday-Sunday at the Stanford Golf Course.a
"We're excited to go compete against the best teams on the West Coast," head coach Josh Brewer said. "We're just hoping to continue the momentum. In a way you could say it's the best field we've faced this fall, and that's probably not fair to a couple of the other tournaments we've played. They'd be right up there. It's a chance to have another really strong performance and put four of them together for a fall. That would probably be the first time we've done that in quite a while, honestly."
All 19 teams in the field are currently listed No. 59 or higher in the Golfweek rankings, including 12 featured in the top 25. No. 1 Stanford, No. 4 Oregon, No. 5 Texas, No. 7 UCLA, No. 12 Southern California, No. 13 San Jose State, No. 14 Auburn, No. 20 Arizona, No. 21 Northwestern, No. 23 Cal, No. 24 Arizona State and No. 25 Georgia. Rounding out the competing teams are Colorado, Denver, Iowa State, Michigan, Oregon State, Virginia and Washington.
"It's an elite field," Brewer said. "If it was a Regional field, you wouldn't be getting much sleep. We get the challenge of traveling three times zones. We look forward to it. I think we're ready and it's exciting to end the fall like we started it with a strong performance."
Georgia's lineup at Stanford is led by fifth-year senior Caterina Don, followed by junior LoraLie Cowart, senior Isabella Holpfer, junior Kate Song and freshman Celine Brovold Sanne in her collegiate debut.
"At the end of the year, we all want to win a national championship," Don said. "To win a national championship, you're going to have to beat the best teams in the country. If you never practice that, you're probably not going to be able to succeed when the pressure gets high. So, I like it where we compete in every tournament with a really good field. It's always pressure, but it gets you mentally ready for when it's time to compete in the postseason."
With Brovold Sanne seeing action, eight of Georgia's nine golfers will have appeared in the Bulldogs' lineup this fall.
"I think it's good to have that information because it allows you to take to them about what's good and what they need to work on," Brewer said."
Don has been the Bulldogs' top golfer in all three tournaments to date, posting top-10 individual finishes at each and shooting a combined 19-under in the process. Cowart also is under-par to date, shooting 5-under over nine loops.
"I think personally my key has been growing my confidence and knowing that I've done all the work that I could have done," Don said. "Knowing that, I've just been trying to go out there and have fun with my teammates and the coaches. The work has been done before you get to the tournament. Playing should be the fun part of everything we do."
As a team, Georgia's top finish was a sixth-place effort at both the Cougar Classic and the Illini Invitational. The Bulldogs have posted par-or-better scores in seven of nine rounds and are a combined 30-under as a team this fall.
"I don't know if our scores will be quite as low as the previous couple of tournaments," Brewer said. "You can make birdies on this course but probably not as many. We're just going out there and competing. It's another lineup for us so it's a chance for more people to make a statement as we head into the offseason."
All seven Georgia golfers have shot under-par this fall, recording 28 par-or-better tallies in 48 individual rounds.
"I think there's a really good energy with the team," Don said. "There's a lot of laughing and encouraging each other. We bring each other up, and I know my teammates have my back. It's always a learning process, especially with a new team. It's great to see a lot of people are putting up good rounds. That gives everybody the confidence that the work that we're doing is going to work at tournaments. We just have to trust it and keep going."
Georgia will be paired with Arizona and Oregon State for the first and second rounds. The Bulldogs, Wildcasts and Beavers will tee off from No. 1 beginning at 11:25 a.m. ET on Friday and then begin on No. 10 at 3:30 p.m. ET on Saturday. Live scoring will be available via www.golfstat.com.
---
Jump To Today's Discussion Thread