LOS ANGELES – The Georgia Bulldogs followed the Oklahoma Sooners into the interview room at the LA Hotel Downtown here Saturday at Media Day leading into Monday's College Football Playoff semifinal game at the Rose Bowl and, like the 2nd-ranked Sooners, the 3rd-ranked Bulldogs said most favorable things about their opponent.

But then, it was pretty much the same words the Bulldogs, especially Georgia's top players, had said all week about how good Oklahoma is. The only difference this time was that the entire Bulldog team and all of the coaching staff were on hand to greet the 500-plus media contingent so many of the players were being given the opportunity to talk to the press for the first time since the team arrived in California this past Tuesday night.
And during their 45-minute time with the media, I got the distinct feeling these Bulldogs have grown weary with answering questions ever since they throttled Auburn to win the SEC Championship. Indeed, the 12-1 Bulldogs are chomping at the bit to play a football game. For sure, Monday afternoon in old Pasadena can't come soon enough.
"I know I'm ready for the game," said Georgia senior tailback Nick Chubb. "All this type stuff, I don't really get into it. I'd rather go out and play the game."
But Chubb said the Bulldogs not having a game since the Dec. 2 championship win in Atlanta has its benefits.
"I'd say about two weeks relaxing and not practicing physical contact, it definitely lets you recover. I feel good," he said. "I'm excited about playing Monday. I guess I know my time is almost up so I'll have time to think about what I've accomplished and done. I'm still enjoying my time here and looking forward to the last couple games."
As he's done all week long, Chubb complimented the Sooners. "They are a very fast team, very athletic. They play hard. They are a great team," he said.
"Practice is always good but I said yesterday at practice, I'm just ready to play a football game," said Jake Fromm, the freshman quarterback who has led the Bulldogs to a 12-1 record, the SEC Championship and a berth in the College Football Playoffs while earning SEC Freshman of the Year honors in 2017. "Ready to go, ready to compete and ready to get this one on," added Fromm. "I'm ready to get in the Rose Bowl and see what it's all about. Oklahoma defensively is probably in a league of their own. They play in a different league but they're big, fast and physical. They're gonna fly around to the ball and make a lot of plays."
All-America junior linebacker Roquan Smith, the ringleader of a Georgia defensive unit that will be out to slow down Heisman Trophy winner Baker Mayfield on New Year's Day in Pasadena, said he hasn't minded the month-long practices between games at all, what with the huge rewards staring the Bulldogs in the face if they can win these next two football games.
"I definitely felt like we had a few good days of practice and every day we have been out there we've gotten better," Smith said. "That's always big and when you are preparing for a team like Oklahoma, you must have your best practices.
"Yeah, it's a bit different trying to prepare for Oklahoma's offense and what they have with Baker Mayfield and many other weapons, but you have to do the best job we can to prepare for it and I feel like the coaches have put us in the best possible situation."
Smith said there's no question the Georgia defense has a plan for dealing with Mayfield.
"Well, we will definitely have to try to keep him in the pocket," he said. "Our focus is to keep him in the pocket and make those guys one-dimensional, trying to stop the run. They spread it out and try to run the ball as well and we will try to make them one-dimensional and go from there. We feel like every game is important so we get up for every game the same. It's the next game on our schedule and whatnot and we know they have a great offense and we know we have a great defense as well, but we pride ourselves on stopping great offenses."
Smith said that if a player needs any extra motivation to play in the Rose Bowl, they're in the wrong business. "All our guys know what's on the line and know we control our destiny so we have to take care of business and play our best style of defense. I've actually seen the Rose Bowl before," said Smith, alluding to when he was being recruited by UCLA. "So, like, I've been in there before so it will be exciting to be in there for the first time with my teammates, though. So I'm definitely excited about that."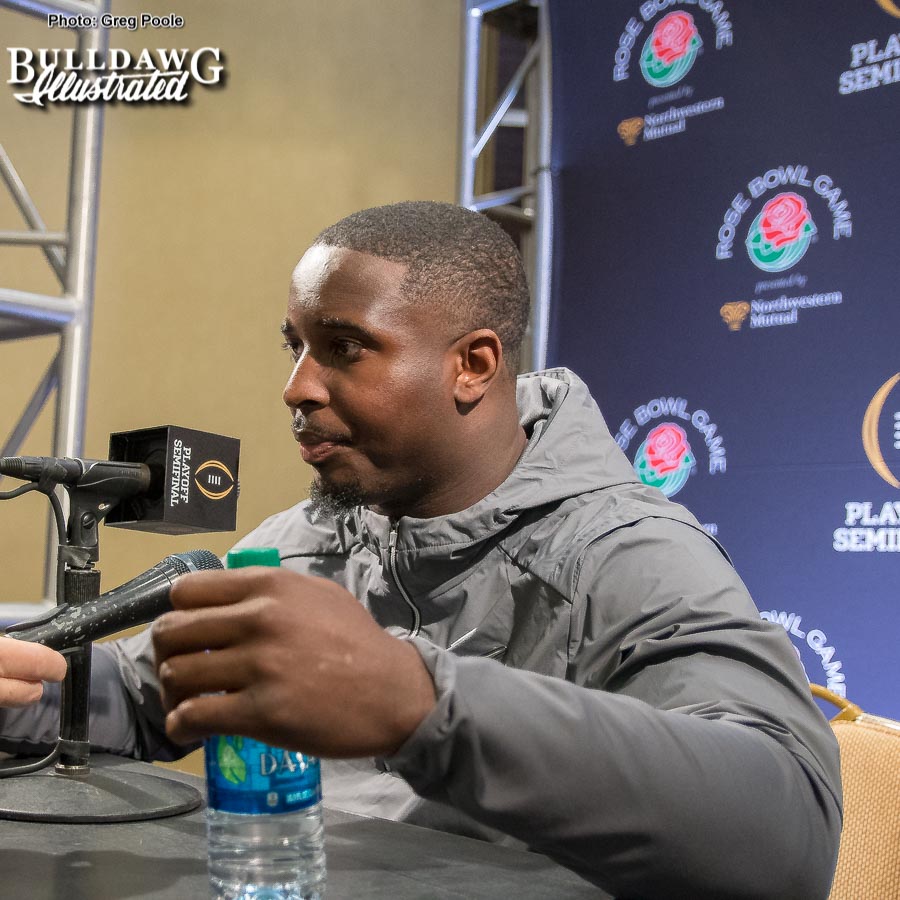 "Practice has been pretty good for us," said senior Sony Michel, the other half of the Bulldogs' powerful 1-2 running punch. "It was pretty tough coming out here adjusting to just being in a different environment, but I think our team handled that well, and I think we've had pretty good practices.
"This week has just been another work week for me," Michel said. "You know, you've got to try to make it seem like it's another game week. Yes, we have great events that the Rose Bowl provides for us, and it's exciting. But at the same time, they can't be a distraction. You can't get your mind away from the game, and you've got to kind of keep that focus that Coach has been preaching, to keep the main thing the main thing, and I think that's important for us."
Speaking of seeing the Rose Bowl stadium for the first time on Sunday when the Bulldogs and Sooners will have their team picture made in Pasadena, Michel offered: "I just think it's pretty cool to be able to see the field. It's a very historic field, but I think it'll be even better when we get to play on it. I kind of just knew a little bit, just how many great players played in this game, how historic this game is, how important this game is, and how much it means to so many football fans, and it's amazing that we get this opportunity to play in this game."
Georgia head coach Kirby Smart, though fielding every question that was thrown at him over the 45-minute time frame, is also anxious for Monday's game to arrive. He said all the repetitious practice over the last month or so simply involves proper time management.
"Yeah, I think anytime you're preparing for a game that's three and four weeks out, you've got to be really smart how you manage your time," Smart said. "You start on a team too early, they get tired of it. You start on it too late, you're not prepared for it.
"They're (Sooners) going to do things they haven't done. We're going to do things we haven't done. It's how you adjust in the game. Because you can only do so much in one game.
"So in my history, I've found you can over prepare for these type things, and you get further away from fundamentals," Smart continued. "And that's what you've got to do. You got to block, tackle, possess the ball, get turnovers. All the other stuff, all the other preparation is overrated when you get into the Xs and Os too much."
As expected, how the Bulldogs are going to stymie Baker Mayfield also came up in the line of questions posed to Smart.
"I think you relish the challenge of stopping any great offense," he replied. "You don't stop a player. They've got a great back that won a Heisman, he rushes for 300 yards a game, you might do great to hold him to 200.
"They've got a great quarterback that makes unbelievable plays," Smart said. "Every game I go back in his history and watch, he has a wow moment, he has a wow play. He's really good at that. I think it's how you handle those plays and how you handle their success that allows you to be successful.
"Because he's going to make some plays, so you've got to go out and make your mind up that, hey, when he makes one, how are we going to respond to it and handle that the right way? But it's easier to prepare for that than a team that's 110th in offense, because you get your kids more excited."
---
Recent Articles by Murray Poole


[pt_view id="2fb799183g"]