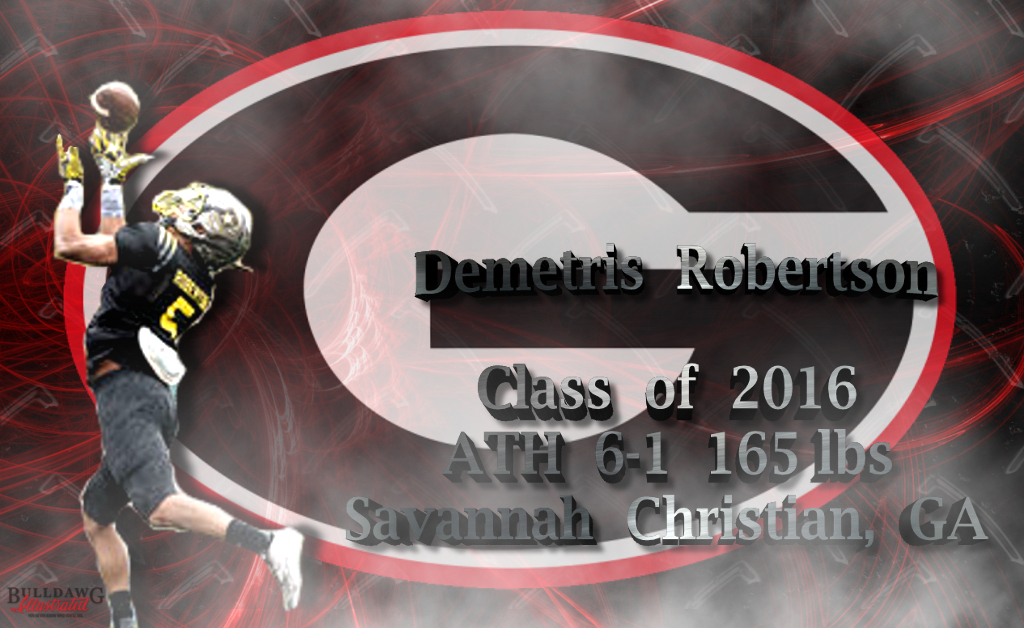 Demetris Robertson decided to move up his decision announcement one day from Monday, May 2nd to Sunday, May 1st at 1 PM ET. The decision to do so was reported by Anthony Dasher after Demetris' older brother, Carlos Robertson informed UGASports.com of the change on Tuesday afternoon.


Carlos Robertson tells me that Demetris Robertson has moved his decision up a day. Will announce Sunday at the College FB HOF at 1 p.m.

— Anthony Dasher (@AnthonyDasher1) April 26, 2016


The announcement will still be made from the College Football Hall of Fame in Atlanta, GA and will be carried live by 11 Alive Sports on 11Alive.com.


One of the nation's top athletes and wide receivers for the class of 2016, Demetris Robertson is the last five-star rated prospect to make a decision. Once he does on Sunday, he will not be signing a National Letter of Intent as that deadline passed back on April 1st. He has signed financial aid agreements with the University of California, Georgia, and the Bulldogs' in-state rival Georgia Tech, but those agreements are not binding. In other words, even after he makes his announcement on Sunday, nothing is set-in-stone till he actually enrolls, which he will likely do with the school of his choosing in June.


So does the change bode well for the University of Georgia? It's really hard to say, but one interesting tidbit of information is that D-Rob is scheduled to attend a GHSA Class A state track meet with Savannah Christian at North Oconee High School , which is a 15 to 20-minute drive from Athens, and he might visit UGA after the event. And it certainly couldn't hurt for UGA and Head Coach Kirby Smart to make one more impression on Robertson and his family.


It is expected that Robertson will make his decision between the schools he signed the FAAs which include California, Georgia Tech, and UGA, and Notre Dame and Stanford are also in the mix; although, it is not known if he will have the test scores to become a Cardinal. He retook the SAT in March, but those scores are not likely to be back for a few more weeks. Then there is the University of Alabama whom D-Rob was committed to for over 9 months from July 2014 to April 2015. The Crimson Tide are supposedly out of contention, but I would never count out the recruiting prowess of one of the top college football programs and recruiting staffs in the country. If I was a betting man, I would say D-Rob is a slight UGA lean at the moment.


---