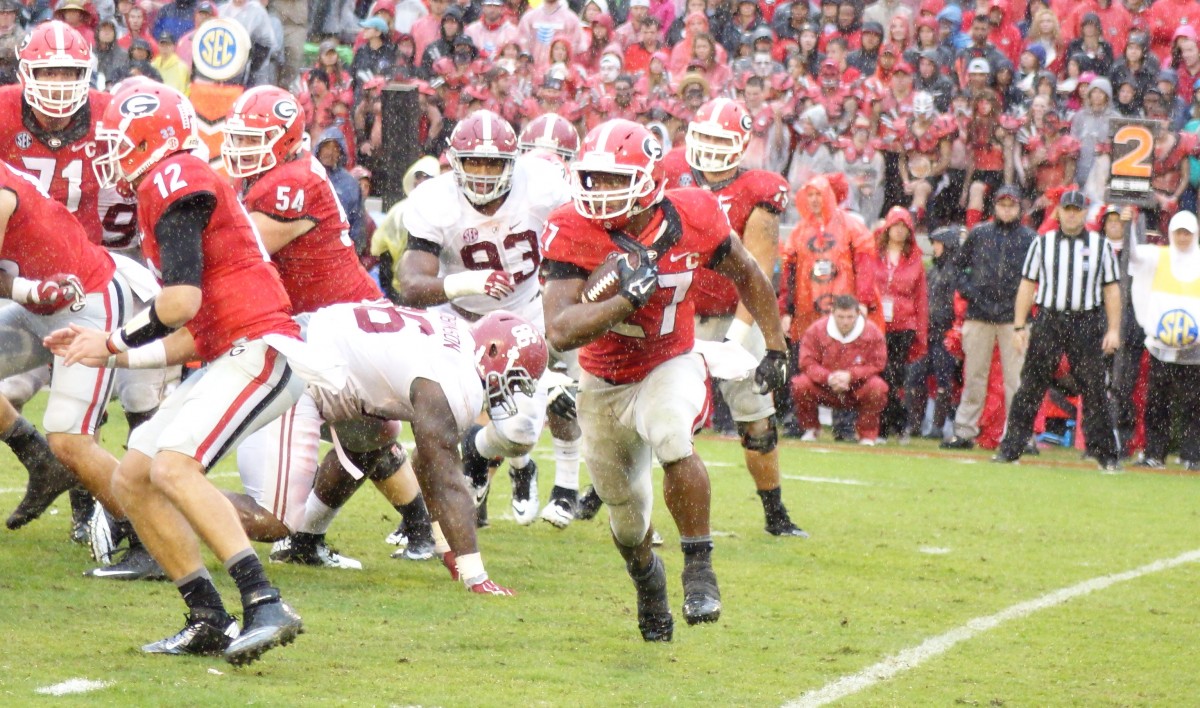 [su_spacer size="20″] [su_spacer size="20″] That was awful. I didn't think either team would do what happened today. I hate to say it, but we laid an big egg at Sanford Stadium on Saturday afternoon in a 38-10 loss that wasn't as close as the score or statistics indicated.  Today was a big old dose of reality mixed in with a taste of humble pie and possibly one of the worst weather days for a Georgia game that I can remember.  Let's get to the rundown.
[su_spacer size="20″]
[su_spacer size="20″]
What Went Well
[su_spacer size="40″]
Nick Chubb
[su_spacer size="40″] Chubb breaks Herschel's record for consecutive 100-yard games with an 83-yard TD run.  I'm sure he would have traded that record for a win today.  That's the only thing I have to say positive about the offense.
[su_spacer size="40″]
Rushing Defense
[su_spacer size="40″] The defense seemed to fight for 60 minutes especially up front.  Henry got his, but it took a lot of carries for him to get it.  In a game where there weren't a lot of positives, I have to say the guys up front did a pretty good job against the run.  I'll take Nick Chubb over Derrick Henry any day of the week.
[su_spacer size="40″]
What Didn't
[su_spacer size="40″]
The Passing Game
[su_spacer size="40″] The Georgia quarterbacks looked like deer in the headlights with 3 interceptions and barely 100 yards passing. The UVA Greyson Lambert seemed to show up in Athens today as he looked absolutely terrible as he missed open receivers, bailed on plays, and generally looked out of sorts.  As the game wore on, Lambert couldn't even hold on to the ball consistently. How a 6′ 5″ quarterback gets passes knocked down at the line of scrimmage is beyond me. Brice Ramsey came in and immediately threw a pick 6 after the defense got a stop to start the 3rd quarter and then threw another later. Give Alabama credit. They did a great job of getting a push without blitzing and were able to throw a blanket over the Georgia receivers.  The only positive I take out of today is that there's likely only one defense left on the schedule who can do what the Tide was able to do — Florida.
[su_spacer size="40″]
Passing Defense
[su_spacer size="40″] We made Jacob Coker out to be the Heisman candidate the WWL thought he would be last year.  This game was not one of Jeremy Pruitt's finest moments as a secondary coach as Alabama receivers seemed to be running free around Sanford Stadium all day.  We never got any real pressure on Coker as if we were so scared of Alabama busting a big run that we just seemed to let him hang in the pocket and have a sandwich as he picked the Georgia defense apart.
[su_spacer size="40″]
Special Teams
[su_spacer size="40″] Where do I start? Collin Barber had another punt blocked for a touchdown on what seemed to be a overloaded right side of the Georgia punt protection.  The rugby-style punt just doesn't seem to work for us.  Isaiah McKenzie muffed a punt that luckily didn't turn into a turnover.  Reggie Davis just doesn't seem to have a burst in kick-off returns, and teams aren't afraid to kick it to him.  I'm sure Sony Michel is getting frustrated by it.  We had to use a timeout on Morgan's field goal because the team didn't get lined up quickly enough.  It wasn't a house of horrors like they were 2 years ago, but they clearly didn't create any advantage today.
[su_spacer size="40″]
Grades
[su_spacer size="40″]
Offense – F
[su_spacer size="40″] I understand there are days when you get whipped.  What I don't understand is that we didn't try anything other than a quarterback change to find an offensive spark.  No Chubb and Michel together.  No read option/Wild Dawg with Michel.  The quarterback play was absolutely atrocious, and the play calling and offensive game plan were unimaginative.  The offensive line was downright offensive.  With 4 turnovers and the blocked punt, the final score could have been worse.
[su_spacer size="40″]
Defense – D
[su_spacer size="40″] The defense gave the offense a chance to establish itself with an early turnover.  Unfortunately, the offense blew it, went 3 and out, and punted.  As I mentioned, the run defense was generally pretty solid most of the day.  The passing defense was horrific and looked like a Willie Martinez coached secondary where we generated no pressure and covered no one in space.  The long pass for the TD seemed to be a busted coverage as the receiver just seemed to run by Dominick Sanders.  One big shout out for the defense was 3rd down defense as the Georgia defense stopped Alabama multiple times in 3rd and short and only gave up one 3rd down conversion.
[su_spacer size="40″]
Coaching – F
[su_spacer size="40″] I don't know what Richt and Schottenheimer did to prepare Lambert for today, but please take that plan, light it on fire and never bring it out again.  He didn't look prepared to handle the moment, and Ramsey looked clueless.  The entire offensive staff needs to take a hard look at the game plan for this week, determine what went wrong and get back at it.  I do believe there's only one defense left on the schedule that has the mix of personnel that can beat our offensive line without blitzing and taking chances.  As I mentioned above, today will not be on the Georgia defense's highlight tape especially in the secondary, and I place that squarely on Jeremy Pruitt and no one else.
[su_spacer size="40″]
Overall – F
[su_spacer size="40″] The program failed today across the board. While I'm sure there are lessons to be learned from the tape, the Georgia coaches need to burn this tape as quickly as possible.
[su_spacer size="40″] I have one last thing to say about today to the Bulldog Nation.  The students showed up early, were loud and into the game.  The crowd created a home field advantage in the face of the rain and the weather. My comment is to the season ticket holders who sold their tickets to this game to Alabama fans rather than come to the game.  It was ridiculous the number of Alabama fans I saw on the south side of Sanford.  If you aren't going to come, give or sell your tickets to people who are going to help create a home field advantage.  If you aren't going to attend the biggest home game of the year, give up your season tickets to people who want to be there.
[su_spacer size="40″]
Look Ahead to Tennessee
[su_spacer size="40″] Dawgs, please don't let Alabama beat you twice like you did in 2013 after the Missouri game.  Go to Knoxville and take out your frustration on the Volunteers, who have to be thinking they are going to get Sgt. Carter his first significant win next Saturday.
[su_spacer size="40″] Tennessee has big problems on defense.  They have given up yards and points to Bowling Green and Oklahoma.  They couldn't get a stop when they needed it against Florida.  Tennessee is dangerous on offense with Josh Dobbs, Jalen Hurd, and a good set of receivers.  They clearly don't have the type of players on the lines of scrimmage that Alabama does.  Assuming the Dawgs come out and play like their backs are against the wall, I think Georgia wins a game that may not be as close as the final score indicates.  I know we're tired of talking about it, but if Georgia can't take Tennessee's best shot, all of this team's goals may be gone before mid-October.  Tennessee hasn't stopped the Georgia running game the last few years and won't stop it again next Saturday.  Georgia takes the series lead by crushing the Vols with a hobnailed boot.
[su_spacer size="80″]