The Georgia Bulldogs improved to 8-0 overall on the season and 5-0 in SEC play with an impressive 42-7 win over rival Florida on Saturday afternoon in Jacksonville, FL. Let's take a look at the final stats and participation report from the 96th-annual Georgia-Florida game.

Those Dawgs Do Run
The Bulldogs entered the Georgia-Florida contest averaging 282.86 yards per game, and the Gators were not able to slow them down. Georgia had six rushers amassed 292 yards on the ground on 35 carries averaging 8.3 yards per carry. Three different tailbacks punched the ball into the end zone for four touchdowns.
UGA's leading rusher was senior Sony Michel who scorched Florida for 137 yards and 2 scores on 6 attempts, averaging a whopping 22.8 yards per carry. Fellow senior tailback Nick Chubb was the next leading rusher for the Bulldogs. No. 27 ran for 78 yards and a touchdown on 13 carries, averaging 5.9 per attempt.
Sophomore Elijah Holyfield was almost as explosive as Sony Michel, making the most of his 4 touches to put 49 yards and a touchdown. Holyfield averaged 12.3 yards per carry. Sophomore Brian Herrien also had 6 carries for 13 yards and Jake Fromm ran 13 yards on 1 carry off of an RPO.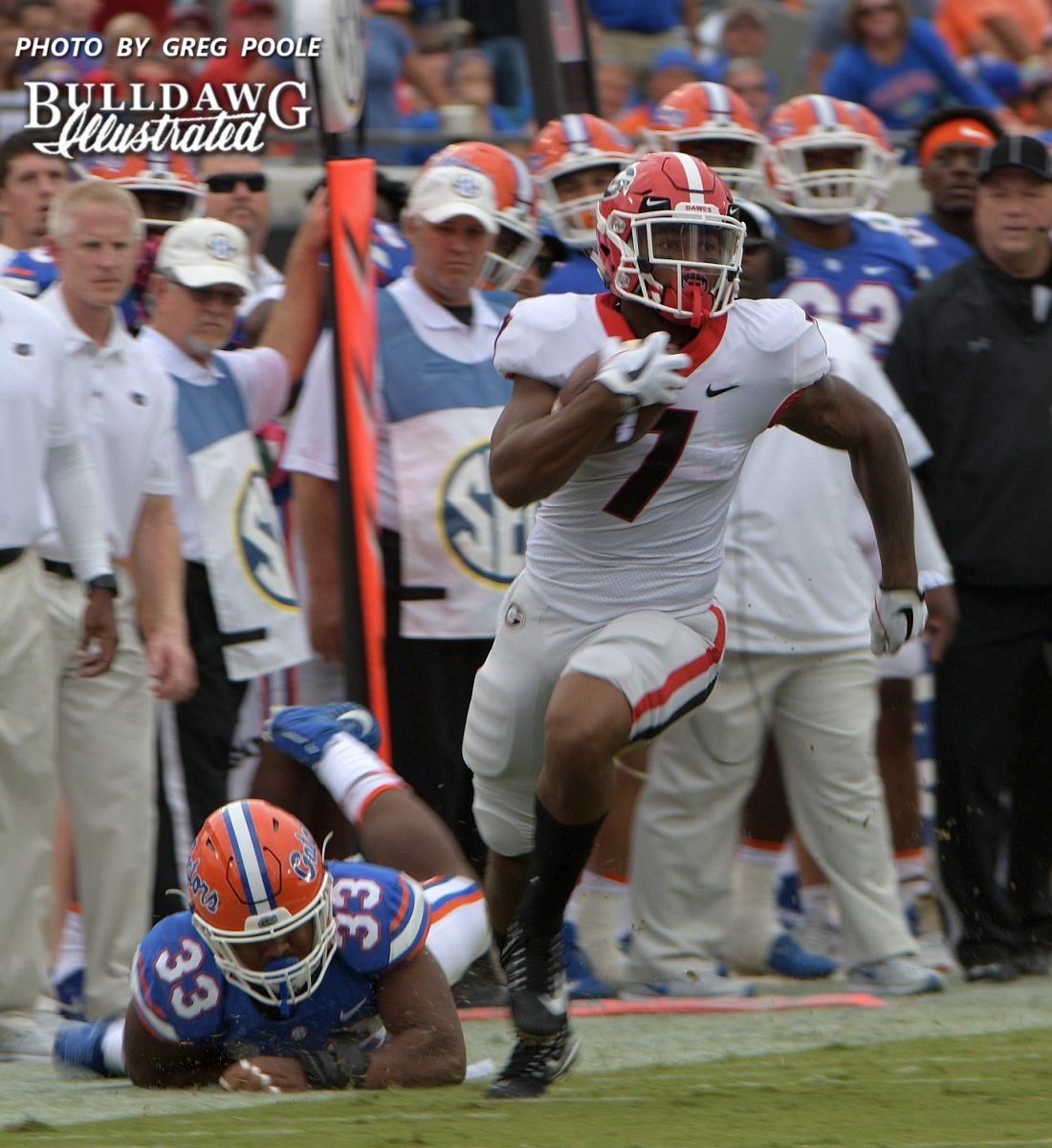 Georgia Only Attempts 7 Passes

True freshman D'Andre Swift had a tough time finding running room on his 4 carries, only gaining 9 yards, but he was explosive as a receiver. Swift was the leading receiver for the Bulldogs with 3 catches for 84 yards. The only other player to catch a pass was senior Javon Wims, but it was a big 17-yard TD reception.
And those were the only four receptions for the whole game believe it or not. Freshman Jake Fromm only attempted 7 passes on the night complete four of them to Swift and Wims. He did throw one interception. The Georgia offensive line played well in pass protection and did not allow a sack.

3-for-8 on 3rd Down… Nizialek says 'No Problem'

Georgia found themselves in a third-down situation on 8 different occasions and was able to convert 3 of them for first downs. When Cameron Nizialek was called on to punt, he flipped the field in the Bulldogs favor. Nizialek punted the ball 4 times, averaging 46.5 per punt, and he had a two that went over 50 yards, one of which he boomed for 55-yards.
Kicker Rodrigo Blankenship was again solid. He placed 4 of his 7 kickoffs through the end zone for touchbacks and was a perfect 6-for-6 on PATs.


Defense Continues to Dominate

Florida came into the game averaging 351.2 yards of total offense and approximately 170 yards on the ground per game. The Georgia defense was able to hold the Gators to only 249 yards of total offense, but Florida to have some success running the ball on the Bulldogs.
Florida finished with 183 yards on the ground, which is the most given up by Georgia all season so far, on 41 attempts, averaging 4.5 yards per carry. Lamical Perine was the leading rusher for the Gators with 13 carries for 93 yards, averaging 5.8 yards per carry.
But the defense did not allow Florida to capitalize on the positive gains the Gators had on the ground. Georgia held the Gators to a season-low 66-yards through the air on 10-for-25 passing, forcing Feleipe Franks to throw 1 interception. Florida had only 1 pass completed over 10 yards, a 17-yarder to Freddie Swain.
Georgia's third-down defense was stout, allowing the Gators to only convert 4-of-15, and the Bulldogs stuffed both of Florida's fourth-down attempts.
Senior outside linebacker Lorenzo Carter was the leading tackler with the Bulldogs with 9 including a tackle for a loss and a sack. Junior linebacker Roquan Smith and redshirt sophomore J.R. Reed had 8 stops apiece. Reed also had 1/2 a sack and a fumble recovery for a touchdown in the third-quarter to put the Bulldogs up 35-0.
Speaking of sacks. Georgia came into the game with only 10 on the season in 7 games. The Bulldogs had five total sacks on the day and seemed to live in the Gators backfield at times.
Senior safety Dominic Sanders grabbed his 15th-career interception when he picked off a Feleipe Franks pass in the first quarter, returning it upfield for 13-yards to the Florida 29.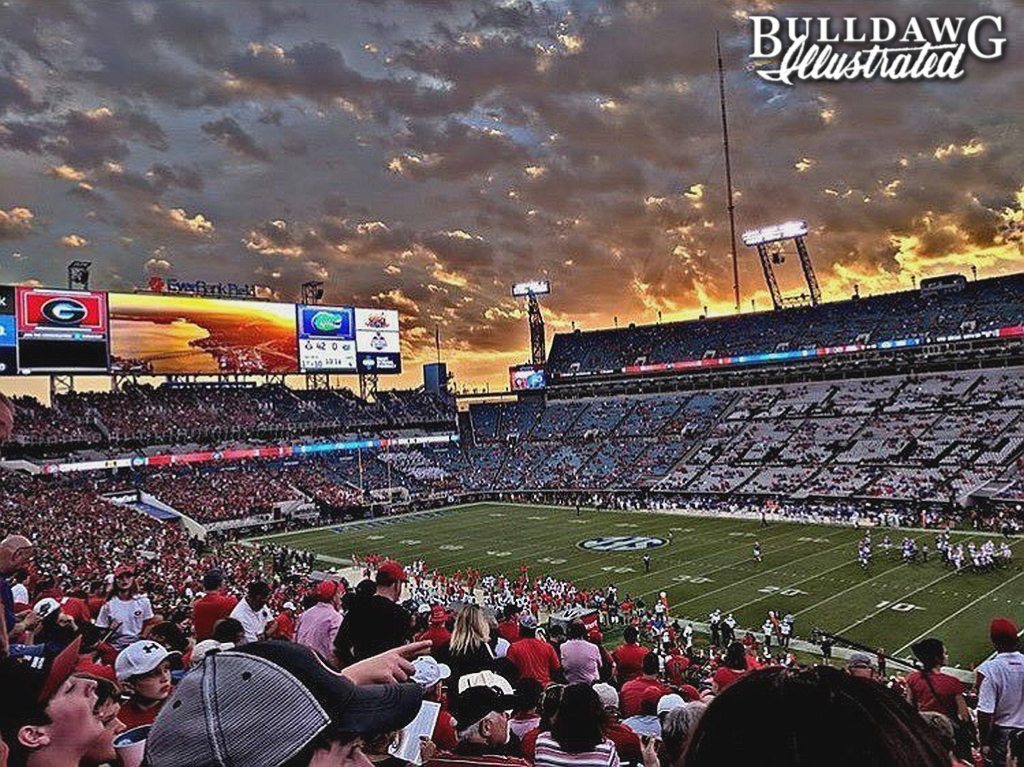 Georgia Exorcises Jacksonville Demons

With the 42-7 win, Georgia ended Florida's three-game winning streak. It was the largest margin of victory in the series since the Bulldogs defeated the Gators 44-0 in 1982. Georgia now moves to 51-43-2 overall in the series.

Up Next

The Georgia Bulldogs return home to Athens between the hedges next Saturday to host (6-2) South Carolina on November 4th. The Dogs versus the Gamecocks will be televised on CBS and is set for a 3:30 p.m. kickoff.

FINAL STATS AND PARTICIPATION REPORT
Team Statistics
Statistic
UGA
UF
FIRST DOWNS
Total
14
15
Rushing
10
9
Passing
4
6
Penalty
0
0
RUSHING
Total (Net)
292
183
Attempts
35
41
Avg. Per Rush
8.3
4.5
Rushing TDs
4
1
Yds. Gained
303
230
Yds. Lost
11
47
PASSING
Total (Net)
101
66
Comp.-Att.-Int.

4

–

7

–

1

10

–

25

–

1

Avg. / Att.
14.4
2.6
Avg. / Comp.
25.3
6.6
TDs
1
0
TOTAL OFFENSE
Yards
393
249
Plays
42
66
Avg. / Play
9.4
3.8
Fumbles – Lost

0

–

0

2

–

1

Penalties – Yds.

7

–

40

14

–

85

PUNTING
Punts – Yds.

4

–

186

7

–

381

Avg. / Punt

46.5

54.4

Inside 20

2

1

50+ Yds.

2

4

Touchbacks

0

2

Fair Catch

2

1

KICKOFFS
Total – Yds.

7

–

455

2

–

130

Avg. Yds. / Kickoff

65.0

65.0

Touchbacks

4

2

RETURNS
Punt: Total – Yds. – TDs

3

–

24

–

0

1

–

0

–

0

Punt: Avg. / Return

8.0

0.0

Kickoff: Total – Yds. – TDs
0-0-0

3-68-0

Kickoff: Avg. / Return
0

22.7

INT: Total – Yds. – TDs

1

–

13

–

0

1

–

2

–

0

Fumble: Total – Yds. – TDs

1-3-1

0-0-0
MISCELLANEOUS
Misc. Yards

0

0

Poss. Time

25:05

34:55

3rd. Down Conv.

3

 of 

8

4

 of 

15

4th. Down Conversions

0

 of 

0

0

 of 

2

Red-Zone: Scores – Chances

2

–

2

1

–

2

Sacks: Total – Yds.

5

–

46

0

–

0

PAT: Total – Made

6

–

6

1

–

1

Field Goals: Total – Made
0-0
0-0
Offensive
UGA – Passing

| Player | Cmp | Att. | Yds. | TD | INT | Long | Sack |
| --- | --- | --- | --- | --- | --- | --- | --- |
| Jake Fromm | 4 | 7 | 101 | 1 | 1 | 39 | 0 |
| TOTALS | 4 | 7 | 101 | 1 | 1 | 39 | 0 |
UF – Passing

| Player | Cmp | Att. | Yds. | TD | Int. | Long | Sack |
| --- | --- | --- | --- | --- | --- | --- | --- |
| Malik Zaire | 3 | 6 | 36 | 0 | 0 | 17 | 0 |
| Feleipe Franks | 7 | 19 | 30 | 0 | 1 | 8 | 5 |
| TOTALS | 10 | 25 | 66 | 0 | 1 | 17 | 5 |
UGA – Rushing

| Player | Att. | Gain | Loss | Net | TD | Lg. | Avg. |
| --- | --- | --- | --- | --- | --- | --- | --- |
| Sony Michel | 6 | 141 | 4 | 137 | 2 | 74 | 22.8 |
| Nick Chubb | 13 | 78 | 1 | 77 | 1 | 22 | 5.9 |
| Elijah Holyfield | 4 | 49 | 0 | 49 | 1 | 39 | 12.3 |
| Jake Fromm | 1 | 13 | 0 | 13 | 0 | 13 | 13.0 |
| Brian Herrien | 6 | 13 | 3 | 10 | 0 | 4 | 1.7 |
| D'Andre Swift | 4 | 9 | 1 | 8 | 0 | 7 | 2.0 |
| TEAM | 1 | 0 | 2 | -2 | 0 | 0 | -2.0 |
| TOTALS | 35 | 303 | 11 | 292 | 4 | 74 | 8.3 |
UF – Rushing

| Player | Att. | Gain | Loss | Net | TD | Lg. | Avg. |
| --- | --- | --- | --- | --- | --- | --- | --- |
| Lamical Perine | 16 | 93 | 0 | 93 | 0 | 29 | 5.8 |
| Mark Thompson | 6 | 38 | 0 | 38 | 1 | 25 | 6.3 |
| Malik Zaire | 2 | 30 | 0 | 30 | 0 | 27 | 15.0 |
| Malik Davis | 4 | 20 | 0 | 20 | 0 | 8 | 5.0 |
| Adarius Lemons | 3 | 18 | 0 | 18 | 0 | 11 | 6.0 |
| Kadarius Toney | 1 | 0 | 1 | -1 | 0 | 0 | -1.0 |
| Feleipe Franks | 9 | 31 | 46 | -15 | 0 | 15 | -1.7 |
| TOTALS | 41 | 230 | 47 | 183 | 1 | 29 | 4.5 |
UGA – Receiving

| Player | Rec. | Yds. | TD | Long |
| --- | --- | --- | --- | --- |
| D'Andre Swift | 3 | 84 | 0 | 39 |
| Javon Wims | 1 | 17 | 1 | 17 |
| TOTALS | 4 | 101 | 1 | 39 |
UF – Receiving

| Player | Rec. | Yds. | TD | Long |
| --- | --- | --- | --- | --- |
| Freddie Swain | 1 | 17 | 0 | 17 |
| Mark Thompson | 2 | 17 | 0 | 11 |
| Dre Massey | 2 | 15 | 0 | 8 |
| Kadarius Toney | 1 | 8 | 0 | 8 |
| Malik Davis | 1 | 6 | 0 | 6 |
| Tyrie Cleveland | 1 | 5 | 0 | 5 |
| Brandon Powell | 1 | -1 | 0 | 0 |
| DeAndre Goolsby | 1 | -1 | 0 | 0 |
| TOTALS | 10 | 66 | 0 | 17 |
---
Recent Articles by Bob Miller


[pt_view id="83405b425p"]